Recipe: $5.11
Per Serving: $0.85
We all know that Lara Bars are really not the cheapest snack. They are definitely one of the better ones, considering they only contain a couple all-whole-food ingredients. They're not a good meal replacement because of the sugar content, but they are a super handy energy treat for traveling and hiking. At $1 or more each, they're certainly a treat, unless you make them yourself!
Lara Bars themselves are slightly more cakey than these, but when you soak the dates to use in a blender, they're automatically a bit more fudge-like. I used this Peppermint Flavor, which contains sunflower oil and peppermint oil. Not that I particularly like sunflower oil, but it was the only option at three different stores. I read online that Trader Joe's used to carry peppermint extract, but you know how they are with their products! If it doesn't sell like hotcakes, it doesn't return the following season!
This peppermint extract was definitely an investment at $4.00 for this little jar, but that's about what I pay for vanilla extract anyway...and I've been using this stuff in my tea in the mornings too, so it is definitely getting some use. If I were one of those Peppermint Mocha kinda people, this would be perfect.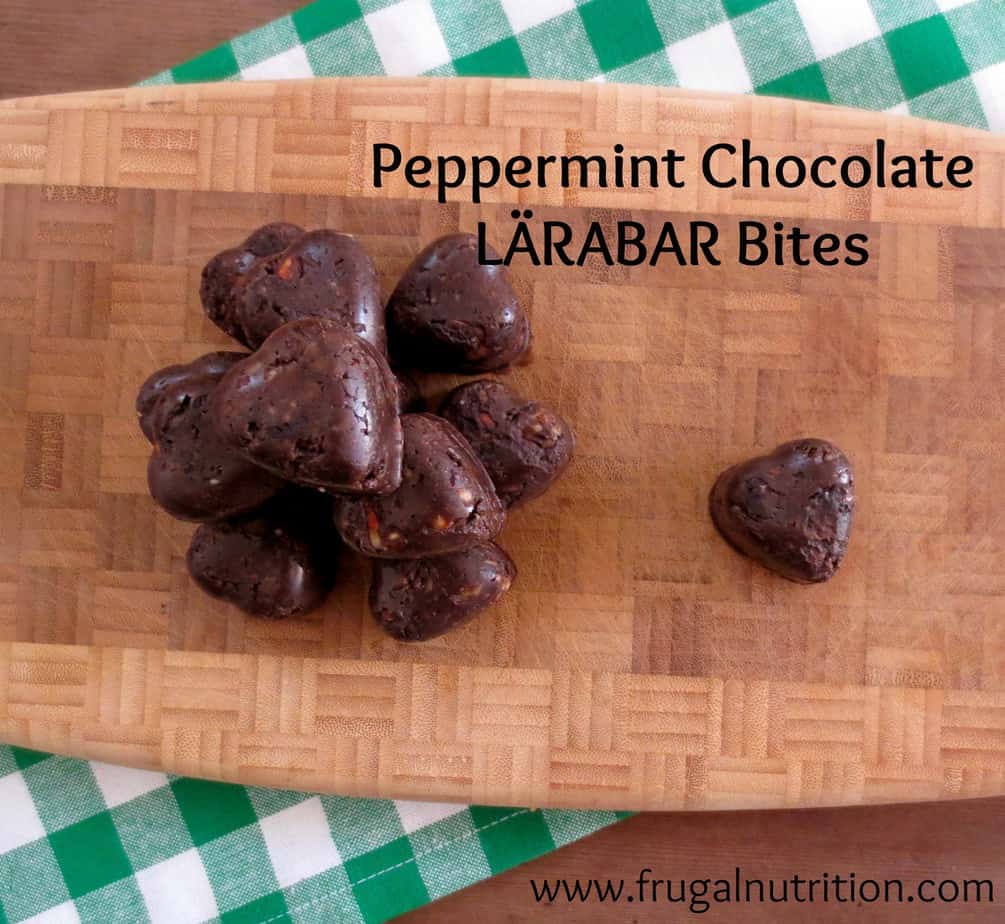 These are still cheaper than Lara Bars! I'm a big fan of making fun seasonal things for a fraction of the price - and I think this is a great way to do that. SO, if you're still looking for something to bring to a holiday dinner or party, be sure to whip up a batch of these, roll them into little balls, and put them in your freezer overnight. You can also dip them in melted chocolate for a mint-fruit-nut-chocolate truffle kind of thing.
Thin Mint Lara Bars (Chocolate-Mint Fruit & Nut Bars)
A budget friendly way to enjoy Lara Bars at home in this homemade bar with chocolate and mint.
Ingredients
1

cup

chopped dates

½

cup

pecan pieces

½

cup

almond slices

½

teaspoon

peppermint extract

1 ½

tablespoon

dark cocoa powder

optional: might need a few tablespoon almond meal if too sticky
Instructions
If you don't have a super high-powered blender, soak the dates in very hot water, or microwave them for about 30 seconds to soften them.

Add the almonds to blender and blend until mostly crushed. Squeeze water from dates and add dates to blender. Blend, scraping down sides as necessary for several minutes.

Add cocoa powder and peppermint extra and continue blending and stirring until combined.

Add crushed pecan pieces to blender and just blend until mostly combined. I like to keep chunks of nuts in my bars.

Scrape from blender, and mix with hands or fork if necessary. If the dough is too sticky, add a few Tablespoons of almond meal.

For molded bites: You can go a head and stick these in individual molds. Makes about 18 1-Tablespoon bites. Molded Chocolate Peppermint Fruit & Nut Bites

For bars, place on a large piece of parchment paper or plastic wrap. Using your hands or a rolling pin, flatten the dough or shape into a rectangle, then place in fridge or freezer overnight or until firm. Slice into bars and store individually in plastic wrap or saran wrap in fridge or freezer. Makes about 6 bars.
Nutrition
Calories:
180
kcal
Carbohydrates:
22
g
Protein:
3
g
Fat:
11
g
Saturated Fat:
1
g
Polyunsaturated Fat:
3
g
Monounsaturated Fat:
6
g
Trans Fat:
0.002
g
Sodium:
1
mg
Potassium:
274
mg
Fiber:
4
g
Sugar:
16
g
Vitamin A:
8
IU
Vitamin B1:
0.1
mg
Vitamin B2:
0.1
mg
Vitamin B3:
1
mg
Vitamin B5:
0.3
mg
Vitamin B6:
0.1
mg
Vitamin C:
0.2
mg
Vitamin E:
2
mg
Vitamin K:
1
µg
Calcium:
38
mg
Copper:
0.3
mg
Folate:
10
µg
Iron:
1
mg
Manganese:
1
mg
Magnesium:
49
mg
Phosphorus:
86
mg
Selenium:
2
µg
Zinc:
1
mg
Choline:
9
mg