Recipe: $3.80
Per Serving: $0.95
Don't you hate it when you want to make something so badly and you're missing one ingredient and you don't want to go to the store? For example, to go alongside this fantastic Chunky Lentil Bolognese, I really wanted some garlic bread.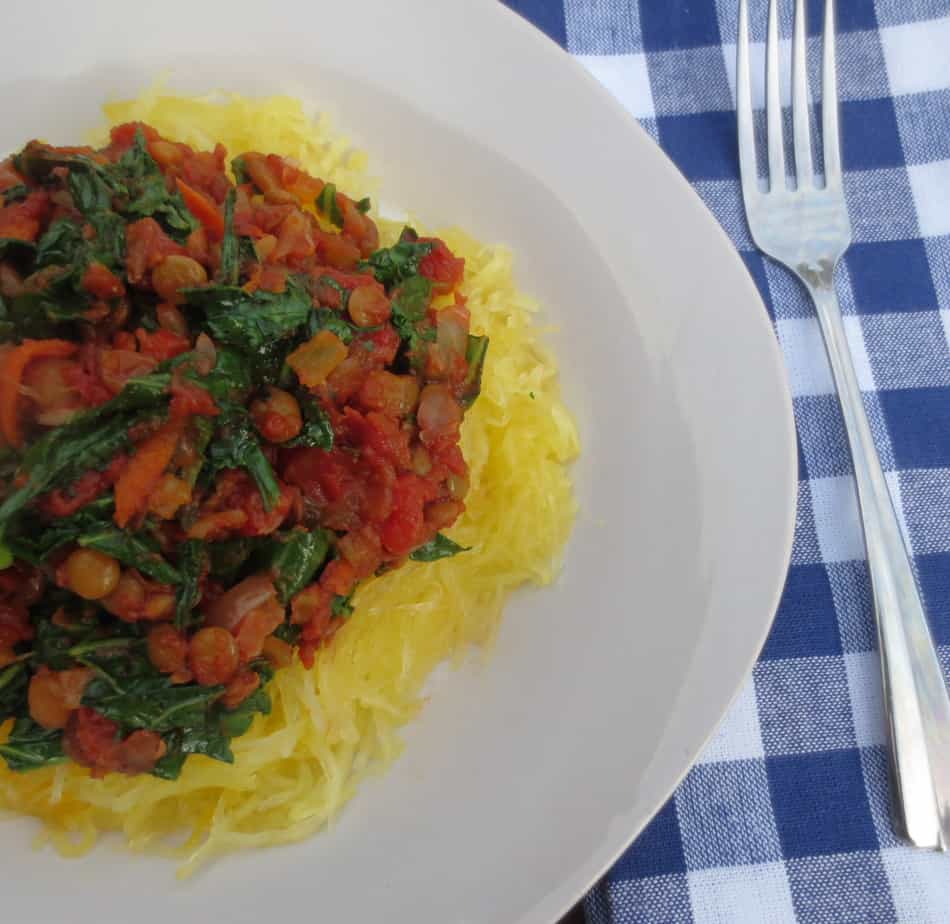 We make some kick-ass garlic bread up in this house. Years of practice growing up with regular garlic bread appearances. Also, we have a German friend who mashes the fresh garlic into the cold butter and adds chives and then spreads it on bread...you know, like chive garlic butter...and it is not melty and crunchy but it is so so so good. Well, the one ingredient we were missing was the most important one: bread. I was completely not in the mood to mess around with bread-making. So instead. GARLIC TOAST.
Yep, that happened, and I highly recommend it. We just recently bought Trader Joe's Whole Wheat Sourdough, which contains just a few ingredients, all of which are acceptable. I'm into it. Go for it.
Anyway, CHUNKY LENTIL BOLOGNESE is the shizz you guys.
I made a lot of versions of this basic recipe - sometimes adding chilis or pesto or serving it over whole wheat pasta. But now, this is the basic version, and served over spaghetti squash, because, why not? Then you can have two pieces of garlic bread/toast!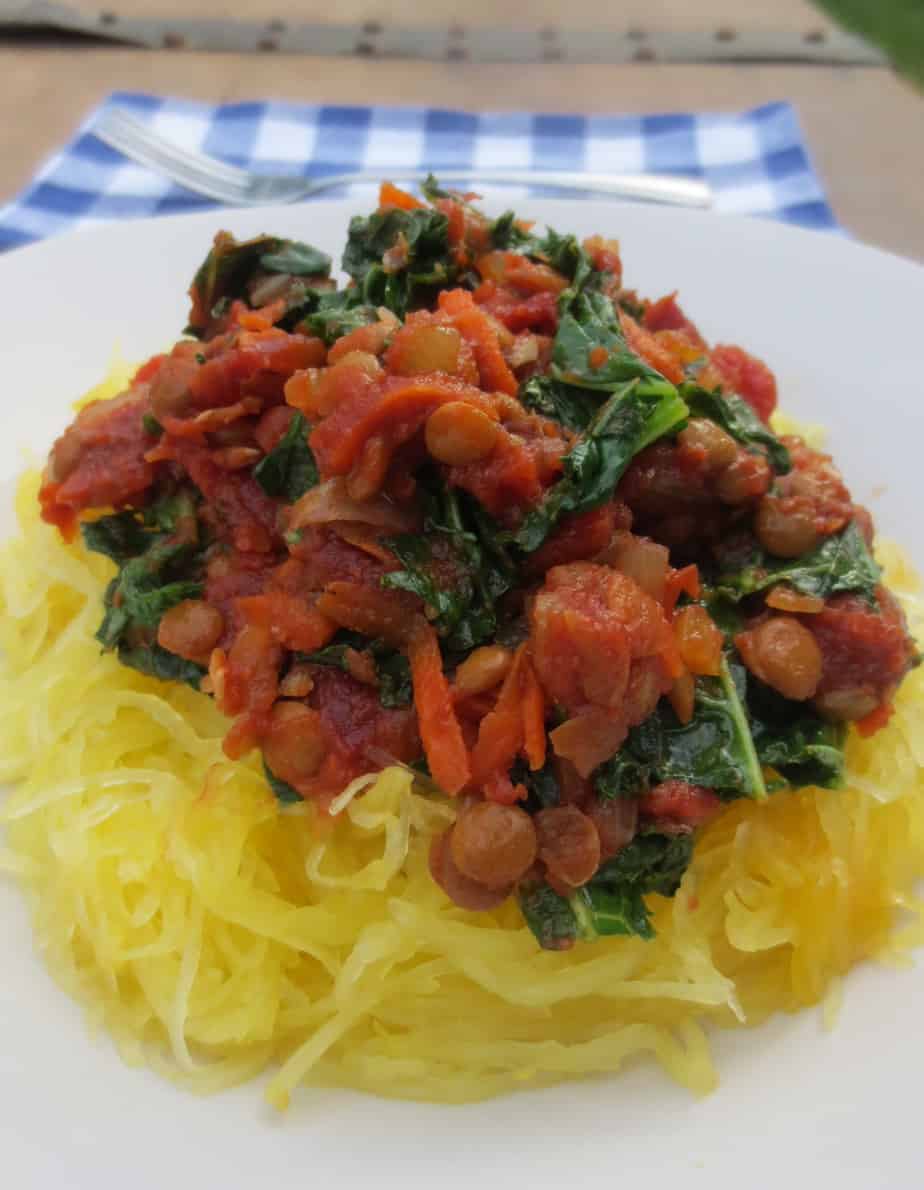 This is a full meal for under $1 per serving. Because that's what I'm trying to do here. Offer up a full real-food meal for $1 or under per serving. Like this Healthy Ramen! And also Butternut Squash Couscous! You guys are going to like what I've got coming. I promise. Burrito Bowls? YEP.
Skip the meat for this vegan lentil bolognese and you won't even mind. Sure, it doesn't taste like meat, but it DOES taste good.  It's also a super delicious sauce for lasagna, and can totally get smashed between bread for a sub, or stuffed in a zucchini. It's good stuff, and it is cheap. WIN.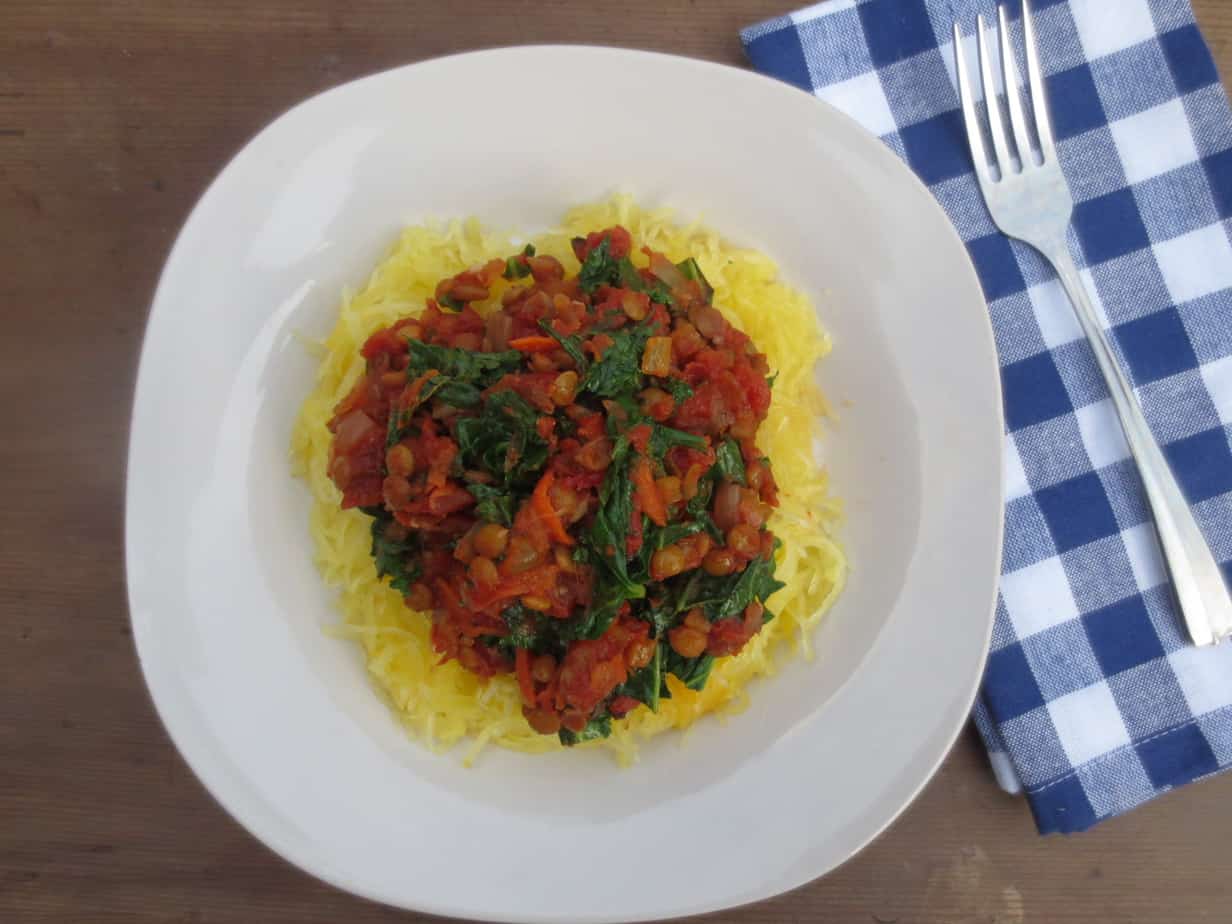 Chunky Lentil Bolognese (Vegan Marinara Sauce)
A vegan marinara sauce made with vegetables and healthy lentils.
Ingredients
1

medium

onion

1 cup chopped

1

medium

carrot

1 cup shredded

4

cloves

garlic

4

cups

tomato chunks

sauce, or puree (you can use a mixture of fresh, paste, canned, etc.)

1

cup

water or broth

1

teaspoon

oregano

or basil/parsley, etc.

½

teaspoon

red pepper flakes

salt and pepper to taste

2

cups

cooked lentils

¾ cup dry

4

cups

chopped kale

2

pound

spaghetti squash
Instructions
Turn the oven to 400º. Slice the squash in half, scoop out the seeds, and place cut-side down on baking sheet. Stab with a fork a few times and roast until tender, about 35 minutes.

Meanwhile, cook the lentils. Place them in a pot with a lot of water and bring to a boil. Reduce to a simmer and cook until tender, about 25 minutes. Drain and set aside.

Return pot to stove. Saute onions in oil for about 5 minutes. Add garlic and carrot and saute until slightly caramelized, about 5 minutes. Deglaze with vinegar, then add seasonings and tomato sauce. Stir in cooked lentils and simmer for about 20 minutes. When rich and flavorful, mix in the kale and stir just until wilted.

Remove the spaghetti squash flesh from the skin and season with a little olive oil, and salt and pepper to taste. Divide amongst bowls and top with lentil bolognese! (Alternatively you can add the spaghetti squash to the pot and mix it all together.)

Note: Adding the squash noodles to the sauce pot is a great way to meld the flavors. You can mix it all together in the pot for about 3-5 minutes, and then serve.
Nutrition
Calories:
288
kcal
Carbohydrates:
57
g
Protein:
17
g
Fat:
3
g
Saturated Fat:
0.5
g
Polyunsaturated Fat:
1
g
Monounsaturated Fat:
0.3
g
Sodium:
394
mg
Potassium:
1578
mg
Fiber:
19
g
Sugar:
19
g
Vitamin A:
10034
IU
Vitamin B1:
1
mg
Vitamin B2:
0.5
mg
Vitamin B3:
7
mg
Vitamin B5:
2
mg
Vitamin B6:
1
mg
Vitamin C:
93
mg
Vitamin E:
4
mg
Vitamin K:
283
µg
Calcium:
332
mg
Copper:
1
mg
Folate:
280
µg
Iron:
8
mg
Manganese:
2
mg
Magnesium:
131
mg
Phosphorus:
329
mg
Selenium:
6
µg
Zinc:
3
mg
Choline:
80
mg