Recipe: $5.65
Per Serving: $0.94 (cheaper with homemade broth!)
Let's all take a moment to appreciate Sapporo Ichiban, Top Ramen, Cup o' Noodles, or whatever your favorite brand of cheap-o ramen is/was.
And now let's all understand that the real-deal stuff at a restaurant is infinitely better than the packaged version. I mean, I have very fond memories of splitting a pack eating an entire pack of Sapporo Ichiban growing up. We would buy it by the case at the teeny Japanese market in Charlottesville. My dad was the master of making it really weird (spam, salmon flakes), and simultaneously really delicious (eggs, seaweed). But when we went to Japan in 2012, we had real, hangover-curing, life-giving, restaurant-made RAMEN. And it was a game changer.
In honor of all things Ramen, Cheap Easy Meals, my dad, and the stupid cold sickness that Zac & I can't shake, I present my new favorite winter soup: Egg-Drop Soba "Ramen" with Veggies.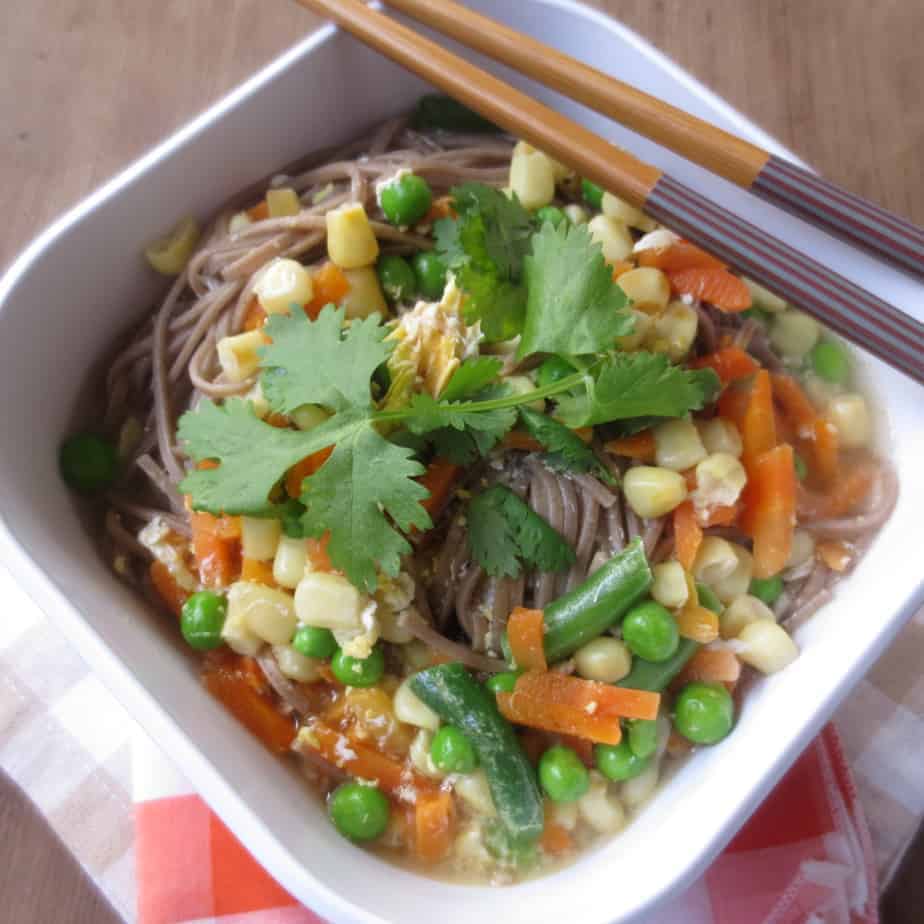 It's all the good things (eggs, noodles, vegetables, broth), without the bad things (excess sodium, MSG, preservatives, fried noodles).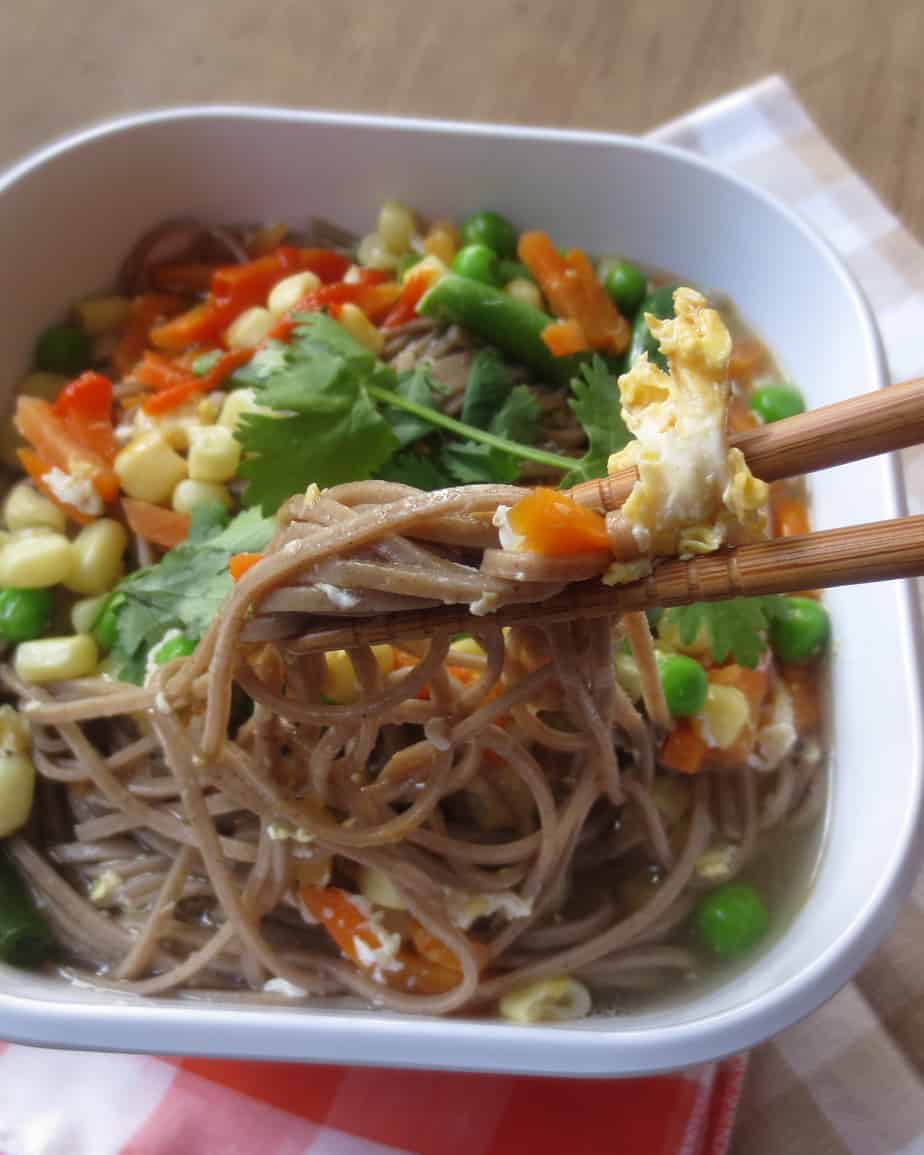 I've wanted to put this in recipe form for a while, but these ingredients live in my freezer and pantry so comfortably, and I kept making the more perishable items. Or I'd make it on cold, late nights, when there's no such thing as natural light. Then a friend last week asked my thoughts of Cup O' Noodles, and we were also hit with this never-ever-ending cold. Perfect timing.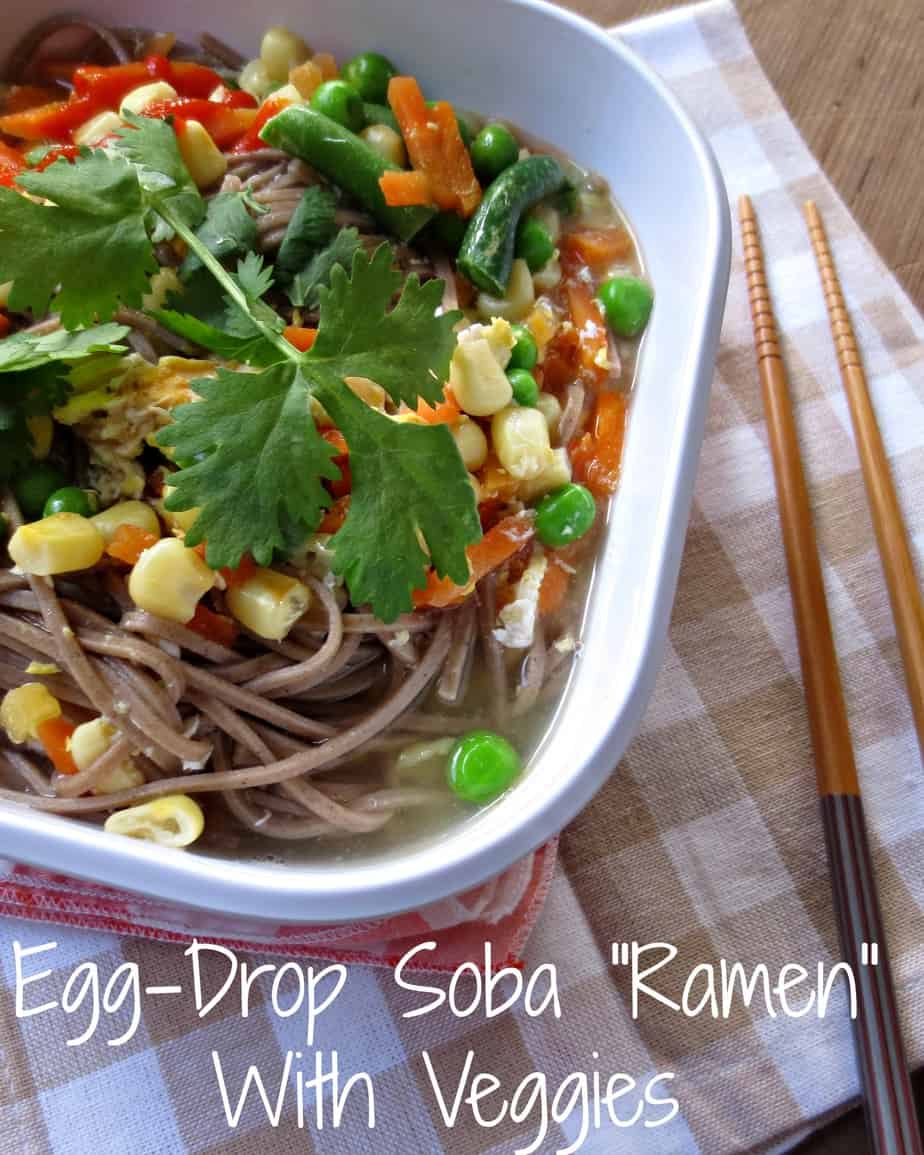 You're getting a full real food meal in 15 minutes, at under $1 a serving, with help from these friends. Awesomeness. If any friends want to come over for a cup o' THIS sometime soon, you just let me know!

Fast Recipes: Egg-Drop Soba "Ramen" With Veggies
A simple egg drop ramen noodle soup made with soba noodles. It's super quick and perfect for busy weeknights.
Ingredients
8

ounces

buckwheat soba noodles

one package of 3 rolls

8-10

cups

chicken stock

or vegetable, I used 8 cups broth and 2 cups water

1

pound

frozen mixed vegetables

4-5 cups

4

eggs

salt and pepper

if necessary
Optional Fancifications
cilantro

soy sauce

sesame oil

sesame seeds

nori (seaweed)

rice vinegar

sriracha

red pepper flakes

green onion
Instructions
Pour broth/water into a large sauce pot and bring to a boil. Add buckwheat soba noodles and cook for about 6 minutes, then add eggs (crack them into a cup or bowl first to check for shell pieces). You can stir them around right away (for wispy egg-drop like soup), or let them chill for 30-seconds or so and then scramble them a bit (for a few firmer pieces of egg).

Finally, after about two minutes, toss in the vegetables and stir until they're warm, about 2 more minutes. DINNER IS SERVED.

NOTES: For added flavor, stir in some soy sauce, sesame oil, red pepper flakes, or sriracha, or top with green onions, cilantro, sesame seeds, or strips of nori (seaweed). Enjoy!
Nutrition
Calories:
333
kcal
Carbohydrates:
50
g
Protein:
20
g
Fat:
7
g
Saturated Fat:
2
g
Polyunsaturated Fat:
2
g
Monounsaturated Fat:
3
g
Trans Fat:
0.01
g
Cholesterol:
119
mg
Sodium:
834
mg
Potassium:
632
mg
Fiber:
3
g
Sugar:
5
g
Vitamin A:
4007
IU
Vitamin B1:
0.4
mg
Vitamin B2:
1
mg
Vitamin B3:
7
mg
Vitamin B5:
1
mg
Vitamin B6:
0.4
mg
Vitamin B12:
0.3
µg
Vitamin C:
9
mg
Vitamin D:
1
µg
Vitamin E:
0.4
mg
Vitamin K:
1
µg
Calcium:
58
mg
Copper:
0.4
mg
Folate:
74
µg
Iron:
3
mg
Manganese:
1
mg
Magnesium:
70
mg
Phosphorus:
285
mg
Selenium:
16
µg
Zinc:
2
mg
Choline:
116
mg