Recipe: $6.00
Per Serving: $1.50
This is what happens when you have frozen tomato sauce and a few extra meatballs. You remember your favorite fast marinara, and you whip up some easy homemade honey whole wheat buns. You locate your store of beef and eggplant meatballs in the freezer and you get super stoked for an awesome dinner.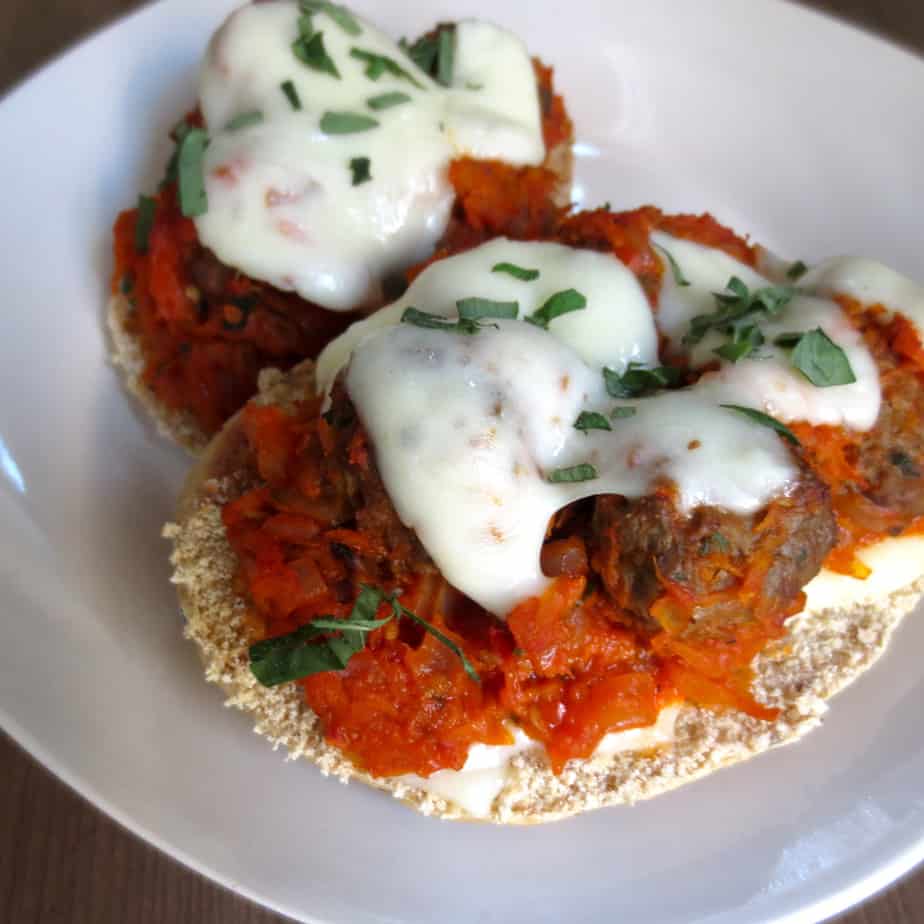 I hope everyone had a fantastic Thanksgiving! We sure did, but we're also happy to get back to regular meals with lots of vegetables. That being said, we returned home to an almost-empty fridge! Luckily we had all the essentials for these open-faced subs stored in the freezer, and I had some extra brussels sprouts that became shredded brussels sprouts with almonds and parmesan. I'm not at all unhappy about it.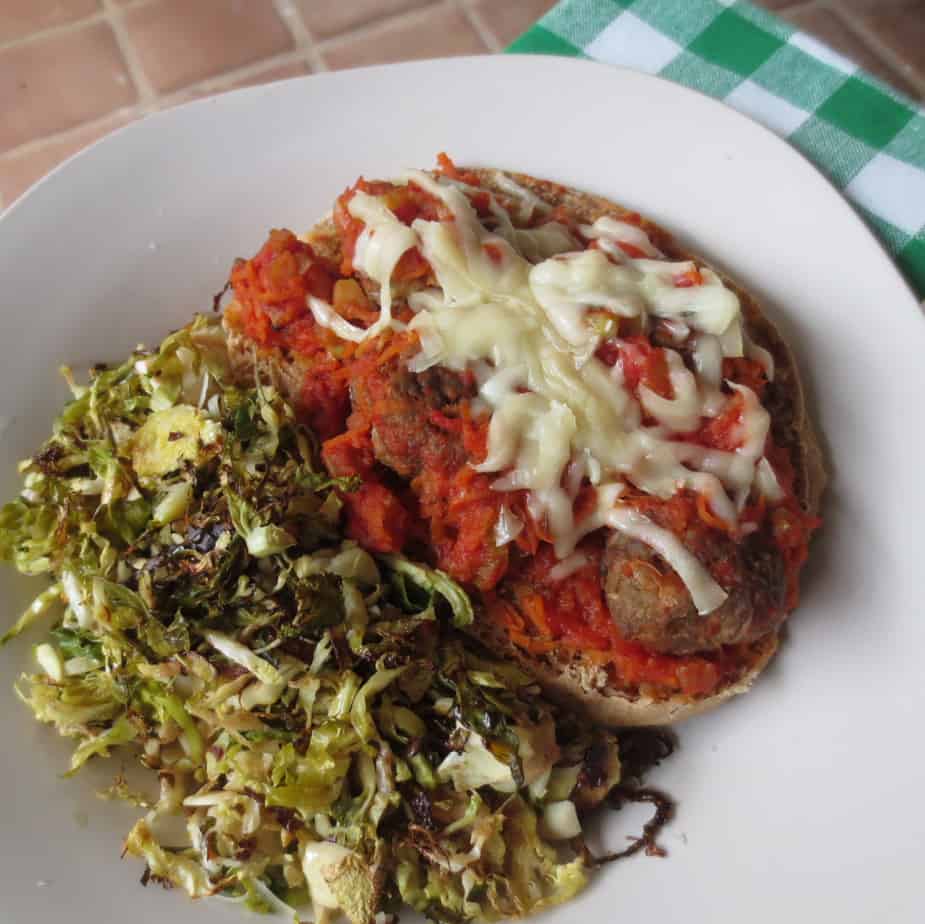 I think we've finally conquered these ridiculous colds. Which, for the record, are very few and far between for us now that we eliminated most processed foods and sugar. It was the coughing that was the worst, and 4 nights sleeping on the living room floor with a bunch of snorers was not the most conducive environment for rest & recovery.
In other news, RUNNING! Let's talk about it. I'd first like to go ahead and give a shout-out to the team over at RISE Physical Therapy for salvaging my running career…a.k.a. my sanity. Around November of 2012 I was diagnosed with a stress fracture from some doctor who looked like he'd never run a day in his life. Surprise surprise, it didn't improve for 18 months, even with all the advice from three different doctors in two different countries, and a physical therapist. After returning to San Diego and giving up on doctors, within three weeks at RISE I was able to walk pain-free for the first time in 1.5 years. And now, after just a couple of months of therapy, and an excellent return to running program, I just ran a 10K!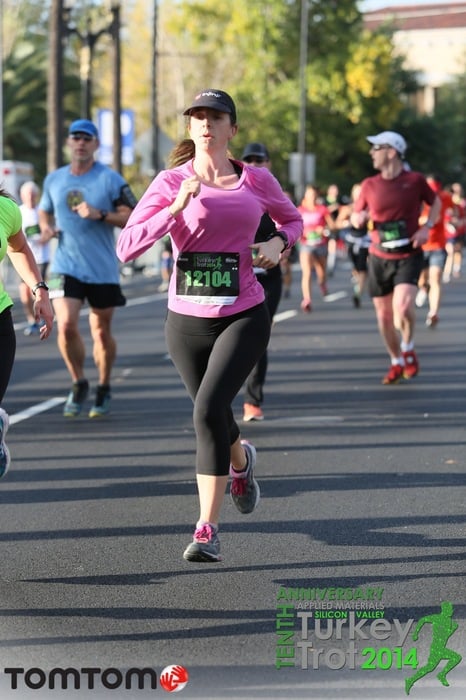 I did a Turkey Trot in San Jose, and kept an 8:11 pace, without pain! I got 69th for my age group, out of 777 people in my age group (but that includes walkers). It's not my peak or anything, but I think I can safely say I'm back! Having an injury that makes it difficult to even walk is so disheartening, and I wasn't sure if I would ever be able to run again, much less at a sub-8:30 pace. I'm not planning to go back to racing every single month or anything, but the fact that I can cancel my gym membership and run outside everyday instead is amazing!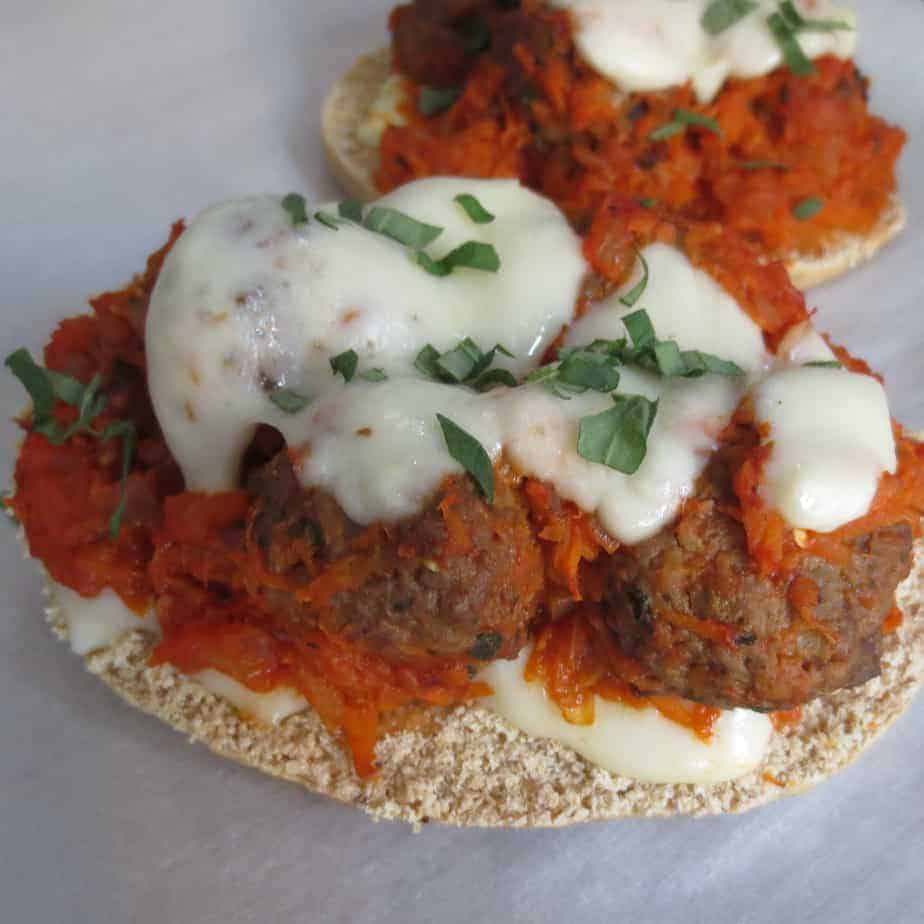 So here's a celebratory meatball sub! If you don't have meatballs, you can totally just brown some ground beef and add it to the sauce and have a ground meat sub! Though we all know meatballs are awesome. Also, I recommend homemade whole wheat buns. I haven't perfected my recipe just yet, but this recipe looks pretty simple, though I haven't tried it. Sorry for so many LINKS.
Print
Homemade Open-Faced Meatball Subs
---
Author:

Prep Time:

10 mins

Cook Time:

25 mins

Total Time:

35 mins

Yield:

4

1

x
Scale
Ingredients
2

whole wheat sandwich rolls (or use regular bread)

4 ounce

s mozzarella cheese

12

–

16

beef and eggplant meatballs (or meatballs of choice…OR just use regular ground beef and brown it in a pan before adding to sauce)
For the Sauce: 1/2 an onion (any kind), diced

3

cloves of garlic, minced

1/2

a large carrot, shredded (or about

1 cup

shredded)

2 cup

s tomato sauce of your choice (Or, to make as you go:

2 tbsp

tomato paste and

2 cup

s water, or just use fresh tomatoes/canned tomatoes, etc.)

1 cup

water or broth

1/2 teaspoon

dried oregano (or

one Tablespoon

fresh oregano)

1/2 teaspoon

red pepper flakes
salt to taste
pepper to taste
---
Instructions
Preheat oven to 400ºF. Slice buns in half and toast for about 5 minutes.
Sauté onions for about 5 minutes, until soft and fragrant. Add carrots, garlic, and tomatoes/tomato sauce/paste&water, etc. Stir well and bring to a simmer. Stir in red pepper flakes, salt, pepper, and dried oregano (if using fresh, add it in the next step), and cook for 10-15 minutes, until fragrant and uniform.
Add meatballs (and fresh oregano) to pot and cover with sauce. Reduce heat to low and cover for 5 minutes, or until meat balls are warmed through.
Remove bread from oven and add a layer of cheese, then divide meatballs sauce among the bread. Top with more cheese and bake for about 5-8 minutes, or until cheese is melted and bread is slightly crispy. Top with fresh oregano, parsley, or basil, and serve!
---