Recipe: $4.20
Per Serving: $1.05
In this, the season of all things warm and cozy, I'm eating a super simple and delicious polenta. Yep, you should too. Go ahead and load up some polenta with turkey leftovers, that's okay too.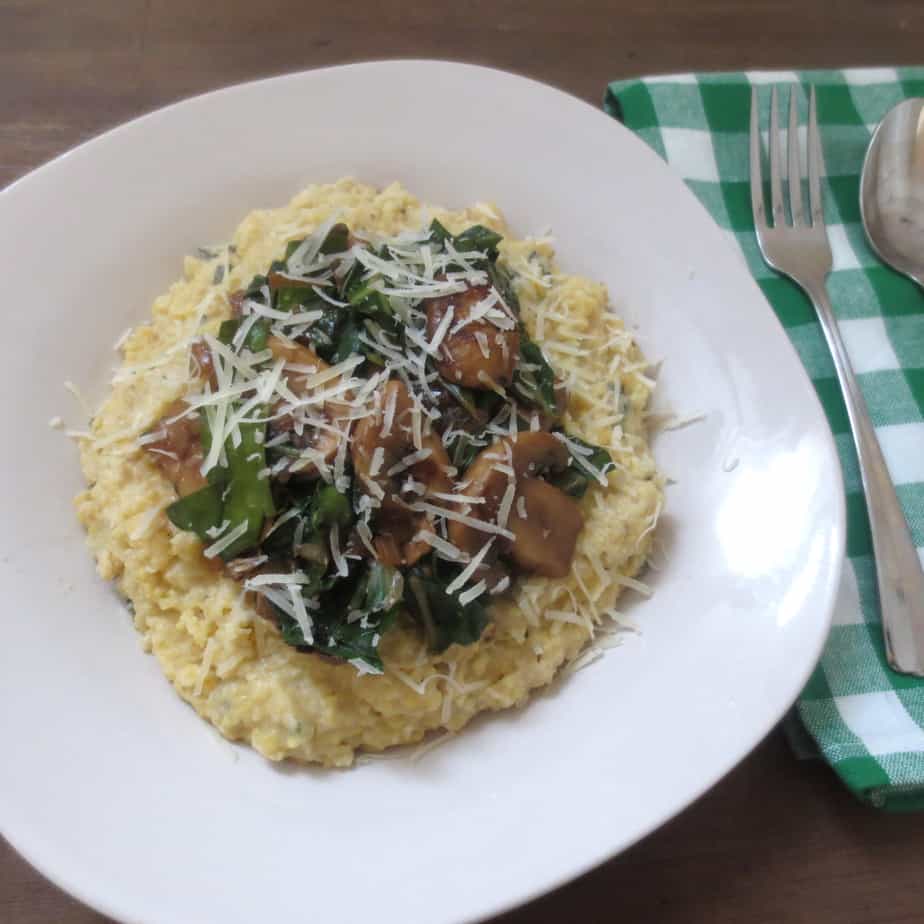 Polenta is kind of like the poor man's risotto. It's a bit cheaper than risotto, but it does take about the same amount of time, and requires quite a bit of stirring. It's also a little bit more versatile, you can serve it for breakfast with a fried egg, sausage, and greens, or with a variety of flavor combinations. It is especially awesome with Caramelized Kale-Onion-Fig Sauté. Also, I just like all of the versions with cheese, and this one would be really good with blue cheese too. You don't technically need the cream, but it makes it, um, you know, creamier.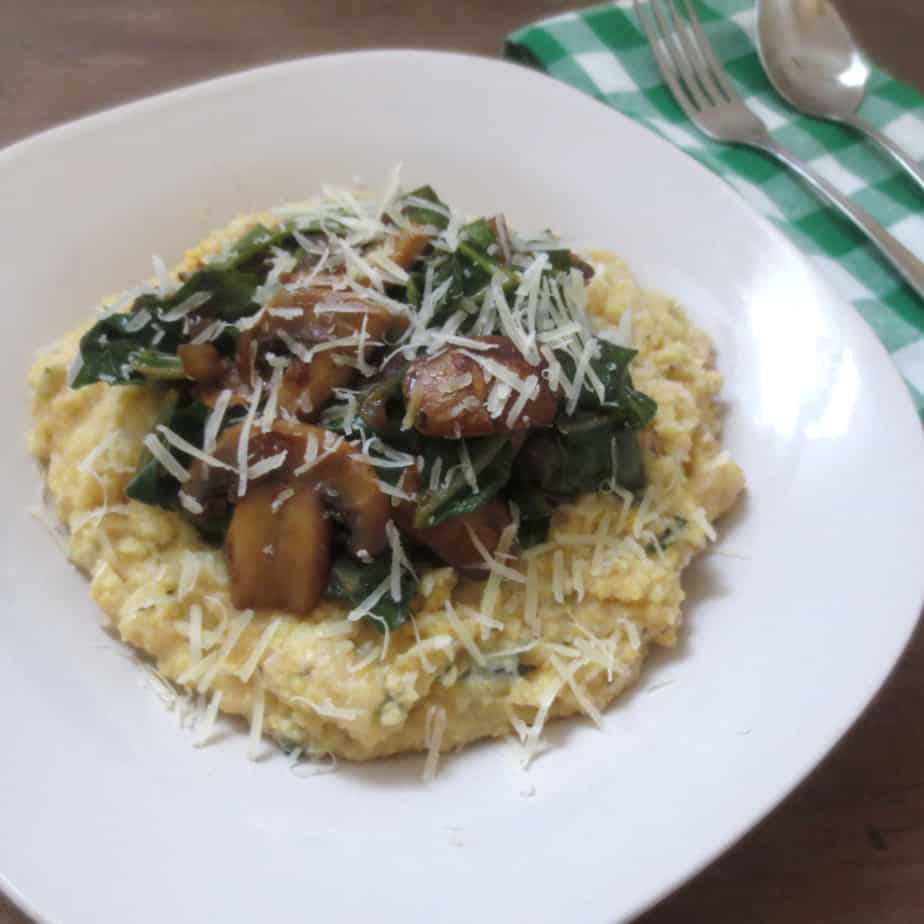 Now that Thanksgiving is over, I feel like things in the food blog world have calmed down a bit, but everything picks back up again next week. I'm happy to be rid of everything pumpkin, but Christmas cookies and granola and easy appetizers and peppermint everything are on their way. Are you ready to taste nothing but sugar for the next 3 weeks? I'm not sure that I am. I do like minty things though.
I bought some peppermint oil/extract to experiment with, and it was $4.50 at Sprouts. I couldn't bring myself to open it. I'm staring at it on my kitchen table as I type this. Will I use that much? Is that too expensive? I spend that much on vanilla extract, but it gets a lot of use in my kitchen. I want to make thin mint lara bars (there's probably a copyright infringement or two in that name), and I want to make all my green tea taste like mint.
But, what if it is gross and goes to waste? I can get 12 eggs for that price! And you guys know how I feel about eggs. Also, Whole Foods has the extract and the oil…one is fancy peppermint oil + alcohol, and the other is peppermint oil + sunflower oil. WHAT'S THE DIFF? I'm really hoping The Kitchn will dig deep and get us some answers before the holiday season is over.
So anyway, polenta is rich and creamy and delicious, if you're into that kind of thing. Mushrooms + greens are a match made in heaven. Make this cheap-o fancy dinner and you will be so proud.
Print

Mushroom and Vegetable Polenta
---
Author:

Cook Time:

45 mins

Total Time:

45 mins

Yield:

4

1

x
drizzle of olive oil

2

garlic cloves

1 cup

polenta cornmeal

4 cups

water or broth

1 teaspoon

salt

2 Tablespoons

cream or half and half (optional)

1 Tablespoon

butter

1

medium onion

8 ounces

mushrooms

1

bunch swiss chard (

8

–

10

cups)
balsamic vinegar
parmesan cheese
black pepper to taste
---
Instructions
In a large pot, sauté garlic in just a little drizzle of olive oil. Add water (or broth), salt, and polenta, stirring well. Bring to a boil, then reduce to a simmer. . Simmer for about 40 minutes, or until the polenta starts to come together and pull away from the pot. Stir occasionally (every 5 minutes or so) to avoid clumps. When ready, stir in the cream.
Meanwhile, warm a pan over medium heat. Add butter and onions. Caramelize onions over low heat, stirring occasionally for about 20-30 minutes. Deglaze the pan as necessary with balsamic vinegar (you can use any vinegar, or even wine!), and add the mushrooms. Sauté over low heat until soft and caramelized.
When polenta is almost done, add chopped swiss chard to mushrooms and stir together. Cook just until wilted, about 1-2 minutes.
Divide polenta among 4 plates (or bowls) and spoon veggie sauté over each one. Top with freshly grated parmesan cheese, black pepper, and any herbs you like (fresh rosemary and sage are both delicious here). Enjoy!