Who doesn't like lasagna? I mean, it's the perfect comfort food of all time, and you can make it as cheap/expensive/healthy/loaded as you want - vegetarian, meat lover's, traditional, spinach, alfredo - you name it. And now: Quinoa!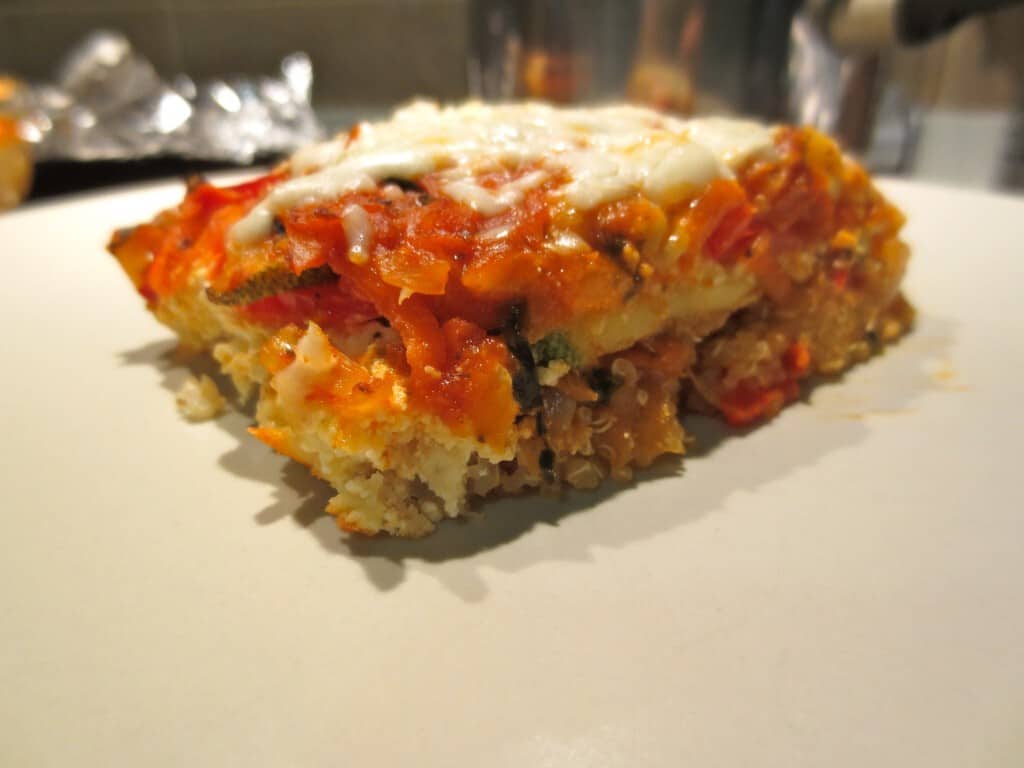 My biggest problem with lasagna has always been the cost of so many ingredients - sweet italian sausage plus ground beef plus tomato sauce plus ricotta plus parmesan plus mozzarella plus noodles that never fit properly in my baking dish. And I'd always have a few extra noodles or pieces of noodles. What do you even do with those things?
Well, as you probably know, I love all things quinoa, and believe it or not, this dish is CHEAPER by making it the healthier way. If I'm paying $3-$4 for noodles, they ought to be 100% whole wheat, but noooo lasagna noodles are normally good ol' white flour, or some blend of white and wheat. You can get an entire pound of quinoa for that price, and you only need 1 cup for this recipe! Plus, I like to consider all those gluten-free people out there who spend their lives wandering down the gluten-free aisles looking at awful bread and pasta and missing their comfort foods. I think this is a delightful alternative! (Yes, I said delightful.)
So now about this dish. It is definitely NOT noodly cheese-loaded lasagna, but with the right sauce and properly prepared quinoa, it is an exceptional dish. I'm often a lazy chef - throwing together what's in the fridge - so proper recipes don't get the attention they deserve. This dish, much like the Hawaiian Lentils, gets a lot of lovin' in my house, especially if we've got guests. I've made it for dozens of friends and family and it's always a hit. It's my preference to serve it with a salad and maybe some garlic naan if you're feeling fancy. But I believe in vegetables with a side of vegetables.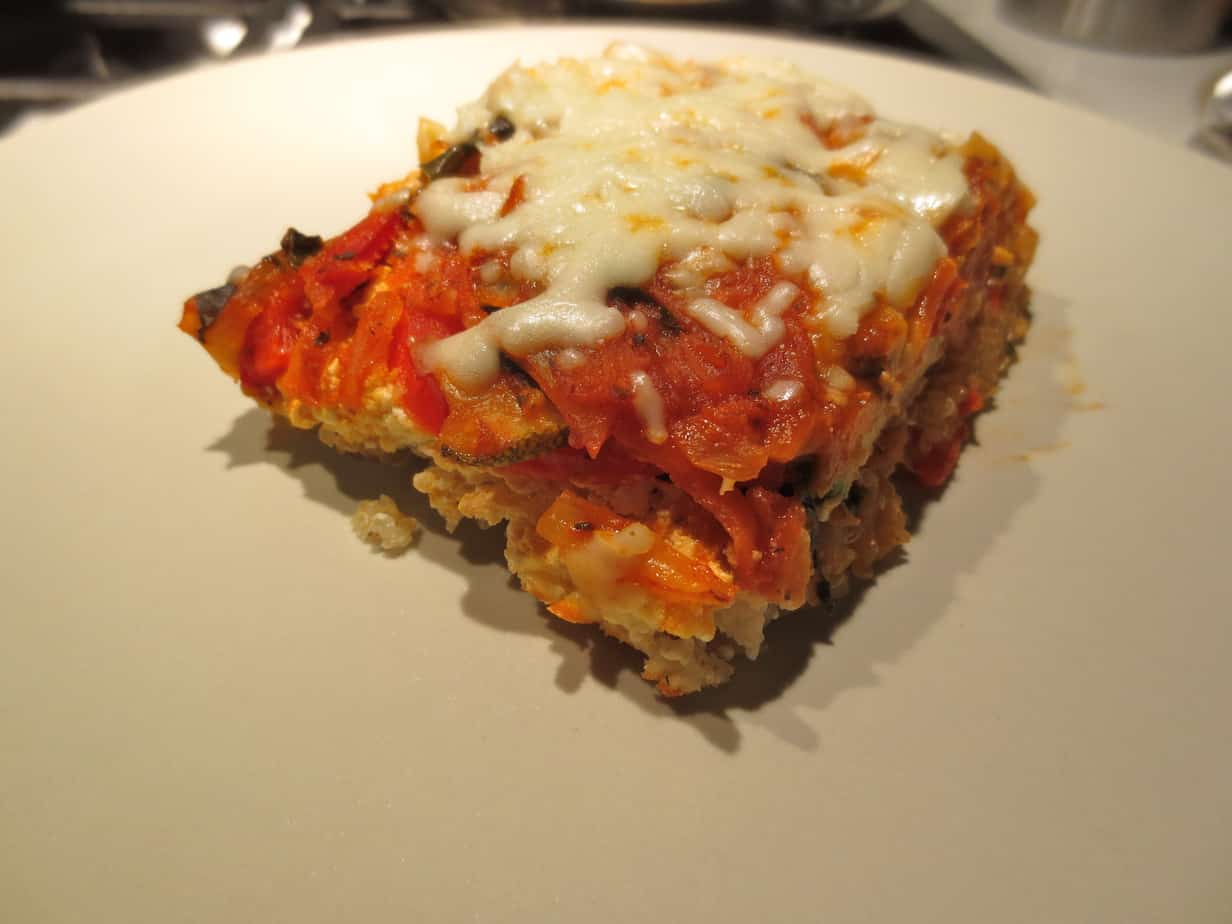 If you're low on a few of these things, that's alright - you can skip the egg or the spinach or something, but I highly recommend cooking the quinoa in broth and using a high-quality sauce or making it as you go. Skip the plain Ragu stuff! I included a lot of substitutes that will help those of you a little low on ingredients. This dish is also a great make-ahead, freezer-friendly option. Just remember to keep the aluminum foil away from the tomato sauce.
Print

Quinoa Vegetable Lasagna
---
Author:

Total Time:

50 mins

Yield:

6

-8

1

x
1 cup

uncooked quinoa

2 cups

broth

1/2

a large carrot, shredded (or

1 cup

shredded)

1 cup

fresh spinach, roughly chopped

1/2

an onion (any kind)

3

-

4

cloves of garlic

1/2

a zucchini, sliced in circles about

1/4

-inch thick

2 cups

tomato sauce of your choice (Or, to make as you go:

2 tbsp

tomato paste and

2 cups

water)

1/2 cup

shredded mozzarella (or

6

slices fresh or sandwich mozzarella)

2 cups

ricotta cheese (or cottage)

1

egg

1/2 tablespoon

oregano

1/2 teaspoon

red pepper flakes
salt to taste
pepper to taste
---
Instructions
Start by preparing your quinoa. (Rinse and soak as necessary beforehand.) Place the quinoa, 2 cups of broth or water, and 1 clove of garlic (minced) into a pot. Bring to a boil, then reduce to a simmer for 25 minutes, or until all liquid is absorbed.
In the meantime, slice the onion, and add it to another, larger pot with 1 tbsp olive oil. Saute over medium heat for about five minutes.
While it's sauteing, mince the remaining garlic, grate the carrot, then add to the pot with tomato sauce, oregano, and red pepper flakes. (Alternatively, add the tomato paste and 2 cups warm water, with additional seasonings to your taste. I use salt, pepper, onion or garlic powder.) You will want to simmer this together for about 10 minutes while the quinoa is still cooking.
While waiting, chop the spinach, slice the zucchini into 1/4-inch-thick slices, and set aside. You can also whisk the egg and mix in the ricotta (or cottage cheese) and oregano. If using firm ricotta, add up to 1/4 cup of water.
When quinoa is done, lightly grease the bottom of your casserole dish with olive oil and spread quinoa evenly along the bottom of the pan.
Cover the quinoa with about 1/2 of the sauce, then layer zucchini next. Follow with all of the ricotta mixture, evenly spread, then the spinach, and the remaining sauce, ensuring all of the spinach is covered so it doesn't dry out.
Bake this covered or uncovered on 375 degrees fahrenheit for about 35-40 minutes.
Remove from oven and top with grated or sliced mozzarella or queso fresco and return to oven for 5-10 minutes, or until cheese is melted. Wait 10 minutes before serving. You should seriously wait, it's worth it. Otherwise you'll have quinoa lasagna soup. Delicious, but unstable!
Prep Time:

15 mins

Cook Time:

35 mins