Have you ever made hummus? It's pretty simple stuff. Chickpeas, lemon, garlic, oil, and maybe tahini if you're feeling fancy. Store-bought hummus is delicious, but it's not very cheap and it's full of preservatives and additives and such. Sometimes I'm lazy and sometimes I'm cheap. Hummus making is both.
I recently came across this version of hummus made by Lindsay over at Pinch of Yum, where she recommends PEELING the chickpeas. I mean, I noticed the little shells before, but never thought much of them. So, I thought, well, let's peel 'em for the blog.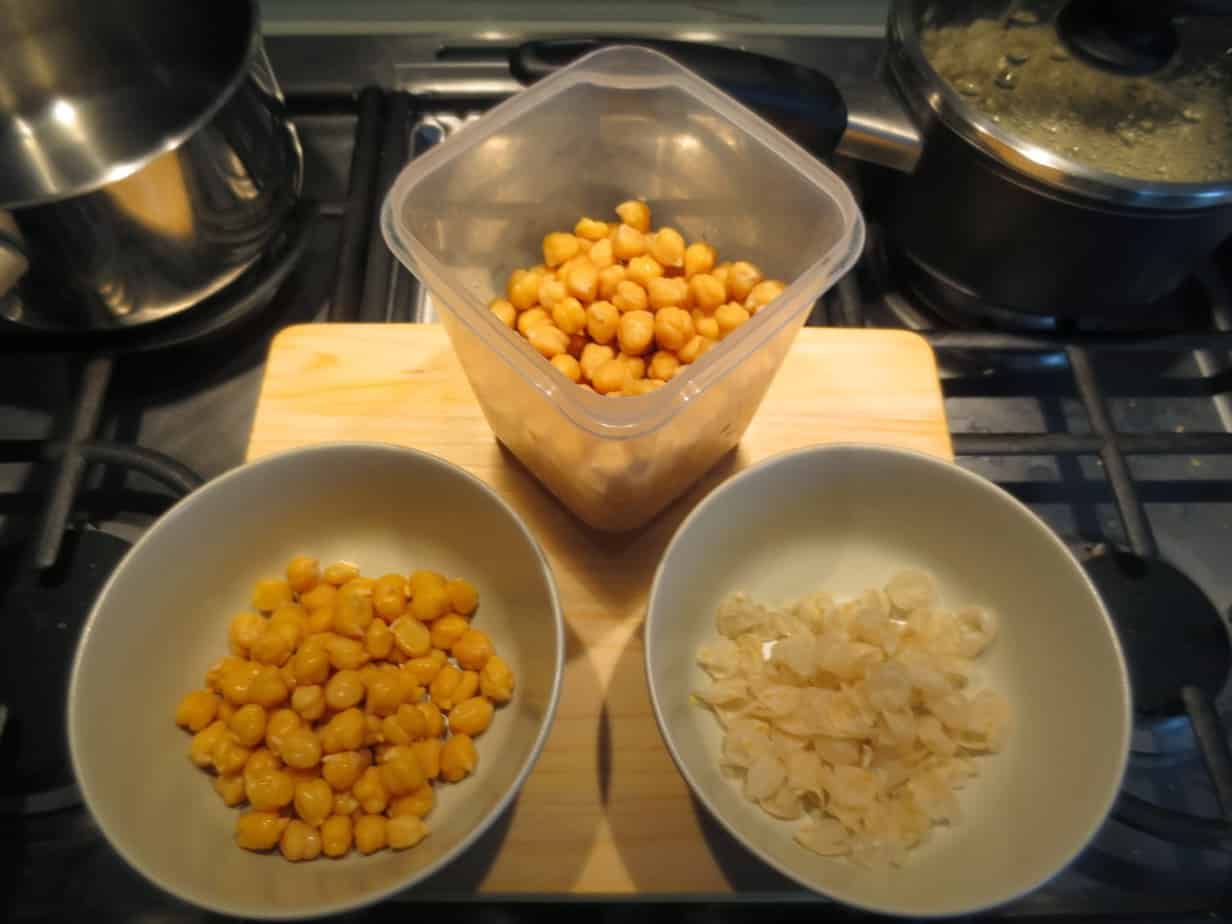 ...35 minutes later...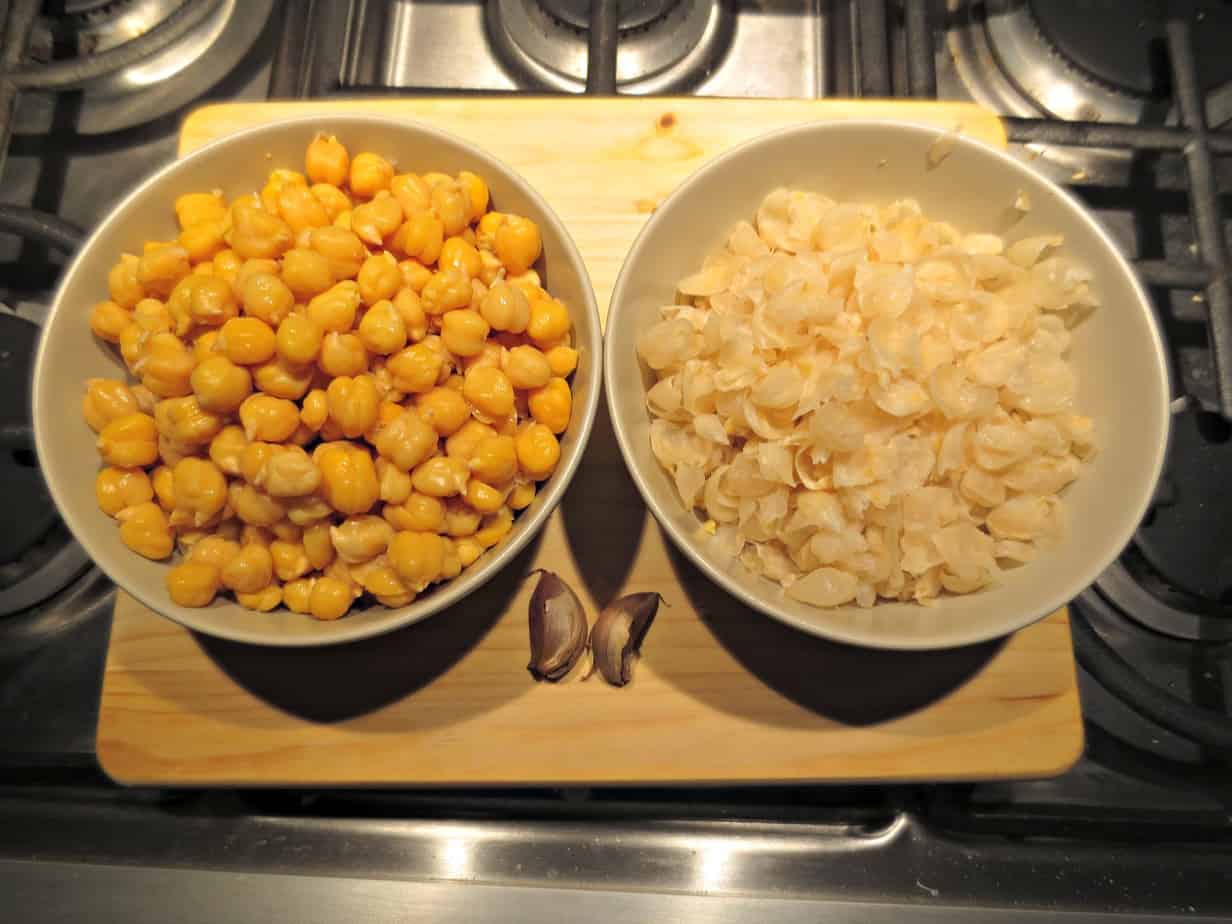 I mean, this was my first time, so of course it took awhile. But it did give me time to roast the garlic, and look how pretty it looks when it blends!So smooth.
So, she was right, peeling makes a big difference in the texture and consistency. Everyone should try this at least once, especially if you're going to have company or bring it to a friend's place. I'll probably be far too lazy to become a champion chickpea peeler, but it was worth it. Look at it, so professional!
This recipe makes quite a bit of hummus - about two of those small Sabra Hummus containers. It's a little thicker too, so feel free to add more water or oil if you'd prefer it to be thinner. I'm going to slather this on some wraps for a hike so I don't want it getting goopy and making a mess. It's also really easy to thin it out by mixing in a little more liquid with a fork.
Easy Sesame Hummus - Making Hummus Like a Pro
Make homemade sesame hummus that's perfect for snacks or to use in meals.
Ingredients
3

cups

cooked chickpeas

around 2 cans, drained

2

cloves

unpeeled garlic

Juice of ¼-1/2 lemon

to taste

2

tablespoons

olive oil

up to 2 ½ if needed

1

tablespoons

sesame oil

optional, can substitute with more olive oil

½

cup

water

salt and pepper to taste
Instructions
For roasted garlic, simply place unpeeled in the oven for about 20 minutes on about 350 degrees fahrenheit. Meanwhile, you can peel the chickpeas or assemble your other ingredients. I use a little sesame oil to help give it that authentic flavor without buying the tahini (sesame paste). You can use 100% olive oil if you prefer. (Cheaper that way.) Chick peas and oil

Place all ingredients in blender and blend until smooth, adding as much water as necessary to reach the consistency you desire.

Top with a little oil to keep it moist, and any other toppings you'd like. (Pine nuts, sesame seeds, sun-dried tomatoes, etc.) Serve with pita or carrots or bell pepper slices and enjoy!
Nutrition
Calories:
198
kcal
Carbohydrates:
23
g
Protein:
7
g
Fat:
9
g
Saturated Fat:
1
g
Polyunsaturated Fat:
2
g
Monounsaturated Fat:
5
g
Sodium:
7
mg
Potassium:
244
mg
Fiber:
6
g
Sugar:
4
g
Vitamin A:
22
IU
Vitamin B1:
0.1
mg
Vitamin B2:
0.1
mg
Vitamin B3:
0.4
mg
Vitamin B5:
0.2
mg
Vitamin B6:
0.1
mg
Vitamin C:
2
mg
Vitamin E:
1
mg
Vitamin K:
6
µg
Calcium:
43
mg
Copper:
0.3
mg
Folate:
141
µg
Iron:
2
mg
Manganese:
1
mg
Magnesium:
40
mg
Phosphorus:
139
mg
Selenium:
3
µg
Zinc:
1
mg
Choline:
35
mg