Recipe: $1.15
Per Serving: $0.29
Okay, I loooove pizza. I spent about a third of my life in New Jersey, grew up with a pizza-obsessed mama, and have never been able to kick the habit. For real, I will never, ever, ever give up New York Style Pizza.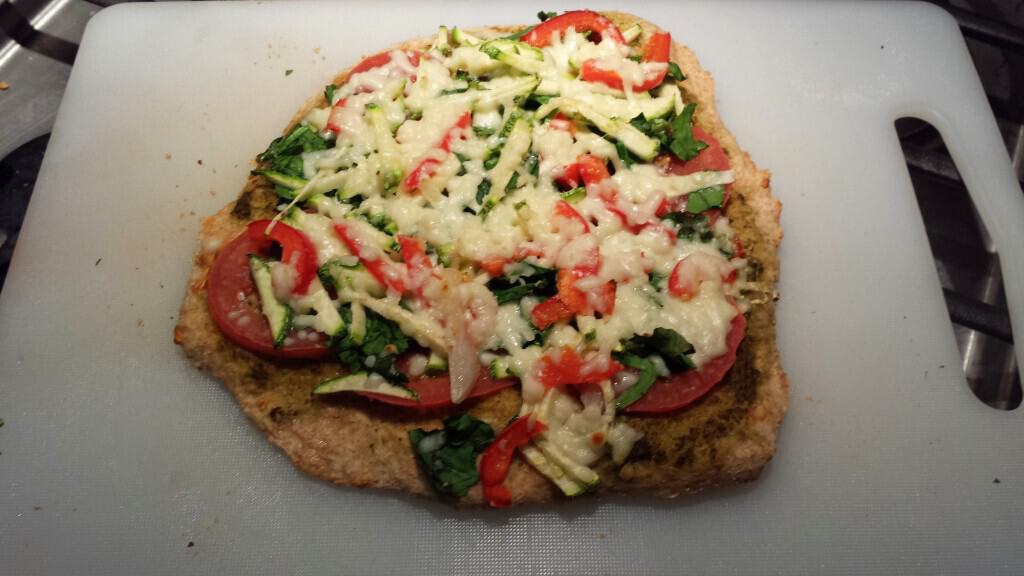 That being said, living in San Diego and abroad doesn't afford me many opportunities to get my fix. Plus, my healthier lifestyle doesn't really allow for the weekly slice of goodness. Instead of settling for something sub-par, such as one of those chains, I've finally found a healthy alternative to get me through: whole wheat pizza dough.
No, it's nothing like New York Style pizza, but I can load it with cheese and veggies, and pick it up with my hands, and that's all I really need in life. I still make pilgrimages back to the great state of New Jersey for the real deal at least one a year. *Note, UPDATED PHOTOS: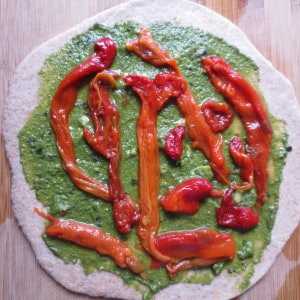 This recipe is almost exactly like the one over at 100 days of real food. She gave me the idea to add olive oil as a way to keep the crust a little chewier than it might otherwise be. I really like the sweetness of the honey though, which her recipe doesn't call for. I also like that the sugar in the honey helps the yeast grow.
I have to say, I really, really like this pizza dough. It is definitely a whole wheat pizza crust, and might take some getting used to if you're a staunch white flour lover, but it gets the job done.
This recipe makes about 4 personal pizzas. These pizzas below are made from the exact same amount of dough (¼ of the recipe), but the left is rolled out thin, while the right is a bit thicker. The taste testers say that the crust taste about the same, but if you like it crunchy on the bottom and soft on top, go for the one on the right. If that's the case, I recommend rolling it out to a thicker crust and cooking to for a bit longer - maybe 12-15 minutes.
You can also make calzones and mini pizza pockets with this dough. It's versatile and it's awesome.
100% Whole Wheat Pizza Dough
An easy homemade whole wheat pizza dough for your next pizza night.
Ingredients
1

cup

tepid-warm water*

see notes for 1.5 cups water

1

tablespoon

honey

2

teaspoon

active dry yeast*

see notes for 3 teaspoons yeast

2

tablespoon

olive oil

3

cups

whole wheat flour*

see notes for additional flour if needed

1

teaspoon

salt

*1 teaspoon optional seasonings of choice

garlic powder, oregano, basil, etc.
Instructions
Add the yeast and honey to the warm water. Let sit for about five minutes so it can get nice and frothy.

In a large bowl, combine the flour, salt, and any additional seasonings you'd like.

Once the yeast is frothy, mix in the 2 tablespoon olive oil and then pour the liquids into the flour mixture, stirring with a fork.

After a couple of minutes, it will be impossible to continue stirring with the fork so continue kneading by hand either in the mixing bowl (if it is large enough) or on a floured flat service, for about 5-10 minutes. If it seems too dry, add 1-2 tablespoons of water. (You can also mix this in a standing mixer with a dough hook attached.)

(From start to now, this process should take about 20 minutes.) Once it's a smooth ball of dough, cover with a towel or plastic wrap and let sit for 1 hour. (It can also sit overnight, or up to 48 hours in the refrigerator.

Whenever you're ready to make pizza, just roll the dough out into two large or four small/medium crusts, add toppings of choice, and bake on 500 degrees fahrenheit for about 10 minutes.*For a soft top and crunchy bottom, create a thicker crust and cook for about 12-15 minutes.
Notes
**Update fall 2016** I've made this dozens of times, but as I've gotten more comfortable with dough, I have made some changes. Instead of 1 cup water, I recommend 1.5 cups for a softer crust, and you can even use up to 3 teaspoons (1 Tablespoon) yeast for more rise and fluff. With these changes, you will likely need an additional ¼-cup to ⅓-cup flour during the kneading step.
Nutrition
Calories:
389
kcal
Carbohydrates:
70
g
Protein:
13
g
Fat:
9
g
Saturated Fat:
1
g
Polyunsaturated Fat:
2
g
Monounsaturated Fat:
5
g
Sodium:
584
mg
Potassium:
344
mg
Fiber:
10
g
Sugar:
5
g
Vitamin A:
8
IU
Vitamin B1:
1
mg
Vitamin B2:
0.2
mg
Vitamin B3:
5
mg
Vitamin B5:
1
mg
Vitamin B6:
0.4
mg
Vitamin C:
0.03
mg
Vitamin E:
2
mg
Vitamin K:
6
µg
Calcium:
32
mg
Copper:
0.4
mg
Folate:
76
µg
Iron:
3
mg
Manganese:
4
mg
Magnesium:
124
mg
Phosphorus:
331
mg
Selenium:
56
µg
Zinc:
2
mg
Choline:
29
mg