I cheated a little bit.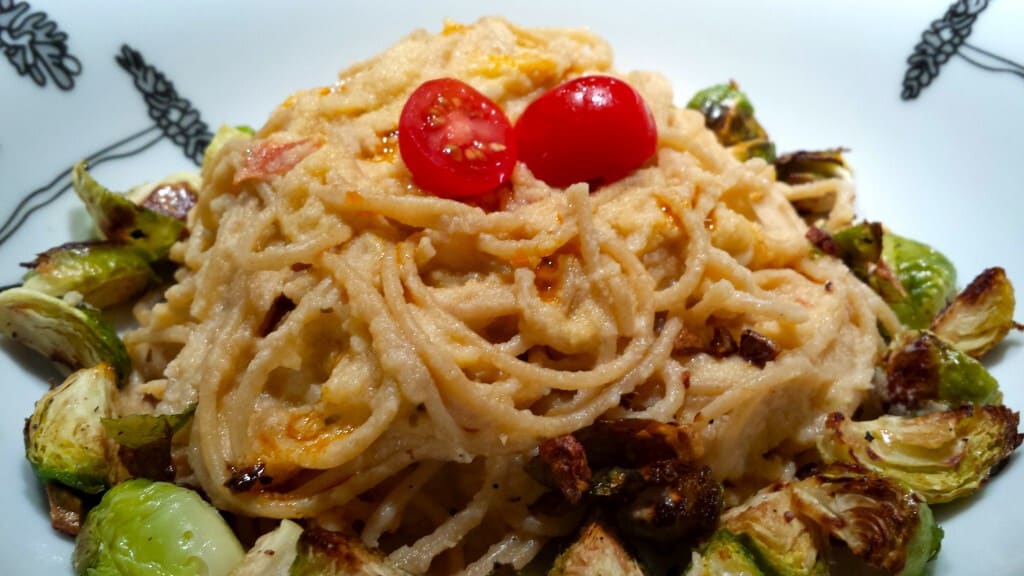 I took a fabulously popular recipe and somehow made it a little less fabulous.
I'm a big fan of making things creamy without using cream. We're talking blended white beans, melted goat cheese, pureed roasted red peppers, and now, pureed cauliflower. That's why I've been obsessed with Pinch of Yum's creamy cauliflower sauce recipe for almost a year. Unfortunately, living in a fully un-stocked kitchen in Lima, Peru for a year, where cauliflower is hard to find, made it impossible to actually try the recipe. So I was obsessed with the just the recipe, not the dish.
But, here I am in Mexico City where they have the BIGGEST heads of cauliflower I've ever seen. Cauliflower sauce it is. I've been thinking about it so much that I already knew I wanted it with oil-packed SDT and a little parmesan cheese. I will share the recipe below (which I actually followed to a T for the first time ever) but somehow mine came up a little short. It was slightly bland and not nearly as silky as the real deal. Either way, the addition of sun-dried tomatoes was a WINNER, and overshadowed the fact that it was definitely not the right texture.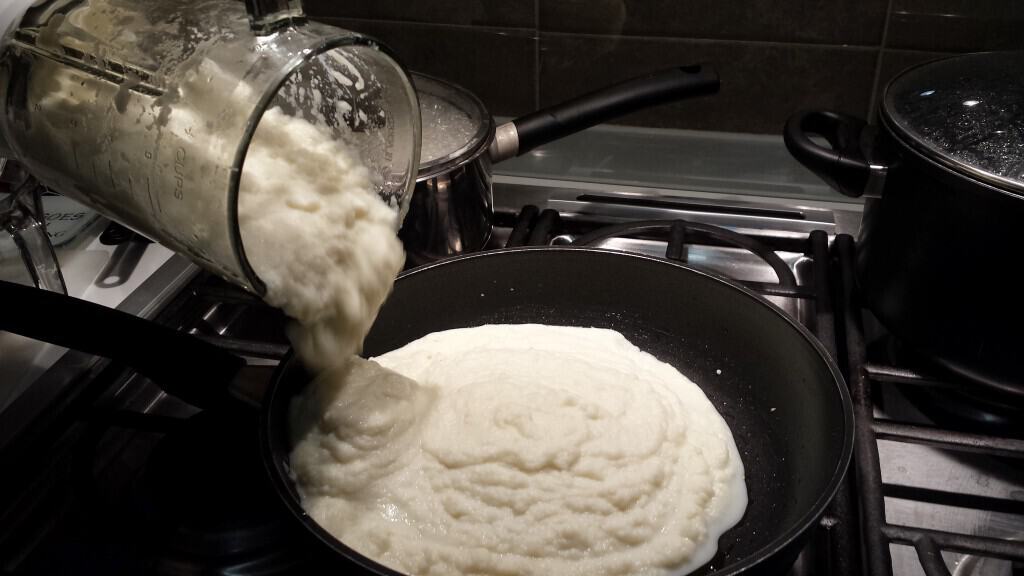 See that? Kinda chunky, not so silky. maybe it needs some olive oil or a better blender. Yeah, those things.
This is a double recipe. I made the cauliflower sauce, then put half of it away before adding sun-dried tomatoes to this half and serving it over whole-wheat angel hair. We ate ours with roasted brussels sprouts. Mmmm roasted brussels sprouts.

Whole Wheat Pasta with Sun-Dried Tomato Creamy Cauliflower Sauce
An easy whole wheat pasta recipe with a healthy creamy sauce made with sun dried tomatoes and cauliflower.
Ingredients
8-10

large

garlic cloves

minced

2

tablespoons

butter

5-6

cups

cauliflower florets

or one head

6-7

cups

vegetable broth

or water

1

teaspoon

salt

1

teaspoon

pepper

½

cup

milk

½

cup

oil-packed sun dried tomatoes

~half a small jar

*½ cup mozzarella cheese

optional

1

box

whole wheat pasta

16 oz
Instructions
Bring broth or water to a boil and cook the cauliflower, covered, for about 8 minutes, or until tender.

Using a large pan, sauté the minced garlic in butter for a few minutes, until soft and fragrant, but not brown. Remove from heat.

Drain cauliflower (drain, not strain – save the water!), and add to blender in batches, with the garlic, salt, pepper, milk and ½ to 1 cup of the cauliflower broth, based on consistency.

While you're blending the cauliflower, bring the broth back to a boil and cook pasta according the package directions.

Set half the cauliflower mixture aside for another use. Blend remaining mixture with the sun-dried tomatoes. Return to pan for a few minutes and add optional mozzarella cheese, then mix with whole wheat pasta and serve.

*Half of the sauce + 16 oz of pasta makes 4-5 large servings, and even more sauce!
Nutrition
Calories:
551
kcal
Carbohydrates:
103
g
Protein:
21
g
Fat:
11
g
Saturated Fat:
5
g
Polyunsaturated Fat:
1
g
Monounsaturated Fat:
3
g
Trans Fat:
0.2
g
Cholesterol:
19
mg
Sodium:
2132
mg
Potassium:
911
mg
Fiber:
4
g
Sugar:
7
g
Vitamin A:
1155
IU
Vitamin B1:
1
mg
Vitamin B2:
0.3
mg
Vitamin B3:
7
mg
Vitamin B5:
2
mg
Vitamin B6:
1
mg
Vitamin B12:
0.2
µg
Vitamin C:
76
mg
Vitamin D:
0.3
µg
Vitamin E:
0.3
mg
Vitamin K:
21
µg
Calcium:
132
mg
Copper:
1
mg
Folate:
140
µg
Iron:
5
mg
Manganese:
4
mg
Magnesium:
198
mg
Phosphorus:
409
mg
Selenium:
85
µg
Zinc:
3
mg
Choline:
64
mg