Recipe: $5.35 | Per Cup: $0.12 | Yield: 44 cups | Jump to Recipe
This seems silly: devoting a whole blog post to a simple vegetable broth. I mean, most people just grab a carton at the grocery store, or use whatever vegetable scraps they save in their freezer to make some at home.
It's not silly! Although I love the freezer bag of veggie scraps, I've learned that the most flavorful and nutrient-dense stocks incorporate whole vegetables as well. Yes, Ms. cheap-o, frugal, never-pays-for-broth me used two whole onions ($0.60), two pounds of carrots ($1), one pound of celery ($1), a whole sweet potato ($1.50), and half a bunch of parsley ($1) to make broth.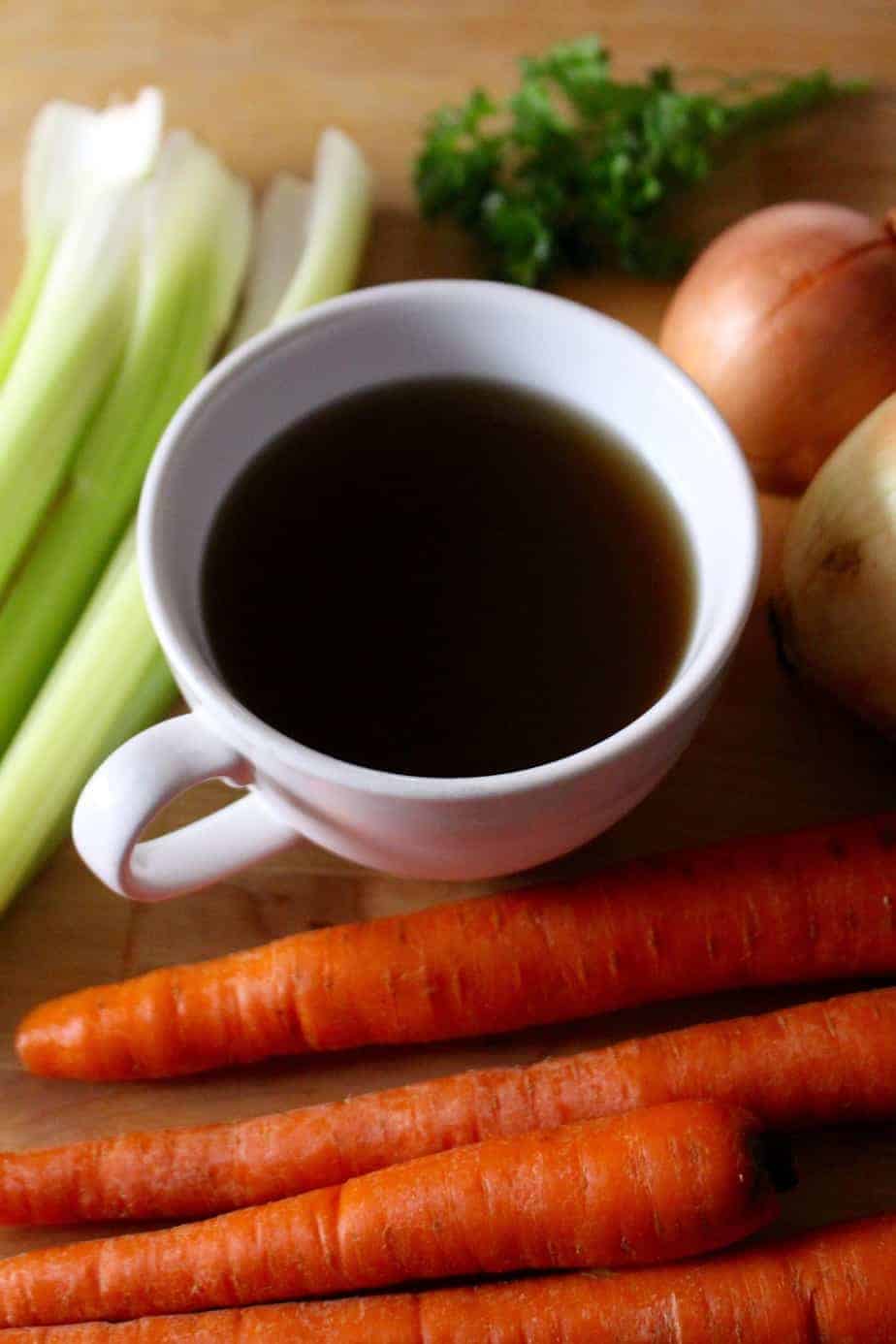 If you're anything like me, you've always viewed broth as an ingredient to add a little flavor oomph to your dishes, not as the end result. But now that I'm halfway through my MS in Nutrition, and about 42 hours' worth of Whole Foods Cooking Classes wiser...my perspective of broth has changed. I made beef broth with grass-fed beef bones from the farmer's market, chicken broth with 2 chicken carcasses and some chicken feet (yeeek), and now, a nourishing vegetable broth.
This recipe is based on Rebecca Katz's recipe for Nourishing Broth, which we make in our cooking classes, but I made it much cheaper by reducing the ingredient list to the more basic items that are easy to find in any grocery store. Including: SWEET POTATO. This is a game-changer for broth-making. Potatoes are a great source of potassium, so you can use any type of potato, but I went with the carotene-rich sweet potato for the nutrient density and sweeter taste. (Side note: tomato paste is also umami-rich and a delicious add-in!)
I also reduced the recipe, which still made a gigantic pot of this nourishing vegetable broth to kick off my week of VEGAN SOUPS. Yep, I've got a week of vegan soup recipes on deck for you guys that are pretty incredible. Using my newfound knowledge of broth, I've packed a lot of flavor into these soups and stews, and I just know you'll love them!
Here's a sneak peak at what I'll be posting this week.
A Week of Vegan Soups (& Stews): Gluten-Free, Dairy-Free, Vegan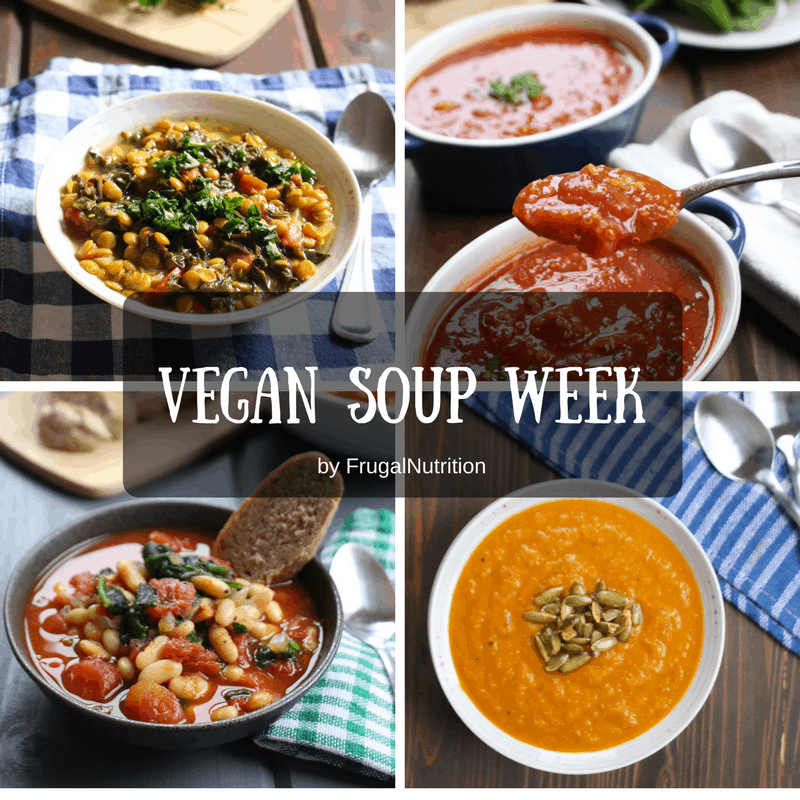 Stay tuned for those recipes! Now back to the broth - not only are they great for making soups, but also for sipping throughout the day. I have been reducing / almost eliminating caffeine from my diet because even though I would usually drink only 1-3 cups of green (sometimes black) tea each day, cutting that back to just 1 serving of tea (usually green or kombucha) has already significantly helped me sleep. I have a busy mind, so it can be pretty difficult to fall asleep, but since making this change in September I have only had 2 nights total in which I struggled to fall asleep. That's huge for someone who usually struggles at least once a week!
Reducing my artificial stimulation (caffeine) has helped me sleep deeper, feel more rested when I wake, and has reduced both my mild anxiety and cranky irritability. I used to have a lot more trouble sleeping back when I drank 3-5 cups of coffee each day and had terrible sleep hygiene habits, and I would also get sick at least every month. After 4-5 years of a coffee obsession, I cut it out cold turkey in 2010 (7 years ago!), and haven't looked back. Sometimes I'll get a decaf mocha during the holidays, but that's about it! Obviously, diets & lifestyles are not one-size-fits-all, but this has been a game changer for me, so if you're struggling with sleep, but your diet is pretty healthy, cutting back on caffeine is worth a shot. :)
Now get ye some nourishing broth...fer yer health!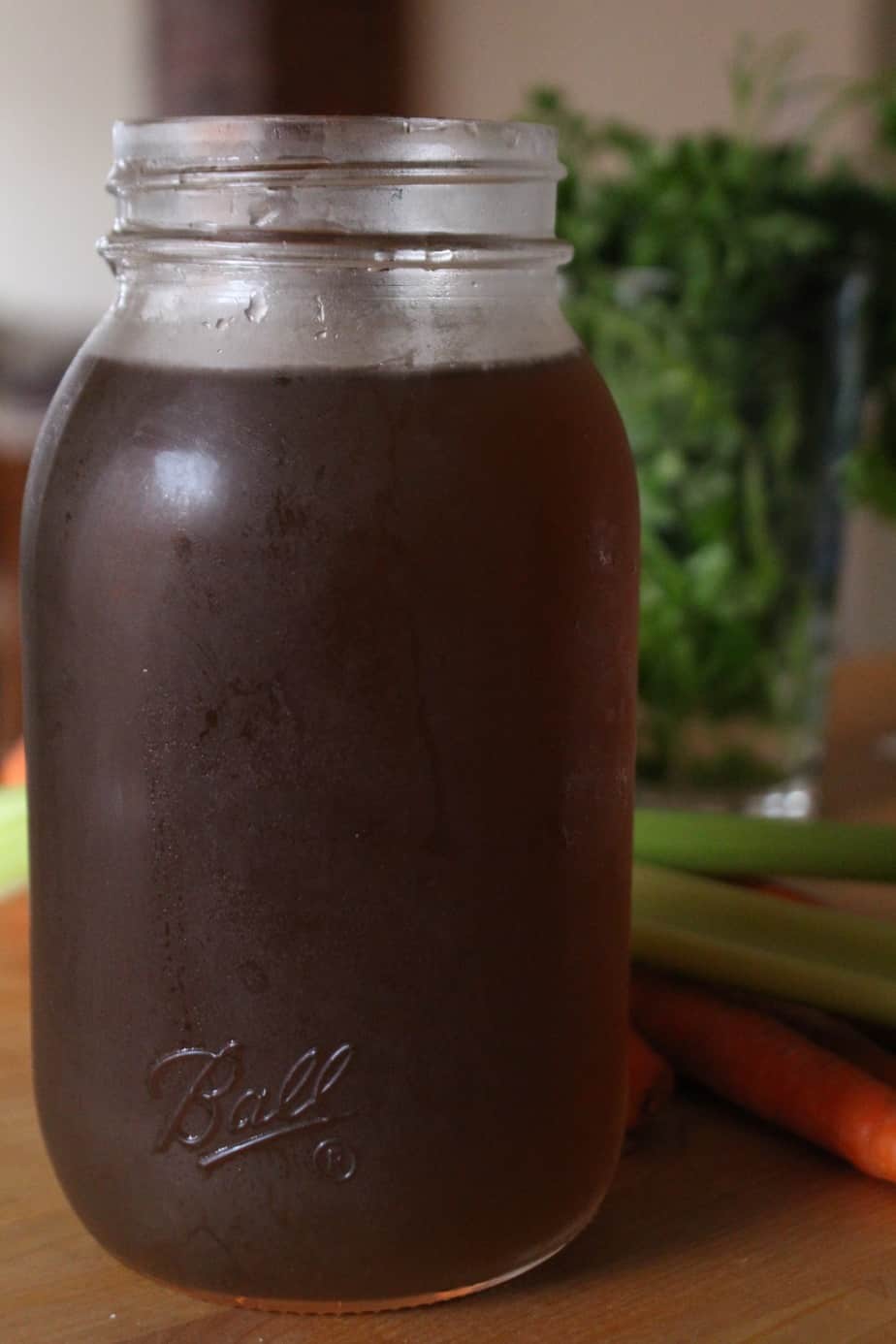 Vegetarian: Yep
Paleo: Yep

Homemade Nourishing Vegetable Broth
Making homemade vegetable broth is a great way to reduce your grocery bill and use less processed ingredients.
Ingredients
2

pounds

carrots

unpeeled

1

pound

celery

unpeeled

1

large

sweet potato

unpeeled

4-5

cloves

garlic

unpeeled

½

bunch

parsley

Optional add-ins: whole black peppercorns

kombu, leek, white or red potatoes, 1-4 tablespoon tomato paste

10-16

quarts

water
Instructions
Wash vegetables: Dump all veggies and herbs into a clean sink. Fill with water until vegetables are submerged and agitate well to remove dirt and debris. Pull apart the celery to remove dirt from between the stalks and shake the parsley in the water. You can also scrub the carrots and potato with a brush if desired.

Quickly cut up ingredients: Cut carrots and celery into thirds, chop onions and sweet potato in half, in quarters, and then in eighths. Crush unpeeled garlic with the flat side of knife just to activate enzymes.

Add all ingredients to a large stock pot - about 16 quarts or larger. Cover with water (I used 11 quarts of water, or 44 cups, plus an additional 4 cups when it evaporated a lot).

Bring to a boil and skim off any white foam that forms. (If you want.)

Reduce to a simmer and simmer over low heat for 2-4 hours. NOTE: I simmered for 2 hours, then I reduced my stove to the lowest setting and let it continue cooking overnight simply because of time constraints. I added 4 additional cups of water before bedtime to accommodate for this extra time.

Strain out the vegetables and either discard, compost, or blend to mix into soups, baked goods, sauces, or purees. (These vegetables are basically just fiber without additional micronutrients.)
Notes
To Cool: You can dilute the broth with some cold water or ice cubes. You can place the entire pot in a large sink or bathtub filled with ice water and stir the broth to cool. You can pour it into smaller containers, preferably with large surface areas such as casserole dishes. For food safety, it is not advised to leave broth between 40-110 degrees for more than 4 hours total. Once the internal temperature reaches about 90 degrees F or cooler, divide into storage containers and refrigerate or freeze.
Organic ingredients are recommended when feasible as you will not be peeling the vegetables. If using conventional consider peeling the vegetables and discarding the scraps.
Nutrition
Serving:
1
cup
Calories:
17
kcal
Carbohydrates:
4
g
Protein:
0.4
g
Fat:
0.1
g
Saturated Fat:
0.01
g
Polyunsaturated Fat:
0.03
g
Monounsaturated Fat:
0.01
g
Sodium:
38
mg
Potassium:
124
mg
Fiber:
1
g
Sugar:
1
g
Vitamin A:
4642
IU
Vitamin B1:
0.02
mg
Vitamin B2:
0.02
mg
Vitamin B3:
0.3
mg
Vitamin B5:
0.1
mg
Vitamin B6:
0.1
mg
Vitamin C:
3
mg
Vitamin E:
0.2
mg
Vitamin K:
17
µg
Calcium:
21
mg
Copper:
0.1
mg
Folate:
9
µg
Iron:
0.2
mg
Manganese:
0.1
mg
Magnesium:
8
mg
Phosphorus:
14
mg
Selenium:
0.1
µg
Zinc:
0.1
mg
Choline:
4
mg
*There is no nutrition label for this broth because it is impossible to create one since all of the fiber and most of the calories are strained from the broth.