Lentil kale soup is packed with chunky vegetables and the rich and bright flavor of tomato paste and lemon. This is one of my favorite easy lentil recipes and the lemon flavor really shines (great for fall, winter, or spring!). It's perfect for an easy weeknight dinner or meal prep lunch.
Recipe: $5.92 | Per Serving: $1.48 | Yield: 4
This dish is really simple to make and it's so versatile. It's a great way to use up any veggies you have in the refrigerator!
Soups are perfect for the fall and winter seasons but can also be enjoyed at other times of the year! They're perfect for meal prep since they reheat so easily, and this veggie-packed stew is packed with punchy lemon flavor - making it a great option for early spring.
If you love vegetarian soups, check out Thai Butternut Squash Soup and Red Enchilada Soup. Or, one of my personal favorites - Garlic, Tomato & Balsamic White Bean Soup with Spinach!
Jump to:
Why You Will Love This Recipe
Easy to adjust the consistency! Bulk it up with additional vegetables, add extra broth to make it a little soupier, or use less broth for a thick stew.
So great for meal prep! Stores and reheats exceptionally well. Tastes best on day 2 or later. 😋
A tasty vegetarian and vegan soup to mix things up a bit! Lentil Soup is an affordable, budget-friendly meal and this one is packed with both flavor and nutrition!
Ingredients
Let's take a closer look at the ingredients you need to make kale and lentil soup! We're using mostly pantry staples & long-lasting vegetables.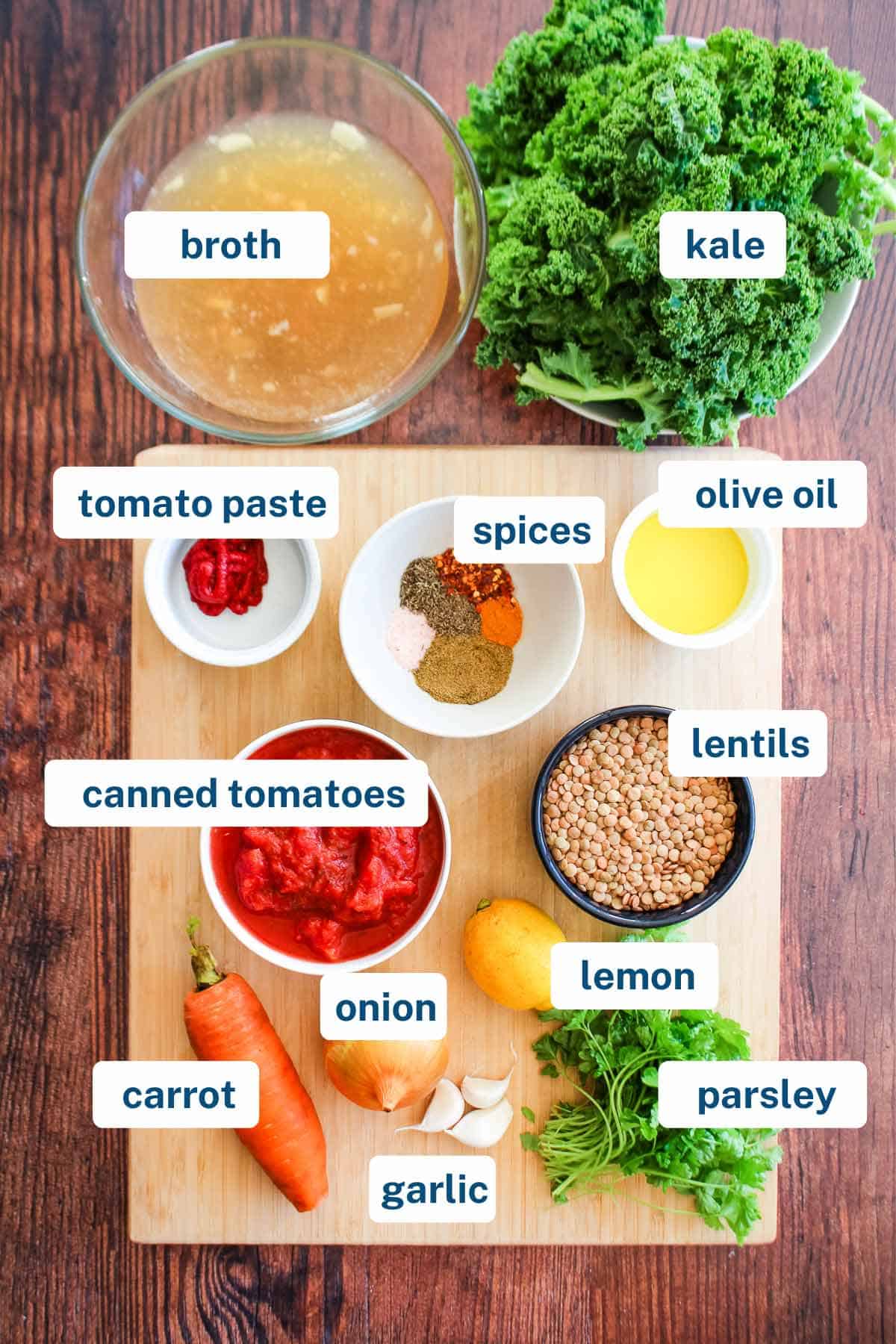 Vegetable (or chicken) broth: I love using my homemade vegetable broth or chicken bone broth, but choose what works best for you based on time and affordability! I have tried this with store-bought bouillon, which also worked. I do recommend using a high-quality vegetable broth for the best flavor. Choose a low-sodium or salt-free variety so you have more control over the saltiness of the soup.
Mirepoix: Onion, carrot, and garlic create a nice base of flavor to the soup. Typically mirepoix includes celery, but I liked this soup better without the celery.
Tomatoes: Tomato paste gives umami flavor to this lentil kale soup vegetarian style - umami is found in meat, mushrooms, and tomatoes. Diced tomatoes provide body and bulk. If you don't have fire-roasted tomatoes, you can boost the smokiness by adding a half teaspoon of smoked paprika.
Spices: Cumin, thyme (or Italian herb seasoning), turmeric, and red pepper flakes add warming, fragrant flavors to the soup.
Lentils: Brown or green lentils work great here.
Lemon: You definitely want to use fresh lemons! The soup gets a burst of bright flavor from adding lemon zest along with the freshly squeezed juice.
Kale: Leafy kale adds color and nutrition to the soup. I prefer using fresh kale but frozen will work in a pinch too. You can add it directly to the pot. It will cook quickly even from frozen.
Substitutions and Variations
Swap the vegetable broth! If you don't soup doesn't need to be vegetarian, make this lentil and kale soup with slow cooker chicken bone broth instead.
Lentils: Any type of lentil work when making lemon lentil soup! Just be aware you may need to adjust the cooking time. Split red and yellow lentils require less cooking time and more water, and other varieties may need a bit more time to cook.
Kale: Use any other leafy green to replace the kale. Spinach, Swiss chard, and collard greens are just a few recommendations.
More vegetables: Add celery to your mirepoix if you'd like. You can also experiment with zucchini, mushrooms, celeriac, or sweet potatoes. Some veggies may require a bit more broth.
How to Make Lentil Kale Soup
Are you ready to get cooking? Here's an overview of the major steps involved to show you the process. Be sure to check the recipe card for detailed instructions.
Cook the onions and carrots with olive oil in a large stock pot until the onions are slightly translucent. On this day, I added a small yellow carrot and small purple carrot for additional phytonutrients and polyphenols!
Add the garlic, salt, black pepper, turmeric, crushed red pepper flakes, and tomato paste, and cook for about one minute. You can also add in the finely chopped kale stems if you'd like to use them.
Add the lentils, tomatoes, vegetable broth, and lemon zest and bring to a boil. Then reduce the heat to low and cook until the lentils are tender.
PRO TIP: The lentils will take a bit longer to cook in this recipe then when cooking in water since both the salt and tomatoes slow down the absorption of liquid and the overall cooking process.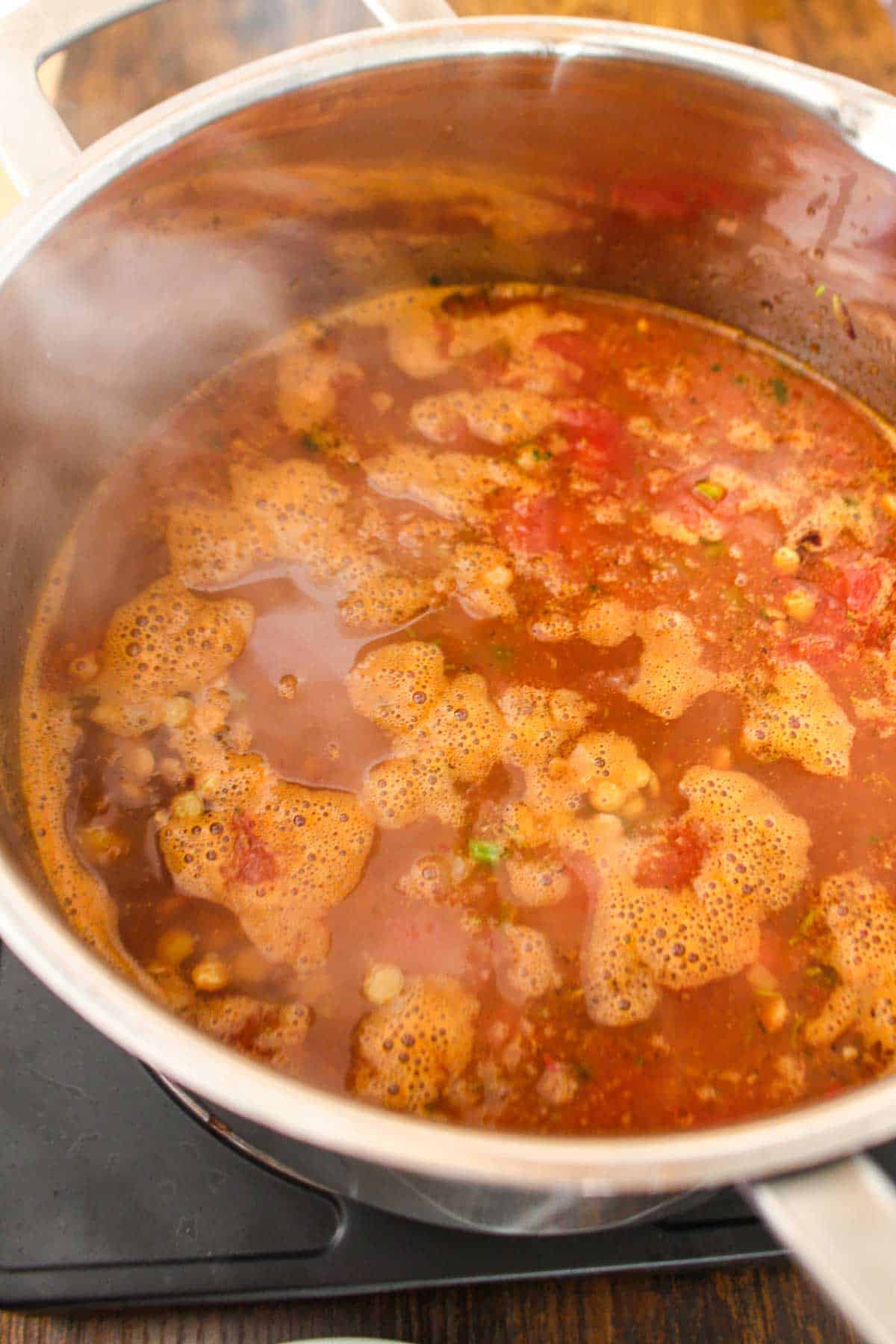 When the lentils are mostly done, stir in the kale and the lemon juice.
Cook just until the kale is wilted and then serve it up!
How to Keep Your Kale Green
As the kale cooks in the soup (or in any dish) you will notice that it loses a bit of its bright green color and becomes a dull forest green. But did you know you can add an extra step to keep it greener? Yes, it's possible!
All you need to do is quickly blanch the chopped kale before adding to the soup. Here's how to do it!
Fill a big bowl with ice and 1-2 cups of water.
Bring a large pot of water to a boil.
Drop the greens into the boiling water and let them cook for about 5-30 seconds.
Strain or scoop out the cooked kale and place it in the bowl of iced water.
Stir until the greens are cool.
Remove immediately and drain before adding to the pot of lentil soup.
Expert Tips
Use fresh lemon. Swapping it for bottled lemon juice will simply not taste the same.
Store the leftovers in the fridge for up to five days or in the freezer for three months. When reheating you may need to add more broth as it will thicken as it sits.
Need some side dish inspiration? This one-pot meal doesn't need a lot on the side so keep it simple. Cassava flour tortillas or sprouted whole wheat tortillas make an easy addition.
Taste your soup and adjust the seasoning to your own tastes! If you're using a broth that has salt added I recommend waiting until the end to add more salt.
Watch me make it! The BEST Lemony Lentil Kale Stew:
FAQs
Can you make lentil soup ahead of time?
Yes! This kale lentil soup with lemon is perfect to make ahead for meal prep. You can even make a double batch. Once it's cooked, separate it out into individual containers and allow it to cool for 30-60 minutes at room temperature. Once it's cool, then cover with a lid, and store in the fridge or freezer. Reheat thawed soup on the stove over medium heat and add more vegetable broth as needed.
What are the best lentils to use for soup?
All lentils work great for soup. I prefer to use green or brown lentils to make lentil kale soup because they are the most budget-friendly option and they hold their shape when cooked. Red and yellow lentils will fall apart when cooked which makes a much creamier soup.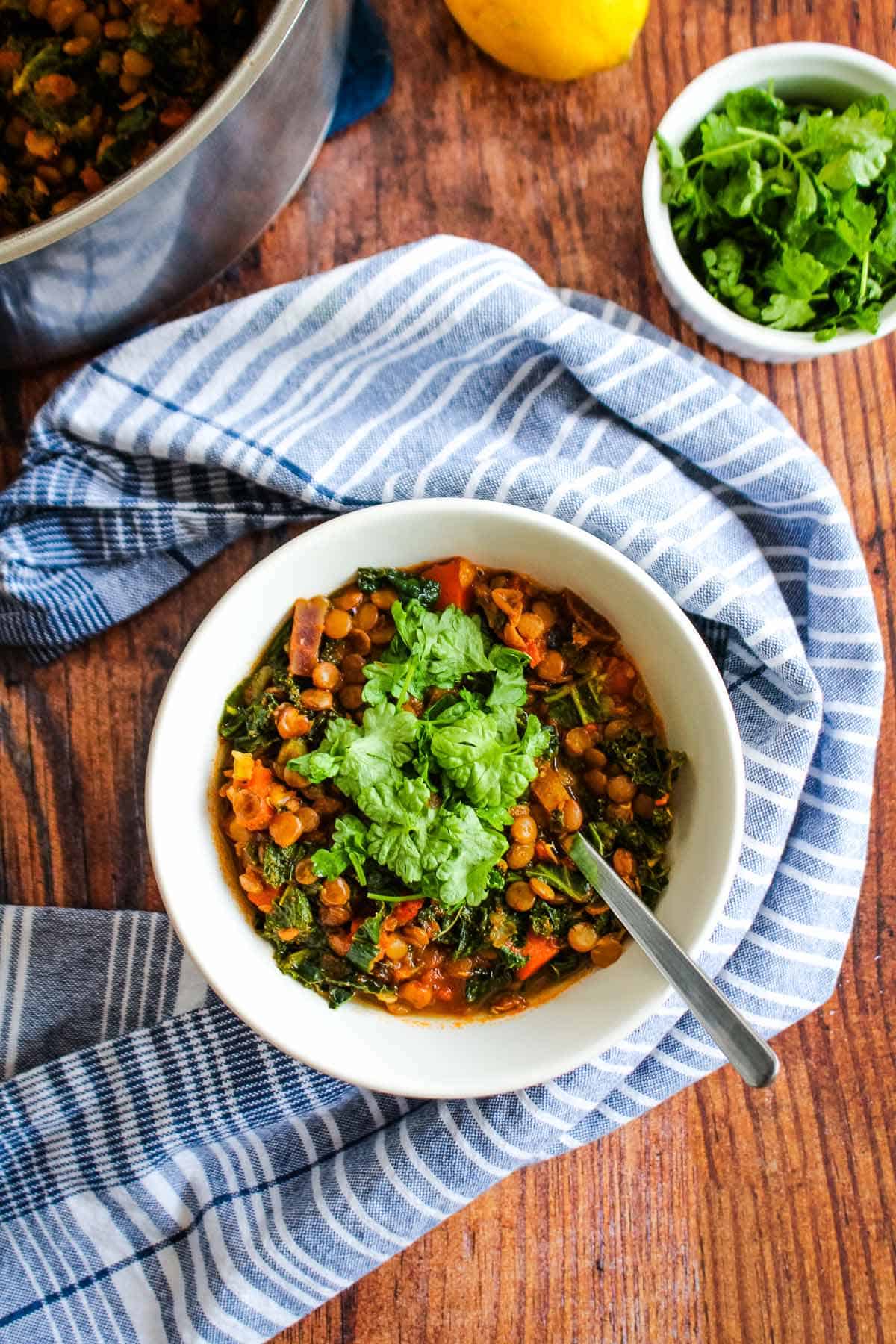 Dietary Modifications
Vegetarian: Yes!
Paleo: Sorry friends, lentils aren't Paleo. You could probably make a delicious lemony soup without the lentils to go alongside your Paleo entree though.
Low FODMAP: This soup contains FODMAPs in onions, garlic, and lentils. If you're low FODMAP or trying to introduce them, I would make this with ¼th the amount of onions and garlic and start with just half a serving of soup! You can do it!
More Easy Soup Recipes
Did you like this recipe? If so, please take a moment and give it a 5-Star ⭐️⭐️⭐️⭐️⭐️ review and leave a comment further below! Don't forget to follow me on Facebook, YouTube, Instagram, and Pinterest for more delicious recipes!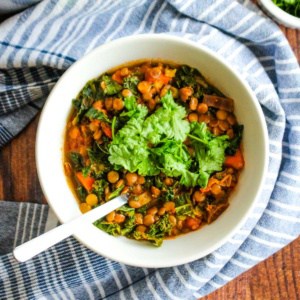 Easy Lemon Lentil Kale Soup
This is one of my favorite easy lentil dishes - Lemony Lentil Stew. It's packed with vegetables and flavor (and protein!), and the lemon really shines!
Ingredients
2

Tablespoons

olive oil

+more for garnish, see below

1

medium

onion

diced

1

medium

carrot

diced

3

cloves

garlic

minced

2

Tablespoons

tomato paste

1

teaspoon

fine sea salt

2

teaspoons

ground cumin

1

teaspoon

dried thyme

½

teaspoon

ground black pepper

½

teaspoon

ground turmeric

½

teaspoon

crushed red pepper flakes

1 ½

cups

dry lentils

14.5

ounce

can diced tomatoes, undrained (fire roasted if possible!)

400 g

6

cups

unsalted vegetable broth

or water

1

Zest from 1 lemon

about 1 T

Juice from 1 lemon

about 3 T

1

bunch

kale

stems removed and leaves roughly chopped (about 8 cups)

½

cup

chopped parsley to garnish

2

Tablespoons

olive oil

for drizzling
Instructions
Warm the oil in a large stock pot. Sauté the onions and carrots for about 5 minutes, or until onions are slightly translucent. Add the garlic, tomato paste, salt*, black pepper, turmeric, and crushed red pepper flakes and cook about 1 minute.

Add the lentils, canned tomatoes, vegetable broth, and lemon zest and bring to a boil. Reduce to a simmer immediately and cook for about 20-25 minutes, or until lentils are tender.

Once lentils are at least 90% tender, stir in the kale and the lemon juice and cook just until kale is wilted and lentils are cooked to your liking. Serve immediately!

Optional Blanch:

If you would like your greens to stay bright and vibrant, you can quickly blanch them before adding them to the soup. To do this, fill a big bowl with ice and 1-2 cups water. Bring a large pot of water to a boil. Drop the greens into the boiling water and let cook for about 5-30 seconds, then quickly strain / scoop out and place in the bowl of ice water. Stir until greens are cool, then immediately remove and drain before adding to recipe.
Notes
We often just use parsley as a garnish, but you should know that herbs are generally very nutrient dense. Parsley contains a whole bunch of vitamin K, and pretty solid amounts of vitamin C, as well as a bit of folate and iron, among other micronutrients. Add more herbs to your food!
For the tomatoes, fire roasted is my preference. Plain tomatoes are fine or you can boost the smokiness with ½ teaspoon smoked paprika. 
This dish is ideal for those who don't tolerate a lot of acidity in their foods - it uses about ⅓ the amount of canned tomatoes as other stew recipes. Feel free to skip the lemon if not tolerated and just use the zest. 
If you don't have dried thyme, Italian Herb Seasoning is a good alternative.
* Salt - if you are using salted broth and/or salted canned tomatoes, you may want to wait to add any additional salt until the end.
Watch me make this recipe on YouTube!
Nutrition
Calories:
484
kcal
Carbohydrates:
66
g
Protein:
24
g
Fat:
16
g
Saturated Fat:
2
g
Polyunsaturated Fat:
2
g
Monounsaturated Fat:
11
g
Sodium:
825
mg
Potassium:
1371
mg
Fiber:
29
g
Sugar:
11
g
Vitamin A:
6897
IU
Vitamin B1:
1
mg
Vitamin B2:
0.4
mg
Vitamin B3:
4
mg
Vitamin B5:
2
mg
Vitamin B6:
1
mg
Vitamin C:
65
mg
Vitamin E:
5
mg
Vitamin K:
275
µg
Calcium:
206
mg
Copper:
1
mg
Folate:
402
µg
Iron:
9
mg
Manganese:
2
mg
Magnesium:
138
mg
Phosphorus:
412
mg
Selenium:
8
µg
Zinc:
4
mg
Choline:
92
mg
This lemony lentil kale stew recipe was originally published in November of 2017 - it has been updated to have more flavor and much clearer instructions. Thank you for supporting me and my blog!