Recipe: $3.65 | Per Serving: $1.83 | Yield: 2 (large) Servings
The holidays have officially come to an end, and February is in full swing, which means the coldest part of the year is upon us. I say we vote to move the December holidays to January or February. Let's spread out the merriment a bit, yeah? January and February are the coldest months in Japan, and this year is no exception. And my favorite way to stay warm? Soup! Tomato Soup!
Or should I say soup and grilled cheese? I've made this soup several times now, and ever since I posted this picture (below) on Instagram, I've been dying to share it. Because tomato soup and grilled cheese is one of the best cold, snowy, stay-home lunches/dinners of all time.
Sorry for the difference in colors here - I guess my phone takes a more orangey photo than my camera?
If you're feeling a little more conservative in the cheese & butter & bread department (for those still trying to stick to resolutions), rest assured, it's also super delicious topped with pesto and served with naan. For the rest of us, bring on the cheese!
And the cheesy cheddar garlic biscuits, of course, which are a great substitute for grilled cheese when you're taking this soup to work.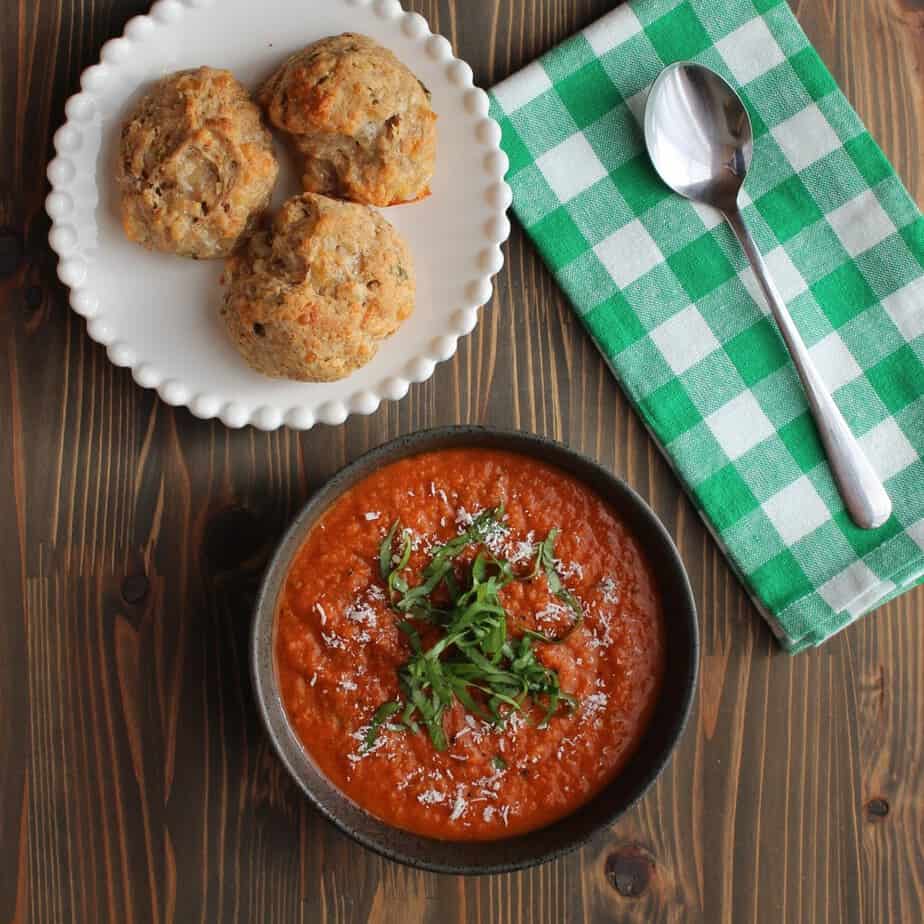 As I write this, we are sitting in snow-filled Hokkaido, our first stop on our 3-week trip around Japan! We came for the snow and the snow festival, and it hasn't disappointed us. Several inches of snow everyday, and c-c-c-cold as soon as the sun goes down. The California kid is amazed. Yesterday we went to a nearby snow park to play in the snow, go sledding, build a snowman, and have snowball fights. It was great! I love visiting the snow!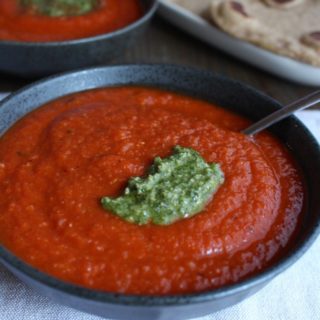 Easy Stovetop Tomato Soup
Forget the canned stuff! This easy tomato soup can be served chunky or pureed into a smooth and flavorful soup.
Ingredients
1

Tablespoon

olive oil

or butter

½

medium

onion

1

small

carrot

4

cloves

garlic

28

ounces

crushed tomatoes

½

cup

loosely packed basil

1

cup

milk

½

teaspoon

salt

fresh black pepper

optional: pesto for topping
Instructions
Slice the onions into wedges or chunks. Heat the olive oil in a large pot and add the onions. Sauté for about 2 minutes. Crush, slice, or mince the garlic and add it to the pot. Chop the carrots into small pieces (about ½-inch cubes or smaller), and add to the pot. Sauté the vegetables together for about 5 minutes.

Add the canned tomatoes and about half of the basil (¼ cup only). Simmer the soup for about 20 minutes, or until the carrots are soft. Remove from heat and add to your blender. (Or blend with an immersion stick.) Blend until smooth and return to the pot. Add the milk, the salt, and the remaining basil. Bring to a simmer and then immediately remove from heat. Serve immediately or freeze for later. Pair with crusty bread,

whole wheat naan

,

cheddar garlic biscuits

, or grilled cheese. :) Top with parmesan cheese, basil, or pesto!
Notes
This serves two adults as the main meal or four adults as a side. (Paired with salad, pizza, or grilled cheese.)
Nutrition
Calories:
147
kcal
Carbohydrates:
21
g
Protein:
6
g
Fat:
6
g
Saturated Fat:
2
g
Polyunsaturated Fat:
1
g
Monounsaturated Fat:
3
g
Cholesterol:
7
mg
Sodium:
586
mg
Potassium:
754
mg
Fiber:
4
g
Sugar:
13
g
Vitamin A:
2773
IU
Vitamin B1:
0.2
mg
Vitamin B2:
0.2
mg
Vitamin B3:
3
mg
Vitamin B5:
1
mg
Vitamin B6:
0.4
mg
Vitamin B12:
0.3
µg
Vitamin C:
21
mg
Vitamin D:
1
µg
Vitamin E:
3
mg
Vitamin K:
27
µg
Calcium:
161
mg
Copper:
0.4
mg
Folate:
33
µg
Iron:
3
mg
Manganese:
0.5
mg
Magnesium:
53
mg
Phosphorus:
140
mg
Selenium:
3
µg
Zinc:
1
mg
Choline:
39
mg