Recipe: $7.74 | Per Serving: $1.94 | Yield: 4 large | Jump to Recipe
Back when I was new in the "healthy eating" world, circa 2010, I often bought those new-to-me soups sold in TetraPak containers. My favorite one was Pacific Foods Roasted Red Pepper, and I always had some stashed in the pantry for emergency lunches when I was short on time (AKA always).
Now that I'm a real adult with only my BF as my roommate, my rushed mornings are few and far between, but food stashes are still the MVP of my kitchen. Our freezer is currently full of all kinds of homemade stashed food items, from ingredients and sauces to prepped veggies, cooked beans, and jars and jars of homemade soup.
Over the years I have made various roasted tomato / roasted red pepper soup combinations, but usually with cheese (hi feta, hi parmesan, hi goat cheese), or a little milk for creaminess. This time around I was looking for a simple way to soften the acidity without adding any dairy. I remembered a Jamie Oliver trick I once learned to blend starchy white rice into soups to thicken them, so I turned to my favorite rice substitute: quinoa.
I love quinoa. I was a little late to the quinoa game. My 2010 roommate was eating tricolor quinoa while I was turning up my nose at the trendy seed-grain, but a few short months later I tried it with great success, and then a year of living in Peru, the Land Of Quinoa, really solidified my love for this little gluten-free grain/pseudocereal/seed.
I had originally planned to make a Peruvian quinoa soup for this week, but remembered how difficult it was to procure the appropriate Peruvian seasonings, namely Aji pepper, so I pivoted to this. Great success!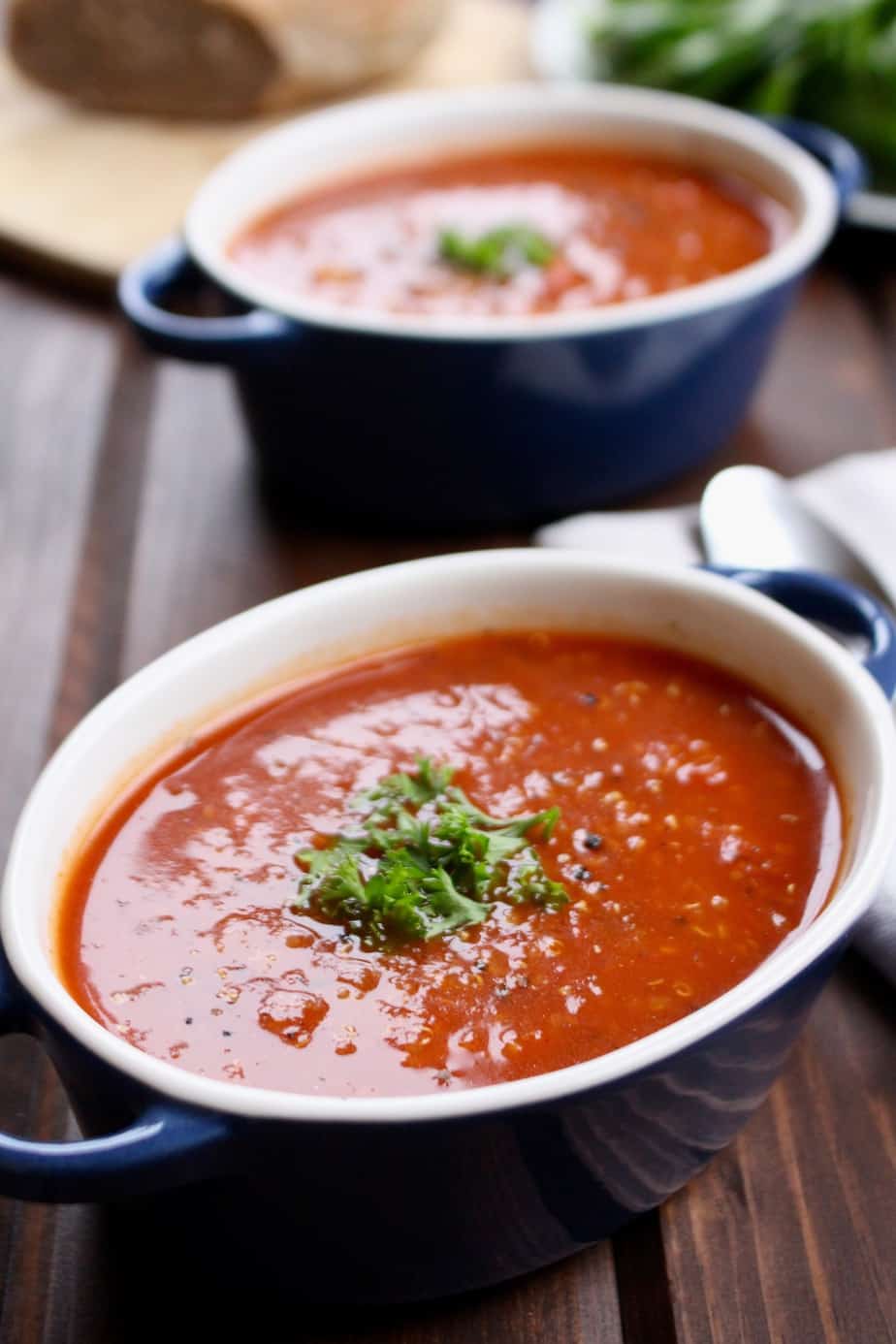 Quinoa Facts & Tips
You must, MUST rinse your quinoa! Saponins, which are some of the compounds the plant uses to defend itself against pests, are present on the outside of each quinoa "grain" and create bitter soapy suds in your quinoa water.

There are lots of different brands of quinoa and you'll notice that some seem to be pre-rinsed, while others are definitely not. There's some evidence to suggest that these saponins can be inflammatory, so rinse rinse rinse! (Use a fine mesh strainer to get the job done!)

Nutrients! Quinoa's got a lot of 'em. It's definitely one of the more nutrient-packed "grains", and that's because it's not actually a grain. Quinoa is in the same family as spinach and Swiss chard, and is often referred to as a pseudocereal because it isn't technically a cereal grain.
Protein! We're looking at enough amino acids to qualify quinoa as a "complete" protein. No, it is not a one:one replacement for your favorite plant-based or animal-based proteins, but half a cup (cooked) has about 5.4 grams of protein. Not bad for a culinary "grain."
For more information, check out this detailed post all about Quinoa - how to cook it, is it healthier than brown rice, what saponins are, etc.
Quinoa recipes to try: Cilantro Quinoa Salad with Chickpeas & Spinach, Slow Cooker Quinoa Enchilada Casserole, Cherry Balsamic Quinoa Salad, Quinoa Vegetable Lasagna.
And finally, a few Vegan Quinoa Soups from around the web!
Vegetarian: Yep!
Paleo: Nope! Quinoa is gluten-free, but it isn't technically Paleo.

Quinoa, Tomato, and Roasted Red Pepper Soup
This easy vegan soup is packed with flavor from roasted red peppers and just the right texture with the help from quinoa!
Ingredients
1

Tablespoon

avocado oil

or olive oil

1

medium

onion

minced

2

teaspoons

Italian seasoning

½

teaspoon

thyme

½

teaspoon

smoked paprika

4

cloves

garlic

minced

½

cup

uncooked quinoa

8

oz

roasted red peppers 1 ½ cups, chopped or minced or use storebought packed in water or oil

28

ounces

crushed tomato

puree

28

ounces

diced tomatoes

3

cups

vegetable broth
Instructions
Warm the oil over medium heat, then sauté the onion for about 5 minutes.

Add the garlic and spices and cook 30-60 seconds more.

Add remaining ingredients: italian seasoning, thyme, smoked paprika, quinoa, roasted red peppers, tomatoes (2), and vegetable broth. Bring to a boil and simmer for about 30 minutes.

Taste and adjust seasoning as desired and enjoy.
Notes
Makes about 10 cups of soup.
Peppers in vinegar are not recommended for this recipe - it will come out very very tangy. You want to use peppers in water or oil or just make your own!
Nutrition
Calories:
244
kcal
Carbohydrates:
45
g
Protein:
9
g
Fat:
6
g
Saturated Fat:
1
g
Polyunsaturated Fat:
2
g
Monounsaturated Fat:
3
g
Sodium:
1766
mg
Potassium:
1229
mg
Fiber:
9
g
Sugar:
16
g
Vitamin A:
1485
IU
Vitamin B1:
0.4
mg
Vitamin B2:
0.3
mg
Vitamin B3:
5
mg
Vitamin B5:
1
mg
Vitamin B6:
1
mg
Vitamin C:
66
mg
Vitamin E:
5
mg
Vitamin K:
23
µg
Calcium:
192
mg
Copper:
1
mg
Folate:
98
µg
Iron:
6
mg
Manganese:
1
mg
Magnesium:
117
mg
Phosphorus:
225
mg
Selenium:
4
µg
Zinc:
2
mg
Choline:
57
mg
Nutrition label is for ⅙th of the recipe.