Recipe: $3.00 | Per Serving: $0.25 per tablespoon | Yield: 6 oz | Jump to Recipe
Today we are here to talk about my current favorite cooking fat: ghee! It's basically butter, but with a higher smoke point, and a reduced (or eliminated) dairy content. And it is DELICIOUS. It tastes like a more concentrated version of butter and it is about to become your next obsession. Let's learn how to make ghee!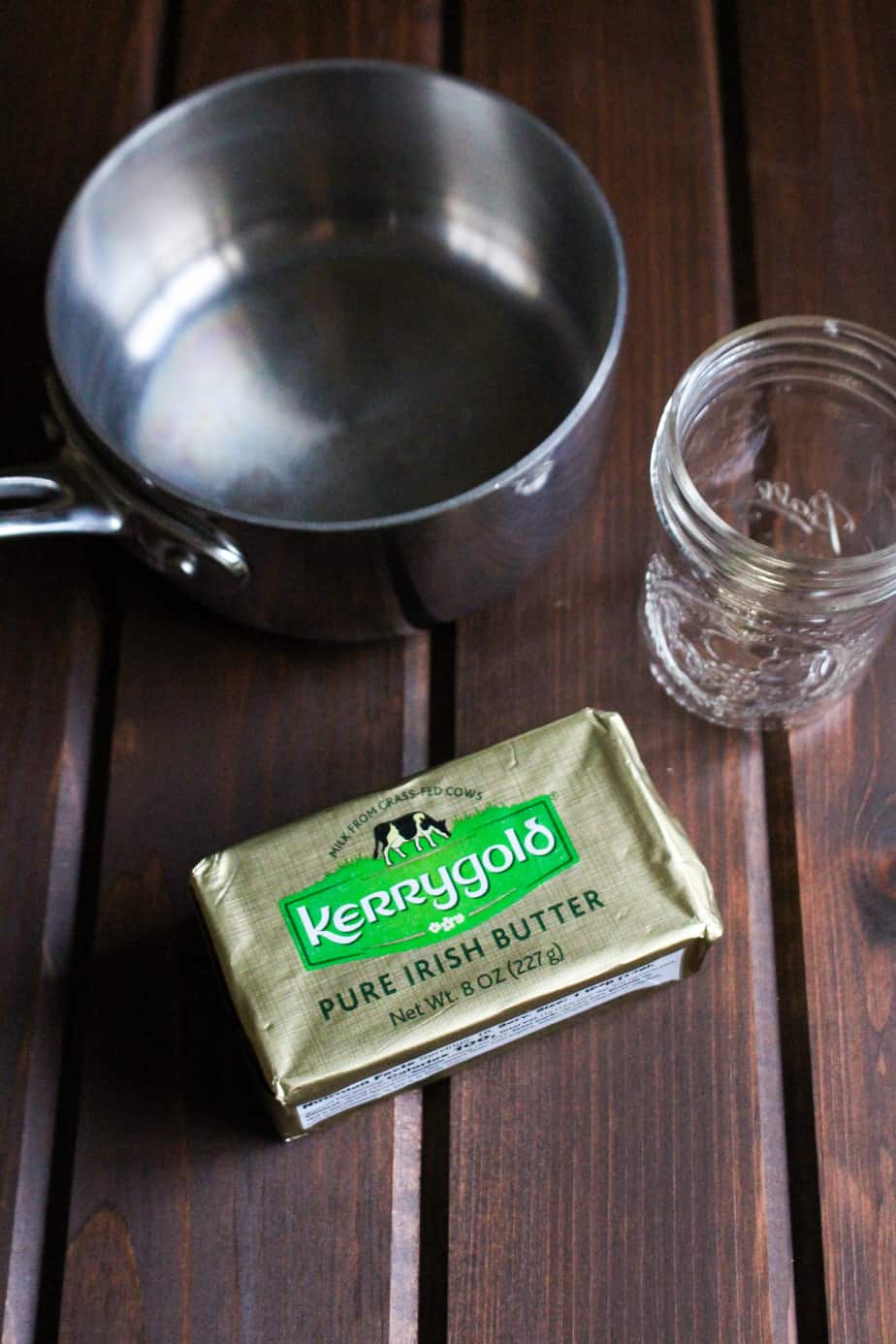 So what exactly is ghee?
Ghee is butter with two things removed: water and milk solids. Milk solids burn at a much lower temperature than the fat, so removing them results in a buttery flavor that can handle higher heat. This makes ghee perfect for cooking vegetables and finishing steak. This smoke point chart from Wikipedia is pretty helpful, but the gist is that virgin coconut oil and extra virgin olive oil both have smoke points around 320-350F. The average pan-sauté temperature is around 250-350, lower for most vegetables and higher for most meats (more like 400-450 for searing steak and burgers). Avocado oil has a super high smoke point of 520F, and ghee falls not too far behind at about 485F.
A lot of people think that animal fats like tallow and lard have super-high smoke points, but lard is about 375F and tallow is about 420F. Those are considered higher smoke points, sure, but still not as high as ghee! Plus, as long as you can handle trace amounts of casein and whey, ghee is a super delicious addition to meats, vegetables, baked goods, and desserts!
How do you make ghee?
Making ghee is a relatively simple process. First you want to melt the butter in a small saucepan. Next, reduce the heat to low-medium heat and wait for the simmering bubbles. You'll see bubbles on the surface as the water evaporates, and eventually you will start to see some of the milk solids separate - some to the top with the foam of the evaporating water, and most will fall to the bottom.
At this stage, if you strain it, you will have clarified butter, but ghee goes a step further, as shown below.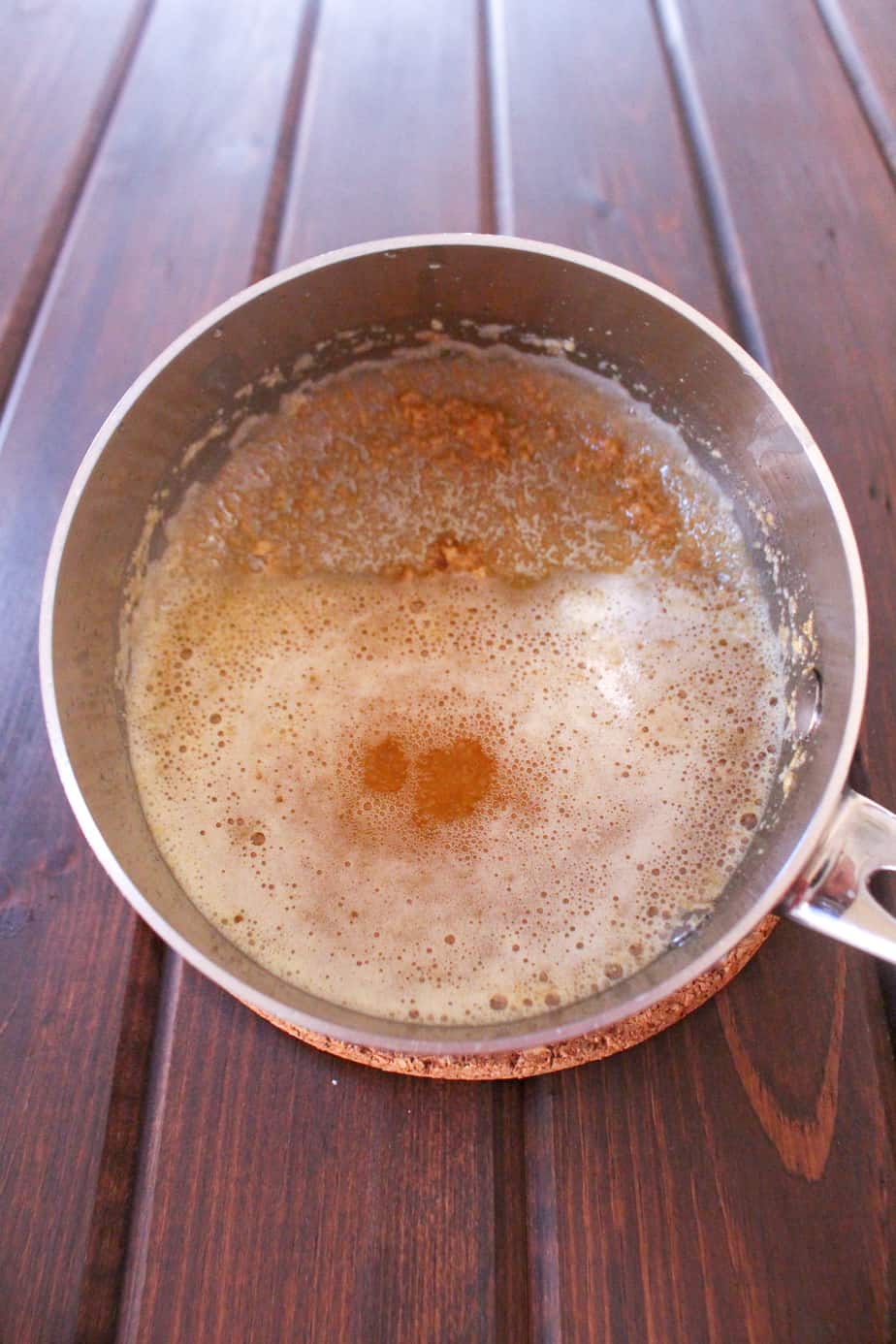 Give it another couple of minutes (watch closely) and some of the milk solids will start to brown or burn on the bottom. This is how you make brown butter! It has a great nutty flavor, but to make ghee, you must strain out the milk solids and save the butterfat. That's it!
Since the dairy and water are removed, ghee is significantly less perishable than regular butter and should be left at room temperature. One stick of Kerrygold (8 oz butter = 6 oz ghee) probably lasts us about 3 weeks, but it is safe at room temperature for about 3 months, and in the fridge for up to 1 year.
A note about butter sources: I highly recommend sourcing your butter from high quality, humanely raised cows. Farmer's markets usually have good butter options, but at the regular grocery store you want to look for words like pastured and grass-fed. All mammals (humans too!) store toxins in fat, so you want butter from cows with limited exposure to toxins since you're getting mostly fat. If possible, also seek out organic brands - that means that the cows ate organic feed in the off months when there wasn't enough grass for them (rather than GMO corn and soy, as is the standard practice here in the US).
I love Kerrygold Irish Butter; their cows eat grass in the summer and dry hay in the off season - just as it should be! Amish butter, Organic Valley Pastured Butter, and Vital Farms Pastured Butter are also good options. If you can't find or afford the fancy stuff, opt for organic butter (which is very affordable) so you know you're getting fewer pesticides and reducing your exposure to things like glyphosate.
Paleo: Yep!
Vegetarian: Yep! But, even though this is considered dairy-free, it's not Vegan!

How to Make Ghee
In just a few steps make your own ghee at home. A less expensive way to add this ingredient to your recipes.
Equipment
Saucepan

Fine mesh strainer
Ingredients
8

oz

organic and grass-fed butter

more or less
Instructions
Cut butter into cubes and place in small pan.

Warm over medium heat until melted, then reduce to low-medium heat.

Simmer for 15-25 minutes, until milk solids have dropped to the bottom and started to brown.

Using a fine mesh strainer of some kind (sometimes I use a nut milk bag or a tea strainer, but you can use 4-layer cheese cloth also), strain the butterfat into a glass jar or container, removing the milk solids.

Discard the solids.

Store the ghee in a covered jar or container at room temperature for 3 months, and then refrigerate for up to 1 year. (Though it is highly unlikely to last that long!)

Enjoy this delicious fat with a high smoke for cooking meat and vegetables, or on toast, sweet potatoes, and in desserts!
Nutrition
Calories:
136
kcal
Carbohydrates:
0.01
g
Protein:
0.2
g
Fat:
15
g
Saturated Fat:
10
g
Polyunsaturated Fat:
1
g
Monounsaturated Fat:
4
g
Trans Fat:
1
g
Cholesterol:
41
mg
Sodium:
122
mg
Potassium:
5
mg
Sugar:
0.01
g
Vitamin A:
472
IU
Vitamin B1:
0.001
mg
Vitamin B2:
0.01
mg
Vitamin B3:
0.01
mg
Vitamin B5:
0.02
mg
Vitamin B6:
0.001
mg
Vitamin B12:
0.03
µg
Vitamin E:
0.4
mg
Vitamin K:
1
µg
Calcium:
5
mg
Folate:
1
µg
Iron:
0.004
mg
Magnesium:
0.4
mg
Phosphorus:
5
mg
Selenium:
0.2
µg
Zinc:
0.02
mg
Choline:
4
mg