Recipe: $2.74 | Per Serving: $0.69 | Yield: 4 | Jump to Recipe
In my opinion, Eggs + Banana ≠ Pancakes. But eggs + plantains and nut butter DO equal pancakes. I promise!
My very first experience with Pinterest resulted in a a banana-flavored scrambled egg when I combined a mashed banana and a whisked egg to try my hand at those supposedly amazing 2-ingredient pancakes. IT WAS NOT A PANCAKE.
My roommate at the time (shoutout to you, Shannon!), who loved Pinterest, laughed at me for my eagerness and my failure. I hated Pinterest and I hated banana scrambled eggs.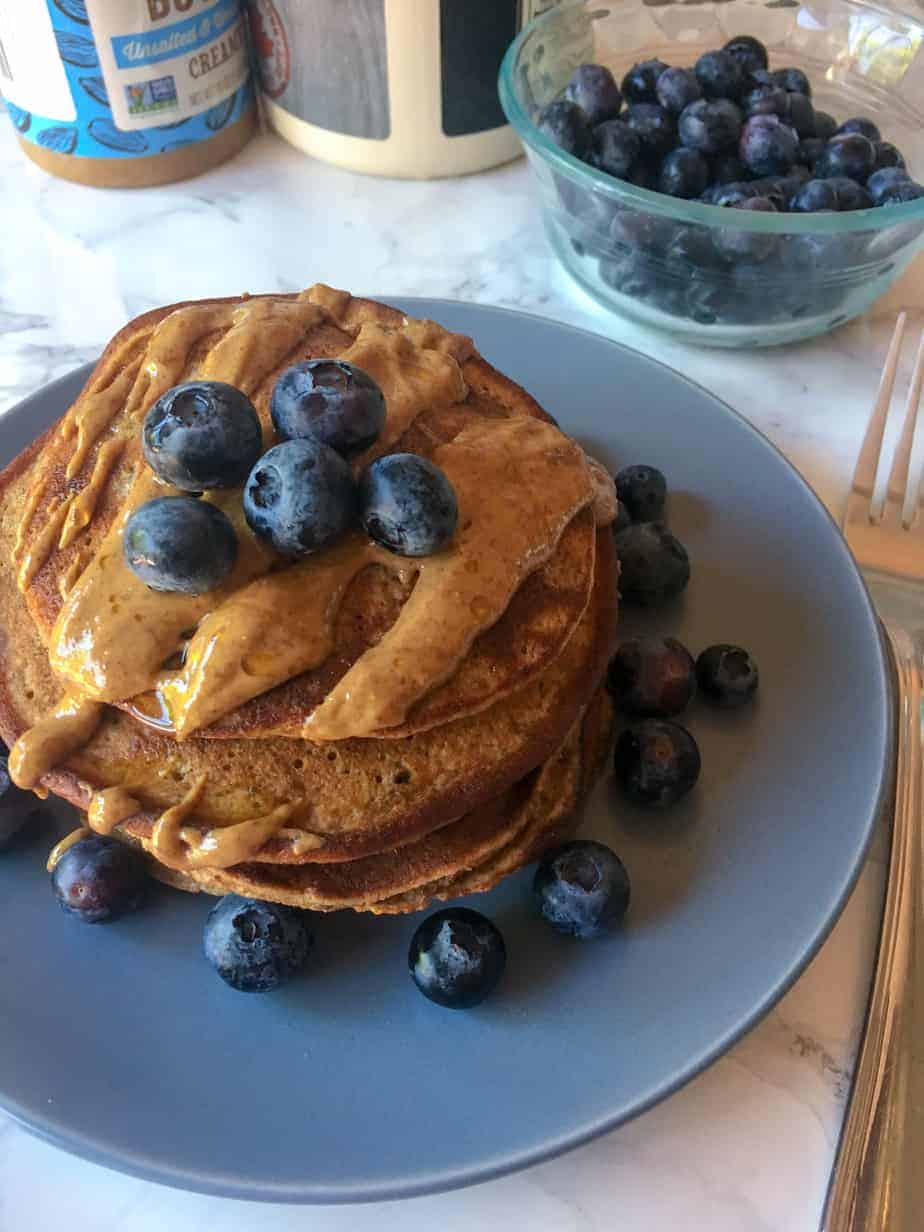 However, my friend Paula from my nutrition program has a child with celiac's, and said she makes a version of Paleo pancakes with the addition of ½ cup nut butter and her kiddo LOVES them. I was still skeptical, but very intrigued. I turned to my flourless BFF, the humble plantain, to ensure success this time around. And success I found!
Sure, these are not your fluffy buttermilk-style pancakes, but I never liked them anyway. I like these pancakes for two, and these whole wheat banana pancakes, but those weirdly springy-spongey diner pancakes are not my jam. These are not those pancakes.
These plantain pancakes are just sweet enough to be pancakes, thanks to the bananas, but not so sweet that you'll have a major sugar crash before noon. They freeze beautifully, and are perfect when paired with as many blueberries as you can get your hands on.
If we could have nuts at my school I would be making these in sandwich form stuffed with smashed blueberries and more almond butter for the kiddos.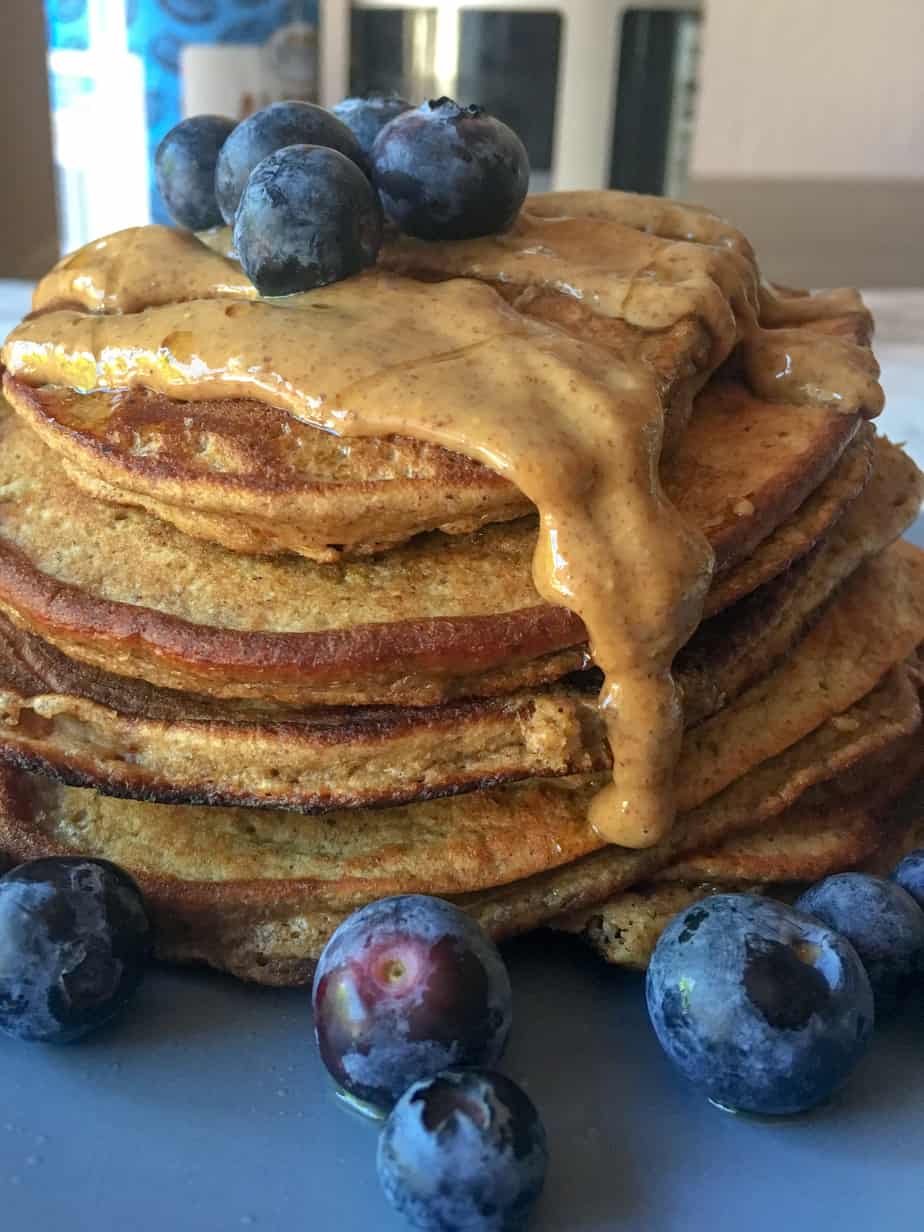 Just look at those pretty layers of pancakes! If you're familiar with cooking with plantains, you've probably heard a lot of recommendations about what level of ripeness. Luckily for all of us, this recipe responds pretty well to most ripeness levels.
I've made these pancakes around 10 times or so, and I've used nearly every ripeness level of plantain. I think it is unnecessary to use super green ones for this because they're such a pain to peel, and you will have to blend them alone prior to adding everything else otherwise you might have chunks of uncooked green plantain in your final product.
Here an image of the greenest shade I recommend, but all riper ones  (more yellow/brown) will do unless they're total mush.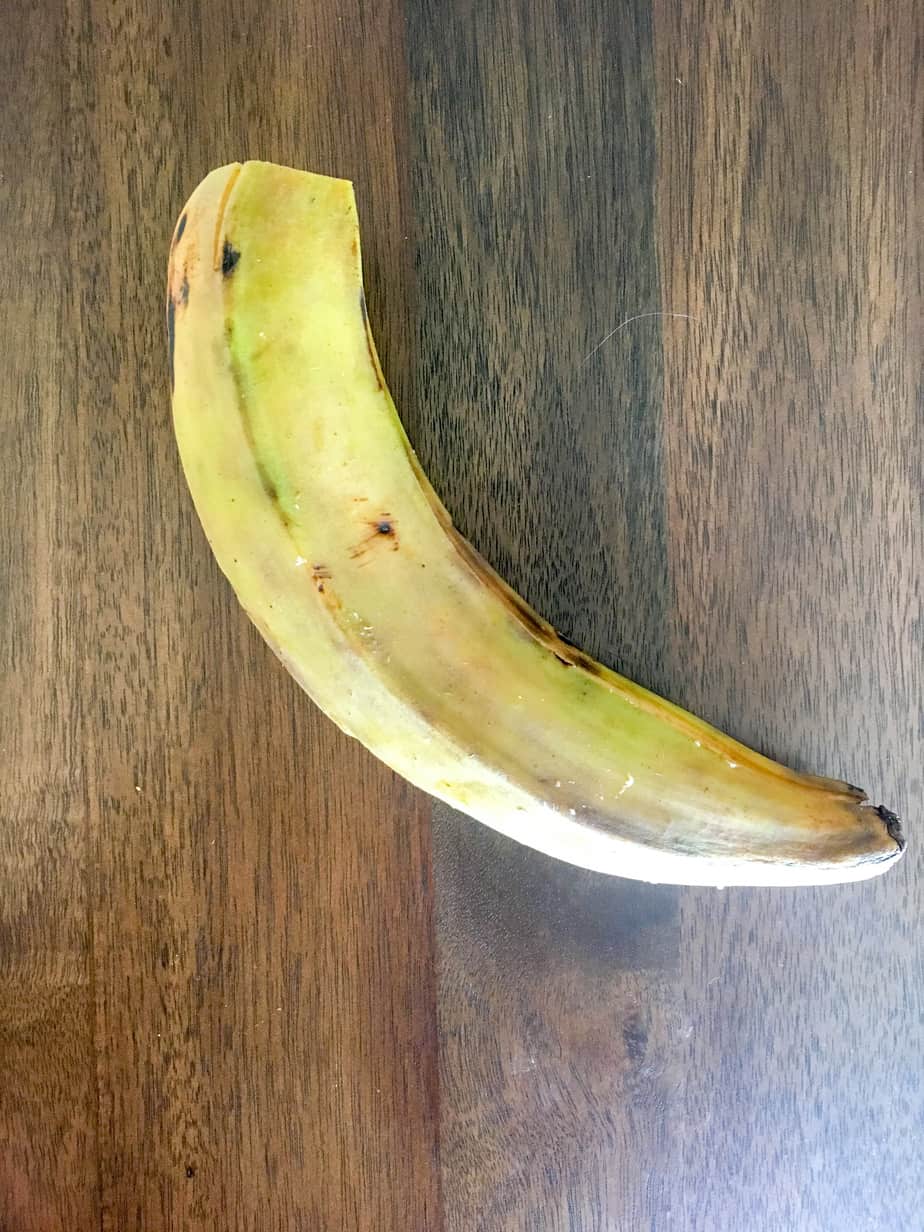 Paleo: Yes!
Vegetarian: Yes! - If Vegan, you could try with flaxeggs, but I haven't tried it myself. I tried this with flaxeggs and it was a sticky mess. Sorry, vegans.

Flourless Paleo Plantain Pancakes
Bananas and plantains make a tasty flourless pancake that's suitable for paleo, gluten-free and vegetarian diets.
Ingredients
coconut oil

butter, ghee, or a mixture for cooking

2

medium

bananas

yellow or spotted

1

large

plantain

yellow or spotted

3

large

eggs

¼

cup

almond butter

can use as little as 2 Tablespoons if preferred

½

teaspoon

baking soda

½

teaspoon

cinnamon

optional

½

teaspoon

vanilla

optional

2

tablespoons

flaxseed

optional
Topping ideas
1 ½

ounce

blueberries

almond butter

real maple syrup

chia seeds
Instructions
Warm a nonstick or cast iron skillet over low-medium heat. (Note: if using stainless steel, you will need more oil/butter.) Melt your chosen fat in the pan.

Blend the chopped plantain and one banana until well blended. (If using a high speed blender, you can do this all in one go.)

Add remaining ingredients to blender and blend until quite smooth.

Pour batter into pan spatula-sized amounts. (Easier to flip if they're the same size as your spatula.) I usually fit 3 small-ish pancakes in at a time.

Cook until bubbles form on the surface, then carefully flip and cook another 2-4 minutes on the opposite side.

Serve with additional almond butter, blueberries, and a teeny drizzle of maple syrup.
Nutrition
Calories:
257
kcal
Carbohydrates:
31
g
Protein:
9
g
Fat:
13
g
Saturated Fat:
2
g
Polyunsaturated Fat:
3
g
Monounsaturated Fat:
6
g
Trans Fat:
0.01
g
Cholesterol:
140
mg
Sodium:
194
mg
Potassium:
598
mg
Fiber:
4
g
Sugar:
16
g
Vitamin A:
746
IU
Vitamin B1:
0.1
mg
Vitamin B2:
0.4
mg
Vitamin B3:
1
mg
Vitamin B5:
1
mg
Vitamin B6:
0.4
mg
Vitamin B12:
0.3
µg
Vitamin C:
13
mg
Vitamin D:
1
µg
Vitamin E:
4
mg
Vitamin K:
13
µg
Calcium:
80
mg
Copper:
0.3
mg
Folate:
48
µg
Iron:
2
mg
Manganese:
1
mg
Magnesium:
80
mg
Phosphorus:
181
mg
Selenium:
13
µg
Zinc:
1
mg
Choline:
124
mg
Nutrition information includes 6 oz fresh blueberries per recipe.