Recipe: $11.65 | Per Serving: $2.91 | Yields: 4
This recipe has been one of my favorite go-to fast weeknight recipes for the last few months, and it's high time you guys get to take a peek as well. This Whole30, gluten-free, grain-free, Paleo recipe is packed with vegetables and ready in just 15 minutes!
The recipes in this Fast Whole30 series are a little pricier than some of the other options, but that's primarily because they're so super fast. If you want to rice your own vegetables or make your own salsa, you absolutely can, but the time will reflect those changes. You do you!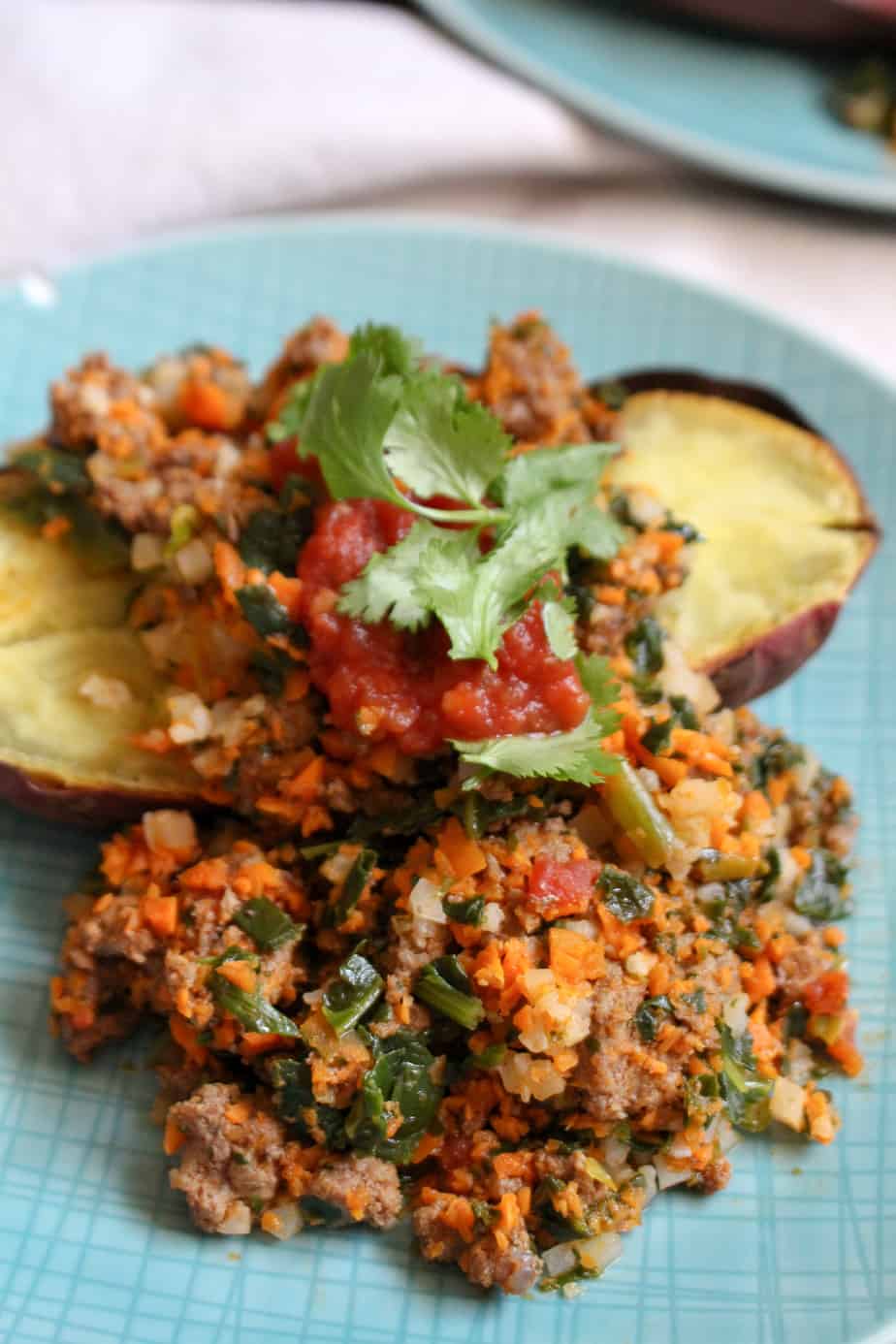 Basically, you're going to brown some ground beef, add a bunch of riced vegetables and frozen spinach and salsa and some optional seasonings and serve! I like to bake a bunch of sweet potatoes early in the week to make this super fast, but you can "bake" them in the microwave if you haven't done any prep. I really love having super fast recipes in my wheelhouse, and this one gets a lot of primetime action in our house.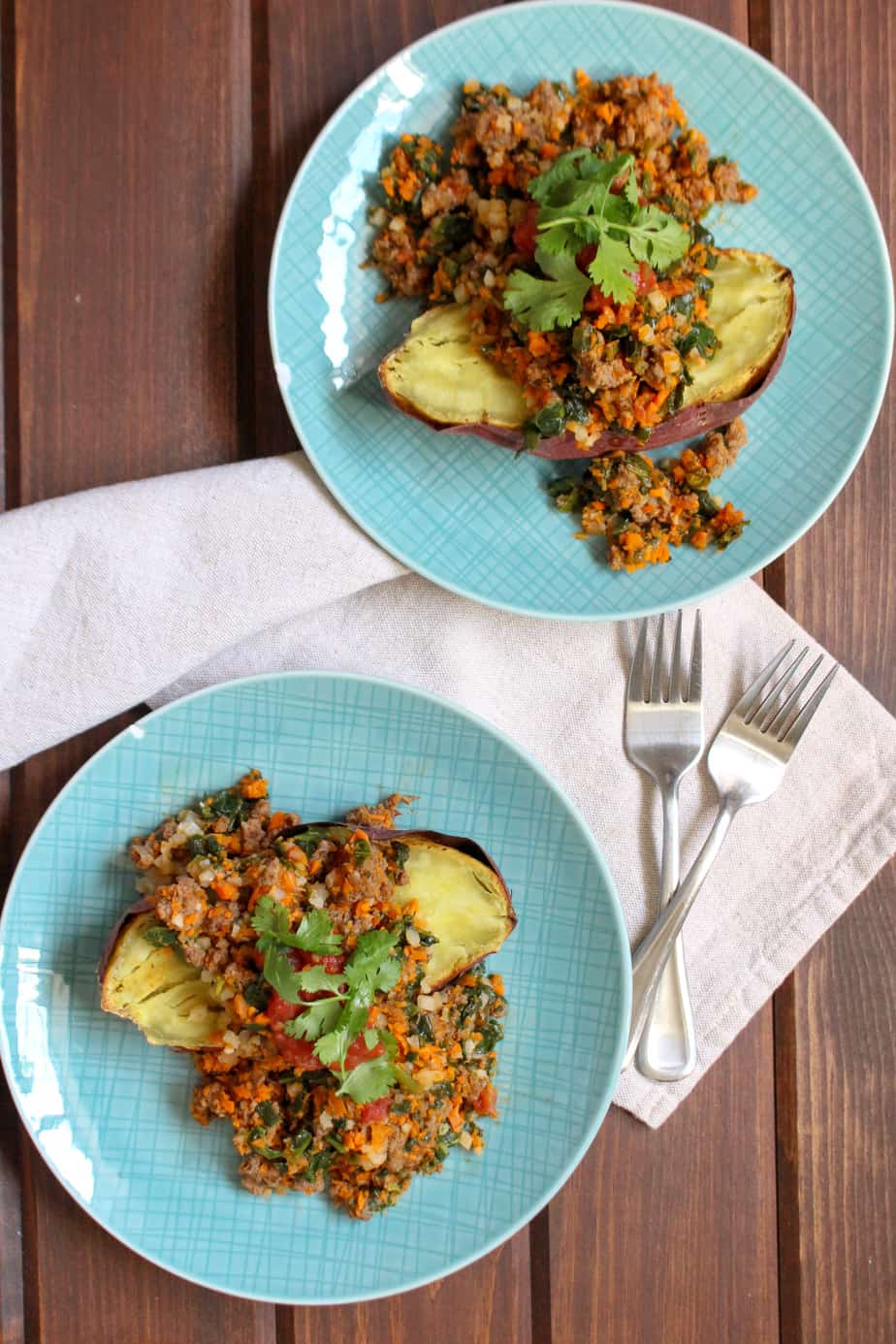 I have a little document in Google Docs full of these kinds of recipes that I share with clients - and this one has been one of the more popular options for kids. Things I learned feeding young children for two years: kids like cooked salsa, and kids like riced vegetables if they're mixed with something else. Great success!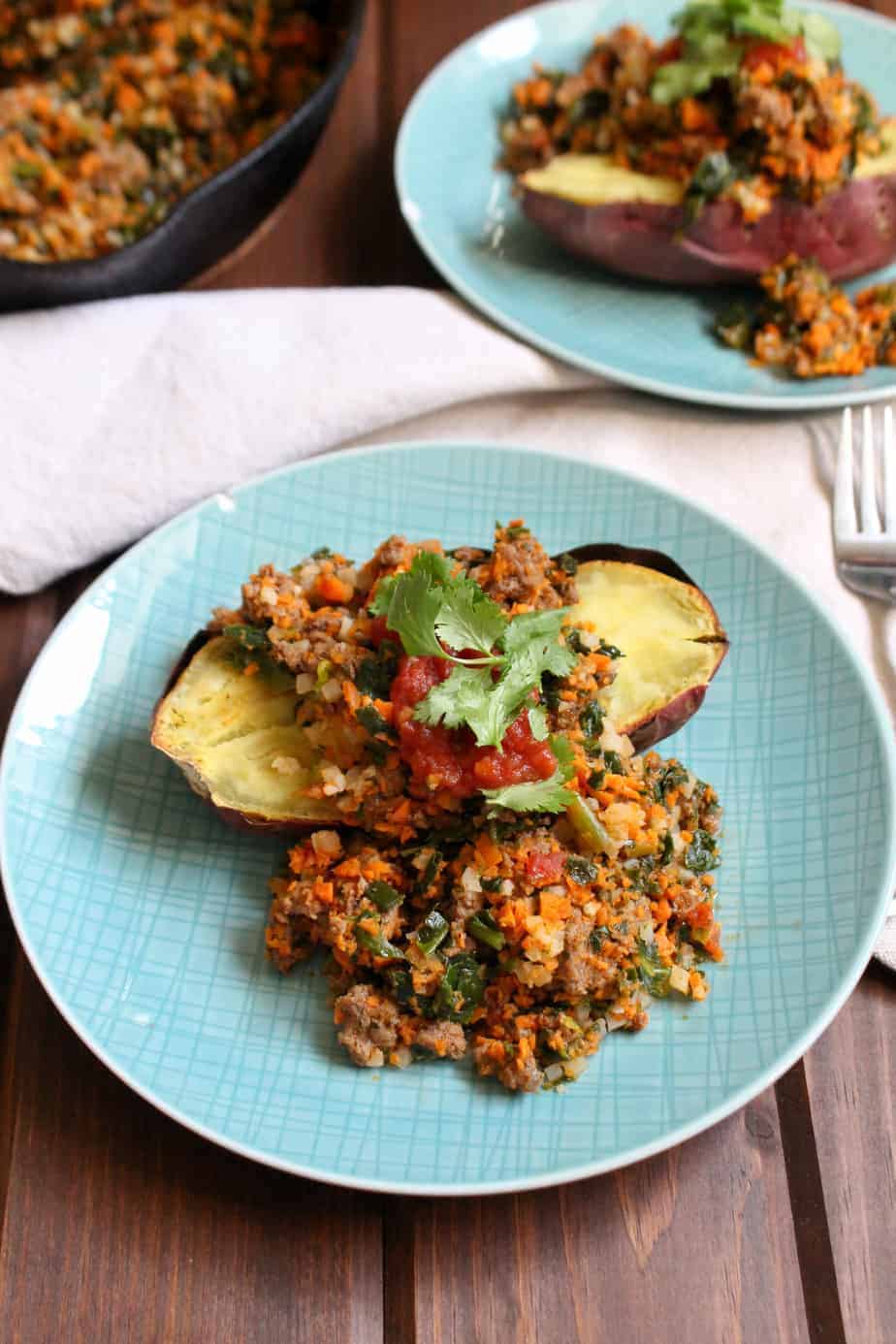 Although this is part of my Fast Whole30 category, you don't have to keep it that way! Feel free to replace the potatoes with cooked, frozen brown rice, or tortillas, or lettuce wraps, or whatever works for you or your family. Add cheese or black beans, or even homemade cashew queso. The riced vegetables are great for making sure you're getting in your vegetables so there's a lot more leeway with the rest of the meal. Enjoy!
Paleo: Absolutely!
Vegetarian: Sorry, not this time. Maybe use black beans instead of beef?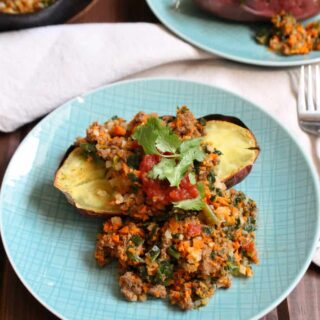 Taco-Stuffed Sweet Potatoes (Whole30)
With a touch of planning ahead, this super easy taco-style meal comes together in a breeze! Flavorful taco meat and riced vegetables are paired with creamy and sweet
Japanese sweet potatoes
!
Ingredients
4

servings sweet potatoes

about 1.5 pounds (I prefer Japanese or white, but any will do)

1

pound

grass-fed ground beef

or any ground meat

½

jar of salsa - hot

medium, or mild - about 1 cup, or 8oz

10-16

oz

riced vegetables

broccoli, cauliflower, carrots, or a combo

8

oz

frozen

chopped, organic spinach or other greens

Optional: ½ teaspoon each oregano

cumin, red pepper flakes (really not needed, but if you've got these spices on hand, they're a great flavor boost!)

Optional Toppings: cilantro

avocado, more salsa, hot sauce, lime cashew crema
Instructions
First, prepare the sweet potatoes. I usually let them bake ahead of time on Sundays or Mondays while I'm doing other things, but you can totally "bake" them in your microwave! (Oven: pierce skin 4-6 times all over; bake 45-90 minutes on 425. Microwave: pierce skin 4-6 times all over; microwave 5-8 minutes, rotating halfway through.) I make a batch of baked sweet potatoes nearly every week to go with breakfast, lunch, or dinner, so I always have them ready, but if you don't, use your microwave!

Grab a large skillet - one with a lid can help speed things along, but it isn't necessary. Brown the ground meat (with optional spices).

Add frozen vegetables (riced veggies and frozen spinach) and stir well, then stir in the salsa. Cook uncovered or covered until warmed through. (Covered takes 4-5 minutes.)

To serve: Split the sweet potatoes in half - I usually buy large sweet potatoes, so one potato is often 2-4 servings. Add a serving of sweet potato to each plate, then top with the ground beef and vegetable mixture!

Optional Toppings: cilantro, avocado, more salsa, Lime Cashew Crema, Green Chile Cashew Crema, hot sauce - I highly recommend topping with cilantro if you've got it. Herbs are super packed with nutrients!
Notes
Although I listed a lot of toppings, I very rarely top this dish with anything besides maybe a little more salsa! The sweet potato - ground beef - salsa combo is really delicious, flavorful, and filling.
Also, you can definitely spread this out to 5 servings, especially if you have more sweet potatoes or if you're not on Whole30 and you're in the mood for black beans.
Nutrition
Calories:
575
kcal
Carbohydrates:
67
g
Protein:
27
g
Fat:
24
g
Saturated Fat:
9
g
Polyunsaturated Fat:
1
g
Monounsaturated Fat:
10
g
Trans Fat:
1
g
Cholesterol:
81
mg
Sodium:
651
mg
Potassium:
1614
mg
Fiber:
11
g
Sugar:
13
g
Vitamin A:
32377
IU
Vitamin B1:
0.3
mg
Vitamin B2:
0.4
mg
Vitamin B3:
8
mg
Vitamin B5:
3
mg
Vitamin B6:
1
mg
Vitamin B12:
2
µg
Vitamin C:
45
mg
Vitamin D:
0.1
µg
Vitamin E:
2
mg
Vitamin K:
20
µg
Calcium:
124
mg
Copper:
1
mg
Folate:
98
µg
Iron:
5
mg
Manganese:
1
mg
Magnesium:
114
mg
Phosphorus:
387
mg
Selenium:
20
µg
Zinc:
6
mg
Choline:
131
mg
Nutrition Label is based on 4 Servings: