Recipe: $2.85
Per Serving: $0.72
SO by the way, banana pancakes are delicious. They're one of only two ways I like pancakes: whole wheat buttermilk OR banana...or both! Even growing up pancakes always tasted a little...chalky? To me at least. I'd choose waffles or french toast any day. But living with a pancake-lover inspired me to revisit pancakes, and now that I'm in Japan, I actually miss them!
Finding whole wheat flour is a problem for me here. I can choose to a) just eat white flour while I'm here (which, really isn't the end of the world because both white flour and whole wheat are massive carb-bombs anyway...whole wheat is just the lesser of two evils), or I can b) skip flour-based things. I mean, that's probably a more acceptable reaction, but, HELLO PIZZA and BANANA PANCAKES. So, maybe not going to happen. I'm thinking of making a trip to the Costco out here for the sole purpose of finding whole wheat flour. The lengths I'll go for food.
Anyway, banana pancakes. Have you tried them? Remember that Jack Johnson song from way back when? I thought they sounded DISGUSTING. Really, who would want bananas in their pancakes? Turns out, just about everyone. Sorry everyone, I was grossly misguided by my previous hatred for ripe bananas.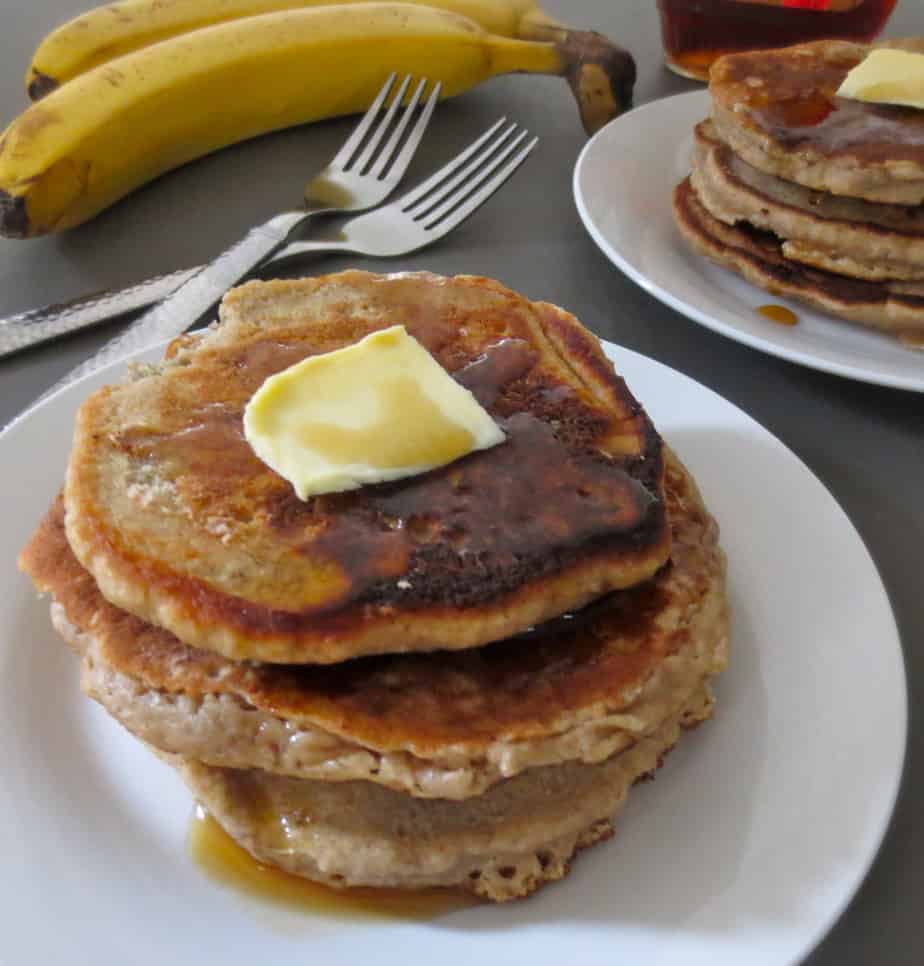 I'm a convert though, and these whole wheat pancakes are the WAY TO GO. I promise. There's something about whole wheat/multigrain/alternative flour that makes pancakes that much better. White flour pancakes just don't do it for me in the flavor department. Okay, I'm getting weird.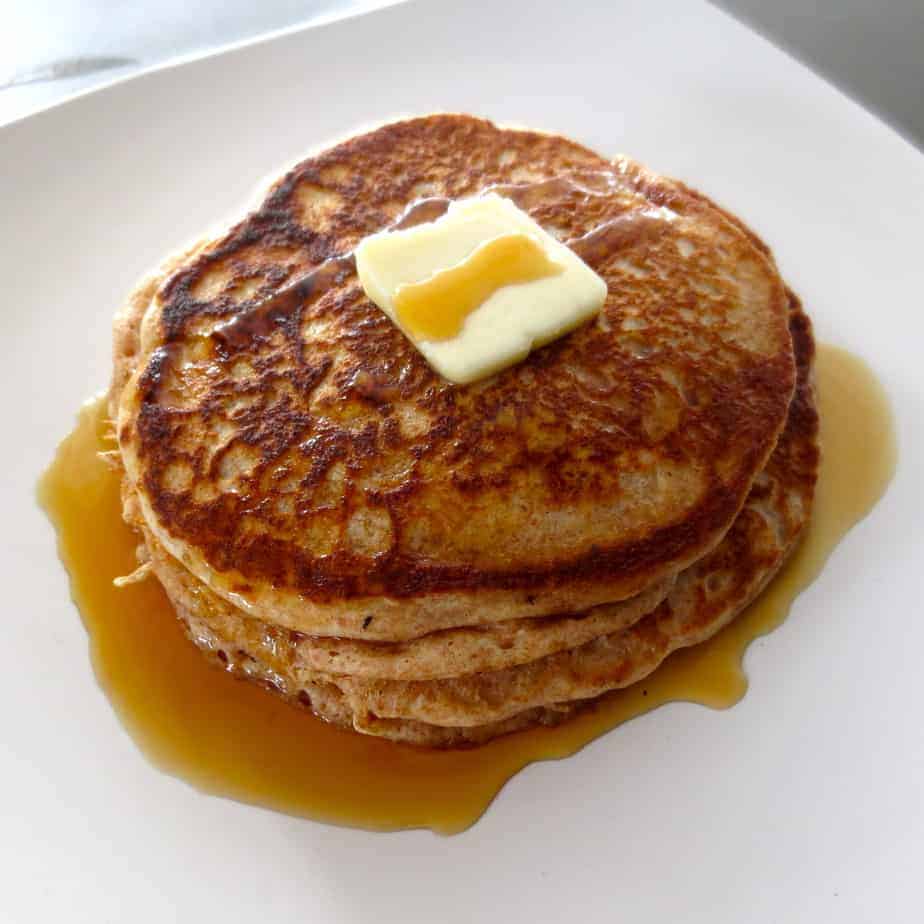 Make a big batch of these pancakes and store them in your freezer. They freeze and defrost really well! Leave them in the fridge overnight, or just defrost them for 30 seconds in the microwave and throw them in the toaster to crisp 'em up a bit. Boom, no more frozen or from-the-box breakfasts for you!

Whole Wheat Banana Pancakes
A fluffy stack of whole wheat banana pancakes for a healthy breakfast!
Ingredients
1 ¾

cups

whole wheat flour

2

Tablespoons

baking powder

½

teaspoon

salt

2-3

very ripe bananas*

2

large eggs

OR 2 flax eggs; cheaper!

1

teaspoon

vanilla

1

cup

milk + 1 Tablespoon white vinegar or lemon juice

or 1 cup buttermilk

½

cup

water

+more if needed

Butter for pan

100 % maple syrup and fruit for serving
Instructions
Measure out one cup of milk and add vinegar/lemon juice and set aside for 5 minutes. (This is "fake" buttermilk!)

In a large bowl, out the dry ingredients (flour, baking powder, salt) and mix together.

In a separate bowl, mash the bananas well, then whisk in the eggs or flax-eggs. Add the water and vanilla, and stir well. Mix in the dry ingredients and stir until combined. If the batter seems a little stiff or puffy, add a little more water, a Tablespoon at a time, until it loosens up slightly, but don't thin it out too much!

Meanwhile, bring a skillet to medium heat on the stovetop, then melt enough butter to cover the pan. Pour about ⅓ cup of batter at a time onto the pan and flip when bubbles form and pop!

Keep the pancakes warm in a 200F oven until you're ready to serve 'em!

*Note: If you don't have very ripe bananas – buy the ripest you can find, or use the oven-ripening method (bake for 1 hour on 300 F) to ripen them. If they're very ripe, you can drain the liquid.
Nutrition
Calories:
305
kcal
Carbohydrates:
56
g
Protein:
12
g
Fat:
6
g
Saturated Fat:
2
g
Polyunsaturated Fat:
1
g
Monounsaturated Fat:
1
g
Trans Fat:
0.01
g
Cholesterol:
89
mg
Sodium:
984
mg
Potassium:
526
mg
Fiber:
7
g
Sugar:
11
g
Vitamin A:
260
IU
Vitamin B1:
0.3
mg
Vitamin B2:
0.3
mg
Vitamin B3:
3
mg
Vitamin B5:
1
mg
Vitamin B6:
1
mg
Vitamin B12:
1
µg
Vitamin C:
5
mg
Vitamin D:
1
µg
Vitamin E:
1
mg
Vitamin K:
2
µg
Calcium:
462
mg
Copper:
0.3
mg
Folate:
45
µg
Iron:
3
mg
Manganese:
2
mg
Magnesium:
100
mg
Phosphorus:
437
mg
Selenium:
41
µg
Zinc:
2
mg
Choline:
98
mg