Recipe: $3.60
Per Serving: $1.80 (for two)
I understand that it is no longer fall, which means most of you are SO OVER winter squashes. But, I mean, they're still abundant and cheap, so you might want to give them another chance. Especially when there's Parmesan involved, AMIRIGHT? Also, I wrote this post in December? January? Sometime when I was still in the states, but then it didn't get published. Sorry for the delay!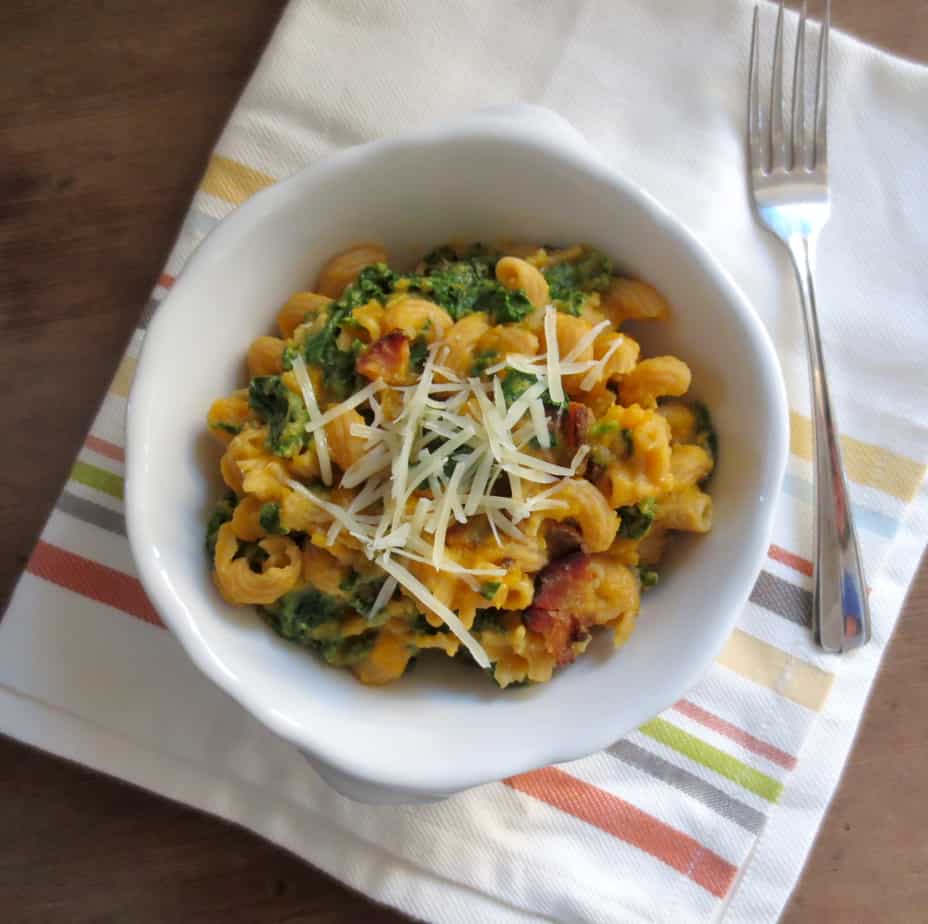 The bacon in there is not for me. It's for Zac, and for all of you. I understand that it complements the sweetness of the squash very well, but it doesn't mean I have to love it, okay? I'm about 25% on board with bacon these days, which is a huge accomplishment. I've realized there's something about cured meats that's just a little too much. I really can't explain it any further than that because I just don't know. Like I said, baby bacon steps.
So, YOU'RE WELCOME. Obviously this bacon-butternut parmesan pasta is for YOU! Even if you want, say, 5 times as much bacon as the recipe calls for. Go ahead, do it.
So my favorite thing about this pasta dish is that even though it seems kind of involved, it doesn't have to be. Sure, there's a blender, but if you make the squash in advance and freeze it and then the recipe takes about 15 minutes - I know, I timed it. (Or, gasp, buy frozen butternut cubes or puree). If you cheat a little, it comes together pretty quickly. It's creamy and cheesy without being actual mac & cheese or alfredo sauce. And, it's got that one-two vegetable punch in the form of butternut squash AND kale! Again, you're welcome!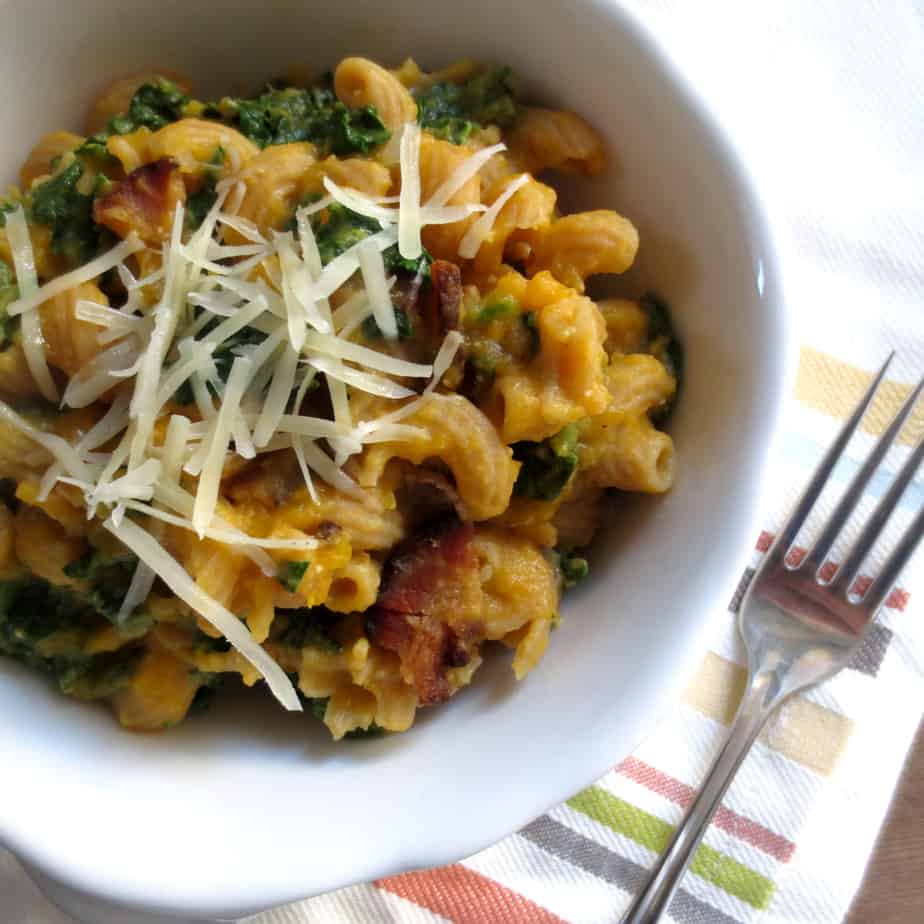 You can also make this with kabocha squash or some form of pumpkin if you prefer. I've got lots of kabocha squash ("Japanese pumpkin") here in Japan, but that's about the only squash I've seen.
Here's to a veggie-packed 2015, complete with just the right amount of bacon. (Which is basically 0 bacons, for me.)

Creamy Roasted Butternut Squash, Bacon, & Kale Pasta
An easy weeknight pasta with butternut squash, bacon and kale.
Ingredients
1

small

butternut squash

1 cup squash puree

2

slices

bacon

1

Tablespoon

butter

½

cup

onions

chopped

2

cloves

garlic

minced

½

cup

parmesan cheese

freshly grated . aout 1 ½ ounces

2

Tablespoons

plain whole milk yogurt

this is totally optional, I like how the sourness balances the sweet squash, but you can skip it if you want.

3

cups

roughly chopped kale or other greens

¼

teaspoon

salt

¼

teaspoon

cayenne

or red pepper flakes

parsley

red pepper flakes, or extra parmesan for garnish
Instructions
Turn oven to 350ºF. Cut the squash in half and scoop out the seeds, then roast it cut-side-down until very tender, about 40 minutes.

Go ahead and toss the bacon pieces on the baking sheet as well and cook for about 10-12 minutes or until desired doneness. Remove and chop into pieces, then set aside. (You can also cook on the stove if you prefer.)

In a medium sauce pot, sauté the onions until translucent, then add the garlic and sauté until fragrant and tender. Place in blender.

Meanwhile, bring a pot of water to a boil and cook pasta according to package directions. Reserve 1 cup pasta water. Drain and set aside.

When squash is done, let cool briefly, then scoop out the flesh and add to the blender. Add the parmesan and ½ cup water. Blend until smooth, adding ½ cup, and then 1 cup pasta water as necessary.

Meanwhile, saute the kale in the large pot until wilted, add the pasta and squash sauce and stir in the bacon. Adjust seasoning according to taste, then serve!
Nutrition
Calories:
477
kcal
Carbohydrates:
55
g
Protein:
20
g
Fat:
23
g
Saturated Fat:
11
g
Polyunsaturated Fat:
3
g
Monounsaturated Fat:
8
g
Trans Fat:
0.3
g
Cholesterol:
49
mg
Sodium:
961
mg
Potassium:
1845
mg
Fiber:
12
g
Sugar:
12
g
Vitamin A:
50406
IU
Vitamin B1:
1
mg
Vitamin B2:
1
mg
Vitamin B3:
7
mg
Vitamin B5:
2
mg
Vitamin B6:
1
mg
Vitamin B12:
0.5
µg
Vitamin C:
177
mg
Vitamin D:
0.2
µg
Vitamin E:
6
mg
Vitamin K:
397
µg
Calcium:
773
mg
Copper:
0.4
mg
Folate:
175
µg
Iron:
5
mg
Manganese:
2
mg
Magnesium:
182
mg
Phosphorus:
422
mg
Selenium:
14
µg
Zinc:
2
mg
Choline:
22
mg