Recipe: $0.50
Per Serving: $0.03/Roti
We're going to talk about the easiest bread product on the planet. Made from just flour, water, and salt.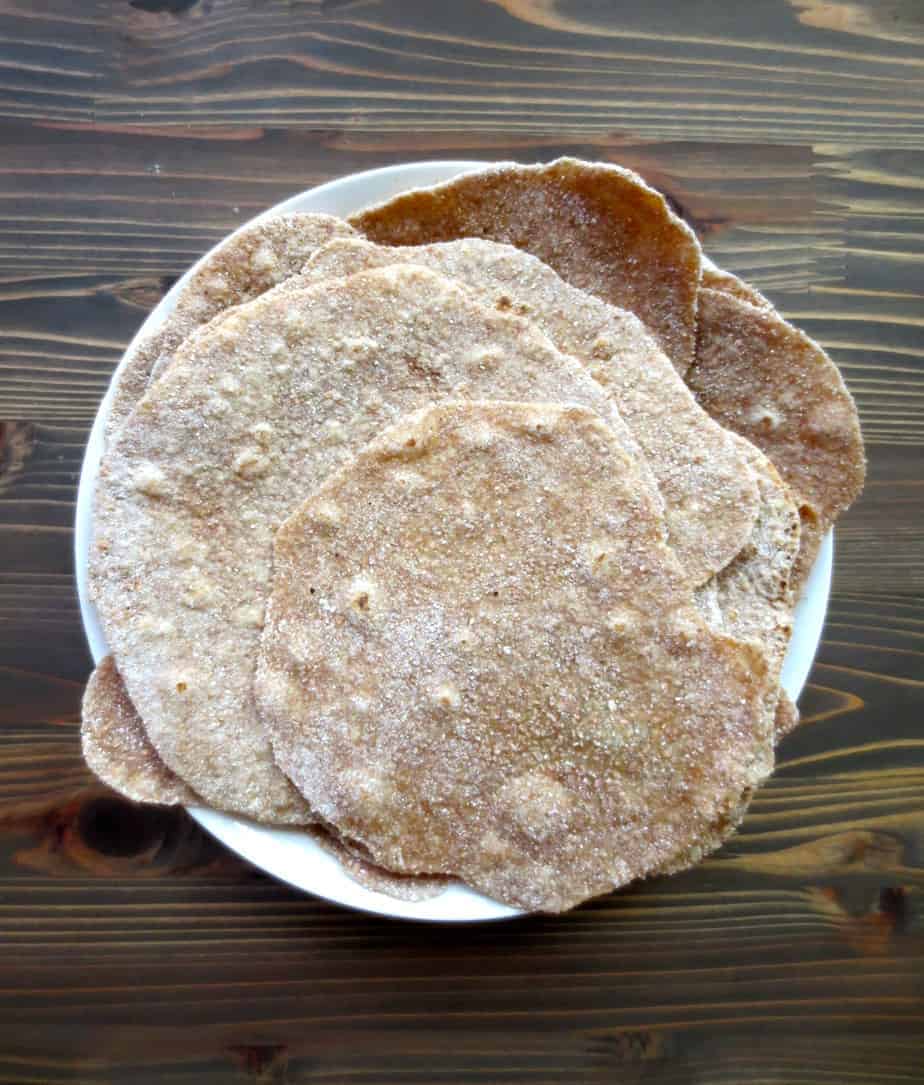 But first, I'm here to tell you about one of the more inspiring cooks of today. Someone who combines a passion for low-budget families with a love of healthy food & cooking, but without any judgement or trendy ingredients, or even a single speck of quinoa. Sure, we all love Jamie Oliver, but his methods are a little unrealistic for the novice chef. However, Leanne Brown, the author of Good & Cheap: Eat Well on $4 a Day is in a different realm of healthy budget chefs. I discovered her book shortly after starting this blog, and now that it is on its 2nd Edition, I'm hoping to get it into as many people's hands as possible.
This amazing budgeter's guide to eating well is really super simple, and many recipes are FREE. Yep, there's a free PDF online of the first version, or you can buy a physical copy of the NEW EDITION and she'll donate one to someone in need. AND, for the next week, we'll be giving away a copy of the 2nd Edition of Good & Cheap on my site!
So let's talk about Whole Wheat Roti. It's so simple you'll wonder why you didn't invent it yourself. Or (like my dad), you probably did invent it one time when you ran our of flour tortillas and had four hungry kids looking for something to wrap their tacos in - and you just had to wing it. Truth.
I was slightly skeptical the first time I saw this recipe. Just water, salt, and flour? That's not going to be pliable! Will it even taste good? Is it worth the effort? But, after trying several other Good & Cheap recipes, I began to trust in the food wisdom of Leanne Brown, and she's yet to lead me astray.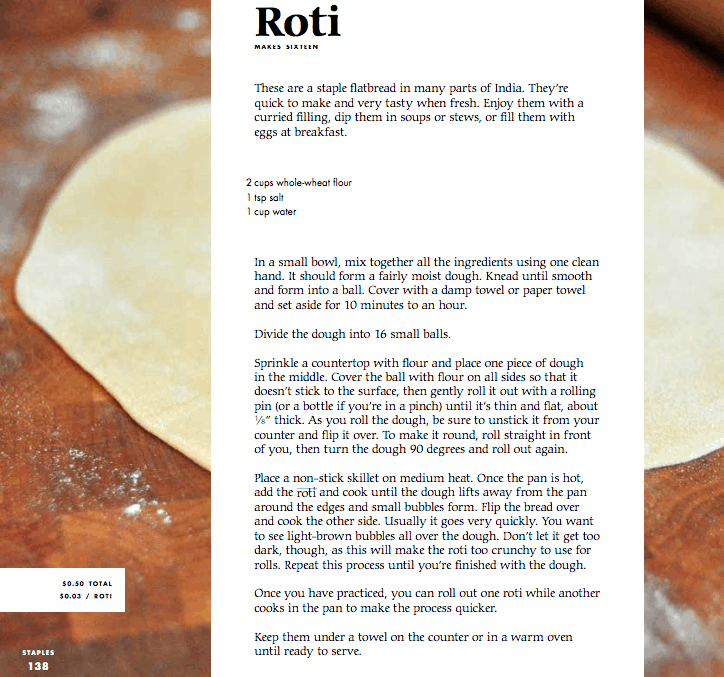 These super easy tortilla-like wraps take a little time and effort to roll out (and a LOT of flour on your cutting board), but the finished product is basically the cheapest thing you could ever use as a wrap. They're plain, but tasty, pliable, but pretty durable, and perfect for pairing with Indian Dal, Raita, Tzatziki, Sun-Dried Tomato Feta Dip, hummus, and just about anything else you can imagine. Go ahead, stuff 'em with taco filling or roasted vegetables and pesto. They're perfect for everything. Or dip 'em in this RAITA RIGHT HERE. (Coming to the blog on Wednesday!)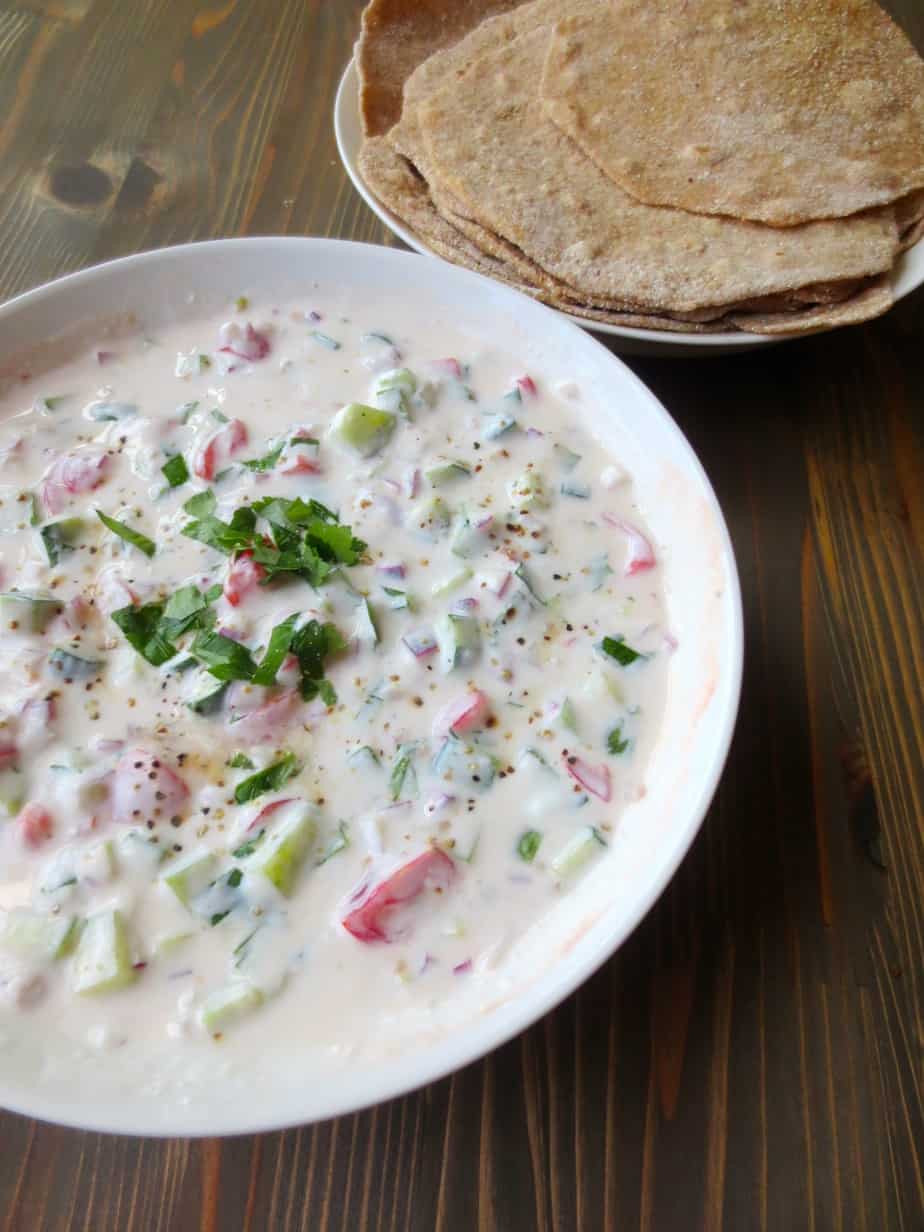 Don't get me wrong, I LOVE Whole Wheat Naan and homemade tortillas (with coconut oil or butter), and there are plenty of options for wraps, including lettuce, Indian Paratha, and Ethiopian Injera, but this Roti is super simple, super cheap, and super delicious. AND, it rolls without cracking!
Good & Cheap: Eat Well on $4 a Day Giveaway
Enter the giveaway below to win a copy of the cookbook AND a donated copy to someone who needs it!
And the winner is....B. Oakman! Check your inbox for my email. Thanks so much to everyone who entered, and I'm sorry I couldn't choose more winners!
Whole Wheat Roti (Good & Cheap Cookbook) + Giveaway
A simple flatbread recipe made with whole wheat flour.
Ingredients
2

cups

whole wheat flour

1

teaspoon

salt

1

cup

water
Instructions
Mix the salt and flour together, then add the water. Mix well with one hand and knead until it forms a smooth (but possibly slightly sticky) dough.

Cover with a damp towel or paper towel and let rest for 10 minutes to one hour.

When ready, divide the dough into 16 balls.

Warm a nonstick skillet over medium heat, and heavily flour a cutting board or working surface. Roll out each ball to about ⅛ inch thick.

Cook on each side for about 30-60 seconds, or until it easily moves around the pan, and a couple of teeny bubbles form on the top. Don't cook it too long or it will become too hard to roll.

Repeat with each ball of dough and serve!

(See Leanne's recipe above for more detail.)
Nutrition
Calories:
51
kcal
Carbohydrates:
11
g
Protein:
2
g
Fat:
0.4
g
Saturated Fat:
0.1
g
Polyunsaturated Fat:
0.2
g
Monounsaturated Fat:
0.04
g
Sodium:
146
mg
Potassium:
54
mg
Fiber:
2
g
Sugar:
0.1
g
Vitamin A:
1
IU
Vitamin B1:
0.1
mg
Vitamin B2:
0.03
mg
Vitamin B3:
1
mg
Vitamin B5:
0.1
mg
Vitamin B6:
0.1
mg
Vitamin E:
0.1
mg
Vitamin K:
0.3
µg
Calcium:
6
mg
Copper:
0.1
mg
Folate:
7
µg
Iron:
1
mg
Manganese:
1
mg
Magnesium:
21
mg
Phosphorus:
54
mg
Selenium:
9
µg
Zinc:
0.4
mg
Choline:
5
mg