Recipe: $3.10
Per Serving: $0.78
Agh! I got really super behind with posting! I'm the worst. I'm going to talk about this deliciously awesome Lemon Lentil Kabocha Stew, which is my first official in-Japan recipe post...in just a second.
First, some updates from Japan.
I've been busy apartment hunting, which is way more difficult in a new country that doesn't exactly love foreigners. There are things like "Key money" (read: 1 month's rent that is basically a bribe for the landlord to let you live there), and "guarantor fees," which go to some random company…whose sole job is to pay your rent if you get deported? Oh, AND, you have to do things through realtors here. The first realtor I met was a douchey mcdouchester. Direct quotes, "Just LISTEN to me, this is how things work here." "You don't know how it is in Japan, this is your first time, I'm the best." And after spending TWO HOURS in his office discussing apartments and all kinds of secret fees, "Now, this current price is only good for today. You talk to me tomorrow, and the price different." THANKS FOR WASTING MY TIME. It was a nightmare.
I've also started taking Japanese classes, and I thought my Japanese would start to come back by now, but it is hidden somewhere deep in my brain. Instead I say things like, "hasta atode." Which is "see you" in Spanish, and "later" in Japanese. Fantastic.
Plus there's the working full time and working part time thing...plus the blog. It's gotten to be a bit much. I think my time management needs to improve.
Also though, I've been running!! The weather has mostly been nice enough to run during the day, and I discovered this creepy little creek-thing that has a path away from cars. And I've found some sort-of running buddies. Things are looking up, people.
Now, to the food. I've eaten a total of 3 meals out since arriving here. The first was "fast food sushi," which is kind of fun and convenient and cheap but not my perfect sushi experience. You sit at a table and you press buttons on a futuristic jukebox machine (like the Jersey diners!), and your order comes zooming out to you on a track. The second was ramen for lunch on my day off, and it was pretty good, but also not extraordinary. The third was Japanese curry for lunch with coworkers, which was actually pretty delicious, and much better than I expected.
But, um that's it. I've been here 6 weeks and I've barely sampled the food. I'm saving up my eating-out dollars for when Zac arrives and my friends join us for a couple of days...at least that's what I'm telling myself (read: I don't want to eat out alone). Soon though, there will be so much sushi.
For now, I've been making all my meals and relying a bit on the convenience store onigiri, which are these rice balls stuffed with various ingredients (salmon, tuna, chicken, etc.) and wrapped in seaweed. It's crazy how popular convenience stores are here. I mean, they're pretty awesome, and you can get almost anything you need…and they're so convenient! They even have baked sweet potatoes for about $1 each. Hi super easy starch! And also hard-boiled eggs, tonkatsu, and vacuum-sealed cooked chicken breasts and salmon fillets.
Anyway, I end up cooking a lot of random stir-fry dishes with whatever vegetables were on sale at the regular grocery store 10pm the night before. But when I get a day off, I go nuts in the kitchen, making things like banana bread/muffins, tons of baked potatoes, and lentil kabocha stew.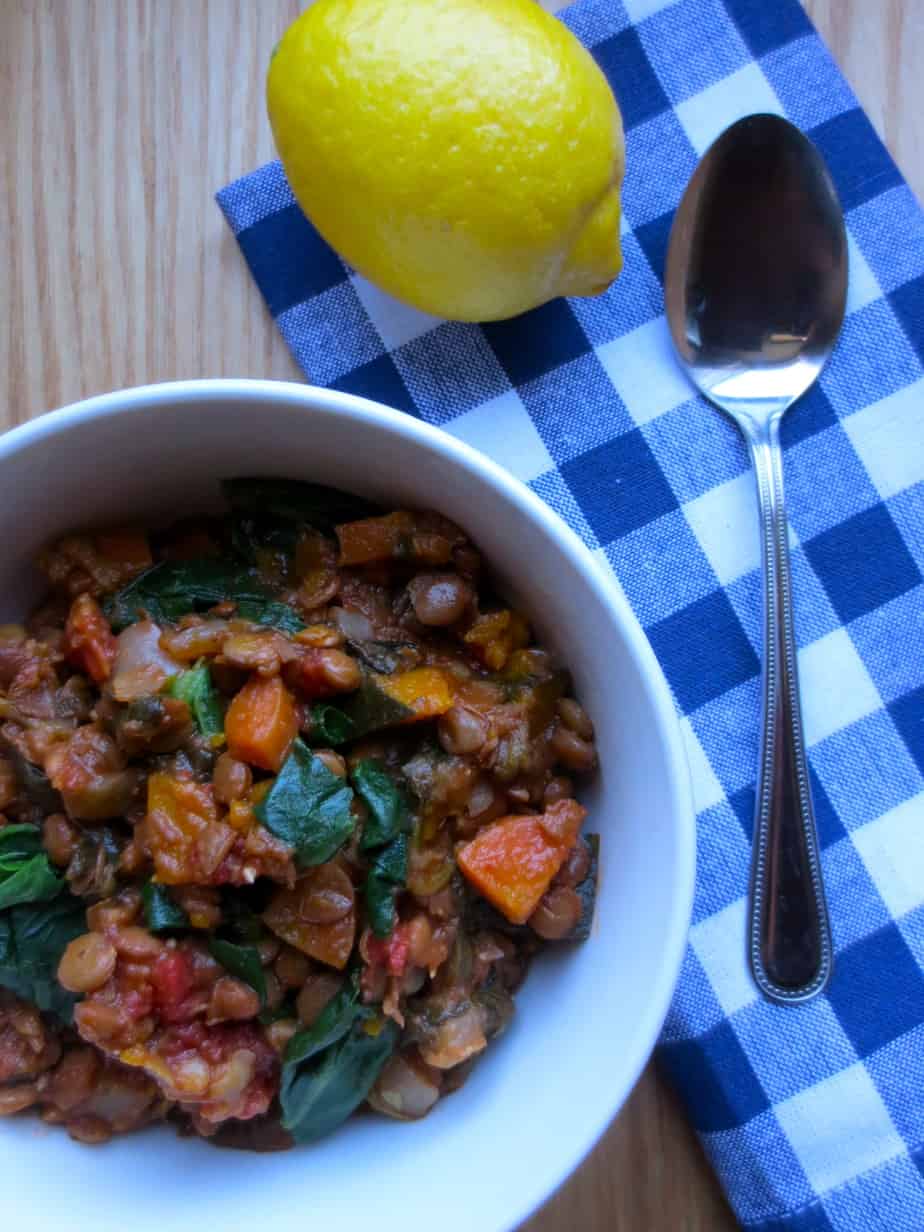 LEMON LENTIL KABOCHA STEW. Now I'm gonna gush hardcore for a second. It's really really good. I made it a few weeks ago and froze it in individual servings and have been snagging it for my lunch ever since. I've got one more serving in there and I'm already excited about it.
Lentils are so awesome. They're definitely my favorite bean, and they're so easy to cook! No soaking required. That's currently the number one thing I miss (food-wise), and I even yearn for Peru a bit when I think about all the lentils all the time. I bought this bag at a foreigner's store for a tragic price. I don't want to talk about it. But I priced the recipe using U.S. prices - obviously!
This recipe would cost around $3 in California, maybe $1.75 in Peru, and probably $6.50 here in Japan. So, it's decently frugal no matter where you are. Really, you should make this. And freeze it, and be rewarded later for your present efforts.
TIP: don't add too much salt, because the lemon at the end really brightens up the flavor. I know, that's a weird statement, but that's exactly what happens. Lemon brightness. Don't skimp on the lemon.

Lemon Lentil Kabocha Stew
A protein packed vegetarian lentil stew with kabocha squash. A healthy one pot meal everyone will love!
Ingredients
1

Tablespoon

olive oil

½

large

onion

diced

2

cloves

garlic

minced

1

carrot

diced

1

cup

uncooked lentils

4

cups

water

¼

kabocha squash

about 2-3 cups (or pumpkin, butternut squash, etc.)

1 ½-2

cups

diced tomato

1 can, or roasted, or fresh whatever!

1

teaspoon

spicy chili powder

or cayenne, start with less and see if it is too spicy

1

Tablespoon

soy sauce

salt and pepper to taste

about ⅛-¼ teaspoon each

4

cups

spinach

or other greens, roughly chopped

Juice of 1 lemon

+ wedges for garnish
Instructions
Warm the olive oil in a large pot. Add the onions and sauté until soft and fragrant. Add the garlic and cook for about 30 seconds, then add the carrot. Sauté for another minute or so, then add the uncooked lentils and the water.

Bring to a boil and reduce to a simmer, cooking until lentils are soft, about 25 minutes.

Meanwhile, chop up your kabocha squash. I recommend nuking it in the microwave for about 1 minute to make it easier to cut (and it cooks faster!)

When the lentils are done, add the kabocha, tomatoes, chili powder, and soy sauce. Add a little salt and pepper to taste, and let simmer for another 10 minutes, until kabocha is soft. Stir occasionally and adjust seasoning as necessary.

After about 10-15 minutes, add the spinach (or other greens), and cook just until wilted. Remove from heat and stir in the lemon juice. Serve with additional lemon wedges and chow down immediately.
Notes
This freezes well! It's a great freezer dish. :)
I would say it's about 5 servings, but depends on how hungry your diners are. :)
Nutrition
Calories:
175
kcal
Carbohydrates:
28
g
Protein:
10
g
Fat:
3
g
Saturated Fat:
0.4
g
Polyunsaturated Fat:
1
g
Monounsaturated Fat:
2
g
Sodium:
209
mg
Potassium:
729
mg
Fiber:
12
g
Sugar:
4
g
Vitamin A:
4308
IU
Vitamin B1:
0.3
mg
Vitamin B2:
0.2
mg
Vitamin B3:
2
mg
Vitamin B5:
1
mg
Vitamin B6:
0.4
mg
Vitamin C:
19
mg
Vitamin E:
2
mg
Vitamin K:
103
µg
Calcium:
81
mg
Copper:
0.3
mg
Folate:
211
µg
Iron:
4
mg
Manganese:
1
mg
Magnesium:
73
mg
Phosphorus:
188
mg
Selenium:
3
µg
Zinc:
2
mg
Choline:
46
mg