Recipe: $19.18 | Per Serving: $4.80 | Yield: 4 
Easy weeknight recipes can also be healthy and delicious! These anti-inflammatory salmon soba bowls come together in about 20 minutes and are packed with flavor. Hearty and flavorful buckwheat soba (my favorite noodle), is pared with a savory sesame-soy sauce, creamy avocado, some crunchy pals in the form of cucumber and edamame, and a lovely, super easy-to-make piece of baked salmon.
Salmon and avocado are anti-inflammatory powerhouses, but eating a colorful whole foods diet in general is a great way to get tons of anti-inflammatory compounds on a daily basis. Here are the basic ingredients for this gluten-free recipe!
This dish is one of my favorites because not only is it fast and nutritious, it is also surprisingly delicious. The combination of creamy avocado and rich flavorful salmon is one of my favorites (see Salmon-Avocado rolls here!), and buckwheat soba is my all-time favorite noodle.
What is Soba?
Soba (そば) is a Japanese noodle that is served cold or hot. Soba is traditionally served on New Year's Eve just before midnight as a good luck dish called Toshikoshi Soba.
Soba is unique because it is made from buckwheat flour and traditionally regular wheat flour, giving it a great texture but more flavor than many other noodles. You can also find gluten-free buckwheat soba noodles that are usually made from either 100% buckwheat (affiliate) or a combination of buckwheat flour and brown rice flour (affiliate).
What is Special About Soba?
To me, soba is special in two main ways. One, buckwheat has a lovely flavor and is grainy without being overly grainy. Second, soba is actually higher in protein than some other grains, including rice noodles, and it also contains all nine essential amino acids! It is not a 'complete' protein, like animal meat, but it does containing thiamine, which is missing from rice, and lysine, which is missing from whole wheat.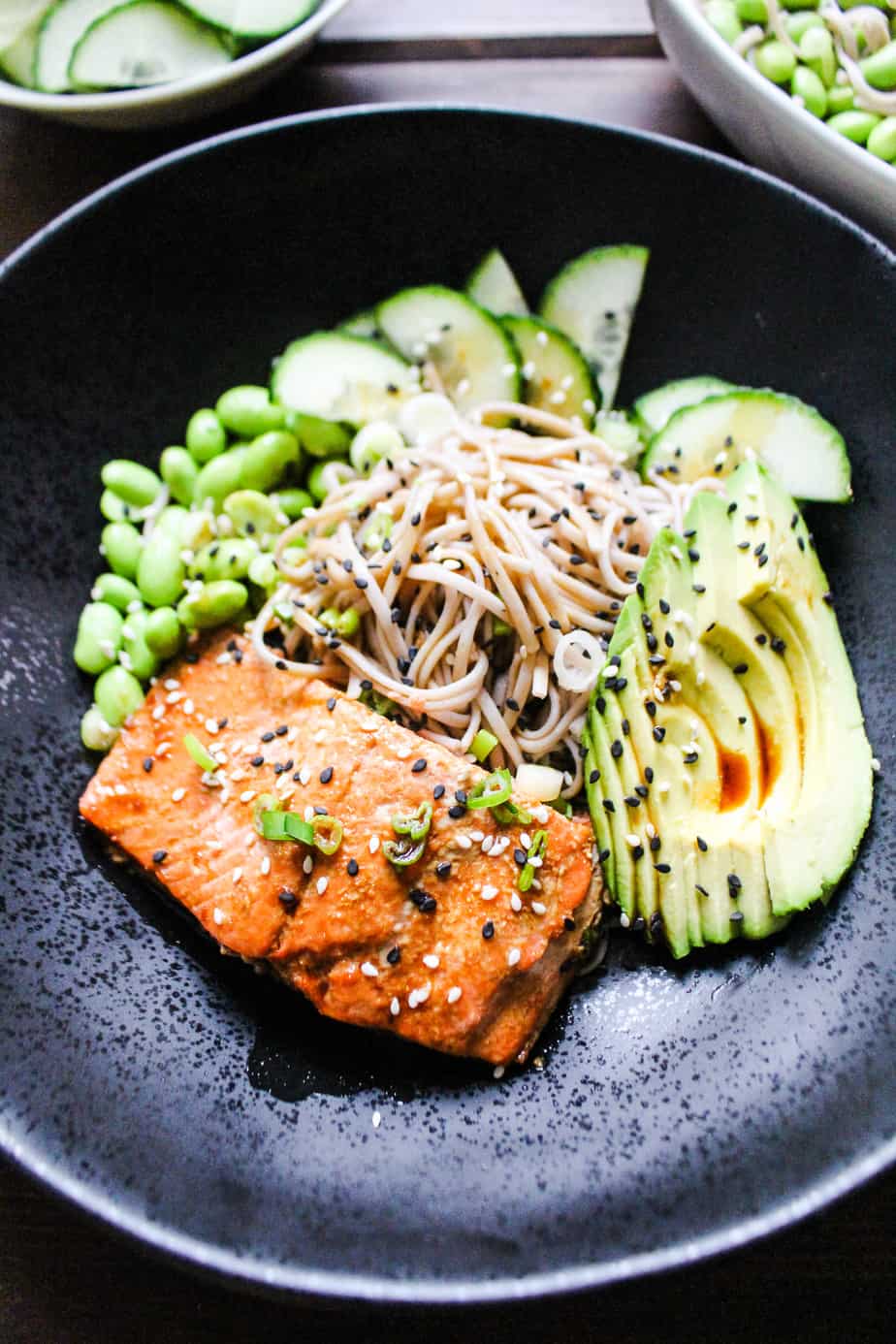 Anti-Inflammatory Foods in this Recipe:
avocado - healthy monounsaturated fats, and carotenoids
salmon - packed with omega-3 fatty acids - one of the richest sources of this potent anti-inflammatory
colors! cucumber, though not a super rich source of nutrients, does contain some vitamin C and other antioxidants, and the same goes for green onion, edamame, and avocado!
How to make Anti-Inflammatory Salmon Soba Bowls cheaper: 
Many of these ingredients are more expensive than your average budget-friendly recipe uses. Here are some tips to make this recipe cheaper.
Reduce the salmon and increase the edamame (edamame is much cheaper - increase to 2 cups and reduce salmon serving to 1.5 ounces per person)
Swap the wild salmon for farm-raised salmon. Farm-raised salmon is not technically "anti-inflammatory" because the omega-3 fatty acids are lower - but it is certainly still a great source of protein if that's what you can afford.
Use regular (not gluten-free) soba noodles - they're $1-$2 cheaper per package. Or replace the soba with brown rice.
As I've said before, while this recipe is more expensive than most on this blog, I would put this recipe into a much fancier, gourmet, or date night category. It is still quite fast and easy, is incredibly nutrient-dense and anti-inflammatory, and is still cheaper than 4 servings of fast food or take out!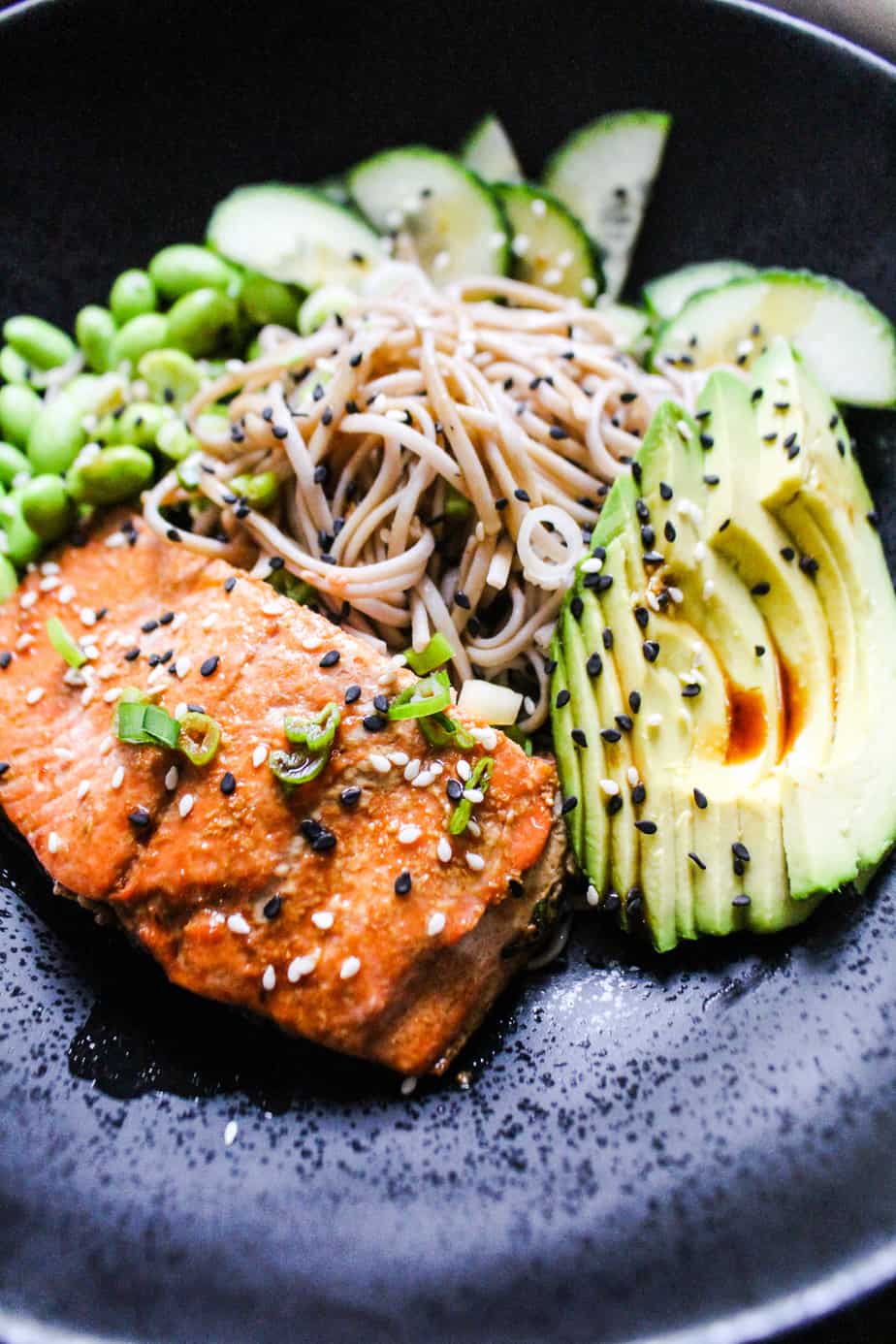 Dietary Modifications for Anti-Inflammatory Salmon Soba Bowls
Vegetarian: No - salmon is not vegetarian! But it is pescatarian.
Paleo: No - edamame, tamari, and buckwheat are not considered Paleo (but this is gluten-free if you use gluten-free 100% buckwheat soba)
Low FODMAP: skip the green onions and yes this is Low FODMAP! Just watch the serving sizes of the avocado, edamame, and soba as this is technically 'FODMAP stacking' and can cause some symptoms.
PIN THIS RECIPE FOR LATER!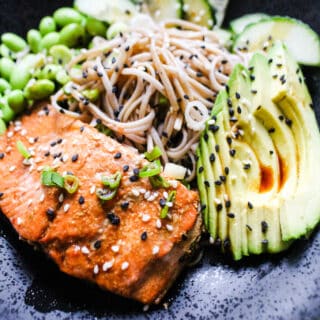 Anti Inflammatory Salmon Soba Bowls
These gorgeous anti-inflammatory salmon soba bowls are as delicious as they are beautiful. This deceptively easy weeknight dinner is also a great date night dinner or Valentine's Day at-home gourmet.
Ingredients
For the Sauce:
¼

cup

tamari

2

Tablespoons

rice vinegar

unseasoned / unsweetened

2

Tablespoons

sesame oil

toasted is more flavorful

1

Tablespoon

grated fresh ginger

1

teaspoon

maple syrup
For the Salmon Soba Bowls:
12

ounces

wild salmon

8

ounces

gluten free buckwheat soba (+ a drizzle of oil as needed)

360 grams

1

cup

frozen edamame

1

english cucumber

1

large avocado

or 2 small

3

scallions

2

teaspoons

black or white sesame seeds

or both!
Instructions
Preheat oven to 375ºF.

Combine sauce ingredients in a small bowl.

For the Salmon: Line a sheet pan or oven-safe skillet with parchment paper. Add the salmon (skin-side down) and drizzle about 1 Tablespoon (or more) of the prepared sauce over the top of the salmon. Bake salmon in a preheated oven on 375ºF for 15 minutes. When cooked through, let cool 3-5 minutes and then cut into 4 equal pieces, about 3 ounces each.

For the Soba & Edamame: Bring a large pot of water to a boil. Add the soba and cook according to package directions, about 6-9 minutes. When there are FOUR minutes left on your timer, add the frozen edamame. When soba & edamame are cooked, strain in a colander and rinse immediately with cold water. Drizzle with oil of choice and toss to help prevent sticking while you finish preparing your bad-ass dinner!

For the toppings: thinly slice the cucumber into half moons, slice (or cube) the avocado, thinly slice the scallions. Mix together black and white sesame seeds if using both.

For the Bowls: Divide the soba and edamame among 4 bowls. Add a piece of salmon to each, and top each bowl with ¼th of the cucumber slices, avocado, scallions, and sesame seeds. Drizzle with plenty of sauce and enjoy at room temperature.
Notes
If you plan to make this ahead for meal prep, be sure to toss the soba in oil and divide it among your containers before storing in fridge. It will still stick together somewhat. If it turns into one big blob of soba, cover it in boiling hot water and shake loose using chopsticks, then drain and eat as usual.
Nutrition
Calories:
535
kcal
Carbohydrates:
58
g
Protein:
32
g
Fat:
22
g
Saturated Fat:
3
g
Polyunsaturated Fat:
6
g
Monounsaturated Fat:
10
g
Cholesterol:
47
mg
Sodium:
1304
mg
Potassium:
1152
mg
Fiber:
6
g
Sugar:
4
g
Vitamin A:
276
IU
Vitamin B1:
1
mg
Vitamin B2:
1
mg
Vitamin B3:
10
mg
Vitamin B5:
3
mg
Vitamin B6:
1
mg
Vitamin B12:
3
µg
Vitamin C:
9
mg
Vitamin E:
1
mg
Vitamin K:
42
µg
Calcium:
100
mg
Copper:
1
mg
Folate:
111
µg
Iron:
4
mg
Manganese:
1
mg
Magnesium:
115
mg
Phosphorus:
388
mg
Selenium:
32
µg
Zinc:
2
mg
Choline:
18
mg