Recipe: $3.00 | Per Serving: $0.75 | Yield: 4
You guys all know about spring vegetables, right? All the little radishes and peas and stalks of asparagus are suddenly available and/or on sale at the grocery store. At prices you haven't seen in a year! Yeap, SPRING is here. It only took a million months to finally arrive. But then again, I live in San Diego, so I hardly noticed.
Spring is the best - and this soup is nice and Spring-y. And the perfect starter for Easter Brunch!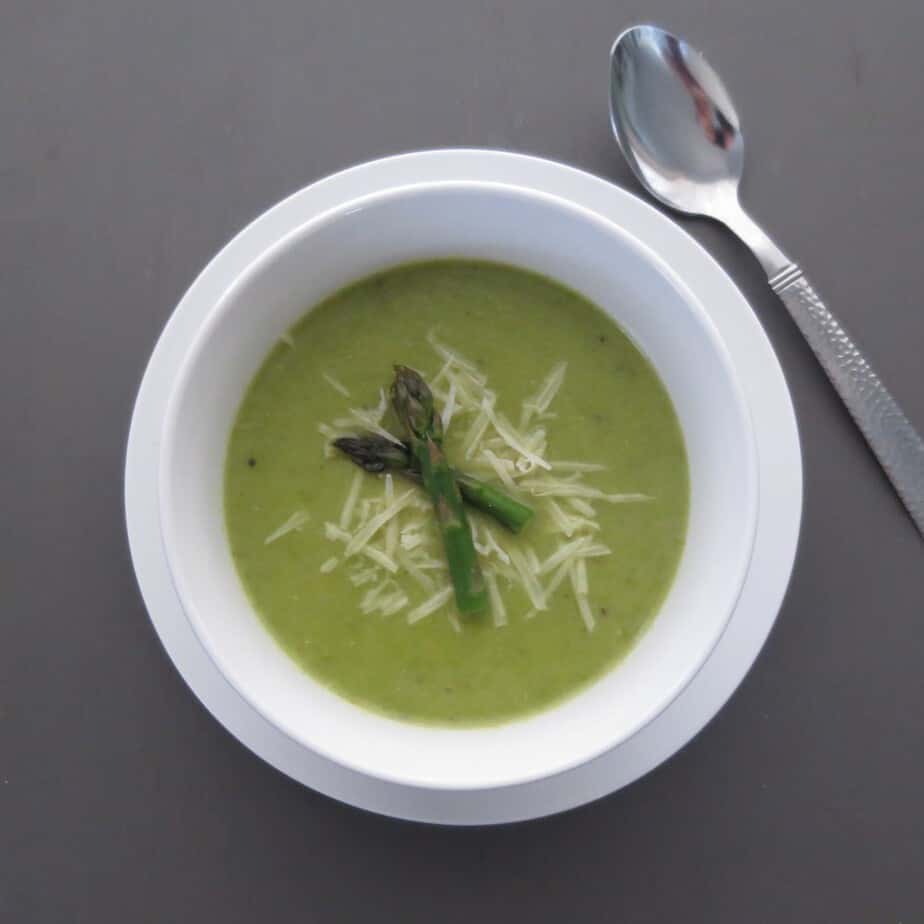 Did you know that most of the out-of-season asparagus in the states comes from Peru? Basically from January until last week all of the asparagus in Sprouts said "Made in Peru." I even took a picture at one point because I was feeling nostalgic.
Did you also know that I think San Diego has the best asparagus in the world? Two weeks ago we bought two bundles of asparagus (Valley Center vendor) from the farmer's market. They were actually not that good. A week later we got two bundles in our CSA box from Be Wise Ranch. AMAZING. I choose to ignore the Valley Center asparagus from the farmer's market and stand by my statement: San Diego asparagus is AMAZING. Maybe those two weeks made all the difference.
Anywho, we've eaten a whole bunch of asparagus in the last few weeks, which is why you're seeing so many posts so close together. This is asparagus soup and it is divine. Better than I expected. I even used those woody ends that you're not supposed to eat and they got totally tender and blitzed up in my not-so-great blender.
Also, did you know that if you blend potatoes they get gooey and gluey and not in a good way? I made slow cooker potato leek soup at my parents' house one time and decided to puree half the soup in the blender for a chowder-y texture and it was a Bad. Idea. Then I read that's what happens to blended potatoes sometimes. So that's why you'll see the extra step here instructing you to remove the potatoes before blending. Just mash 'em separately.
Also, (again) while the potatoes were cooking, I held the asparagus spears upside down in the liquid for about 30 seconds to tenderize them so I could chop 'em off and use them as a garnish. You could do that too. You could also serve it up with some homemade whole-wheat foccacia if you want. It's a good lunch.

Cream-Free Creamy Spring Asparagus Soup
A delicious creamy asparagus soup that's dairy-free.
Ingredients
1

Tablespoon

butter

1

bunch

asparagus

about 1 pound

1

onion

roughly chopped

2

cloves

garlic

4

cups

vegetable broth

1

medium

potato

quartered or cubed in 6-8 chunks

2

tablespoon

greek yogurt

optional

salt

pepper

1

tablespoon

parmesan

for garnish, optional
Instructions
Melt butter and sauté onions until tender. Add garlic and cook for 1 minute more.

Add 2 cups broth and potatoes, bring to boil, simmer for 15 minutes or until very tender, then remove the potatoes. Mash potatoes in a separate bowl and set aside.

Add remaining 2 cups broth and asparagus to pot, cover and simmer until tender, about 5-8 minutes.

Remove from heat and let cool 5 minutes so you don't blow the lid off your blender and spray hot soup everywhere. Ahem. Blend in two batches and puree until smooth, return puree and potatoes to pot, and mix together.

Whisk in greek yogurt (optional), season with salt and pepper and garnish with parmesan cheese.
Nutrition
Calories:
123
kcal
Carbohydrates:
20
g
Protein:
5
g
Fat:
3
g
Saturated Fat:
2
g
Polyunsaturated Fat:
0.2
g
Monounsaturated Fat:
1
g
Trans Fat:
0.1
g
Cholesterol:
9
mg
Sodium:
992
mg
Potassium:
510
mg
Fiber:
4
g
Sugar:
6
g
Vitamin A:
1450
IU
Vitamin B1:
0.2
mg
Vitamin B2:
0.2
mg
Vitamin B3:
2
mg
Vitamin B5:
1
mg
Vitamin B6:
0.3
mg
Vitamin B12:
0.1
µg
Vitamin C:
19
mg
Vitamin D:
0.01
µg
Vitamin E:
1
mg
Vitamin K:
48
µg
Calcium:
66
mg
Copper:
0.3
mg
Folate:
73
µg
Iron:
3
mg
Manganese:
0.3
mg
Magnesium:
33
mg
Phosphorus:
119
mg
Selenium:
4
µg
Zinc:
1
mg
Choline:
28
mg