Completing a Whole30 in this day and age of convenience and over-processing and busy.busy.busy is quite the achievement - and I'm never afraid to pat myself on the back when I feel proud of myself. (pat pat)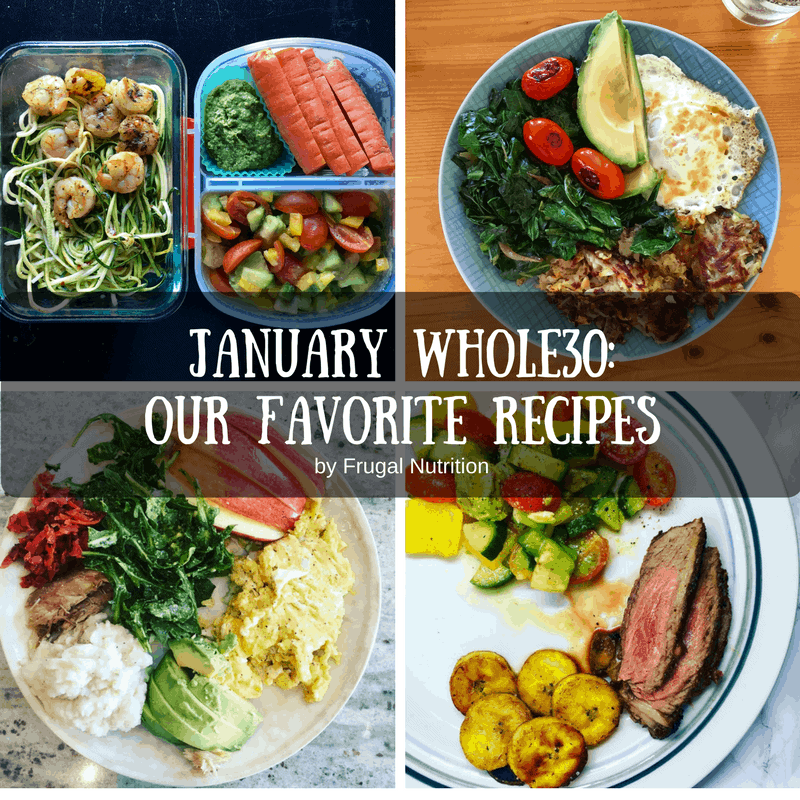 I will say that I'm glad most of my classes didn't start up until the end of the month, because changing your eating habits and removing most of your go-to emergency options (Brown rice! Mac & Cheese! Quinoa! Beans!) is a time-consuming process. It's not actually all that difficult to do, but if you're doing it for the first time, it is a great idea to get prepared. I kept track of every single meal for the entire 30 days and shared them on my Instagram feed, but since I was getting constant requests for recipes, I thought I'd share most of the meals here and highlight some of our absolute favorites.
The hardest thing for me was HOW MUCH animal protein we had to consume. It was a big change from our standard 2-3 ounces per serving, maybe 5 times a week. I tried to scale it back the first two weeks with some vegan dishes, but the walnut chili makde 8 servings and was not that good so I lost my inspiration to find that vegan whole30 life once or twice a week.
Our Whole30 Favorites:
Lamb Meatballs by Nom Nom Paleo (cookbook) - served with zucchini noodles and fresh tomato sauce. This recipe comes from the first Nom Nom Paleo cookbook, but we had lamb instead of veal.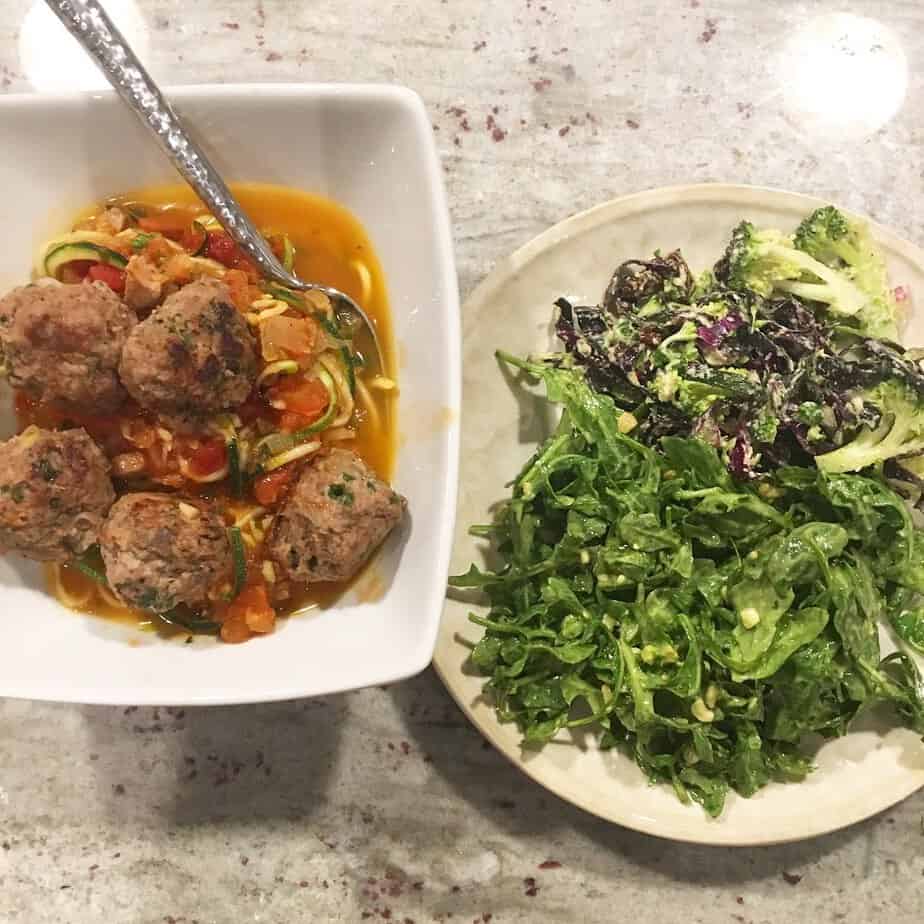 Pineapple Coconut Cauliflower Rice by Nom Nom Paleo - another recipe from the Nom Nom Paleo cookbook! It's basically cauliflower rice cooked with coconut milk and combined with scallions and pineapple.
Whole30 Bulgogi by Defined Dish - we made this on day 31, and it was so so so good! I highly recommend this for dinner party action. The marinade, made with delicious things like pears and coconut aminos and sesame oil, is incredible, and I plan to use it as a salad dressing sometime soon. SO GOOD. Go make it! We served ours in lettuce wraps, and then atop salad, and froze a few more servings for later. :) 
Magic Green Sauce by Pinch of Yum - works great as a dressing for arugula, as a dipping sauce for carrots, snap peas, and peppers, or as a sauce for steak/fish/chicken. We all loved it! And guess what: you can easily sub out the pistachios for another fatty nut like cashews or macadamia nuts if that's what you have on hand.
Slow Cooker Ragu by Skinnytaste (See Pinch of Yum) - this was one of my personal favorites of the bunch, which is really saying something since I am not a huge fan of meat. This recipe is in the Skinnytaste Fast and Slow cookbook, but I got it from Pinch of Yum. I've made it twice, and I like to add 1 sliced onion and 2 Tablespoons of balsamic vinegar. You can also spruce it up with chopped mushrooms.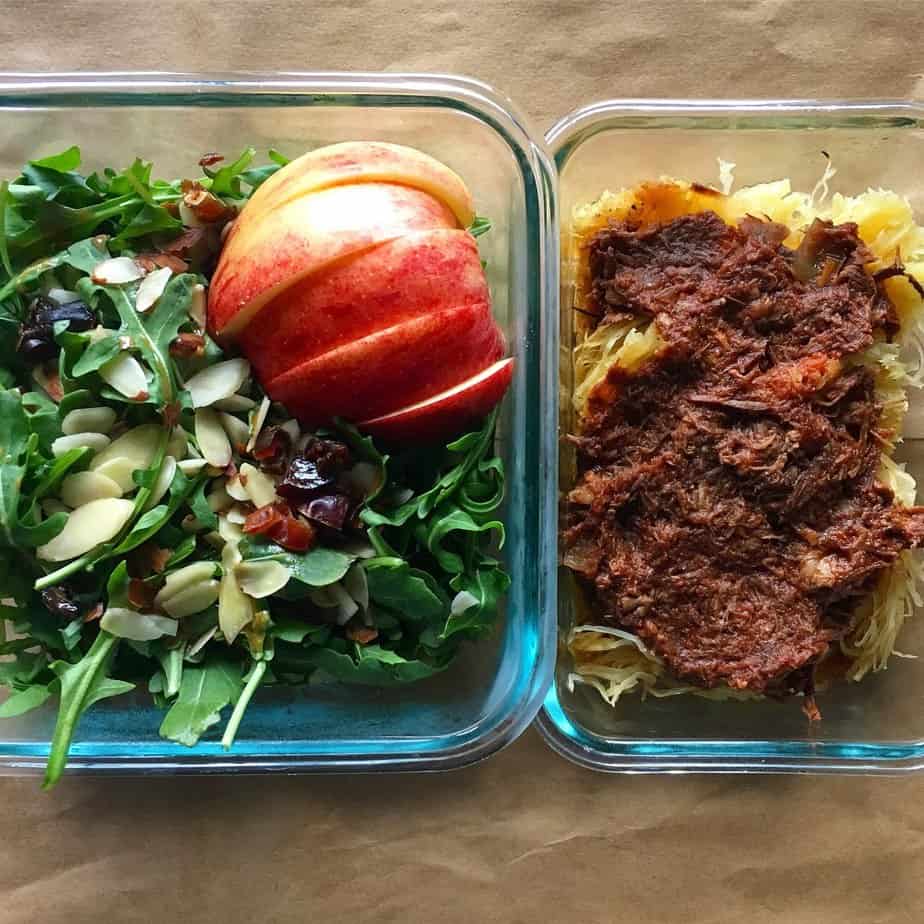 Carrot-Ginger Turmeric Soup by Frugal Nutrition - this is a vegan dish, and is likely going to be a very light lunch or a side dish for your Whole30, but nonetheless, super delicious.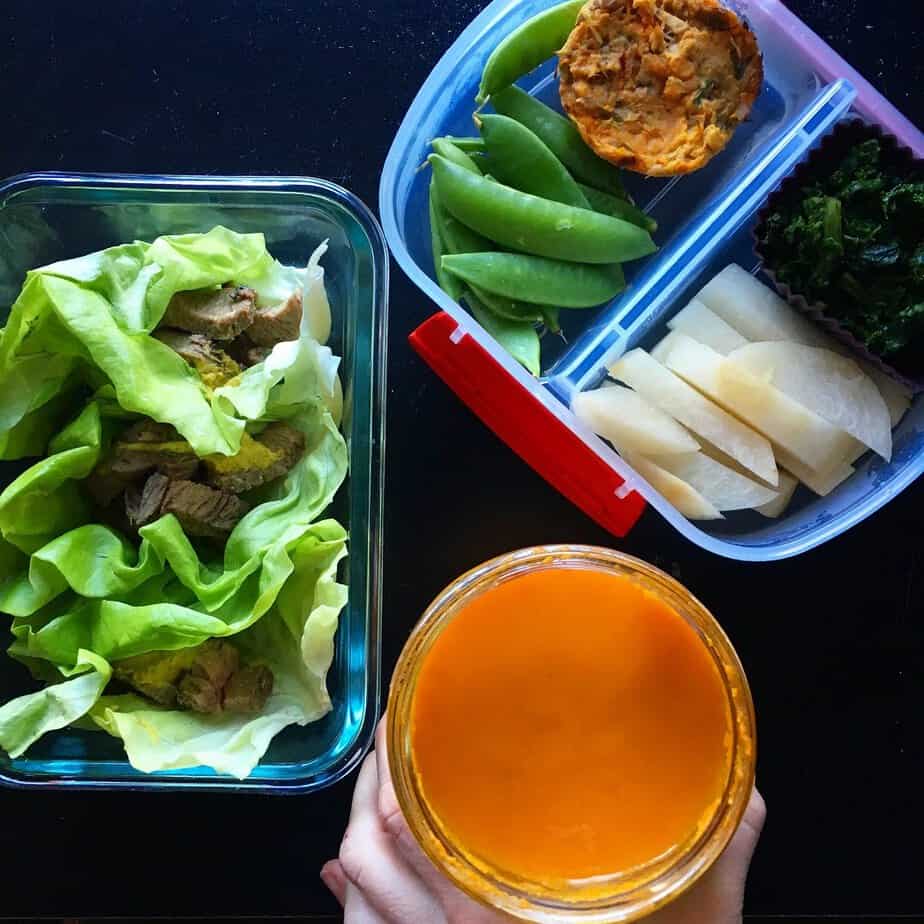 Salmon Burgers by No Crumbs Left - guys, this is so good!! It's a really easy recipe, and utilizes fresh salmon. We actually got ground salmon in our Moink (affiliate link) box, so this recipe was perfect. I added about 1/4 cup chopped fresh herbs that we had leftover from another recipe. 
Smoky Chicken Stew with Butternut Squash and Kale by Domesticate Me - this recipe is having a serious moment in my kitchen right now. I have made it at least 6 times this winter, twice during Whole30, and it is delicious every time. Sometimes I use shredded chicken, sometimes I use "homemade" sausage, sometimes I use a little of both. Most recently I added some ancho chili powder. ???? I tried making it in the slow cooker one time - 4 hours on high - and it wasn't nearly as good. Stovetop win!
Slow Cooker Unstuffed Cabbage Casserole by Frugal Nutrition - basically you can put anything in the slow cooker with tomatoes and it is likely to be fantastic. This recipe uses raw beef or pork, a head of cabbage, two 15-ounce cans of tomatoes, and a bunch of spices. It serves 6-8, and is great with cauliflower rice or brown rice or on its own! 
Cuban-Cilantro Orange Chicken by Frugal Nutrition - we're pretty familiar with this dish, but one busy weekend I decided to cook this in the slow cooker and it was super easy! Basically, I used the same instructions, but in the slow cooker on high for like 2 hours. This dish is naturally Whole30, and the combination of fresh orange juice with the cilantro and cumin is super flavorful!
Shiitake, Bell Pepper, & Snow Pea Stir Fry - no recipe for this, but we seasoned it with ginger, garlic, coconut aminos, sesame oil, fish sauce, and some dulse (seaweed) flakes. This was my favorite almost vegetarian dish, and I certainly plan to combine fish sauce and dulse flakes in all of my future stir fry dishes and rice bowls. 
Salads - we ate a lot of salads, and they were all pretty fantastic. We mostly used an Organic Super Greens Blend or the Organic Arugula, lots of avocado, marinated onions, sliced almonds, and grape tomatoes. See the list below for more details and ideas!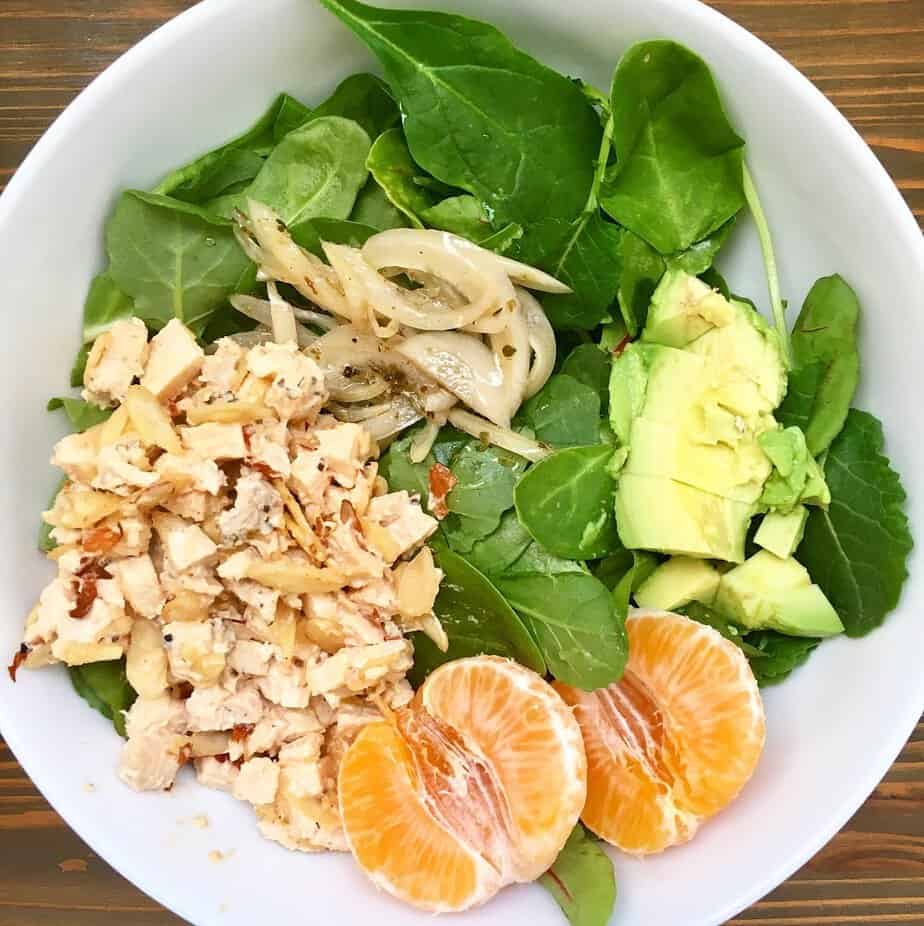 And, a compilation of most of the things we ate on Whole30!
Breakfast:
Frittata - various frittatas with vegetables, sometimes with sausage or sweet potato

Breakfast Salad - sausage (usually homemade), tomatoes, arugula, avocado, runny egg

Fried Eggs with Japanese sweet potatoes and sautéed veggies

Fried Eggs with roasted potatoes, veggies, avocado

The occasional Green Smoothie
Hemp Porridge: we were so sick of eggs some days, so I made hemp porridge two or three times, but then after more research I felt that it wasn't really Whole30, so I stopped making it. :(
Snacks: (I know you're not supposed to snack! This was super hard for us.)
Lots of vegetables - carrot sticks with magic green sauce, snap peas, cucumber slices, radishes

Fruit - apple slices, clementines, berries, bananas

Nuts & seeds - raw almonds, raw pumpkin seeds, coconut flakes, raisins
Mains
Slow Cooker Unstuffed Cabbage Roll Casserole - served alone or with cauliflower rice

Thai Coconut Stew (variations on this recipe on Frugal Nutrition, but with chicken instead of chickpeas, and double the bell peppers and carrots instead of the rice noodles). 

Shiitake & Snow Pea Stir Fry

Carrot-Ginger Soup (Frugal Nutrition) 

Walnut Pumpkin Chili <-- NOT a successful choice. 
Salads
Arugula-Date-Almond Salad with Balsamic-Mustard Vinaigrette - no cheese (Jess Seinfeld)

Chopped Salad with Avocado, Tomatoes, Chicken Salad, and Sweet Potatoes

Jayme's Awesome Summer Vegetable Salad (Frugal Nutrition)
Easy Salad Dressings:

balsamic & olive oil
red wine vinegar, oregano, olive oil
balsamic, olive oil, brown mustard
magic green sauce (pinch of yum)
sesame oil, coconut aminos, & apple cider vinegar
salsa! such an easy salad addition!
avocado, cilantro, garlic, olive oil (blend/puree)
tahini, lemon juice, garlic, olive oil, chives
Veggies & Sides
Coconut-Pineapple Cauliflower Rice (Nom Nom Paleo)

Garlic & Ghee Cauliflower Rice (Frugal Nutrition)

Zucchini Noodles

Spaghetti Squash

Fried Plantains (totally Food With No Brakes for me!)

Roasted Acorn Squash, Kabocha Squash

Roasted Non-Starchy Vegetables - broccoli, brussels, cabbage, bell peppers, onions

Roasted Potatoes

Baked Japanese Sweet Potatoes
Seafood
Meat
Seared & Broiled Ribeye

Ground Pork w/ dried dill, oregano, garlic (for salad)

Trader Joe's Pre-Cooked Chicken Strips (plain is the only Whole30 version) - mixed with chipotle mayonnaise for chicken salad / lettuce wraps (weekend errands protein emergency)

Cuban Cilantro Orange Chicken Thighs (Frugal Nutrition)

Trader Joe's Chile-Lime Chicken Burgers (for emergencies)

Shredded Beef Ragu (Skinnytaste / Pinch of Yum)
If you're looking for more ideas or pictures, check out the my Instagram feed!
Day One:
Through Day Thirty: