Recipe: $6.18 | Per Serving: $3.09 | Yield: 2
This meal is about to be a game-changer in your house. Shredded sweet potatoes + shredded brussels sprouts + cooked sausage. That's it! Easy, delicious, and Whole30-approved. Great for breakfast, lunch, or dinner. With or without eggs.
On a recent Friday night, I was not feeling 100%, and I was desperate for something easy and comforting for dinner. You can't lean back on boxed mac & cheese for dinner when you're doing your Whole30 thang, and I'd already had some loose plans to make shredded brussels and sweet potato hash for a workweek breakfast, so I just grabbed an extra bag of shredded brussels sprouts and luckily found some acceptable Open Nature Chicken & Apple sausage on SALE for just $3.99, (down from $5.49). While I'm partial to my new homemade chorizo sausage blend, pre-cooked sausage is a good option when you're in a pinch.
This was a super easy and satisfying dinner. You could totally grab cubed sweet potatoes ($2.49 per pound) if you don't want to deal with grating a sweet potato by hand, but you would probably need to increase the cooking time significantly. Use the shredding blade on your food processor or a spiralizer to make the transition from whole potato to plate faster and way less messy.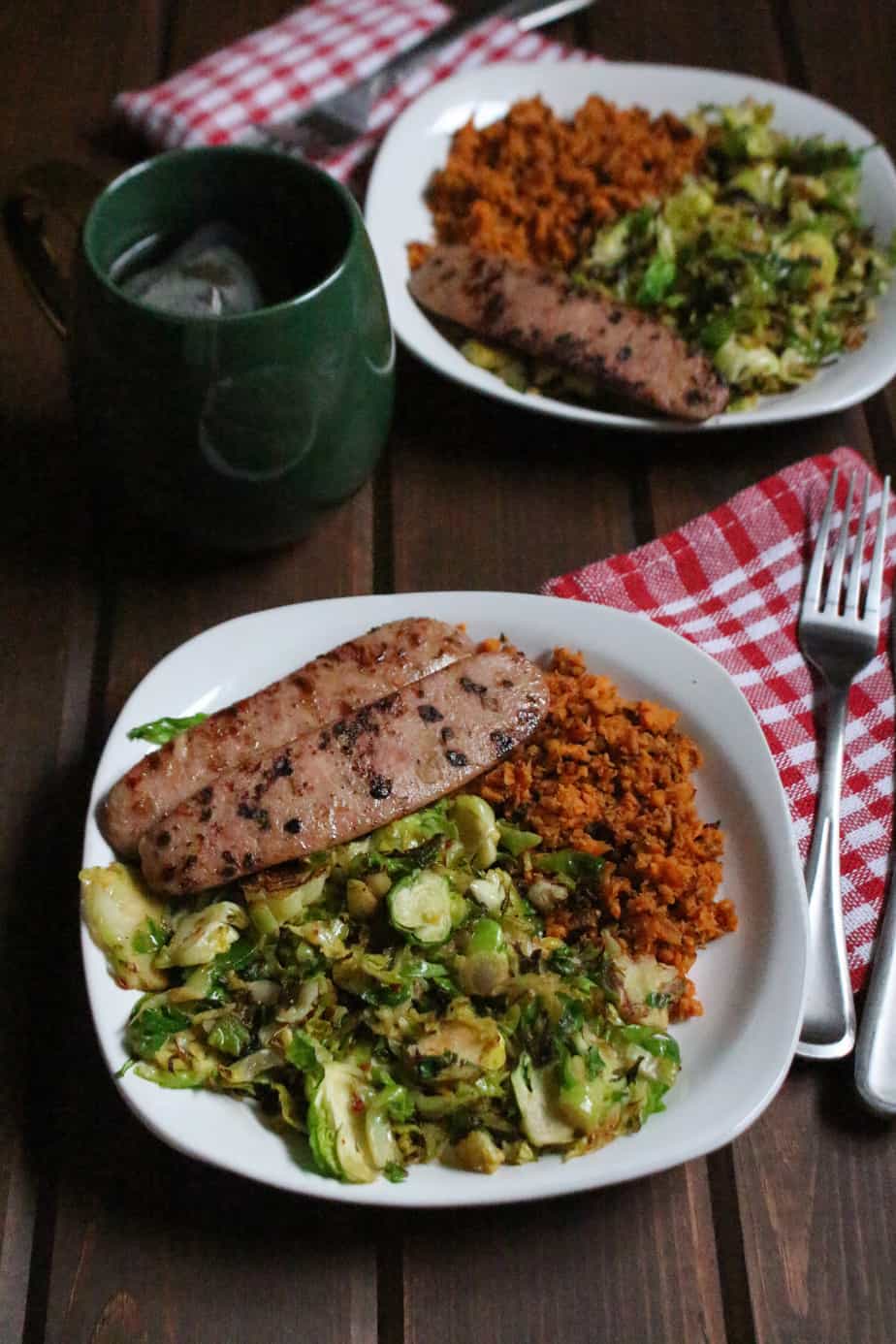 For those of us without those options, the grater works just fine, but it does take about 10 minutes to do. That's the only prep for this whole dish though! When you need something fast, relatively healthy, and relatively affordable, this is an excellent go-to option and I highly highly recommend it! I always use my grater to make shredded potatoes, but this time around I went even simpler and I pulsed cubed potatoes in my mini Ninja food prep base, which ended up with more of a sweet potato "rice" kind of situation. Not quite as pretty, but the end result is similar enough to pass for success on a busy night.
Vegetarian: Nope - but you could totes skip the sausage and add an egg if eggs are your thing. Or even some seasoned chickpeas or white beans.
Paleo: Yep! And Whole30!

Sausage, Brussels Sprouts, and Sweet Potato Hash (Whole30)
Flavorful store bought or homemade sausage is paired with shredded Brussels sprouts and sweet potato hash browns for a deliciously simple breakfast.
Ingredients
1

large

sweet potato

about 1 pound

1

Tablespoon

cooking oil or fat

avocado oil, coconut oil, ghee

2

sausage links

cooked , I used Open Nature Chicken-Apple Sausage

10

ounces

brussels sprouts

shredded

salt

to taste

pepper

to taste

garlic powder

to taste

red pepper flakes

to taste
Instructions
Shred the sweet potato using either a cheese grater, food processor, or even a spiralizer.

Warm the cooking fat in a non-stick skillet over low-medium heat (a cast iron works great too, but you might need more fat because sweet potato loooves to stick). Add the sweet potatoes and season with some of your faves, then let cook undisturbed at least 5 minutes. Check it out - if it's browning on the bottom, flip it and cook the other side. (Note: "flip it" is unlikely to be in large pieces. Just flip what you can to cook both sides.)

Meanwhile, warm the fully cooked sausages in another skillet and add the brussels sprouts to soften and get slightly crisp. Add seasonings as desired. Take it easy on the salt since the sausage is salty.

Remove the chicken sausage while the brussels continue to cook. Optional: Slice/chop into manageable bites and return to pan with brussels sprouts.

Slide the sweet potatoes out of the pan and divide between two plates. Divide the brussels sprouts and sausage between two plates as well and serve!

Optional: top with a fried egg, hot sauce, or avocado!
Notes
If you have a large pan, you could probably do this all in one. My nonstick is large, but not quite large enough, so I just use a cast iron pan for the sausage and brussels. You do you!
Nutrition
Calories:
330
kcal
Carbohydrates:
47
g
Protein:
10
g
Fat:
13
g
Saturated Fat:
3
g
Polyunsaturated Fat:
2
g
Monounsaturated Fat:
7
g
Trans Fat:
0.04
g
Cholesterol:
14
mg
Sodium:
256
mg
Potassium:
1174
mg
Fiber:
10
g
Sugar:
10
g
Vitamin A:
25202
IU
Vitamin B1:
0.4
mg
Vitamin B2:
0.3
mg
Vitamin B3:
3
mg
Vitamin B5:
2
mg
Vitamin B6:
1
mg
Vitamin B12:
0.2
µg
Vitamin C:
125
mg
Vitamin D:
0.3
µg
Vitamin E:
2
mg
Vitamin K:
254
µg
Calcium:
112
mg
Copper:
0.4
mg
Folate:
105
µg
Iron:
3
mg
Manganese:
1
mg
Magnesium:
78
mg
Phosphorus:
205
mg
Selenium:
3
µg
Zinc:
2
mg
Choline:
59
mg
Nutrition Label is for generic chicken sausage.