These sweet potato tuna cakes may sound like a strange combination, but they're one of our favorite snacks to keep on hand! They're really flavorful and perfect for hiking, traveling, or adding to your bento box!
Recipe: $6.00 | Per: $0.43 | Yield: 14
This combo sounds so weird, I know. And I don't know what part of my brain thought Nom Nom Paleo's spicy tuna cakes would be a good idea. Canned tuna and sweet potatoes? What is that, armageddon food? Probably. But with the right combination of spices and a few add-ins (carrots!), they're really super delicious. I promise.
They're really really easy to make and they're good both hot and cold, which means they're perfect for adding to lunch boxes. I changed a few things from the original recipe, and I have to say that I actually like the updated version better.
I added carrots and lemon juice, and to keep things a bit cheaper, I opted for ground coriander instead of fresh cilantro, and red onion instead of shallots. All good changes. I've also just discovered habanero peppers here in Japan, so that's that next thing I want to add. Pump up the spice.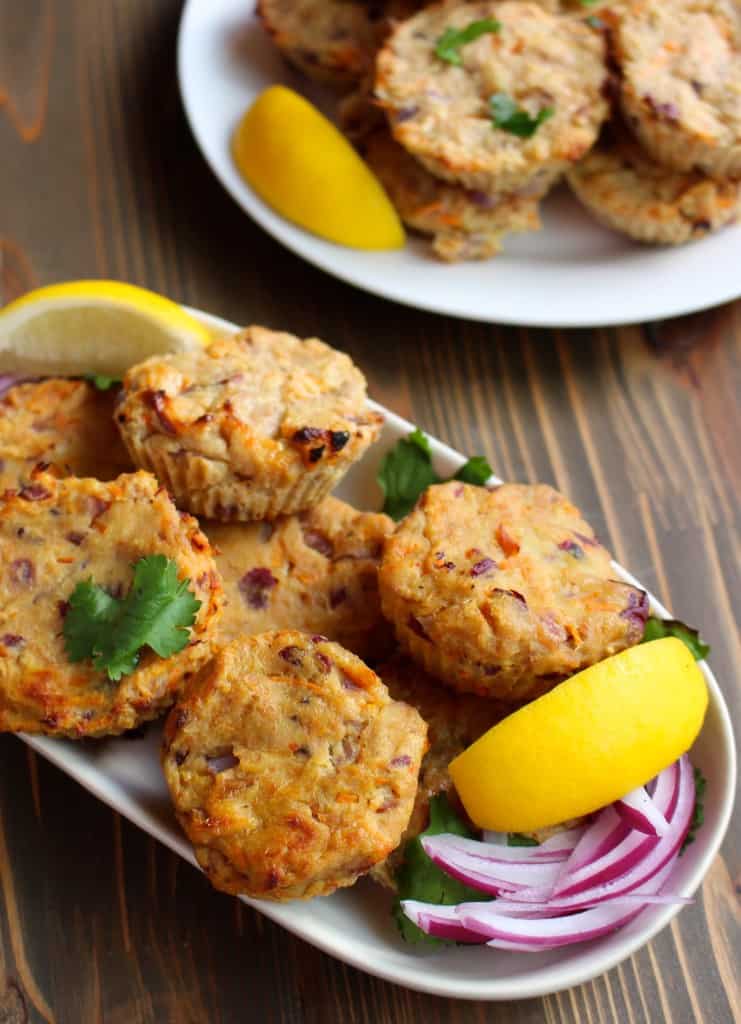 Eat these warm or toss them in a bento box! They're great cold, hot, crispy, warm, or at room temperature. Also, it doesn't hurt to add a lovely Whole Wheat Cheddar Jalapeño Scone while you're at it.
In other news, I kind of took a break from blogging. I had a lot of other things going on, and I had tried about 6 recipes in the past week and none of them were right, so here they shall NOT go.
Speaking of "other things going on." That was code for severe jetlag + fun hangover. I've been slowly recovering from my week in the states (where my lovely friend got married) with friends and family.
When I returned home (to Japan), I discovered that there was exactly NO food left in the house. (Good thing I brought an ENTIRE SUITCASE full of food back from the states.) When I left, the freezer was packed to the gills with spicy tuna cakes, oatmeal raisin bars, coconut chicken satay, and sausage-mushroom bolognese. When I returned, it was a sad freezer with only ice cubes, chicken broth, abandoned sauces, and ginger. (Zac!) I love having a stocked freezer, and I'm really looking forward to one day having a normal ADULT-SIZED fridge and freezer. What is it with the small fridges everywhere I go? They have just enough room for condiments, and two days' worth of vegetables. It takes like 8 months to get through a jar of tahini, so it just gets moved around as I play Tetris with the fridge about 10 times a day. Please tell me I'm not the only one.
Anyway, without a segue: recipe time.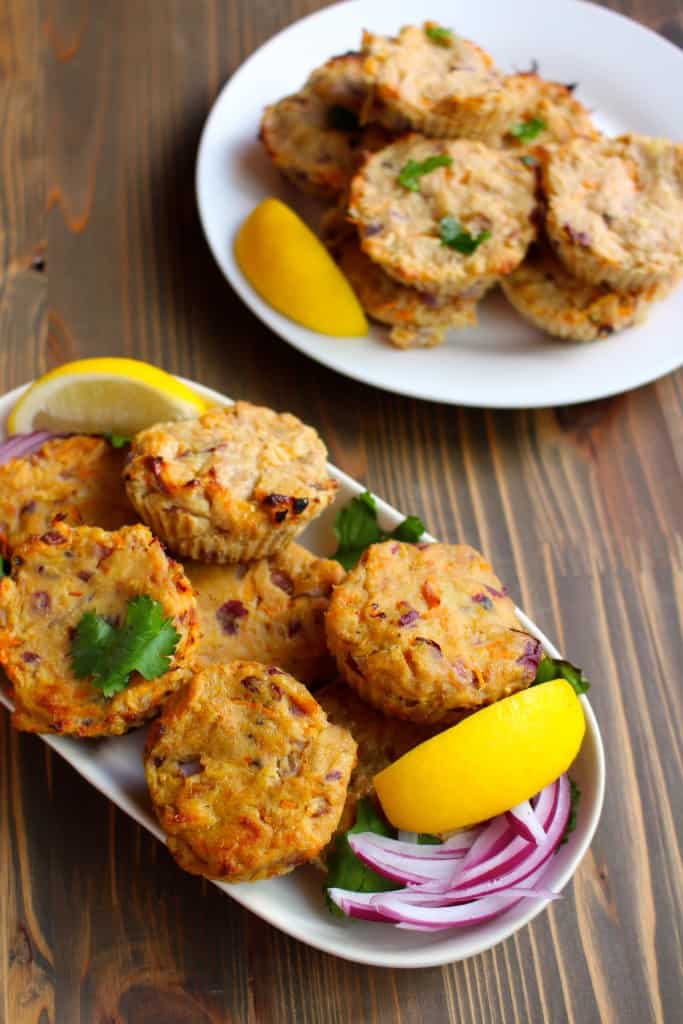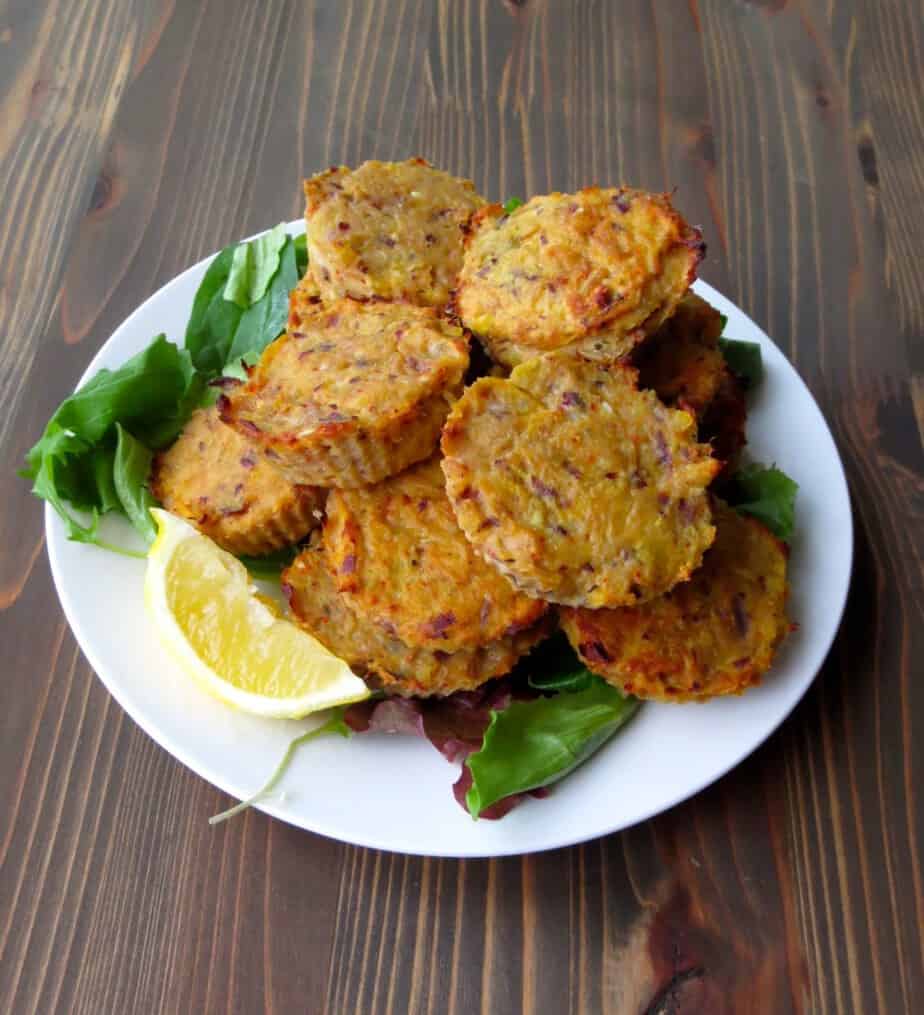 Feel free to make the original version as written by the talented Michelle Tam of Nom Nom Paleo, but this version is cheaper and, ahem, maybe better?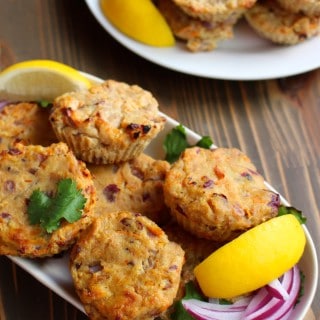 Baked Sweet Potato Tuna Cakes (Nom Nom Paleo)
These spicy tuna and sweet potato cakes are tasty and delicious and fit perfectly into a paleo diet.
Ingredients
1 ½

cup

yellow sweet potato

about 1 large potato

10

ounces

tuna

usually 4 small cans

½

red onion

1

medium jalapeño

1

small carrot

2

teaspoons

lemon juice

1

teaspoon

white or apple cider vinegar

½

teaspoon

ground coriander

½

teaspoon

black pepper

½

teaspoon

salt

½

teaspoon

chili flakes

optional

2

large eggs
Instructions
To make the mashed sweet potato: simply cut the potato into cubes and boil it until soft. Drain, mash, and set aside. (You can also use leftover mashed potatoes, cook it in the microwave, or scoop out the insides of a roasted sweet potato.)

Using your food processor (or mad knife skillz) mince the onion, jalapeño, and carrot and place in a large bowl. Add remaining ingredients (sweet potato, tuna, lemon juice, vinegar, and spices) EXCEPT the egg. Mix well. Taste and add more salt or spices as necessary. Then add the eggs and mix well. (You probably have to mix with your hands!)

Divide into 12-14 cakes and press into greased muffin tins (or use silicone muffin liners).

Bake on 350ºF for 20-25 minutes, or until slightly brown and crispy on top.
Notes
Store these cakes in the fridge or freezer. You can eat them cold, reheat them in the microwave, or reheat them by crisping them up in a frying pan with a little coconut oil. Enjoy!
Nutrition
Calories:
44
kcal
Carbohydrates:
4
g
Protein:
5
g
Fat:
1
g
Saturated Fat:
0.3
g
Polyunsaturated Fat:
0.2
g
Monounsaturated Fat:
0.3
g
Trans Fat:
0.003
g
Cholesterol:
31
mg
Sodium:
149
mg
Potassium:
119
mg
Fiber:
1
g
Sugar:
1
g
Vitamin A:
2828
IU
Vitamin B1:
0.03
mg
Vitamin B2:
0.1
mg
Vitamin B3:
2
mg
Vitamin B5:
0.3
mg
Vitamin B6:
0.1
mg
Vitamin B12:
1
µg
Vitamin C:
2
mg
Vitamin D:
0.4
µg
Vitamin E:
0.3
mg
Vitamin K:
1
µg
Calcium:
15
mg
Copper:
0.04
mg
Folate:
7
µg
Iron:
1
mg
Manganese:
0.1
mg
Magnesium:
11
mg
Phosphorus:
51
mg
Selenium:
16
µg
Zinc:
0.3
mg
Choline:
27
mg