Recipe: $6.07 | Per Serving: $1.52 | Yield: 4
Make this deliciously spicy coconut-peanut butter sauce paired with chicken, vegetables, and brown rice for an easy "satay" style weeknight dinner! This colorful dish is absolutely amazing!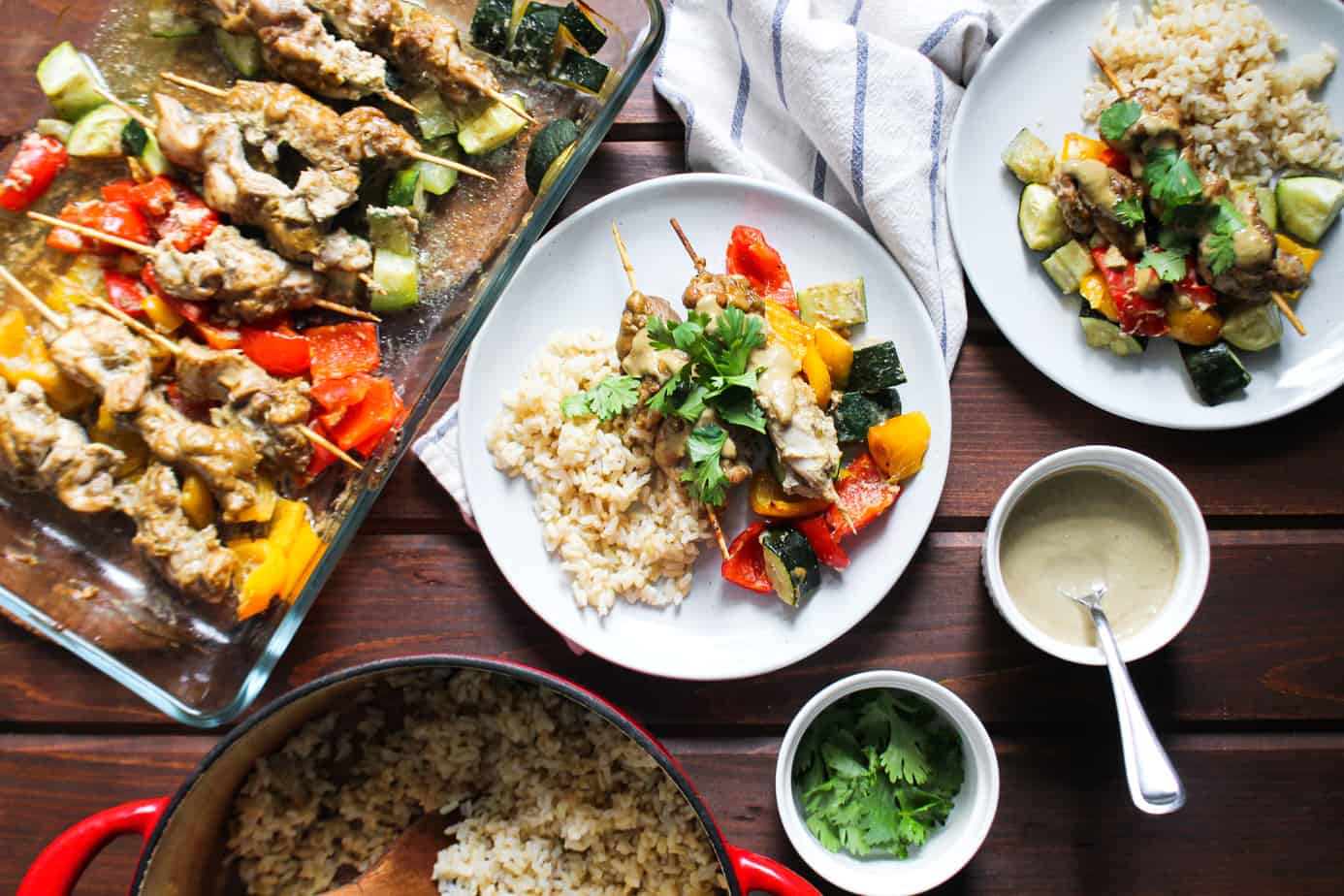 This post was originally published in September of 2015. Photos are new (except for the one just below), instructions have been updated for clarity, and minor tweaks have been made to the ingredients list. It is always a little bittersweet to update an old post and lose some of the original photos and dialogues, but I hope this old photo is enough! Thank you for supporting me and my blog!
This recipe has been getting some love on the Internet and among my clients over the last year or so. While it is fantastically delicious for anyone, the fact that it uses ingredients that are high on the list of low FODMAP favorites, such as peanut butter, coconut milk, bell peppers, and zucchini, is turning it into a star!
For that reason, I decided to take some new pictures and update the original post. The original recipe included garlic and soy sauce, but I've tested it and re-written it to make the garlic optional and to replace the soy sauce with tamari (or coconut aminos or salt if you prefer!)
What is low FODMAP? Low FODMAP is a short-term dietary approach that is used to reduce the symptoms of IBS and SIBO. It is not meant to be used long-term and should be only undertaken under the guidance of a trained nutritionist or dietitian. See more low FODMAP recipes here.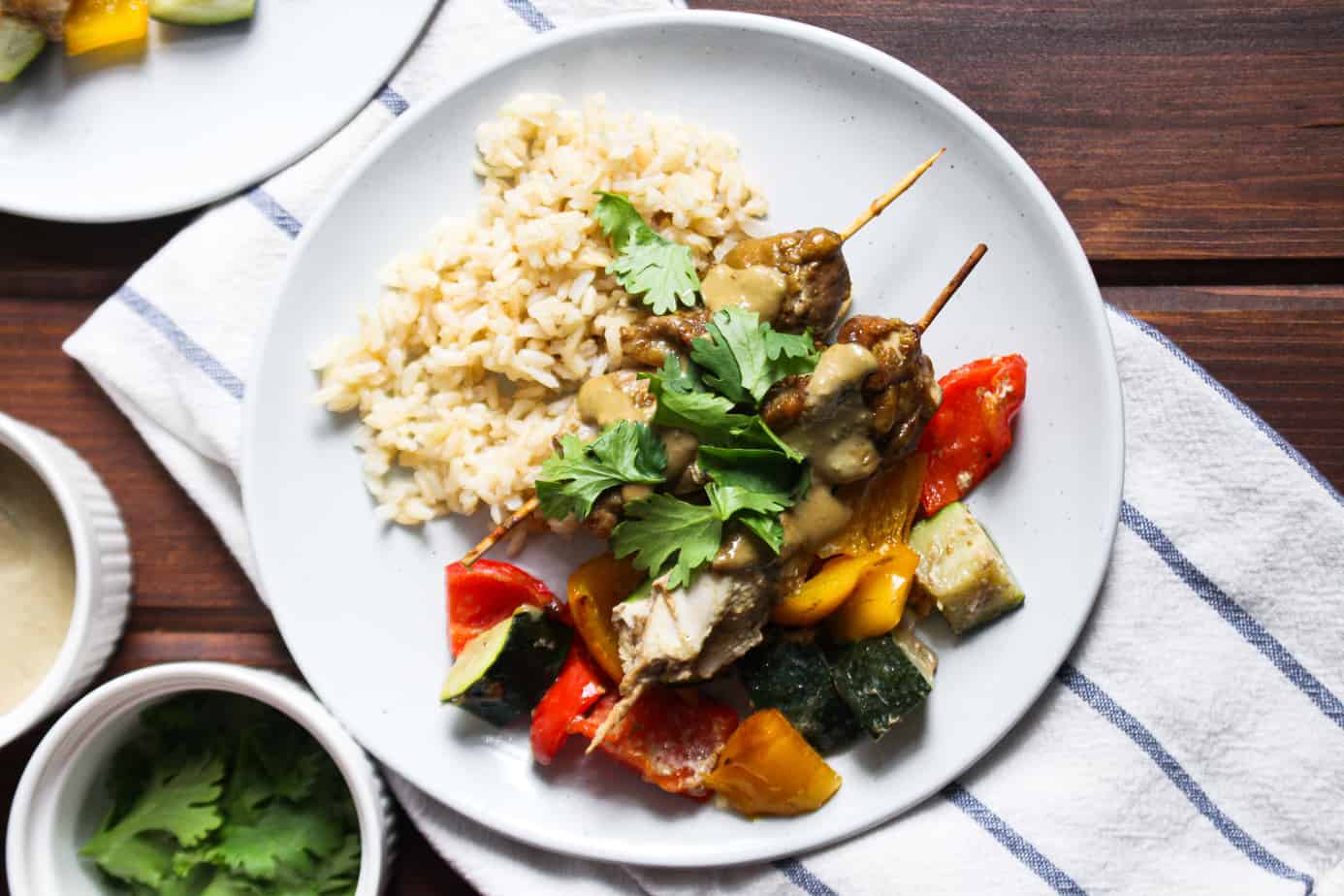 Is Brown Rice Low FODMAP?
Not really. For those of you with digestive distress, you may want to replace the brown rice with white rice. I love them both, but the nutty flavor of brown rice is my favorite here. However, in the early stages of dealing with certain digestive issues, brown rice can be irritating to the gut (all that healthy fiber!). So if you want this to be a fully low-FODMAP recipe, I recommend white rice instead!
So about that spicy coconut peanut sauce...
This sauce is so so so off-the-hook delicious. I'm sorry, because I know I've said that before, but the coconut + peanut butter + spicy jalapeño combo here is amazing. I can't really take credit for inventing that particular combo, but I am fully responsible for having the wisdom to make it. You, too, can have that wisdom.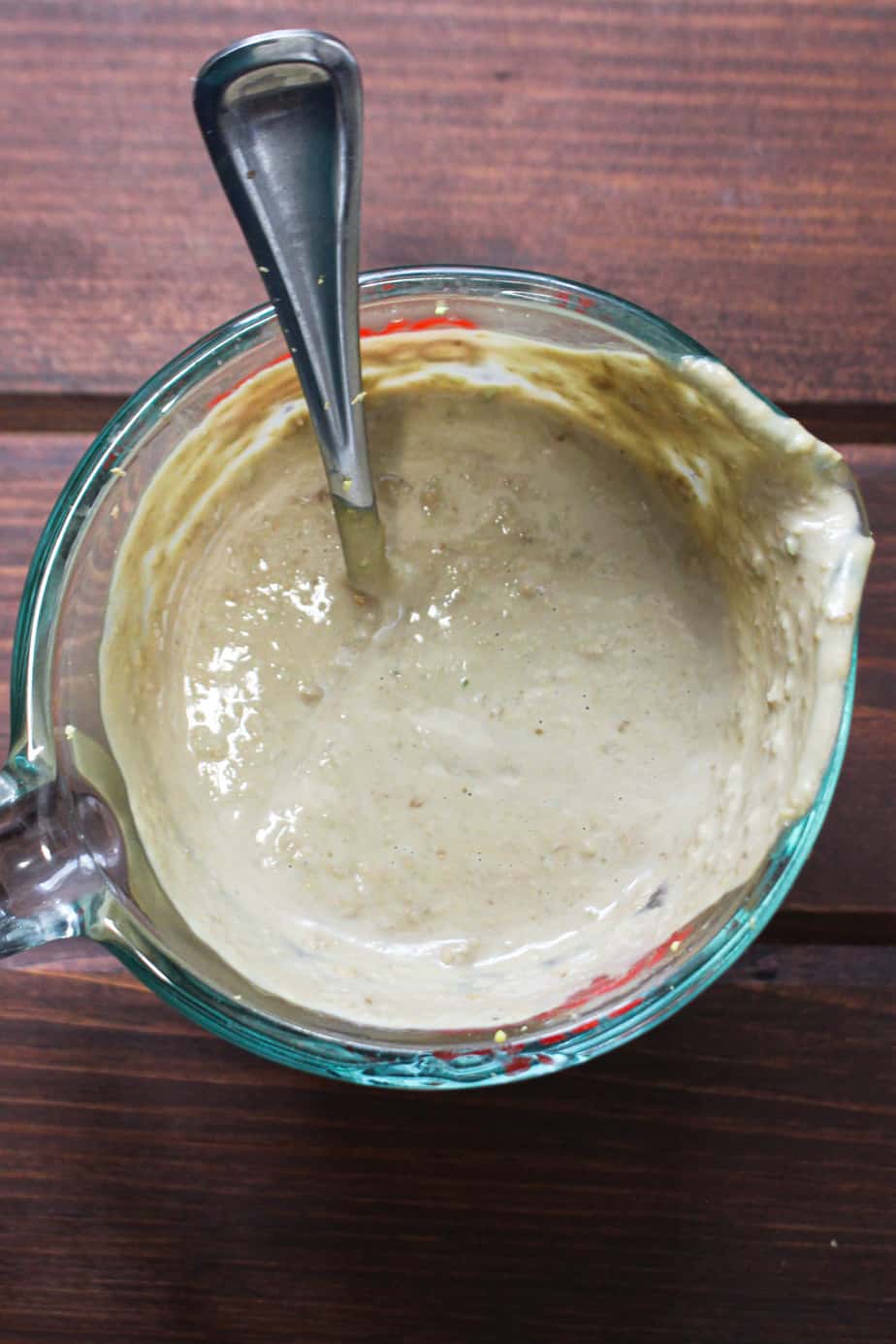 Can You Replace the Peanut Butter in the Sauce?
Yes! I'm well aware that peanuts are no-go in many households and I recently tested this with both sunflower seed butter and almond butter. The peanut butter is my favorite, and does have the best balance of flavors, but both alternative versions were very good and work quite well.
I've now made this sauce 4-5 times, and the smartest thing I did was DOUBLE IT. One of the earlier times I made this, I made a double portion and then ladled it into little jars and froze it. When my lunch for the day was looking sad and lonely, I just pulled a jar from the freezer! Any leftover sauce is also a fantastic accompaniment to shredded chicken, and a great dip for veggies.
What is Satay?
Basically, satay is a Southeast Asian dish consisting of small pieces of grilled meat on a skewer, and served with a spiced sauce that typically contains peanuts. Satay refers to the grilled meat on sticks - like yaki (Japanese) and how we commonly use the word kebab here in the US. Satay is usually served with some type of a peanut sauce, but it is not required.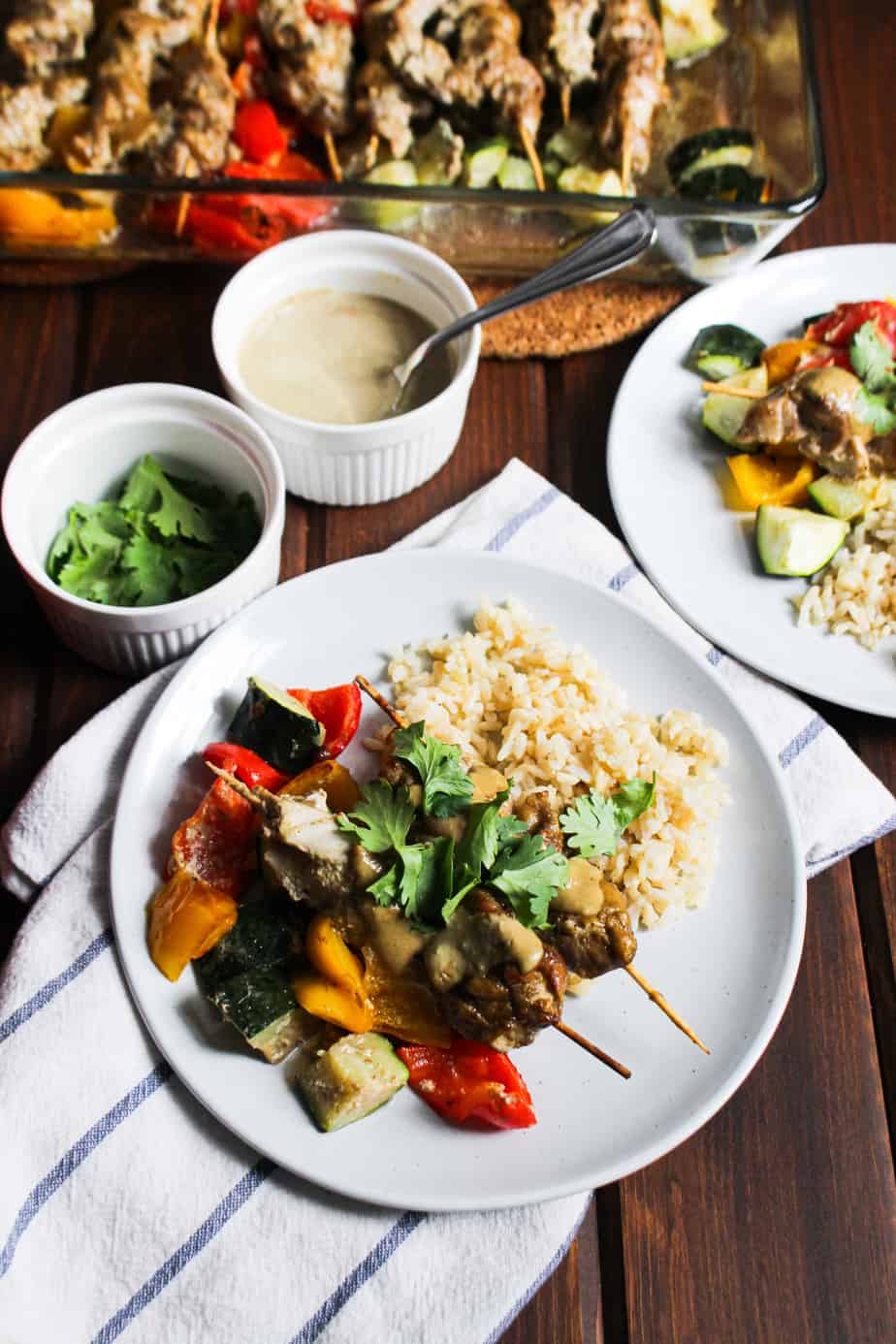 You can change the vegetables if you want - roasted broccoli, steamed snow peas, and steamed green beans are all good choices - but keep a roasted bell pepper if you can afford it because it is an awesome combination and lends a nice sweetness to the dish.
If you don't have jalapeño (which I often could not find when I lived in Japan and made this all the time), you can use pickled jalapeño or about ¼ teaspoon of chili powder instead. Basically just keep adding chili powder until it is spicy enough for you.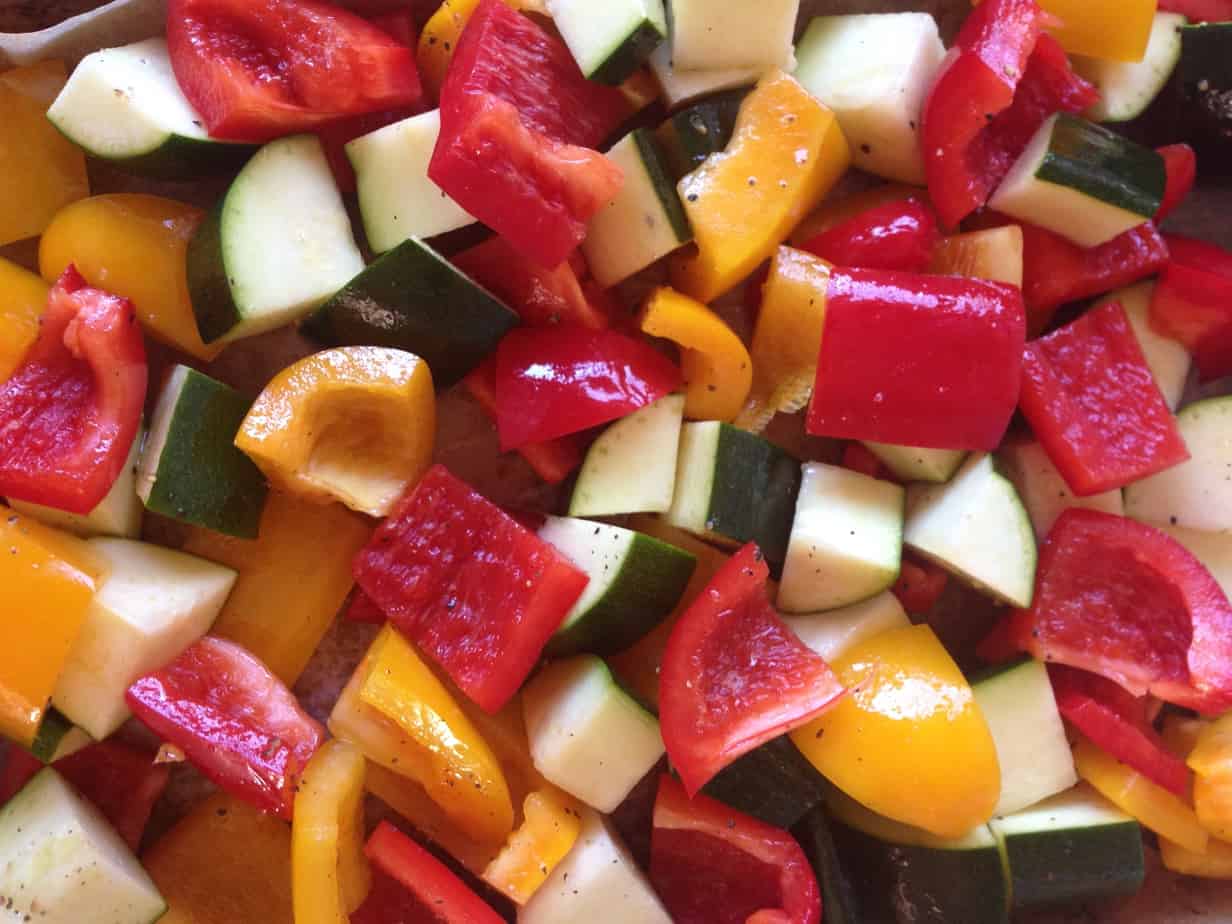 Also - it's freezer-friendly! In the past I've made it without the skewers and then tossed everything (sauce & rice included) in a freezer bag for later. You should make this - I promise all of your lunch-mates will be jealous.
Vegetarian: No, this is not! But I imagine something similar with cubed extra firm tofu or maybe chickpeas would also be delicious.
Paleo: To make this Paleo, simply omit the rice, replace the PB with almond butter or sunflower seed butter, and replace the tamari with coconut aminos or ½ teaspoon salt. I have made it that way several times!
Low FODMAP: Yes! This recipe is Low FODMAP! Use white rice instead of brown rice for best results.
PIN THIS RECIPE FOR LATER! :)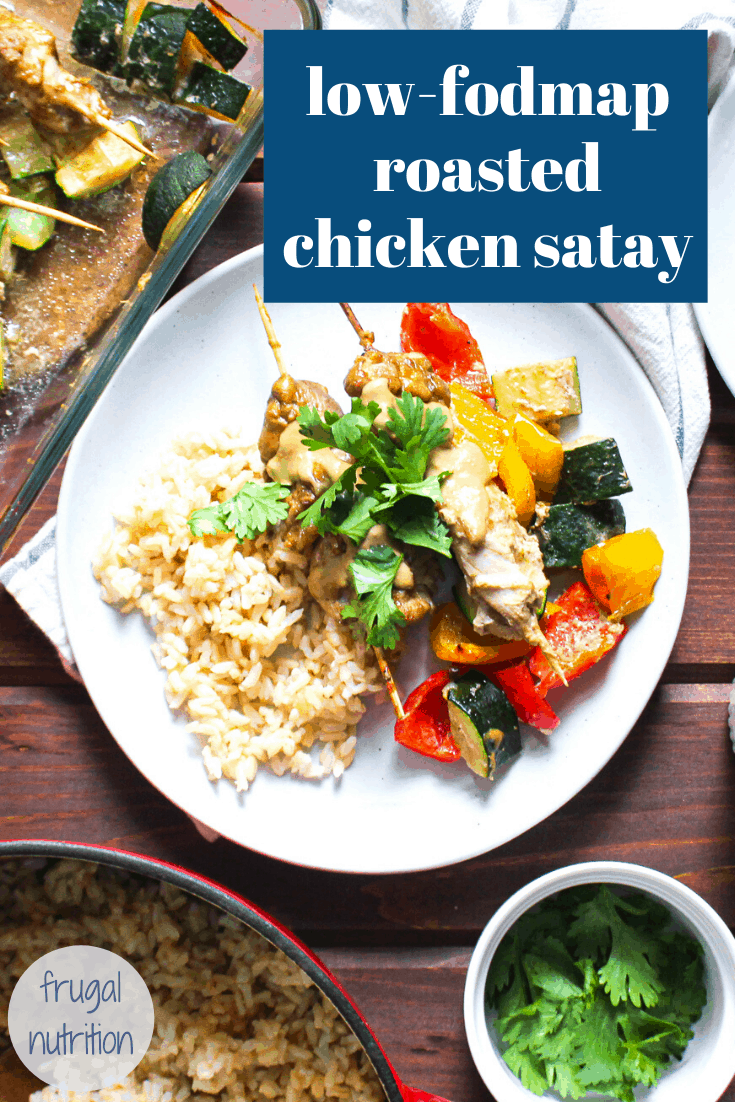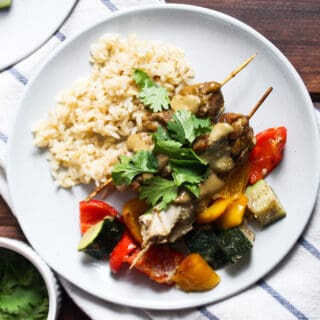 Roasted Coconut Chicken Satay (Low FODMAP)
This recipe is heavily influences by 100 Days of Real Food's
Coconut Chicken Satay
. I have adjusted based on availability and cost of ingredients.
Ingredients
For the Rice:
1

cup

brown rice

2

cups

water
For the Sauce:
⅓

cup

peanuts

or ½ cup peanut butter

½

cup

canned coconut milk

3

cloves

garlic

Omit garlic for low FODMAP

1

fresh jalapeño

you can use pickled if that's all you've got

1

teaspoon

gluten-free tamari or soy sauce

2

Tablespoons

fresh ginger
For the Chicken + Vegetables:
1

pound

chicken thighs

2

bell peppers

1 red, 1 yellow

1

medium zucchini
Instructions
For the Rice:
Cook brown rice by adding 1 cup rice and 2 cups water to a pot on stove. Bring to a boil, cover, and reduce to a simmer until liquid is absorbed, about 25-30 minutes. (Or just use a rice cooker / follow instructions on your package!)
For the Sauce:
Blend the peanuts in food processor for 3-4 minutes, or until they've made a thick peanut butter. (Or just use peanut butter.) Add remaining ingredients (coconut milk, garlic, jalapeño, tamari, and ginger) and blend well. Adjust seasonings to taste (ie add salt if needed).

For the Chicken + Vegetables

Chop chicken into bite-sized chunks and place in a large bowl. Mix with about ¼ cup of the sauce. Then slide chunks onto skewer. Alternatively you can cut into strips and thread on the skewer, OR just chop them into pieces without the skewer - that works just as well! Place chicken on the center of a baking dish or sheet pan.

Chop bell peppers and zucchini into bite-sized chunks and season with a little salt, pepper, and olive oil. Place on another baking sheet.

Roast chicken and vegetables on 450ºF for about 12-15 minutes, or until chicken is cooked completely and no longer pink, at least 165ºF. (If you pile them together in the same dish, this will take approximately twice as long.)

Serve over brown rice with additional sauce and some fresh cilantro!
Notes
Note: You can also make this with cheaper cuts, like legs, wings, and bone-in thighs. Just increase the cooking time as necessary. (Up to about 20-25 minutes for anything with bones.) A meat thermometer is a good idea!
Nutrition
Calories:
477
kcal
Carbohydrates:
47
g
Protein:
31
g
Fat:
19
g
Saturated Fat:
9
g
Polyunsaturated Fat:
4
g
Monounsaturated Fat:
5
g
Trans Fat:
0.02
g
Cholesterol:
108
mg
Sodium:
207
mg
Potassium:
863
mg
Fiber:
5
g
Sugar:
5
g
Vitamin A:
2026
IU
Vitamin B1:
0.5
mg
Vitamin B2:
0.3
mg
Vitamin B3:
11
mg
Vitamin B5:
3
mg
Vitamin B6:
1
mg
Vitamin B12:
1
µg
Vitamin C:
91
mg
Vitamin E:
1
mg
Vitamin K:
9
µg
Calcium:
64
mg
Copper:
0.5
mg
Folate:
89
µg
Iron:
3
mg
Manganese:
3
mg
Magnesium:
148
mg
Phosphorus:
456
mg
Selenium:
29
µg
Zinc:
4
mg
Choline:
74
mg