Recipe: $6.07 | Per Serving: $1.52
Yield: 4 Servings
This sauce is so so so off-the-hook delicious. I'm sorry, because I know I've said that before, but the coconut + peanut butter + spicy jalapeño combo is amazing. I can't really take credit for inventing that particular combo, but I am fully responsible for having the wisdom to make it. You, too, can have that wisdom.
I've now made this sauce 4-5 times, and the smartest thing I did was DOUBLE IT. One of the earlier times I made this, I made a double portion and then ladled it into little jars and froze it. When my lunch for the day was looking sad and lonely, I just pulled a jar from the freezer! Any leftover sauce is also a fantastic accompaniment to shredded chicken, and a great dip for veggies.
I based this recipe on this Coconut Chicken Satay from 100 Days of Real Food, but with a handful of modifications to make it a little easier. Since prices for these ingredients are incredibly variable based on your location, and the season, I thought I would include the full price breakdown. The chicken is assumed, because mine here in Japan was much pricier!
Chicken, Rice, & Veggies: $5.12
1 cup brown rice – $0.42
1 pound chicken (breast or thighs) – $2.60
2 bell peppers (red or yellow, or both!) – $1.60
1 medium zucchini – $0.50
Coconut Peanut Butter Sauce: $0.95
1/3 cup peanuts (or 1/2 cup peanut butter) – $0.50
1/2 cup coconut milk – $0.25
3 cloves garlic – $0.10
1 jalapeño – $0.06
1 teaspoon soy sauce (or 1/4 teaspoon salt)
2 Tablespoons fresh ginger -$0.04
You can change the vegetables if you want – roasted broccoli, steamed snow peas, and steamed green beans are all good choices – but keep a roasted bell pepper if you can afford it because it is an awesome combination. If you don't have jalapeño (which I usually don't), you can use about 1/4 teaspoon of chili powder instead. Basically just keep adding chili powder until it is spicy enough.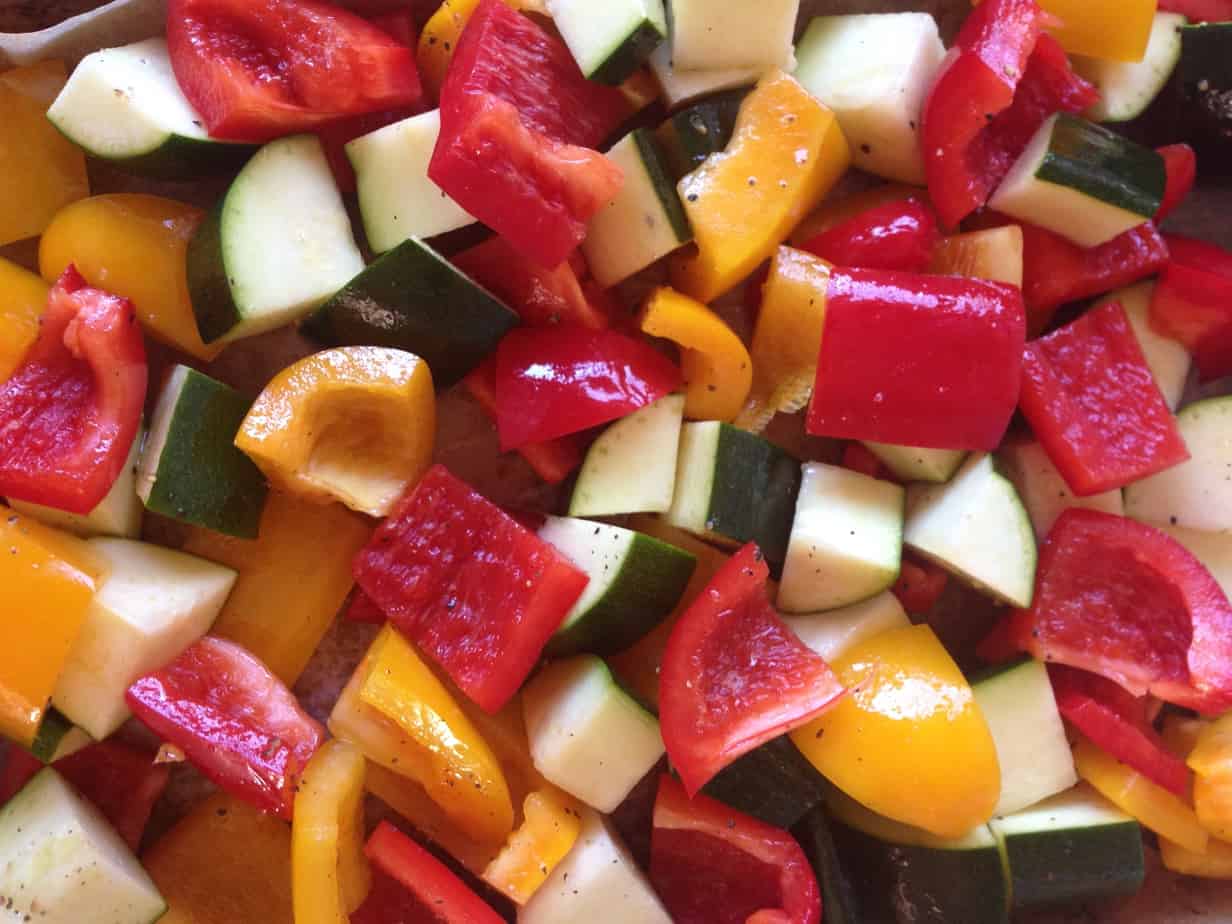 Also – it's freezer-friendly! In the past I've made it without the skewers and then tossed everything (sauce & rice included) in a freezer bag for later. I actually made it this week with the sole purpose of freezing it so Zac can eat something normal while I'm out of town next week. You should make this – I promise all of your lunch-mates will be jealous.
Print
Roasted Coconut Chicken Satay
---
Author:

Prep Time:

10 mins

Cook Time:

25 mins

Total Time:

35 mins

Yield:

4

1

x
1 cup

brown rice +

2 cups

water

1

pound chicken (breast or thighs)

2

bell peppers (red or yellow, or both!)

1

medium zucchini
For the Sauce:

1/3 cup

peanuts (or

1/2 cup

peanut butter)

1/2 cup

coconut milk

3

cloves garlic

1

jalapeño

1 teaspoon

soy sauce or

1/4 teaspoon

salt

2 Tablespoons

fresh ginger
---
Instructions
Cook brown rice by adding 1 cup rice and 2 cups water to a pot on stove. Bring to a boil and reduce to a simmer until liquid is absorbed, about 25-30 minutes. (Or just use a rice cooker!)
Make sauce by blending peanuts in food processor for 3-4 minutes, or until they've made a thick peanut butter. (Or just use peanut butter.) Add remaining ingredients (coconut milk, garlic, jalapeño, soy sauce, and ginger) and blend well. Adjust seasonings to taste.
Chop chicken into bite-sized chunks and slide onto skewer. Or cut into strips and thread on the skewer. OR just chop them into pieces. Place on the center of a baking dish and cover with some of the sauce. (About 1/4 cup.)
Chop bell peppers and zucchini into bite-sized chunks and season with a little salt, pepper, and olive oil. Place on another baking sheet or in baking dish around chicken.
Roast chicken and vegetables on 450ºF for about 12-15 minutes, or until chicken is cooked completely and no longer pink.
Serve over brown rice with additional sauce.
Note: You can also make this with cheaper cuts, like legs, wings, and bone-in thighs. Just increase the cooking time as necessary. (Maybe even 20-25 minutes.) A meat thermometer is a good idea!