Recipe: $7.63 | Per Serving: $1.27 | Yield: 6
Are you ready for the easiest from-scratch apple pie of all time? This semi-flakey, semi-crumbly gluten-free galette crust is the perfect vehicle for your favorite fall flavors!
Mastering a galette is a hobby of mine, born from a pandemic-era virtual cooking class with a friend, which featured a cherry-rhubarb beauty that we modified to be gluten-free. It was so easy and so fast and so rewarding that I set about creating a slightly more affordable and slightly more from-scratch version.
A year or so later the Zucchini Tomato Summer Galette hit the blog and it was a resounding success! Many of you wonderful, supportive individuals made it within 24 hours of sharing it on Instagram!
And though I'm a savory cook through and through, I do appreciate a handful of sweets. Most things chocolatey are high on my list, lemony desserts that aren't too sweet are a close second, and then fruity bakes like apple pie. So I took that galette crust and turned it into this cinnamon apple pie galette. The easiest homemade fall pie.
What I love about this is that it is a little fiddly - as most good holiday dishes are - but not actually high maintenance.
In this recipe I use one tart granny smith apple and one sweeter apple like a fuji or gala. Paired with a heaping two teaspoons of cinnamon, and the darkest maple syrup you can find.
FAQs about Paleo Galette / Pie Crust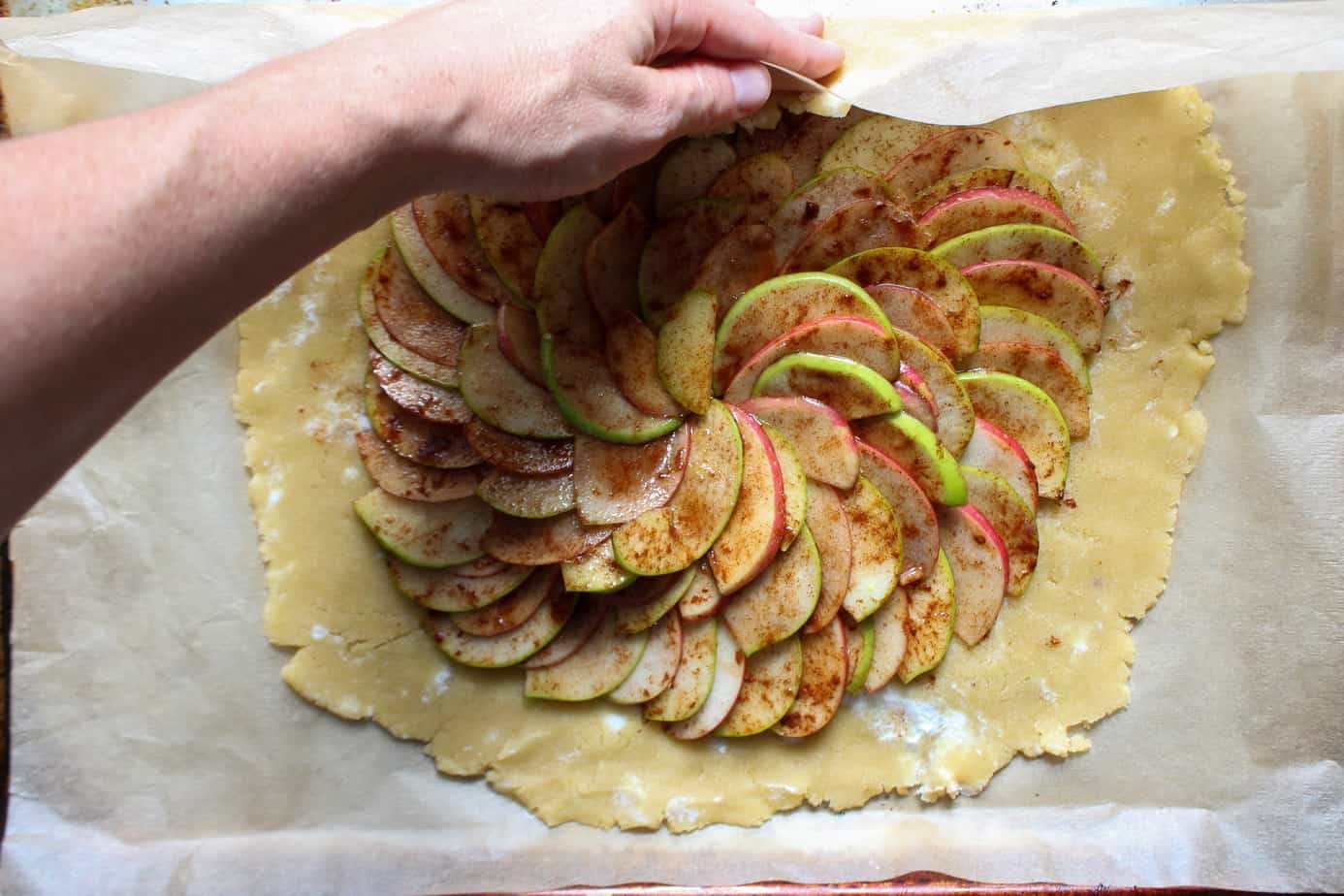 Why is there no vinegar in this Paleo Pie Crust?
Many pie crust recipes will call for a smidge of vinegar - like 1-2 Tablespoons - as a way to soften the gluten protein in the flour and hopefully add to some elasticity. Since this recipe has no gluten protein, we are skipping the vinegar. You can add it if you prefer, but I tested it both ways and found it unnecessary.
Why is there ice water in pie crust?
Water is the best way to hydrate a dough, and ice water vs room temperature water actually makes a difference. It is important for the dough to stay on the colder side so as not to melt the butter, and ice water helps here. I have actually skipped the water altogether a few times and it still works out ok.
Can you use ghee in this recipe?
I have not tried this with ghee - only with Miyokos Cashew/Coconut Vegan Butter and with regular ol' butter (Kerrygold). I imagine ghee would work well, but I would recommend adding a little more ice water. Ghee is higher in fat than butter and lower in water because the water evaporates when the ghee is being made. So you can experiment here, but if it comes out greasy, it probably needs a little more water.
Can you use coconut oil in this recipe?
Unfortunately, I don't think so. I tried this with coconut oil and it was way too crumbly. The dough didn't stay together as well. I did not, however, add water, so perhaps water + coconut oil would work.
Should the mixture be uniform?
Nope! I mean, it can be, but having some sheets of butter (as shown below) is also perfectly fine. I tried it both ways and found that the result was similar enough that it doesn't matter. However, when it is slightly more uniform, it is easier to work with when you're rolling it out, especially if your kitchen is warm and the butter starts to melt and get too sticky!
I hope you make this relatively easy, but incredibly fun galette recipe!
Paleo: Yep! Technically these are all Paleo ingredients - but you know those paleolithic humans weren't making galettes. 😉
Vegetarian: Yep! And if you use vegan butter (Miyokos is what I tested), and coconut ice cream / whipped cream, it's vegan.
PIN THIS RECIPE FOR LATER! (thank you)
Cinnamon Apple Galette (Gluten Free)
This cinnamon apple pie galette is the perfect easy way to make your whole house smell like fall without spending endless hours in the kitchen. Enjoy this festive fall dessert while apples are at their peak!
Ingredients
For the Pastry:
1 ½

cups

almond flour

½

cup

arrowroot flour

½

teaspoon

salt

6

Tablespoons

fridge-cold butter

Miyokos keeps it dairy-free, cut into 12 cubes

2

teaspoons

honey or maple syrup

½

Tablespoon

ice cold water

1

egg

whisked, with 2 teaspoons reserved for brushing on top

1-2

teaspoons

turbinado / cane sugar
For the Galette:
2

medium apples

1 gala, 1 granny smith recommended, but any will do

2

teaspoons

ground cinnamon

2

Tablespoons

maple syrup

1

Tablespoon

lemon juice

½

teaspoon

vanilla extract
For Serving:
Ice cream or whipped cream

additional cinnamon for garnish
Instructions
For the Pastry:
Add dry ingredients (almond flour, arrowroot, salt) to a food processor and pulse to combine. Add the cold butter, honey, ice cold water, and egg (less 2 teaspoons reserved for egg wash). Pulse until a dough forms. Small chunks of butter remaining are perfectly fine!

Alternatively you can combine ingredients in a bowl and use a pastry cutter or knife to mix in the butter.

Let chill in fridge for 30 minutes.

Preheat the oven to 375ºF.
For the Galette:
Meanwhile, slice the apples as thinly to do this. I recommend cutting them in half, then quarters, then carefully removing the core. Place two quarters close together with the flat side down and slice as thinly as you can - about 1/16th - ⅛th inch thick. Unevenness is perfectly okay here!

Place sliced apples in a large bowl and combine with cinnamon, maple syrup, lemon juice, and vanilla extract. Stir gently to coat each slice.

You can skip lemon juice if preferred - it's a great balance and helps to soften the apples, but if you don't have any - leave it out!

Place parchment paper on flat surface. Roll the dough into a circle until about ¼th inch thick. It should make a 10-12 inch circle/oval. Transfer parchment paper to a sheet pan / baking sheet.

Layer the apple slices across the dough in straight lines or in concentric spiraling formation (see images above). I rotated red and green slices for the photos here (which took about 7 minutes), but that is not necessary. If any liquid remains in the bowl, I recommend drizzling this over the apples.

When ready to 'close' the galette, lift the parchment paper to fold the dough over the vegetables (see images above). Continue around the circle to gently fold the dough over the outer 1-2 inches of the vegetables, forming pleats. If anything tears or if apples poke through, just press the dough back together. You can also pull extra dough from the center to patch things up. Remember: galettes are meant to be rustic!

Use a pastry brush for the egg wash, (which means you brush the remaining whisked egg over the top of the pastry dough). Without a pastry brush, you may be able to use a spoon or your fingers. Sprinkle 1-2 teaspoons of chunky sugar like turbinado over the outer top crust for a fun and classic texture.

Bake the galette on 375ºF for 30-35 minutes or until top is golden brown and bottom is cooked through and not soggy.

Let cool for a few minutes before slicing, then cut into about 6 pieces.

Top with fresh ice cream or whipped cream and serve warm!
Notes
Yes, you can use store-bought puff pastry in place of homemade!
This is not an excessively sweet galette, which really lets the cinnamon and apple shine. If you or your family need more sweetness (believe me, I know how that goes!), you can drizzle the fruit part of the galette with 1 additional Tablespoon of maple syrup before serving.
Nutrition
Calories:
370
kcal
Carbohydrates:
32
g
Protein:
7
g
Fat:
26
g
Saturated Fat:
8
g
Polyunsaturated Fat:
1
g
Monounsaturated Fat:
3
g
Trans Fat:
0.5
g
Cholesterol:
57
mg
Sodium:
296
mg
Potassium:
102
mg
Fiber:
5
g
Sugar:
14
g
Vitamin A:
424
IU
Vitamin B1:
0.02
mg
Vitamin B2:
0.1
mg
Vitamin B3:
0.1
mg
Vitamin B5:
0.2
mg
Vitamin B6:
0.04
mg
Vitamin B12:
0.1
µg
Vitamin C:
4
mg
Vitamin D:
0.1
µg
Vitamin E:
1
mg
Vitamin K:
3
µg
Calcium:
89
mg
Copper:
0.03
mg
Folate:
7
µg
Iron:
1
mg
Manganese:
0.3
mg
Magnesium:
7
mg
Phosphorus:
26
mg
Selenium:
2
µg
Zinc:
0.2
mg
Choline:
27
mg