Recipe: $9.57 | Per Serving: $2.39 | Yield: 4 
Whip up this easy slow cooker barbecue chicken dinner for a delicious weeknight dinner. We are taking all the flavors of a barbecue chicken pizza and tossing them in a slow cooker to make this easy hands-off meal.
Zac is super in love with barbecue chicken, and he also loves BBQ chicken pizza. I had this idea to make him some BBQ chicken pizza one day as a show of affection. I bought the ingredients, but then I realized I was busy, and I was tired, and I didn't feel like it.
So instead, I took all the same basic ingredients (sans cheese), skipped the pizza dough, and tossed everything into the slow cooker. I was so very excited when we were eating dinner and he said, "This tastes like BBQ chicken pizza." Well look at that.
We start with some onion, bell pepper, and some chopped up pineapple.
Yes, you can use fresh or canned pineapple.
Yes, you can use any color of onion that you like.
I like red onions because they're pretty, and they offer some anthocyanins (a phytonutrient with some health benefits) because of their red color. But they're sometimes a little more expensive than yellow and white onions (but not always). When it comes to this recipe, you can easily go either way.
Why Green Bell Peppers?
You can use other bell peppers if green is not your thing, but here's why we're recommending green here. The bitter flavor that most people find off putting is completely covered up with the sweetness of the pineapple and BBQ sauce. And they're often ⅓rd of the price of red/yellow/orange bell peppers, which would just add more sweetness here that isn't needed.
Next we're adding a can of drained white beans.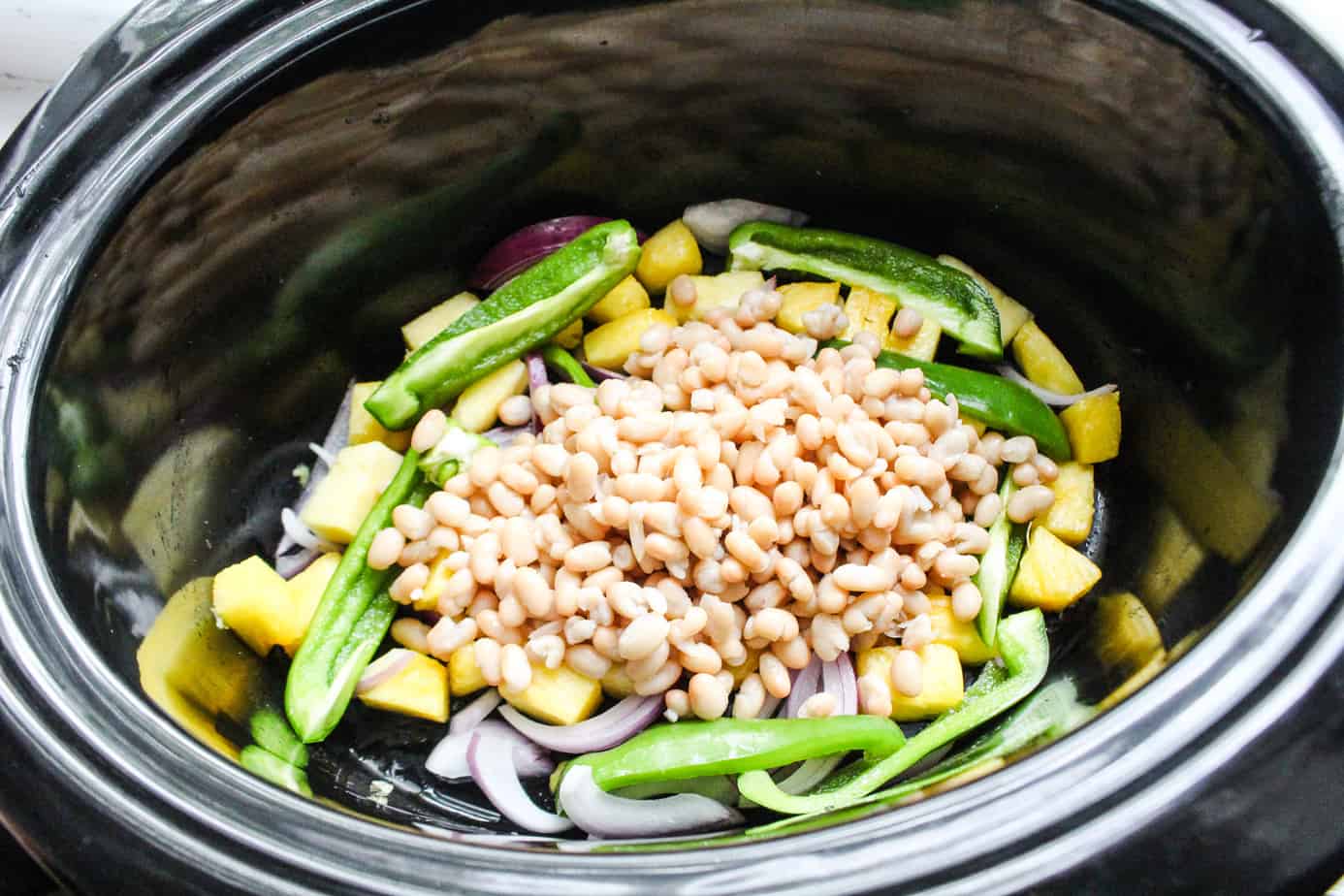 In all honestly, you could totally add more beans here. I love beans, but sometimes they really get my gut irritated in large amounts. So feel free to double down on the beans if that works for you.
You can always use home-cooked beans to save a little more money.
And of course, time for chicken!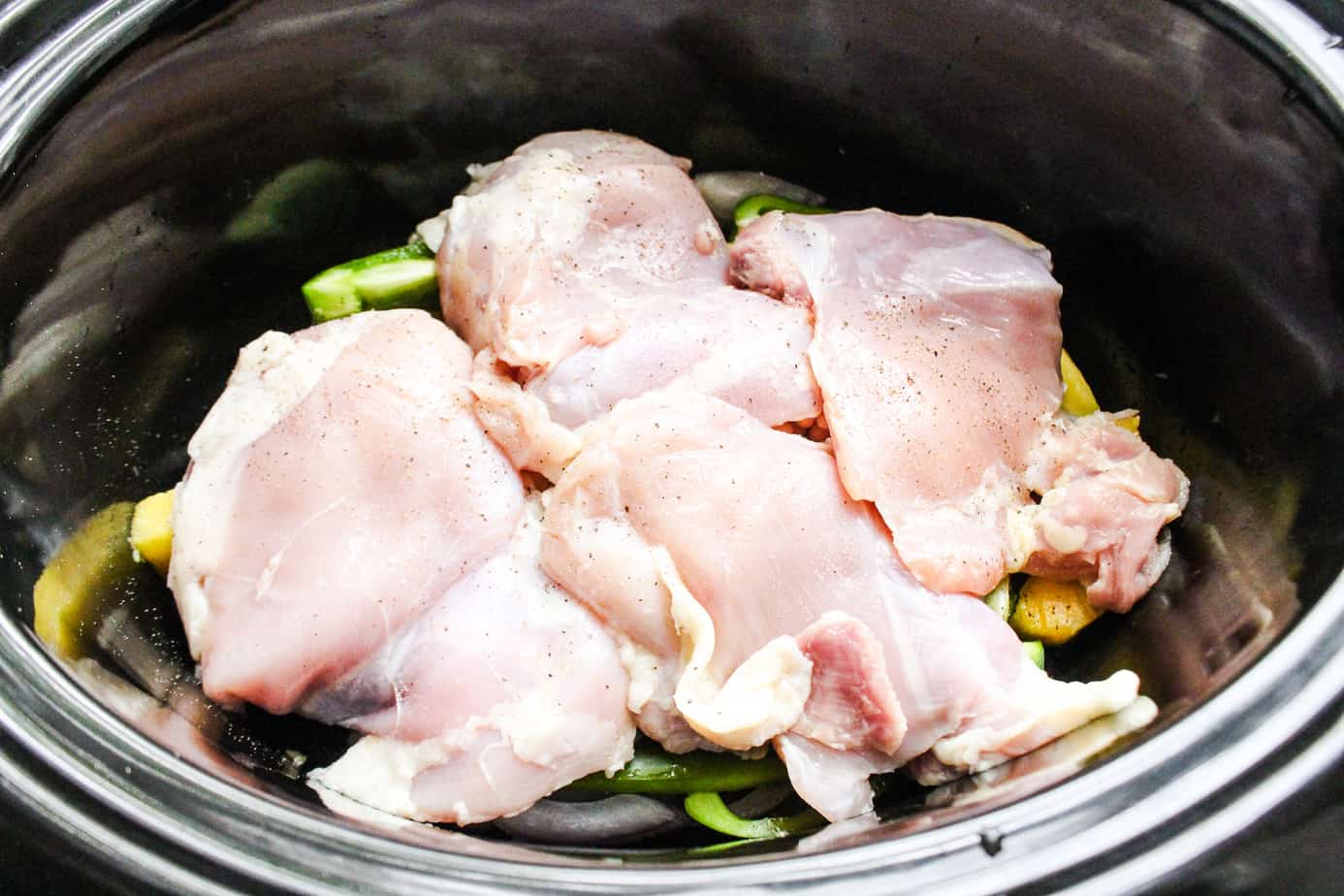 Top it all off with your favorite BBQ Sauce. Get fancy with some homemade barbecue sauce if that floats your boat or use your favorite store-bought red BBQ sauce. (There are lots of homemade BBQ sauce recipes and Allrecipes has over a dozen recipes you can peruse if you'd like.)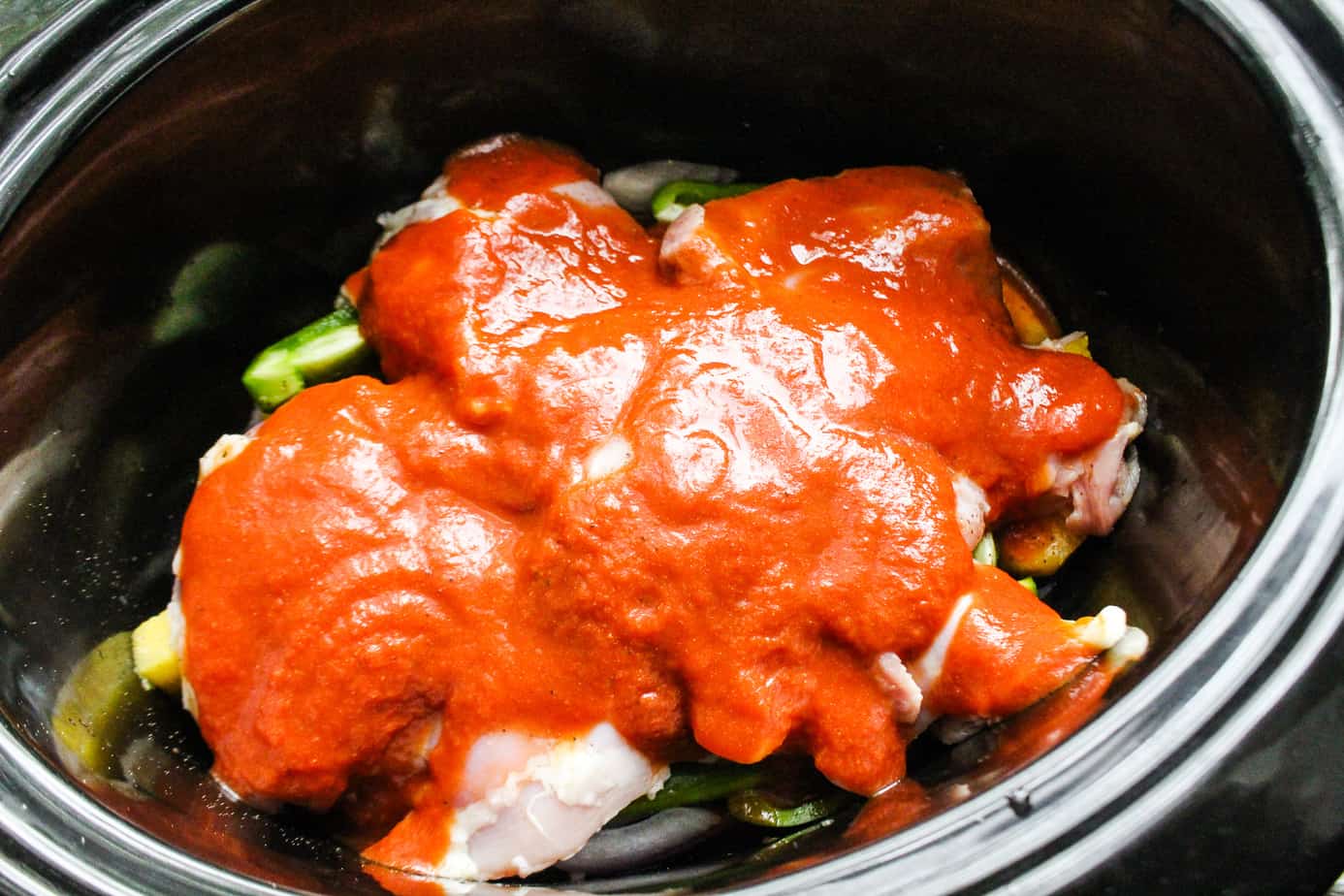 If you react to garlic, FODY Foods has a Low FODMAP Barbecue Sauce. Primal Kitchen, Stubbs, and many of the Trader Joe's BBQ sauces are all pretty popular options. True Made Foods also has a BBQ sauce that is lower in sugar and is made with some additional vegetable purees (not just tomatoes) like carrots and butternut squash.
This recipe is really easy and surprisingly delicious! I always find it hard to photograph slow cooker dishes because the end product doesn't often look super photogenic, but I promise you, this is so easy and so good!
Pair it with some rice, or cauliflower rice, or potatoes, or sweet potatoes, or cheddar-garlic biscuits, or cornbread, or mac and cheese.
Vegetarian: No, but I'm sure this would be tasty if you removed the chicken and increased the white beans to 3-4 cups (cooked).
Paleo: Yep!
Low FODMAP: you can make a Low-FODMAP version of this by omitting the onions and white beans, serve with tops of green onions
Thanks for joining me! PIN this recipe for later! 😊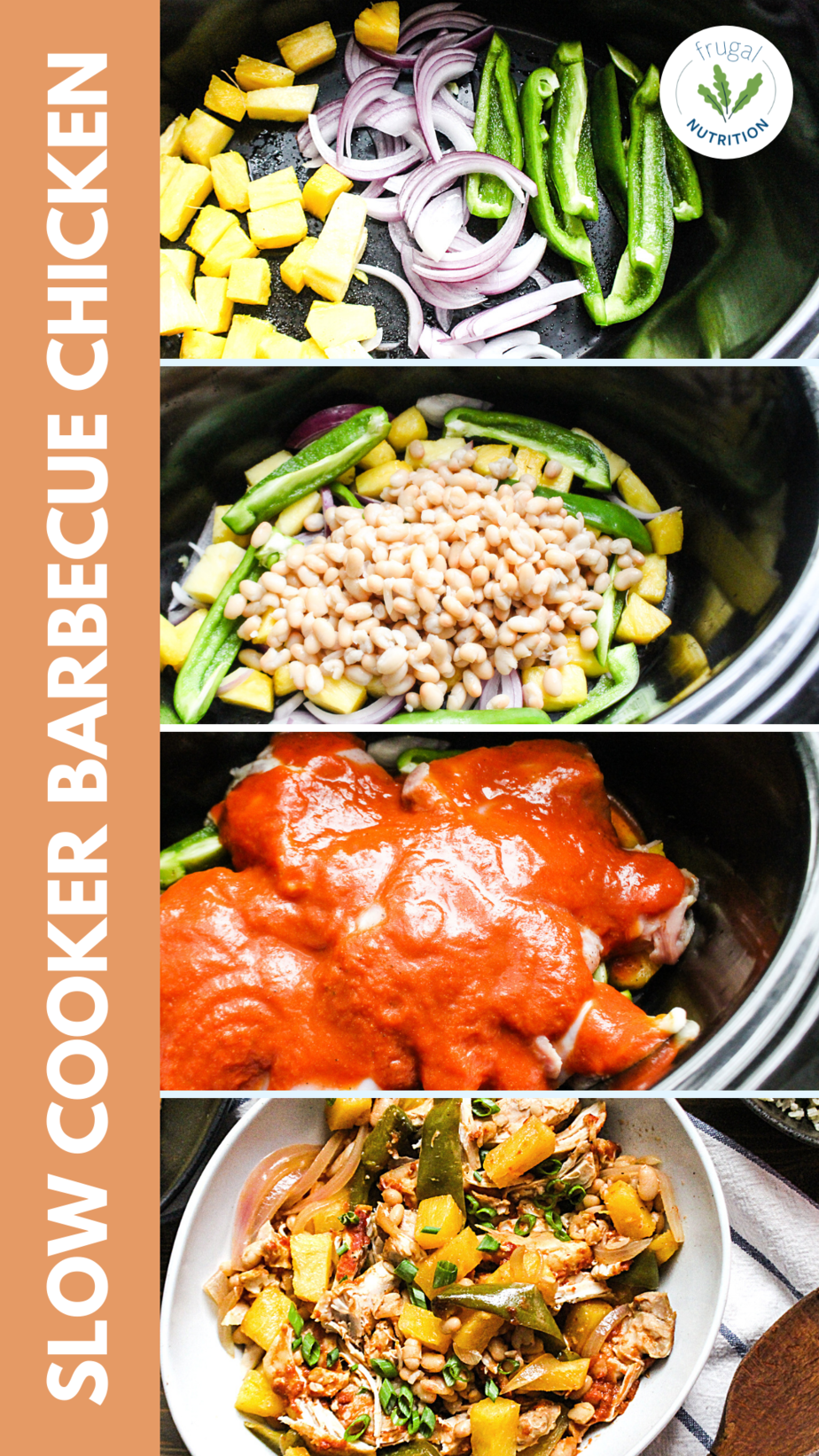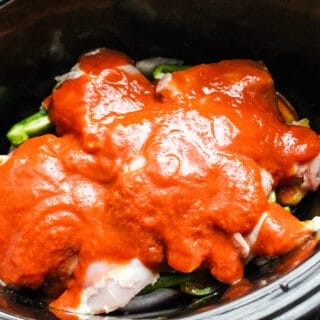 6-Ingredient Slow Cooker Barbecue Chicken Dinner (gluten-free)
This easy slow cooker barbecue chicken tastes just like BBQ chicken pizza!
Ingredients
2

large bell peppers

I recommend green here

½

medium

red onion

1

cup

chopped pineapple

1 ½

cups

cooked white beans

1 can, drained (like Navy beans)

1 ½

pounds

chicken thighs

½

teaspoon

salt

more as needed

1

cup

barbecue sauce of choice

I like Trader Joe's or this one when it's on sale, plus more for serving

For serving: rice

or cauliflower rice, or potatoes, or sweet potatoes! Top with sliced green onions.
Instructions
Prepare the produce: slice the onions into wedges (removing outer layers and root/stem) and the bell peppers into strips (removing stems and seeds). Chop the pineapple into bite-sized chunks.

Place vegetables and pineapple in the bottom of the slow cooker. Sprinkle with a little salt and top with the drained white beans.

Place chicken thighs on top and sprinkle with remaining salt (salt needs may vary based on the saltiness of the BBQ sauce). Cover chicken with 1 cup barbecue sauce.

Cover and cook on high for 2-3 hours, or until chicken is fully cooked to 165ºF on a meat thermometer.

Using two forks, shred the chicken thighs directly in the slow cooker and stir.

Serve with a delicious starch like rice, potatoes, or sweet potatoes, or with cauliflower rice for more vegetables.

Top with chopped green onion.
Notes
Can you use canned pineapple? Yes! I would use pineapple chunks or rings you can cut into chunks.
Why green bell peppers? Green bell peppers are more bitter than red/orange/yellow, but much cheaper. With the combination of BBQ sauce (usually sweetened), and the pineapple, it balances the bitterness and works great here!
Nutrition label includes 2 cups cooked brown rice and 1 cup Sweet Baby Ray's BBQ sauce and it is only an estimate.
Nutrition
Calories:
449
kcal
Carbohydrates:
55
g
Protein:
39
g
Fat:
8
g
Saturated Fat:
2
g
Polyunsaturated Fat:
2
g
Monounsaturated Fat:
3
g
Trans Fat:
0.03
g
Cholesterol:
162
mg
Sodium:
1186
mg
Potassium:
1125
mg
Fiber:
6
g
Sugar:
32
g
Vitamin A:
2793
IU
Vitamin B1:
0.3
mg
Vitamin B2:
0.5
mg
Vitamin B3:
11
mg
Vitamin B5:
3
mg
Vitamin B6:
1
mg
Vitamin B12:
1
µg
Vitamin C:
126
mg
Vitamin E:
3
mg
Vitamin K:
13
µg
Calcium:
102
mg
Copper:
0.4
mg
Folate:
100
µg
Iron:
4
mg
Manganese:
1
mg
Magnesium:
99
mg
Phosphorus:
422
mg
Selenium:
41
µg
Zinc:
4
mg
Choline:
104
mg