Recipe: $2.26 | Per Serving: $1.13 | Yield: 2
Looking for a super easy Halloween treat? This Frankenstein avocado toast is the perfect easy snack for adults and kiddos - and it is a super easy Halloween Cooking Project!
(And yes, I know, this is Frankenstein's monster, not actually Dr. Frankenstein. But, ya know, searchers aren't searching for Frankenstein's Monster Avocado Toast.)
As a Millenial, I am, obviously, in love with Avocado Toast, but it took me a while to come around to it.
In college (circa 2005? 2006?) one of my good friends was half Peruvian and absolutely loved avocados (they're native to Peru). She would go up to the Americanized sushi bar (serving California rolls with fake crab) in our cafeteria and ask for one of their avocados, and then mash it on toast for her breakfast. She was trendy in general, but she was so ahead of her time with that avocado toast! (Though its invention is being credited to Bill Granger, circa 1993.)
However, I turned my nose up at the mushy green fruit until 2009 when I moved to San Diego and I learned that avocados are one of the most delicious foods on planet earth! I quickly gobbled them up as guacamole, in burritos, on breakfast sandwiches, and eventually tried avocado toast and fell in love!
Now, I understand that you don't need a recipe for avocado toast, but what about for Frankenstein Avocado Toast?
I need to immortalize this extremely fun cooking project somewhere, so here it is!
How to Make Frankenstein Avocado Toast
Toast your bread.
While toasting, cut out hair, a mouth, and a nose from your sheets of Nori. I like to make the sewn-shut mouth by crisscrossing small strips over a longer strip. Note - tweezers or chopsticks are helpful here, but not necessary.
If you have whole black olives, slice them short-ways to make eyes! The slice should have a hole through the middle.
Mash the avocado in a small bowl. Season how you like! Salt and pepper works, but I also love a bit of Everything But the Bagel seasoning. (Available on Thrive Market

(affiliate link)

, Trader Joe's, Costco, and many other stores) A squeeze of lemon or lime is always great here.
When the toast is done to your preference, spread the avocado mash over each slice.
Now - turn the toast so the flat part is at the top! The flat top of the 'hair' should line up with the flat edge of the toast.
Decorate with remaining pieces of nori seaweed, and the olives for eyes.
Enjoy!
I recommend slightly over-toasting your bread if you like it a bit crunchy. Mashing avocado onto your bread and then decorating it can soften the bread slightly.
What Gluten-Free Bread Do You Recommend?
What Regular Bread Do You Recommend?
For Whole Wheat, Dave's Killer Bread is a great option - packed with protein! This one is not gluten-free.
Ezekial Sprouted Bread is another great option, again, this is not gluten-free. Ezekial is an ancient grain that is lower in gluten, and sprouting makes some of the nutrients more bioavailable.
Homemade bread is always fun, try this recipe (instructions are for bread machine) if you can eat gluten, and this gluten-free one if you can't.
Health Benefits of Avocados
Can we just take a moment to talk about avocados? I think we all know they're great, but I do still have the occasional client who isn't sure if avocados are "healthy" or "safe."
Let me tell you, they are great. Not only are they delicious, but they're packed with healthy fats and fiber, consistently score pretty high in anti-inflammatory studies, and are a great source of potassium, among other nutrients. When it comes to avocado - there's really nothing scary about it! 😉 👻 🎃 🦇 🕷 🕸
Vegetarian: Yep!
Paleo: If you find / make some Paleo bread, then yep!
PIN THIS FUN RECIPE FOR LATER!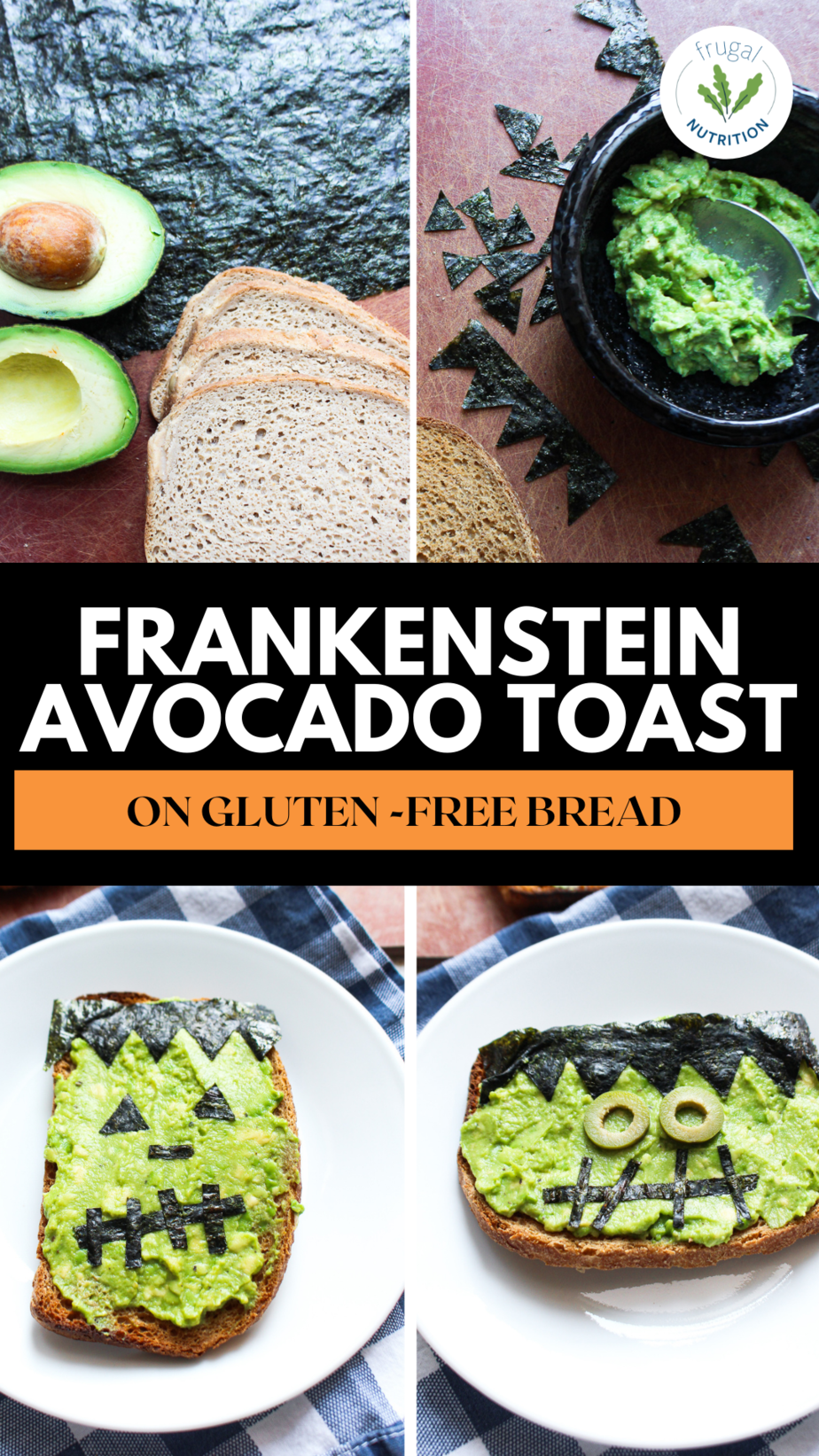 Frankenstein Avocado Toast
This super fun Frankenstein Avocado Toast is the perfect Halloween snack! Pair it with your breakfast and see how spooky your day gets!
Ingredients
2

slices

bread for toasting

1

sheet nori

this is the seaweed used for making sushi

1

pitted black olive

can also use pre-sliced, optional for eyes

½

medium

avocado

or more to taste

¼

teaspoon

salt

juice from about 1-2 wedges of lemon or lime
Instructions
Place your sheet of nori on a cutting board.

Flip your bread around to discover the flat side that is most appropriate for the top of Frankenstein's head. Match it to the sheet of nori and mark the nori with the approximate side so you can cut the 'hair' appropriately.

Toast the bread.
Meanwhile, cut the nori into the following shapes:
Hair: flat top with triangular bottoms, matching the length of the part of the bread that will be the top of Frankenstein's head

Mouth: each mouth is a long thin strip, with shorter thin strips for the crosshatch stitch

Nose: a triangle or flat line works here

Eyes: triangle nori works for eyes (if you're not using black / green olives here)

If using olives, slice them into 4 hollow rounds to make 'eyes'

In a small bowl, mash the avocado with desired seasonings.

When toast is ready, spread each with mashed avocado. Set it on your table / board with the flat 'top of the head' on the top. Create your face with nori and (optional) sliced olives, like the photos above.
Nutrition
Calories:
160
kcal
Carbohydrates:
18
g
Protein:
4
g
Fat:
9
g
Saturated Fat:
1
g
Polyunsaturated Fat:
1
g
Monounsaturated Fat:
5
g
Trans Fat:
0.01
g
Sodium:
458
mg
Potassium:
289
mg
Fiber:
5
g
Sugar:
2
g
Vitamin A:
147
IU
Vitamin B1:
0.2
mg
Vitamin B2:
0.1
mg
Vitamin B3:
2
mg
Vitamin B5:
1
mg
Vitamin B6:
0.2
mg
Vitamin C:
6
mg
Vitamin E:
1
mg
Vitamin K:
12
µg
Calcium:
43
mg
Copper:
0.1
mg
Folate:
66
µg
Iron:
1
mg
Manganese:
0.4
mg
Magnesium:
26
mg
Phosphorus:
63
mg
Selenium:
8
µg
Zinc:
1
mg
Choline:
13
mg