As a licensed nutritionist, I get questions about CNS® certification vs. RD certification all the time. This post is here to help you clear up any confusion and figure out which path is right for you!
This post is part of a Nutritionist Behind the Scenes series that is hosted on Frugal Nutrition to help CNS® nutritionists navigate the industry after graduation. To see the full series, please visit The CNS® Path: Exam Study Tips, Internships, Licensing, Getting a Job.

CNS Nutritionists vs. RD Nutritionists: What's Different and What's the Same?
In Baltimore, Maryland, where I currently live, the training is different, but the scope and licensure of a CNS® is the same as an RD; however, this isn't true in all states.
Let's check out the differences in training, and what it really means to be a licensed or certified nutritionist.
What is a Nutritionist?
Believe it or not, this is not a simple answer.
The assumption is that a nutritionist is someone who is well trained in nutrition and has the authority to practice nutrition counseling and give nutrition advice.
However, in several states, ANYONE can call themselves a nutritionist. These states include:
California, Oregon, New Hampshire, Vermont, Alaska, Washington, and many others.
This means your Crossfit gym owner can do a lot of research online and call themselves a nutritionist, just without the term "licensed" or "certified."
Personal trainers and health coaches without biochemistry backgrounds, and Instagram influencers with no formal training can call themselves nutritionists and legally (but not ethically) give nutrition advice in several states.
The Laws in Your State:
It is super important to acknowledge that there are incredibly intelligent, well-meaning individuals without training who actually do a great job in nutrition counseling. But, they're often lacking the training required to give them the full picture.
One of the biggest takeaways from an advanced nutrition degree is how much we DON'T know about nutrition, as well as how much we probably CAN'T know about nutrition. Anybody with legitimate training knows the limitations of our nutrition knowledge and nutrition science.
As we like to say, it's impossible to do true double blind randomized control trials (the gold standard) with whole foods: You know if you're eating an apple or not.
I've also see many of these well-meaning individuals encourage disordered eating and trigger eating disorders - NOT OKAY.
It's really important to note that if it is powerful enough to heal, it is powerful enough to harm. Certified practitioners are well versed in this dichotomy and understand the benefits and limitations of things like supplements, therapeutic diets, and biases in research.
What is a Board Certified Nutritionist?
There are actually several boards that certify nutritionists.
According to the American Nutrition Association, these board certifications are defined as such:
"Certified Nutritional Specialist (CNS®): a Certified Nutrition Specialist is a highly qualified nutritional professional with an advanced degree (graduate or doctorate) from a fully accredited university in nutrition plus 1,000 hours of a supervised internship and must pass the rigorous exam administered by the Board for Certification of Nutrition Specialists...It is the most widely recognized nutrition certification by federal and state governments. It is the only non-dietetics credential and examination widely named in state nutrition licensure laws."

"Certified Clinical Nutritionist (CCN): a CCN is a highly qualified nutritional professional with a 4-year bachelor's degree and a 900-hour internship, a 56-hour post-graduate intensive study in clinical nutrition or a master's degree in human nutrition from the University of Bridgeport or Bastyr University and must pass the national board exam issued by the CNCB [7]. The CCN focuses on how foods are digested, absorbed, and assimilated, and ultimately how food affects the body biochemically..."

"Registered Dietitian (RD): an RD is a food and dietary professional, usually with a 4-year bachelor's degree and 900-1200 hours in a dietetic internship through an accredited program and passing a dietetics registration exam. Dietitians focus on calories (energy), quality of food in regard to freshness, sanitation and freedom from spoilage and contamination, meal planning, evaluation of standard measurements of foods, specific diets for certain conditions, and eating patterns based primarily on food groups, such as the food pyramid, and other guidelines based on daily food intake strictly outlined by health organizations [10]. Dietitians often work in health institutions as clinical dietitians, management dietitians, but can also work as community or consultant dietitians."
Here's a link to the PDF on the FTC's site with more information on these designations.
There's also a relatively new board, founded in 2008, that now certifies holistic nutritionists. It is not as strictly regulated, but it does teach current practitioners how to become well versed in holistic nutrition.
What is a Certified Nutrition Specialist® (CNS® Nutritionist)?
Full disclosure: I'm biased here because this is my certification!
A Certified Nutrition Specialist® is a federally recognized board certification with state-by-state licensure that is not federally recognized. Approximately 5 states give CNS® nutritionists and RD nutritionists the same licensure (called an LDN in Maryland), while another 13 states support the CNS® certification without licensure.
As of this posting, a CNS® nutritionist must graduate with a Master's of Science in Human Clinical Nutrition, complete a 1,000-hour internship and pass a board exam.
Certified Nutrition Specialists® are important players in the functional medicine world. Functional medicine is the "root cause approach" to wellness. Functional practitioners are trained to find the root cause of disease, and to practice preventative care.
For this reason, CNS nutritionists are generally not found in hospitals, although according to a 2014 ruling, they technically can order therapeutic diets in hospitals! It just isn't always the best use of a CNS's high level training in personalized nutrition. Most CNS nutritionists work in private clinical practice alongside other modalities, such as functional MDs, chiropractors, and acupuncturists. You will also find them working in community nutrition and public health in similar positions as RDs - working in corporate wellness, in school systems, and on college campuses.
In short: A CNS's graduate training is focused on functional medicine and root cause approaches to optimal wellness. Although some of the science classes are similar, the integrative approach for a CNS is completely different from what is covered in an undergraduate nutrition degree for the RD pathway. (Some programs may be exceptions to this rule, but I haven't found them yet!)
And remember, just because someone is "certified" and "licensed" as a Certified Nutrition Specialist® or as a Registered Dietitian, this does not mean they are well versed in the latest research.
What is a Registered Dietitian or (RD Nutritionist)?
A registered dietitian is a board certification and state licensure that is federally recognized.
As of this posting, an RD nutritionist must graduate with a Bachelor's of Science in Nutrition or Dietetics, complete a 1,200-hour internship and pass a board exam.
States have recently added nutritionist to the title to highlight that all RDs are technically nutritionists, but not all nutritionists are RDs.
Registered Dietitians are important players in the conventional medicine world. They learn about federal nutrition guidelines, are trained to support and utilize the USDA's resources, and have a wide variety of positions, working in hospitals, for large corporations, in school systems, and on college campuses.
They are trained in parenteral nutrition, and are historically taught to support the low-fat, calorie-counting mentality of conventional medicine.
However, more recently it has become commonplace to see registered dietitians taking the unconventional path - getting trained in functional medicine or working in private clinical practice.
Just like in any field, there are complacent RDs and excellent, creative-thinking RDs. Registered Dietitians who have taken it upon themselves to get further functional training are perfectly suited to navigate the crossovers between conventional medicine and functional medicine - and all the ones I know do an excellent job!
In short: A registered dietitian's undergraduate training is very conventional. They must go out on their own to learn about functional medicine approaches to nutrition.
What about Online Certification Programs?
There are a number of online programs that certify health coaches, and create their own nutrition certifications such as IIN, CNC, NTP/NTC, but these are short certification programs, sometimes just 200-hour online classes.
The caliber of these online programs is just not the same as a two-year master's degree from an accredited university, a rigorous clinical internship, and a challenging board exam.
This is like comparing someone with EMT training to a Nurse. That's the difference between a 200-hour training program and a 2-year+ program with clinical practice and a challenging board exam. Some similar coursework. Completely different levels of training. Completely different requirements.
Again, many of these practitioners are excellent health coaches, but due to their lack of high level science courses and relatively lenient programs, they should not be lumped in with board-certified nutritionists.
How To Find a Board-Certified Functional Nutritionist?
Use the CNS Practitioner Finder on theana.org
Go to ifm.org and search using their Find a Practitioner tool
Search other alumni pages of schools such as Bridgeport University and Bastyr University
CNS Nutritionist vs. RD Nutritionist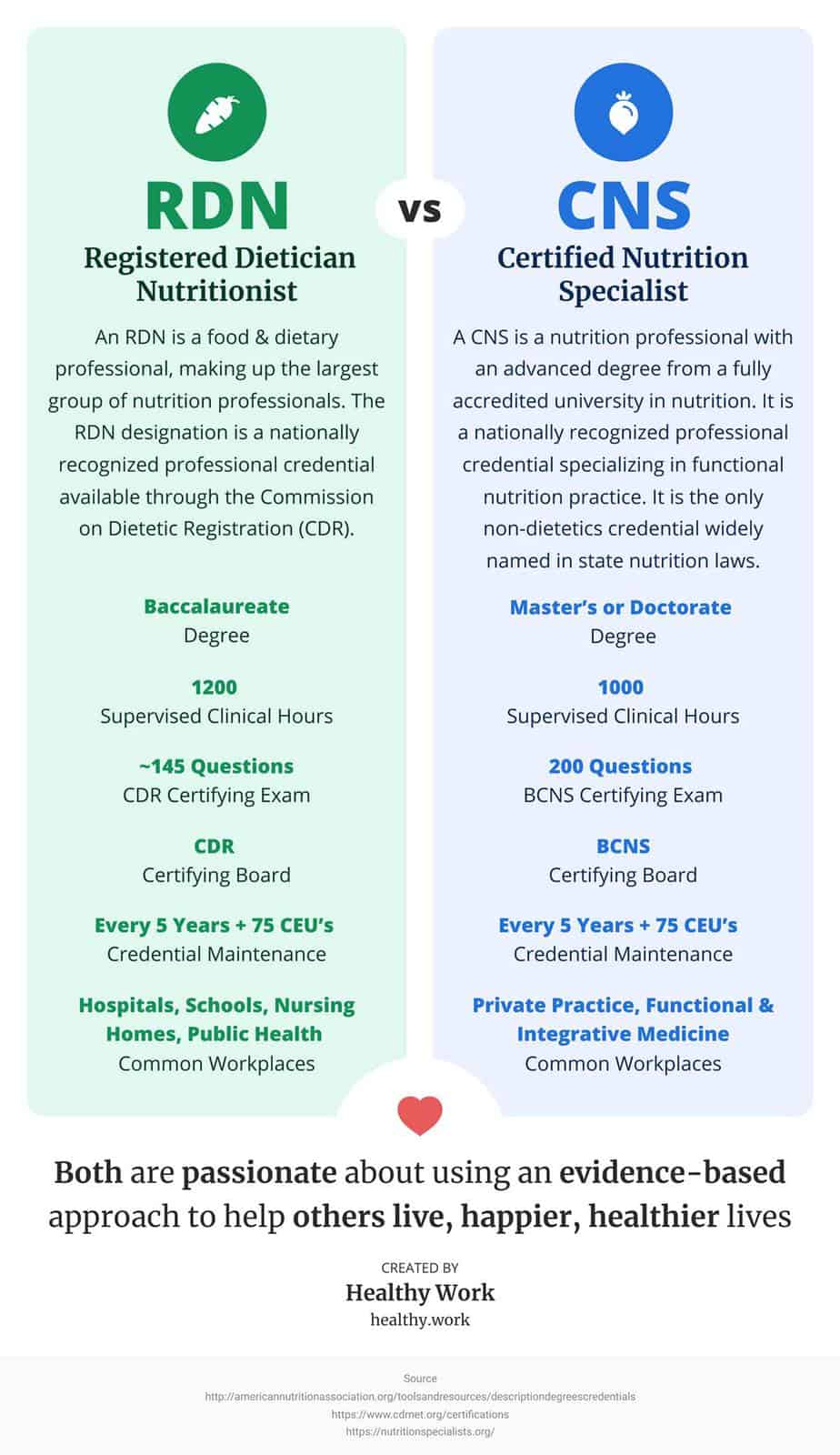 In this section:
Education
Experiential Training
Board Exams
Continuing Education Requirements
Career Paths
Primary Focus: Conventional vs. Functional Medicine
Scope of Practice
Insurance Reimbursement for Nutrition Counseling
What's the Job Market for an RD vs. a CNS?
Education
CNS: Master's of Science in Human Clinical Nutrition

RD: Bachelor's of Science in Nutrition (starting in 2024, a Master's degree will be required)
Experiential Training
CNS: 1,000 hours: 400 client-based, 200 education-based, 400 elective (can be client or education based, depending on intended focus)

CNSs must have 50-90% of their internship hours in client-based clinical settings, with the remainder in education. CNSs rarely do clinical rotations in hospitals.
The CNS internship is highly customizable.

RDN: 900-1,200 hours

RDNs are not required to have experiential practice in private clinics, but some choose to add this to their internship rotation and can have a few weeks of one-on-one client training before licensure.
The RD internship is highly competitive and highly structured.
Board Exams
CNS: Certified Nutrition Specialist® Board Exam
This test is offered twice per year and is updated yearly to reflect the latest science.
RD: Commission on Dietetic Registration Exam
Continuing Education Requirements:
Both CNSs and RDNs are required to get 75 hours of continuing education credits every 5 years. Additional state-based requirements may apply.
Career Paths: CNS Nutritionist vs. RD Nutritionist
When it comes to the standard career paths, RDNs are trained for acute care, such as hospital care, including parenteral (tube) nutrition, while CNSs are trained in chronic care and private clinical practice, working in doctor's offices or in private wellness centers.
Both can be found working in public health and on college campuses, but CNSs do not have any experiential practice in tube feeding, and are unlikely to be found working in a hospital.
Focus: Conventional vs. Functional Medicine
The biggest difference between a CNS and an RDN is the content they're exposed to during their education and internship training. An RDN is trained in conventional medicine. This means they are trained to follow the USDA's guidelines and their training incorporates more general recommendations for the population at large rather than personalized nutrition.
CNSs are trained in functional medicine, which looks for the root cause of imbalance or disease and acknowledges that a person's bio-individuality might not fit the mold of conventional medicine recommendations. This means a CNS doesn't usually support USDA recommendations, does not usually recommend counting calories, and looks for more outside-the-box solutions.
You will often find an RDN who has stepped outside of conventional medicine to learn and practice integrative and functional medicine, but you are unlikely to find a CNS who practices conventional medicine.
There are TONS of amazing RDNs who practice personalized nutrition, but 95% of RD-pathway academic programs are conventional.
Scope of Practice
Scope varies by state, depending on the State Department of Health's licensure.
For example, the state of Maryland has a Licensed Dietitian Nutritionist (LDN) designation, and both CNSs and RDNs can receive this license. Generally speaking, the scope of a CNS and an RDN is the same in all states that allow both to be licensed as an LDN. All states will recognize RDNs, but not all states will recognize CNSs.
There are some states that do not license, certify, or recognize CNS practitioners and only RDs are allowed to use the term "nutritionist." These states are shown here in red: theana.org/advocate
As of this posting, the following states have licensure pathways for both CNSs and RDs, essentially putting them on even footing.
Maryland
Delaware
Illinois
Florida
Insurance Reimbursement for Nutrition Counseling
Insurance can be used for both RDNs and CNSs depending on the state, but many choose not to accept it because there are a lot of limitations to what can be covered by insurance.
Nutritional counseling is not usually 100% covered for private practice professionals because it is often considered preventative, and our current healthcare climate doesn't prioritize preventative care.
What's the Job Market for an RD vs. a CNS?
This topic might become it's own post all together, but in short, the job market is quite different, and if you want to pursue one-on-one nutritional counseling, the job market is pretty lean for both CNSs and RDs.
Registered Dietitians tend to have access to more conventional full-time positions with paid vacation and health benefits. They work for hospitals, major food corporations, and for large corporate wellness companies.
RD Nutritionists have more job security than CNS Nutritionists, but it might not be the types of jobs you want.
Certified Nutrition Specialist® have limited access to these positions. Since many of these big name companies are national, they hire RDs since the RD certification is more widely known and accepted.
A CNS nutritionist is more likely to work as a contractor, an educator, or in private practice. Here are some of the roles my fellow CNS's have:
One-on-One Self-Pay Nutrition Counseling (independent practice)

tends to be more complicated cases such as chronic illness, gut health, hormones, infections, autoimmune diseases, etc., rather than 'weight loss'

One-on-One Insurance-based Nutrition Counseling (working alongside psychiatrists, general practitioners, chiropractors, cardiologists)
Community Nutrition Programs - for schools, for community centers, for the recently incarcerated
Professors & Teaching Assistants
Clinical educators for functional testing companies
Technical researchers / writers for supplement companies
Writers for online publications
I wrote a detailed post about my hunt for a job and my first year as a CNS® here: CNS® MASTER'S IN NUTRITION: WHAT HAPPENS NEXT?
Keep in mind that there are plenty of RD's who do this type of work as listed above, but they're not quite as common. And they're not typically as well trained in the more complicated cases unless they do additional functional training outside of school.
That was quite the topic - but I hope it provides some answers! Any additional questions? Shoot me an email or reach out on Instagram. You can also schedule a free 20-minute call on my calendar: Schedule with me here.
Looking for more on this topic?
This post links to all the sub topics I've covered about being a Certified Nutrition Specialist®: THE CNS® PATH: EXAM STUDY TIPS, INTERNSHIPS, LICENSING, GETTING A JOB
Disclaimers:
Information on this website and blog are not provided by or affiliated with the American Nutrition Association®, Board for Certification of Nutrition Specialists℠ or the Certified Nutrition Specialist® (CNS®) credential. For information on the organizations, please visit https://theana.org and https://theana.org/certify.
Information on this website and blog are not provided by or affiliated with the Academy of Nutrition and Dietetics or Commission on Dietetic Registration. For information on these organizations, please visit https://www.cdrnet.org/ and https://www.eatright.org/.