This bright and refreshing arugula salad with Lemon Basil Dressing is the perfect simple green salad. The arugula is fresh and peppery, and the dressing is bright and full of basil and parmesan flavor!
Recipe: $5.96 | Per Serving: $1.49 | Yield: 4 Servings
This recipe was originally published in December of 2013 - as one of the first recipes on this blog! The photos, text, and instructions have been updated, but the ingredients and taste are the same. Enjoy!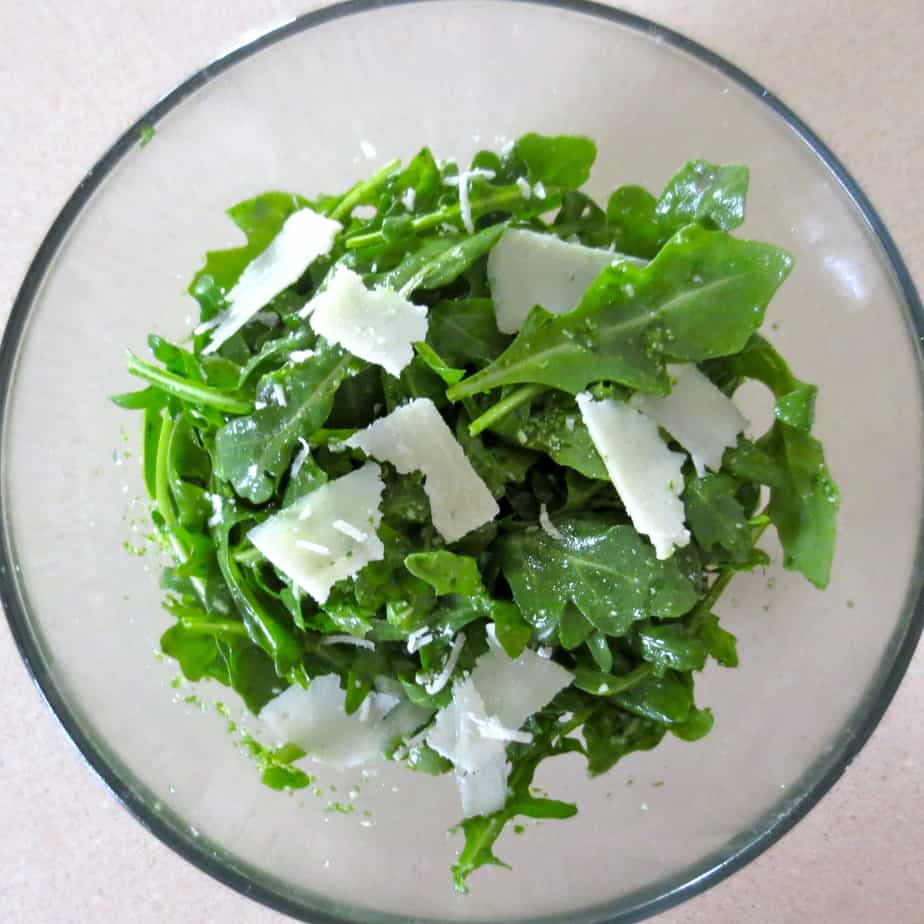 Why This Lemon Basil Dressing makes THE BEST Arugula Salad
This salad dressing made me fall in love with arugula, which remains, to this day, my favorite vegetable. There are other delicious arugula salads that I love. But when I want something simple, bright, and flavorful (that pairs with everything) - this is the way to go!
After falling in love with this salad at a restaurant and figuring out how to recreate it at home, it has become an almost constant plant-based player at our dinner parties.
How to Make the Perfect Lemon Basil Salad Dressing with Parmesan
You'll only need a few of the simplest ingredients:
Fresh basil
Fresh lemon juice
Good quality olive oil
A block of Parmesan cheese
...And that's it!
Blitz the ingredients in a blender then add it to the base of a large bowl. Add the arugula. Toss until well coated, and top with shaved Parmesan (and more dressing if needed).
It. Is. Epic.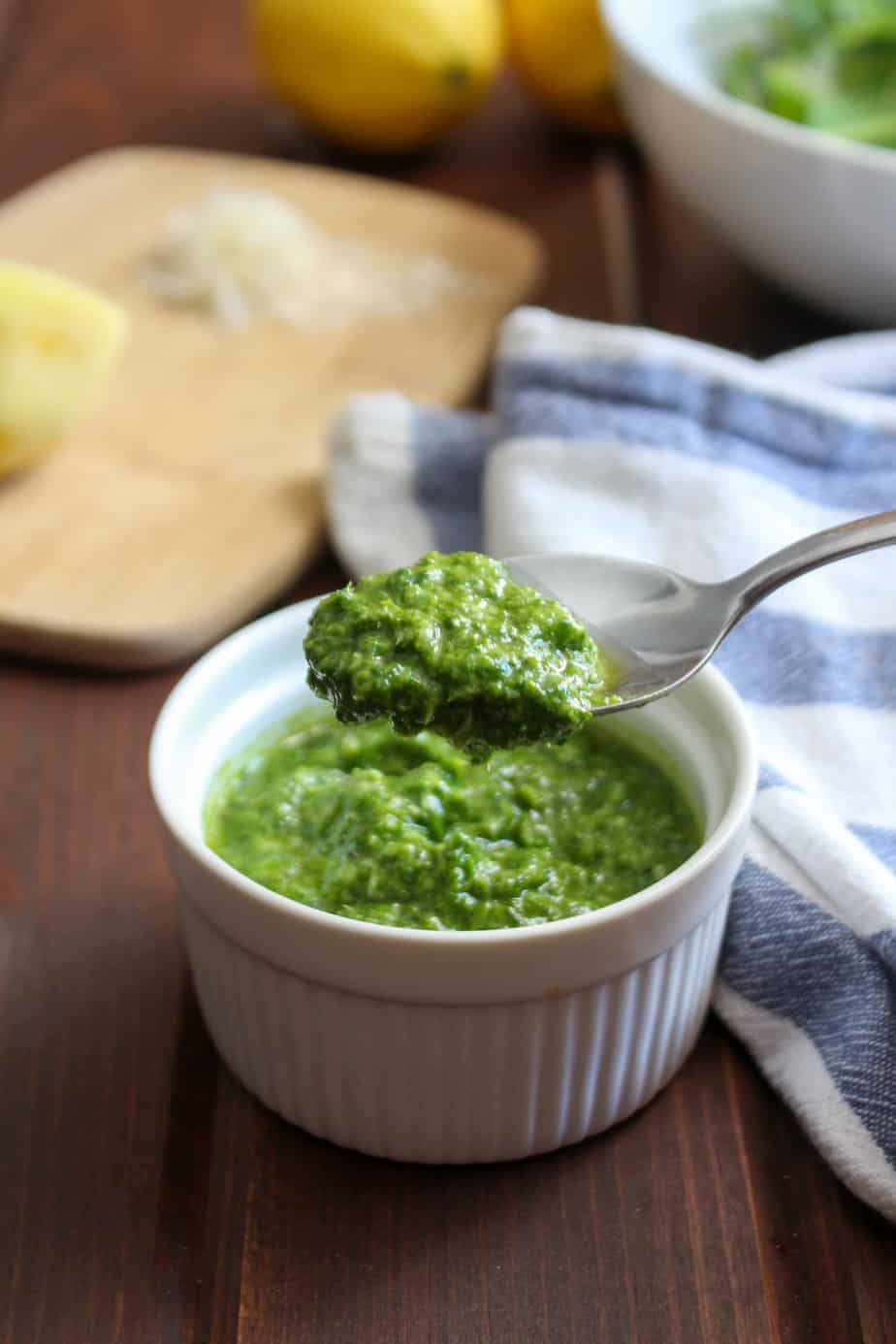 Can I make this recipe dairy-free?
Yes! To make this dairy-free, I recommend adding 1 more Tablespoon of olive oil, and if possible, 1 Tablespoon of hemp seeds. They blend easily and provide a slight creamy/nutty component that works well here. We have made that Whole30 / Paleo version several times when we need a break from dairy.
Is arugula the same thing as rocket?
Yes! Typically it is called arugula in the U.S. and rocket in the U.K. In the 90s and early 2000s, there were still menus using the term rocket, roquette, or rucola, but those terms have been mostly replaced with arugula. More information on the etymology of arugula vs. rocket can be found here!
Is arugula a type of lettuce?
No, Arugula is not in the lettuce family. Arugula is a member of the mustard family and is usually termed a leafy green by culinary and nutrition professionals. 
Arugula is, however, a bitter green, which makes it a therapeutic food for managing heartburn, indigestion, acid reflux, and even bloating! 
Does arugula wilt with dressing?
Only if the dressing is too heavy! Thankfully this dressing is light, so it won't wilt the salad unless you let it sit for several days. If you plan to make this and have leftovers, reserve some of your dressing and arugula and only toss them together when you're ready to serve.
Variations
I'm telling you all, this is the stuff right here! You can also use this dressing in a variety of ways!
On a Caprese salad
As an after-cooking pizza topping (which I highly recommend!)
It's also amazing as a dressing for summery pasta salads!
Paleo: Nope - but you could definitely omit the Parmesan and it will still be delicious.
Vegetarian: Yep!
More Recipes to Try!
I hope you enjoy this recipe! If you make it, please be sure to leave a ⭐️ review and comment below! For videos of different recipes from my blog, please check out my YouTube channel, and follow me over on Instagram!
PIN THIS RECIPE FOR LATER!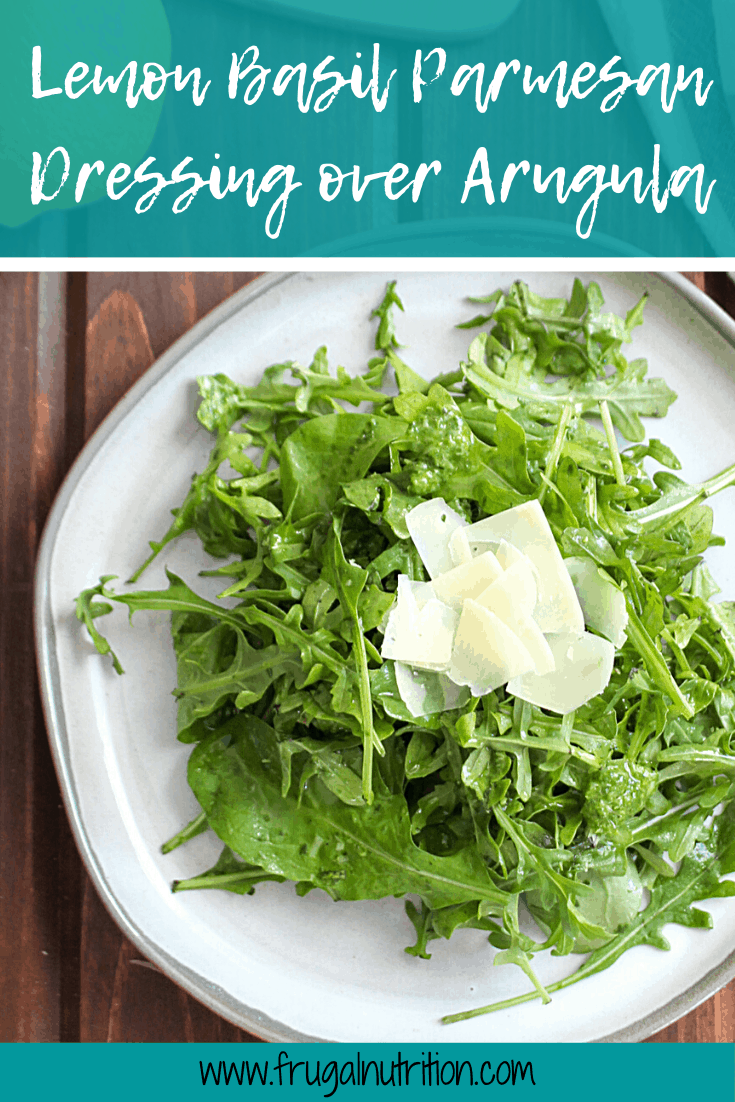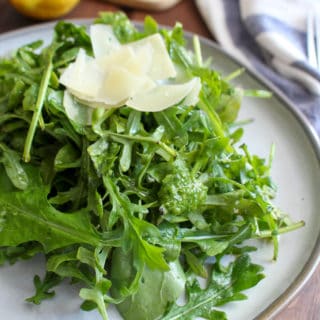 Lemon Basil Dressing Over Arugula
This bright and refreshing arugula salad with Lemon Basil Dressing is the perfect simple green salad. The arugula is fresh and peppery, and the dressing is bright and full of basil and parmesan flavor!
Ingredients
2

ounces

fresh basil

juice of half a large lemon

about 2 Tablespoons

½

cup

shredded fresh Parmesan cheese

about 1.5 ounces

pinch

of salt and pepper

¼

cup

extra virgin olive oil

5

ounces

arugula

4 servings
Instructions
Add basil, lemon juice, Parmesan cheese, and a pinch of salt and pepper to a food processor. Pulse until the basil is mostly minced.

Pour in the olive oil, blending just until the dressing is smooth.

Taste and adjust seasoning as desired.

Combine the dressing with fresh arugula and divide among 4 serving bowls. Top with more shaved Parmesan and cracked black pepper, if desired. Eat!
Notes
Blanched Basil: optionally, you can blanch your basil. This keeps the dressing looking bright green in case you make extra and want to store it. Blanched basil is also easier to blend in a standard blender. Otherwise, not necessary! Cheese Substitutions: you can also use Pecorino Romano or Grana Padano. If possible, I do recommend buying a block and shaving it yourself, or getting it from a cheese counter. Dairy-Free Version: add 1 additional Tablespoon of olive oil, and 1 Tablespoon of hemp seeds to make this dairy free. You could also try a little nutritional yeast, but I haven't tried that myself.
Nutrition
Calories:
182
kcal
Carbohydrates:
3
g
Protein:
6
g
Fat:
17
g
Saturated Fat:
4
g
Polyunsaturated Fat:
2
g
Monounsaturated Fat:
11
g
Cholesterol:
9
mg
Sodium:
220
mg
Potassium:
192
mg
Fiber:
1
g
Sugar:
1
g
Vitamin A:
1687
IU
Vitamin B1:
0.03
mg
Vitamin B2:
0.1
mg
Vitamin B3:
0.3
mg
Vitamin B5:
0.3
mg
Vitamin B6:
0.1
mg
Vitamin B12:
0.1
µg
Vitamin C:
11
mg
Vitamin D:
0.1
µg
Vitamin E:
2
mg
Vitamin K:
106
µg
Calcium:
230
mg
Copper:
0.1
mg
Folate:
46
µg
Iron:
1
mg
Manganese:
0.3
mg
Magnesium:
32
mg
Phosphorus:
114
mg
Selenium:
3
µg
Zinc:
1
mg
Choline:
9
mg