Recipe: $8.82 | Per Serving: $1.10 | Yield: 8
One of the best things about summer is the abundance of BASIL. A deliciously fantastic herb. We've got a lot of it thanks to four plants we bought from the farmer's market for $5 about 2 months ago. I have been able to make pesto every other week all summer and it's great! I recently remembered this delicious salad dressing I made 2 summers ago, and decided I wanted to play with it again as a substitute for mayonnaise in chicken salad. It was a really good idea.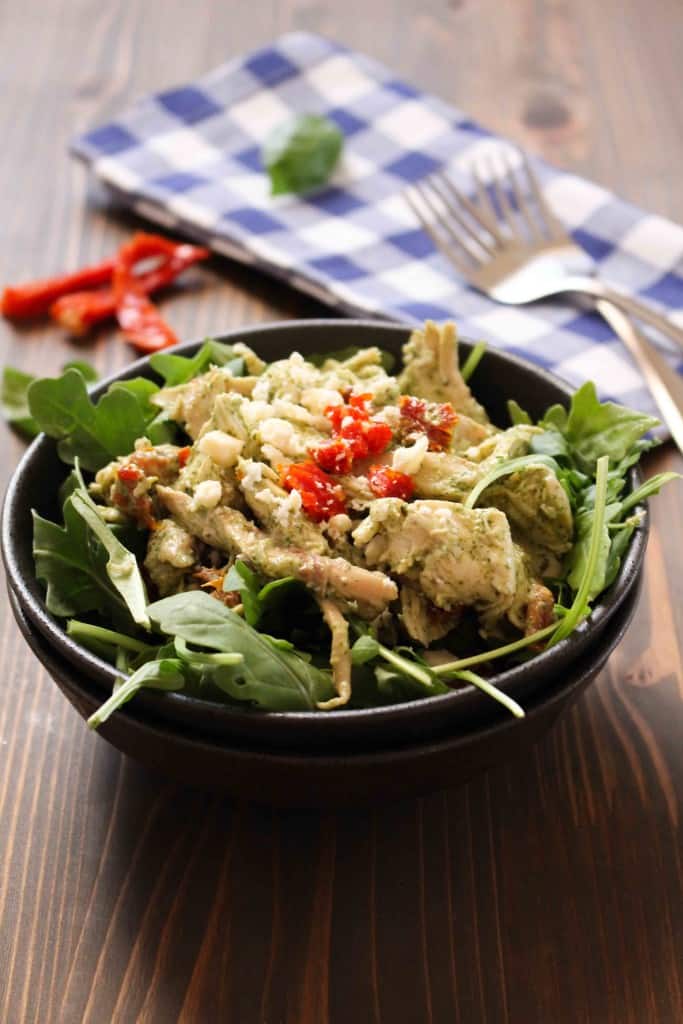 It is really really common for me to make roasted chicken, either in the slow cooker, rice cooker, or the oven, depending on the country and season. But this time around I went straight for the rotisserie chicken. The Harris Teeter in Baltimore sells rotisserie chickens for $4.99 on Sundays, and although I'm not confident the chicken is something I would usually consider "real food," it's so hard to resist the siren call of convenient & delicious protein. I was actually excited to answer that call. HOWEVER. There was no rotisserie chicken to be found. Not at Harris Teeter, not at Safeway. I tried 3-4 times over the course of 3 days to buy a rotisserie chicken and it was not possible. So I ended up buying an whole chicken (5.5 pounds at 50% off - so only $8.25!!) and roasting it in the oven myself. Which ended up being more food and just as delicious.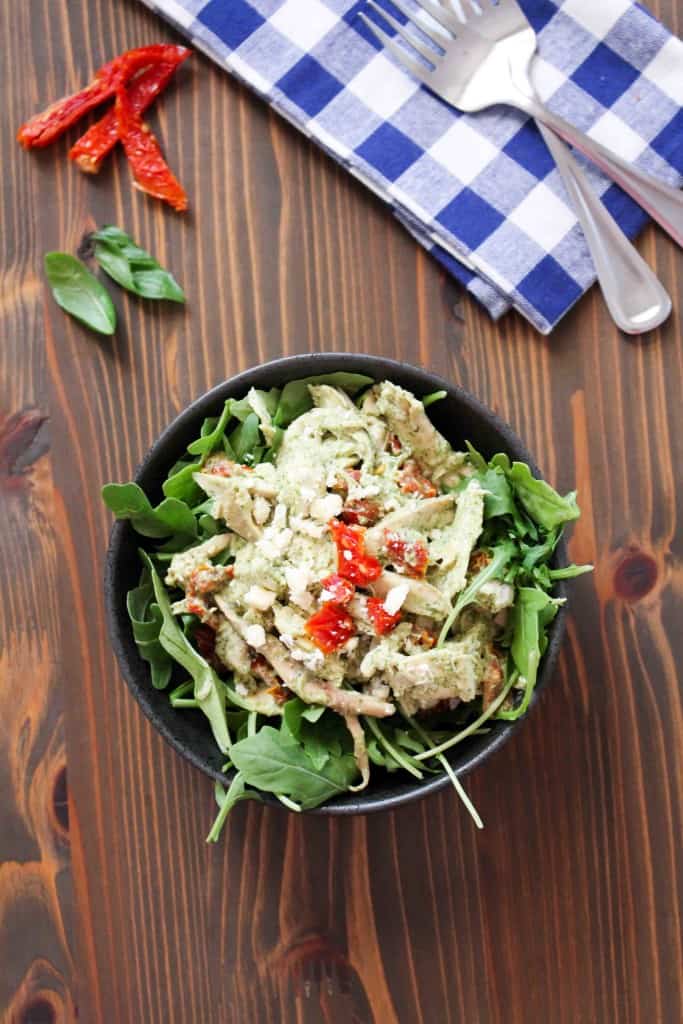 This ended up being a good thing because this dressing makes kind of a lot, so I used more chicken than I expected to. And now we have a little shredded chicken in the freezer for another day.
Feel free to shake things up to your heart's content. I tried it with sun-dried tomatoes and then with fresh cherry tomatoes, and both styles were great. You can serve this with greens as a salad, with toasted bread (or whole wheat buns!), or wrap it up for a super awesome on-the-go lunch. I actually really wish I'd had tortillas or lettuce wraps for this because it is begging to be a fancy looking lunch wrap.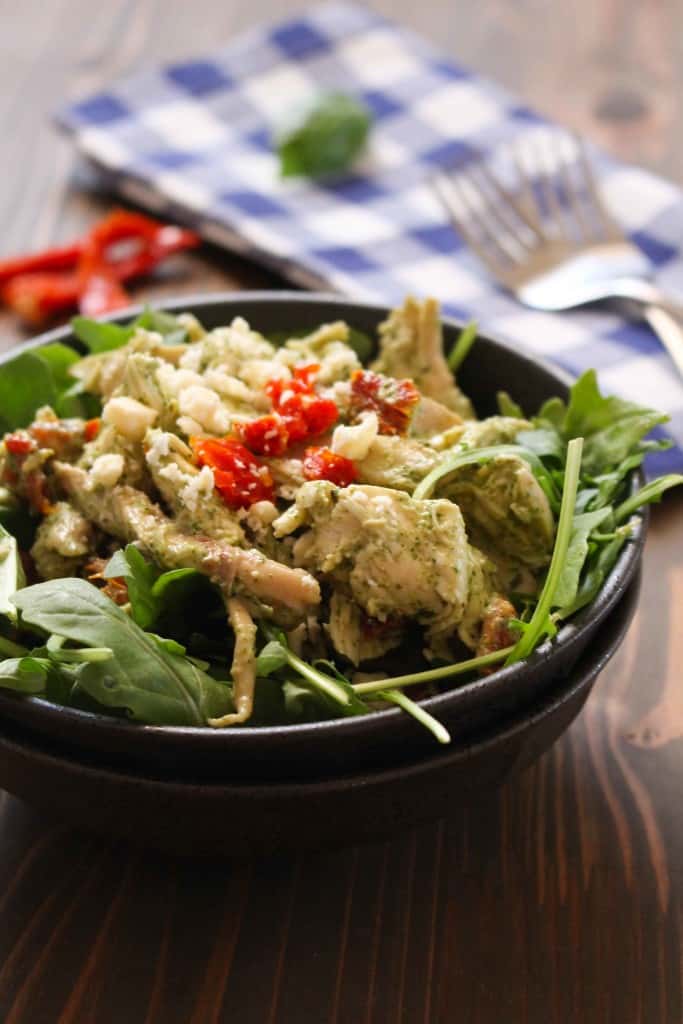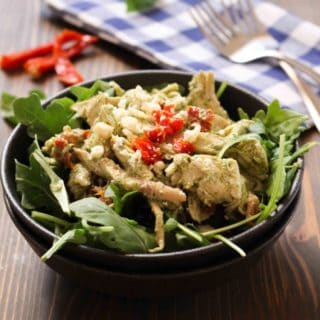 Creamy Basil Chicken Salad
A healthy chicken salad recipe flavored with basil, sun-dried tomatoes, yogurt and feta cheese.
Ingredients
For the Dressing:
1

cup

fresh basil leaves

packed

2

cloves

garlic

1

teaspoon

lemon juice

⅓

cup

full-fat yogurt

plain or Greek, just add water if necessary

¼

cup

feta cheese

crumbled

½

teaspoon

salt

or to taste
For the Salad:
4-6

cups

chicken

cooked and shredded or chopped

1

cup

sun-dried tomatoes

chopped*
Instructions
Dressing
Pulse the basil, garlic, and lemon juice in a food processor or blender until chopped. Scrape down the sides and add the yogurt and feta cheese. Blend until smooth. Taste and add salt if needed, and add 1-2 Tablespoons water to thin it out if necessary.
Salad
Chop or shred the chicken and chop up the sun-dried tomatoes. Combine with the dressing and stir well. Top with a little more feta cheese, if desired.

Serve with toast, salad greens, or in a wrap!
Notes
*I don't use oil-packed sun-dried tomatoes. I always use dried tomatoes found in plastic bags or packages, but I'm sure the oil-packed would work perfectly fine.
Nutrition
Calories:
142
kcal
Carbohydrates:
9
g
Protein:
19
g
Fat:
4
g
Saturated Fat:
1
g
Polyunsaturated Fat:
1
g
Monounsaturated Fat:
1
g
Trans Fat:
0.01
g
Cholesterol:
54
mg
Sodium:
305
mg
Potassium:
780
mg
Fiber:
2
g
Sugar:
6
g
Vitamin A:
331
IU
Vitamin B1:
0.1
mg
Vitamin B2:
0.2
mg
Vitamin B3:
9
mg
Vitamin B5:
1
mg
Vitamin B6:
1
mg
Vitamin B12:
0.3
µg
Vitamin C:
7
mg
Vitamin D:
0.1
µg
Vitamin E:
0.2
mg
Vitamin K:
19
µg
Calcium:
61
mg
Copper:
0.2
mg
Folate:
17
µg
Iron:
2
mg
Manganese:
0.3
mg
Magnesium:
50
mg
Phosphorus:
235
mg
Selenium:
26
µg
Zinc:
1
mg
Choline:
72
mg