And I believe this is Week Six of Frugal Weekly Meal Planning - where 2 people eat well on a $60 budget. Last weekend I was out of town and did not have the chance to do a lot of meal prepping. Which is why I was so happy to recruit my slow cooker for the job, and why I stuck to an old favorite: homemade granola. This time paired with raspberry coconut chia pudding instead of yogurt. And I resurrected an old salad dressing recipe to use in place of mayo in chicken salad. Pretty easy stuff this week.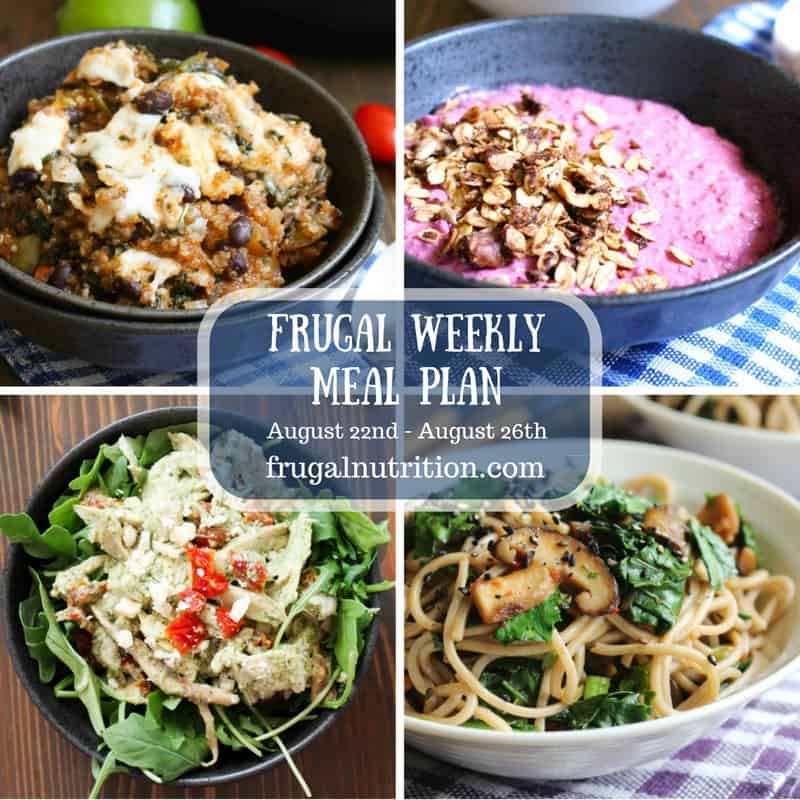 We had a lot of meals though, and I actually cheated and borrowed money from next week's budget in order to make extra food since I'll be out of town again this weekend. I will say I'm a little disappointed that I didn't utilize the food in our Hungry Harvest box as well as we could have, but there's still time! This week we got the Mini Harvest: 1/2 a bunch of kale, two Japanese eggplants, two large cucumbers, 3 apples, 2 small avocados, 1 head garlic, 2 cubanelle (Cuban) peppers, 2 grapefruit a, 3 clementines, a small crown of broccoli and 1 onion.
The kale was super easy to use, and I immediately planned Garlic Butter Mushrooms with Kale & Soba. The broccoli was bomb with cheddar, onion, and eggs. The cucumbers are in great shape and will be 5-Ingredient Cucumber Soba Noodles for next week, and the Japanese eggplant will probably end up as Eggplant Lasagna Rolls. Still not sure what to do with the cubanelle peppers, but I will probably roast them to go with plantains.
I also made the Slow Cooker Quinoa Enchilada Casserole before the box even arrived to use up the bell peppers from the previous hungry harvest box, and that made 6-8 servings, so we've got another 4 servings in the freezer. And as for the Creamy Basil Chicken Salad - we had SO MUCH BASIL. Not only did we get 2 packed cups from our own plants, but my boss brought me another 2 packed cups from her plants. So much pesto on my horizon!
The Meals:
Breakfast:
Ricotta Toast with Tomatoes & Greens + Fruit
Raspberry Chia Bowls w/ The BEST Homemade Granola (3 times)
Scrambled Eggs, Broccoli, Homemade Sausage + Strawberry Banana Green Smoothie
Lunch/Dinner:
Slow Cooker Quinoa Enchilada Casserole
Creamy Basil Chicken Salad
Garlic Butter Mushrooms with Kale & Soba
Snacks: plantain chips, apples, clementines, grapefruit, cucumbers, strawberries, frozen broccoli
My favorite thing from this week was the ricotta toast. I just LOVE ricotta cheese, and it is such an easy & satisfying meal for either breakfast, lunch, or dinner.
I was also really stoked on the slow cooker quinoa enchilada casserole because I used a blender enchilada sauce recipe (found here, and inspired by Pinch of Yum), and because it was my first time cooking quinoa in the slow cooker. We also had super yummy basil chicken salad made with yogurt and feta and topped with tomatoes (cherry or sun-dried tomatoes), served on arugula, and it was nice to have a quick no-cook lunch/dinner option again.
Tuesday was a slow day at work, so I actually left early and stopped by the store...where I found grass-fed ground beef on sale for 50% off, as well as a whole chicken for 50% off. So I went ahead and stole some money from next week's envelope and made taco meat, coconut beef, garlic-basil sausage, and shredded chicken. We have a lot of meat on our horizon!