This recipe for healthy homemade granola is so easy that there's no way to mess it up! Bake a couple of weeks' worth of granola and then enjoy it with yogurt, fruit, ice cream, or just munch on it as a snack! Granola that's cost-effective, easy, and healthy? Sign me up!
Recipe: $3.85 | Per Serving: $0.28 | Yield: 14(ish)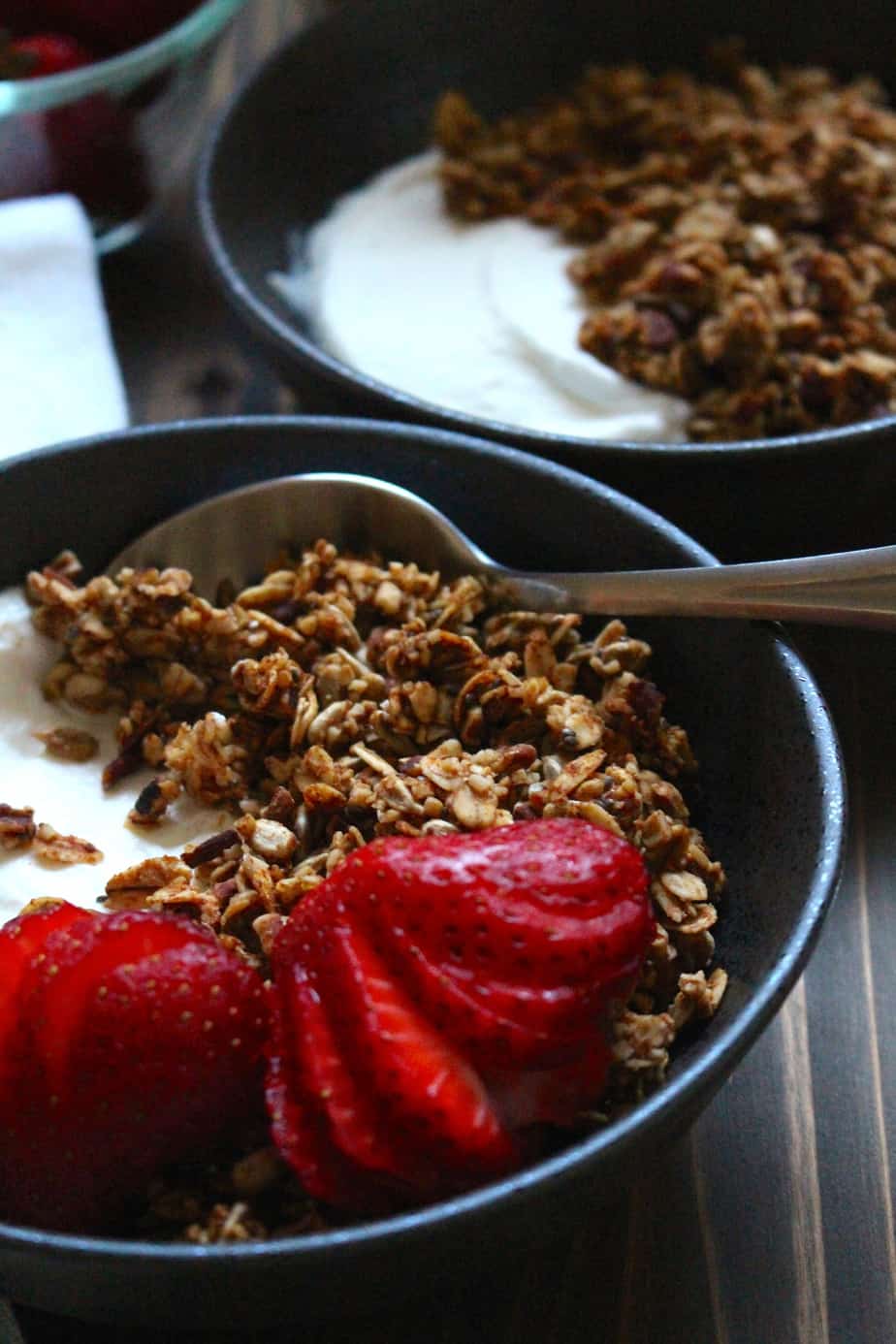 My Love for Homemade Granola
This recipe was originally shared in June of 2016, but has been updated with some new photos and clearer instructions. Thank you, as always, for being here!
I've made this recipe and variations of it for the last 5+ years, and I've discovered it is impossible to ruin granola. It makes the perfect fulfilling breakfast that you can whip up with minimal effort!
This recipe yields about 7 cups of granola, which comes to somewhere between 7-14 servings, depending on how many scoops you steal from the container. It lasts about 2ish weeks in our house. My favorite way to enjoy this granola is with full-fat Greek yogurt or dairy-free coconut yogurt.(Creamy Coconut Cult yogurt is expensive but SO good.)
This stuff rivals every single granola I've ever tried, whether at a farmer's market, in a grocery store, or made by a pastry chef.
Please don't just take my word for it - try it yourself! This no-fail granola recipe is one of the best things you can do for your mornings this week.
Ingredients to Make Easy Granola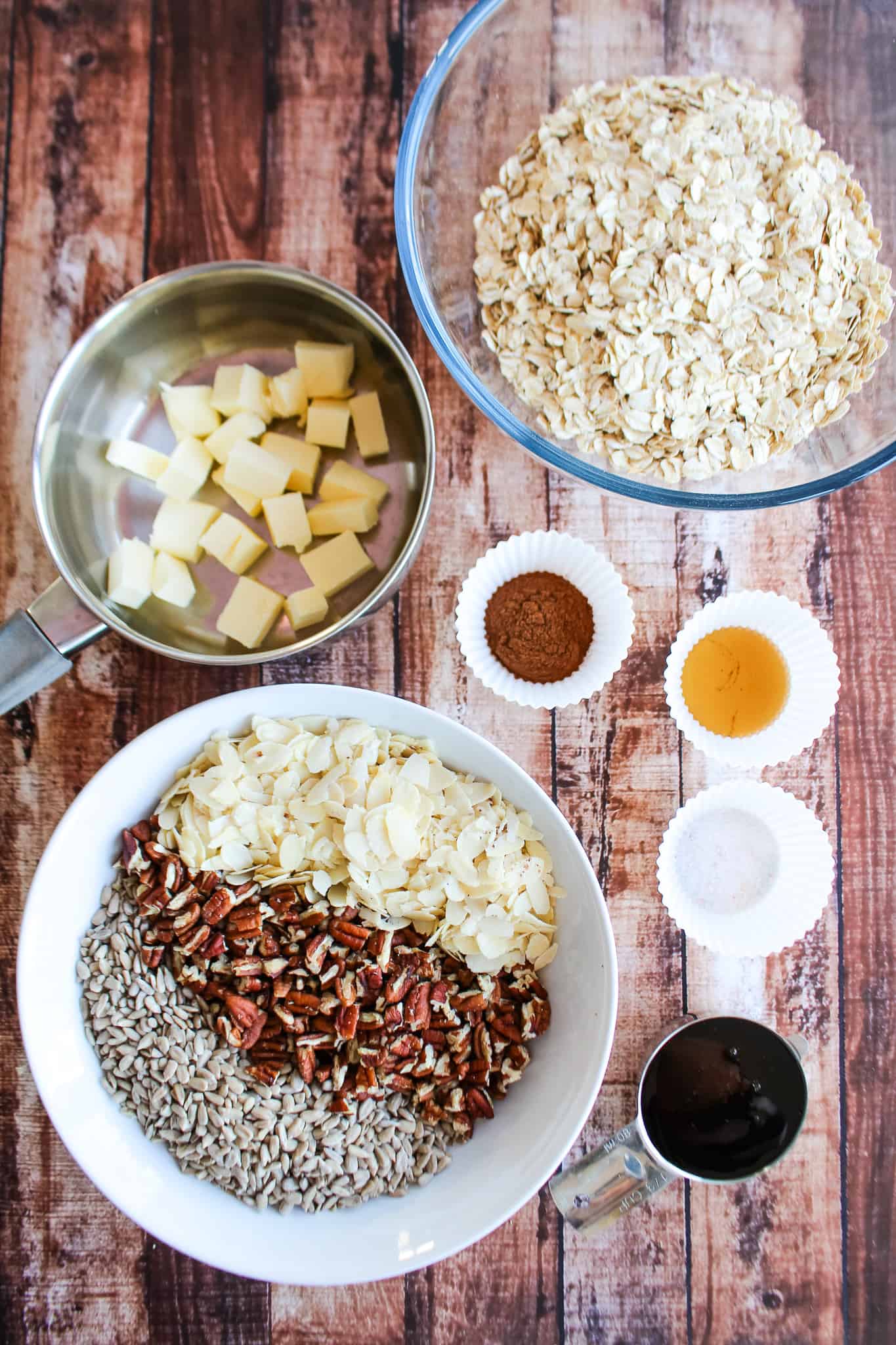 Think of this granola as a kind of a choose your own adventure thing. My typical granola adventure is rolled oats, almonds, pecans, and maybe sunflower seeds. But again, change it up however you'd like.
The basic recipe starts with butter, a liquid sweetener, vanilla, salt, and rolled oats. Then things start to get exciting when you add in a variety of your favorite nuts and seeds along with seasonings like cinnamon or nutmeg.
Once you're happy with that mixture, you can go ahead and add whatever extras you have on hand. Some of my favorites are ground flaxseed, hempseed, and shredded coconut!
And remember, this is a no-fail recipe. Just enjoy the adventure! Overcook it a little? It's just crunchier. Add in a weird ingredient? The good stuff always overpowers it. Out of butter? Coconut oil works. Low on honey? Just mix in some raisins. Low on nuts? Add more oats! Only 1 cup of rolled oats left in your pantry? Use some steel-cut oats, or add more nuts and seeds.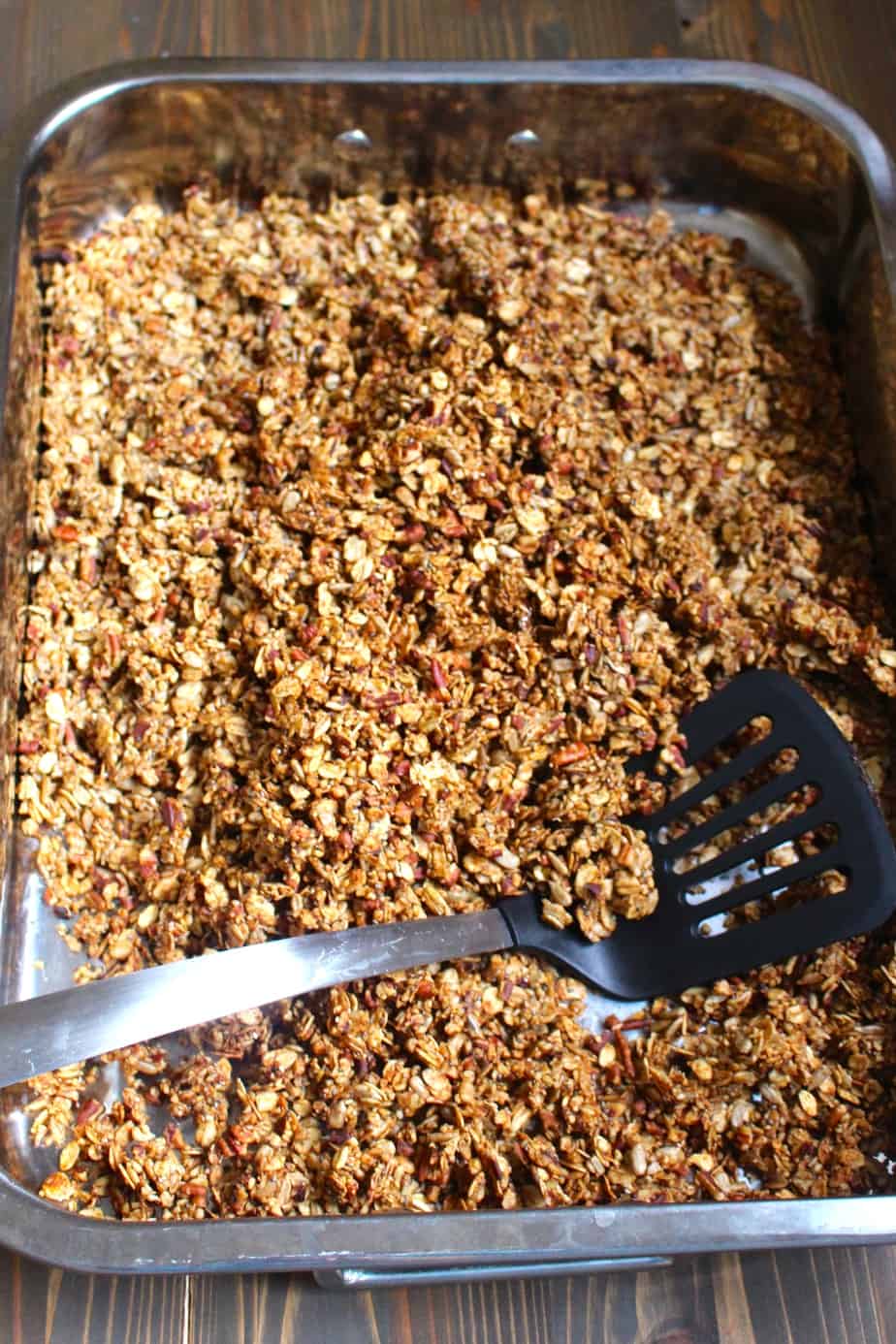 How to Make Homemade Granola
I'm going to blow your mind with this recipe's simplicity. If you need a quick and easy breakfast that's healthy and doesn't break the bank, this is it!
All you're going to do is melt the butter, mix everything together, spread it on a sheet pan, and bake at 250ºF for 60-90 minutes.
After you bake your granola, you can store it in an air-tight container and enjoy it for breakfasts or snacks (or whatever!) for a few weeks. Enjoy!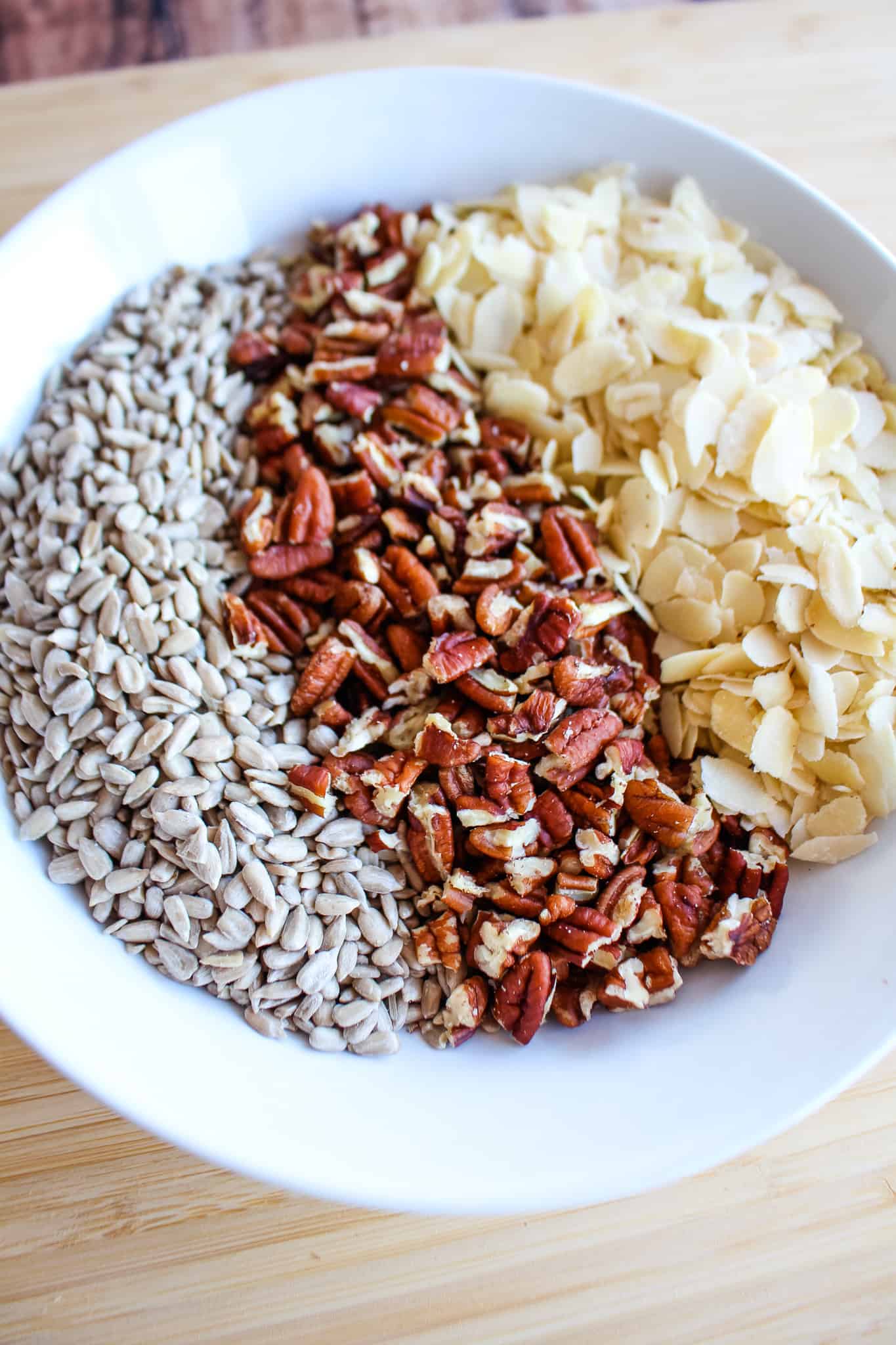 FAQs and Dietary Restrictions
Is it worth it to make your own granola?
It's absolutely worth it to make your own granola, in my opinion. The ingredients you buy to make your own granola will last you for a couple of batches, so this recipe generally comes out cheaper than store-bought. Not to mention, store-bought granola is often packed with sugar and this recipe isn't!
What's the best binder for granola?
Any natural liquid sweetener is what I find works best to bind your granola. A few that I've tried are date puree, raw honey, maple syrup, and prune puree.
Why is my granola not crunchy?
It may have to do with the temperature you're cooking it. I know it's annoying to have to wait 60-90 minutes when you just want to dig in, but the patience is worth it! Cooking your granola low and slow is key because it will dry out the ingredients and give you that perfect crisp.
How to store granola?
The best way to store granola is in an airtight container at room temperature; it will stay fresh for about 1 month. If your granola is not properly dehydrated - ie there's any moisture left or it is soggy instead of crunchy - you do want to store this in the fridge to prevent bacterial growth.
Paleo: Not as written, but you can easily omit the oats and use more nuts and seeds instead. I have done this numerous times and find that sunflower seeds, pumpkin seeds, and sliced almonds are the cheapest options for replacing the oats.
Vegetarian: Yep!
More Recipes to Try
I hope you enjoy this granola as much as I do - and if you make it, please be sure to leave a ⭐️ review and comment below!
For videos of different recipes from my blog, please check out my YouTube channel and Instagram!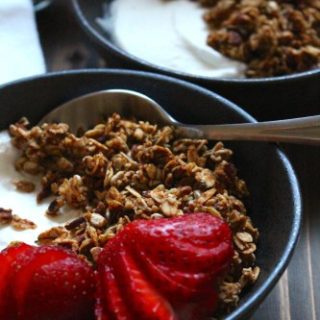 The Best Easy Homemade Granola Recipe
This recipe for healthy homemade granola is so easy that there's no way to mess it up! Bake a couple of weeks' worth of granola and then enjoy it with yogurt, fruit, ice cream, or just munch on it as a snack! Granola that's cost-effective, easy, and healthy? Sign me up!
Ingredients
6

Tablespoons

unsalted butter

⅓ - ½

cup

liquid sweetener

such as date puree, raw honey, maple syrup, prune puree*

1

teaspoon

vanilla

3 ½

cups

old fashioned rolled oats

look for certified gluten-free

3

cups

nuts and seeds

sliced almonds & sunflower seeds are usually cheapest, I like 1 c pecans, 1 c sliced almonds, and 1 c sunflower seeds

1

teaspoon

cinnamon

1

teaspoon

nutmeg if you have it

optional

½

teaspoon

salt

more to taste if desired

optional add-ins: ground flaxseed

hemp seed, shredded coconut
Instructions
Melt the butter on the stove or in the microwave. Remove from heat and stir in the liquid sweetener and vanilla until well combined. 

In a large bowl, combine the dry ingredients - oats, nuts, seeds, cinnamon, salt, and any optional ingredients. Stir well.

Add the liquids to the bowl of dry ingredients and stir well.

Spread the raw granola out on one or two large baking sheets, preferably lined with parchment or silicone, but not required.

Bake on about 200ºF/90ºC for 60-90 minutes or until crunchy. 

If you cook this low and slow, say 180ºF for 2+ hours, and then let it cool in the oven until it reaches room temperature, you will get the crunchiest results.
Notes
If you are fine with sugar and you want to use brown sugar or coconut sugar, just melt it into the butter before mixing.
You can replace up to half the oats with steel cut oats if preferred. 
FOR BIG CLUMPS: Cook low and slow for up to 2 hours, then turn the oven off and let the granola cool in the oven for several hours or overnight. 
FOR PALEO: Omit the oats and double the nuts and seeds. You can also use coconut oil or ghee.
FOR NUT-FREE: omit the almonds and pecans and replace with pumpkin seeds & sunflower seeds. Can also incorporate hemp seeds and uncooked quinoa. 
OATS ARE NOT GLUTEN FREE unless otherwise marked. If you cannot tolerate gluten, always purchase certified gluten-free oats. 
This recipe as written makes about 7 cups of granola.
Nutrition
Calories:
326
kcal
Carbohydrates:
27
g
Protein:
8
g
Fat:
22
g
Saturated Fat:
5
g
Polyunsaturated Fat:
4
g
Monounsaturated Fat:
11
g
Trans Fat:
0.2
g
Cholesterol:
13
mg
Sodium:
89
mg
Potassium:
278
mg
Fiber:
5
g
Sugar:
5
g
Vitamin A:
155
IU
Vitamin B1:
0.2
mg
Vitamin B2:
0.2
mg
Vitamin B3:
2
mg
Vitamin B5:
1
mg
Vitamin B6:
0.1
mg
Vitamin B12:
0.01
µg
Vitamin C:
0.1
mg
Vitamin D:
0.1
µg
Vitamin E:
0.2
mg
Vitamin K:
1
µg
Calcium:
44
mg
Copper:
0.5
mg
Folate:
22
µg
Iron:
2
mg
Manganese:
2
mg
Magnesium:
99
mg
Phosphorus:
219
mg
Selenium:
6
µg
Zinc:
2
mg
Choline:
9
mg
PIN THIS RECIPE FOR LATER! ↓