Recipe: $3.50
Per Serving: $0.88
We didn't always like beets. So if you're on the fence, you should make this. Smothered in balsamic and topped with feta. How can you go wrong? This little recipe made four perfect sides for our dinner last night. We had a friend over, so that left one pretty little salad for someone's lunch. I should have hidden it in the back of the fridge for myself, or sternly told Zac it's MINE. Or lied and said I needed to take a picture of it today. But nope, the sun decided it is summer and now allows me to take photos at 6:30pm. So instead I said, "Hey Zac you can bring the rest of this salad with your lunch tomorrow." Stupid words.
Because now I'll have to eat some other not-as-fresh and not-as-delicious leftovers for my lunch today. And not as shockingly good. Because we don't really love beets in this family. I've discovered that they either taste like dirt or like delicious. There's no good in-between place. With beets showing up in every CSA box, I've made my fair share of beet chips and various attempts at roasted beets, but this one is the winner, thanks to Nom Nom Paleo and her love for Alice Water's beet technique.
What you see are what I like to call sunset beets. Because I guess they're golden beets, with a little red beet coming through on one side. Like a sunset. I probably could have Googled to get more information, but I like them as sunset beets. I should have taken a pretty photo before adding the balsamic. They were even prettier than this, I promise.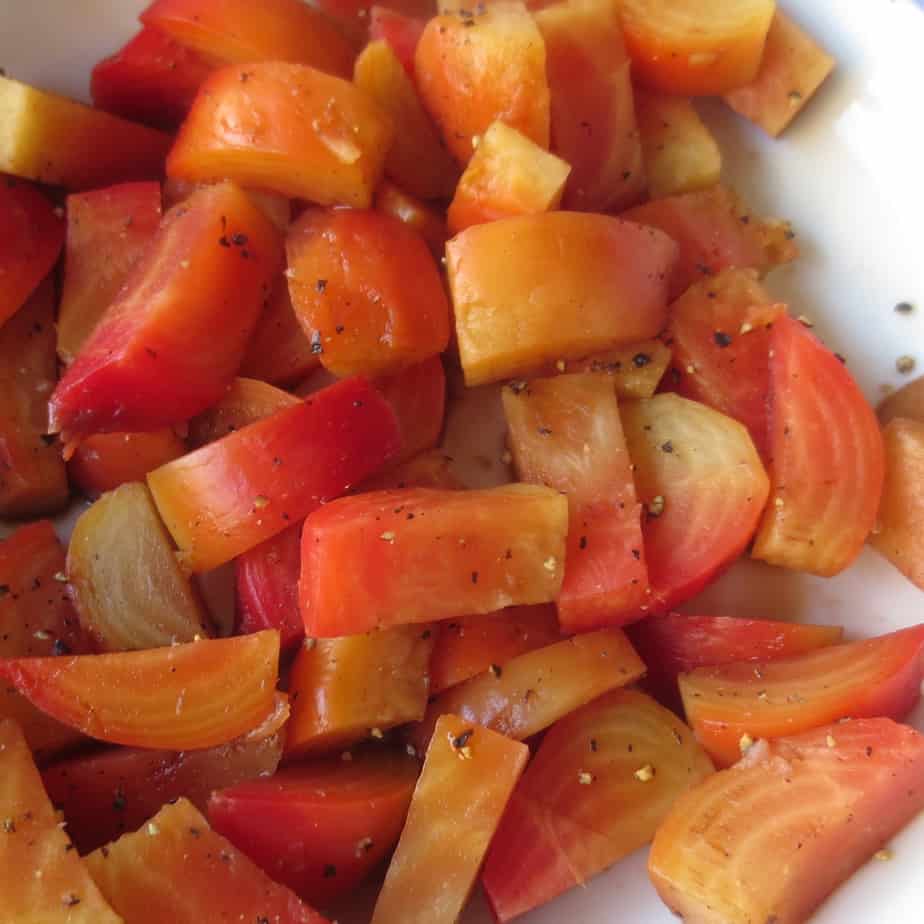 The hint to perfect roasted beets is to roast them whole, with the peel on, then just slide it off after they're cooked. (Believe me, I learned the hard way.) I used the blunt end of a knife, and then my fingers once the beets were cooled enough. We served this as a side with broccoli-kale soup, but you could easily serve it for two people's lunch. Those lucky 2 people.
You should make this. I'll be scrounging around my far-too-packed fridge for something else for lunch.
Balsamic Beet Arugula Salad
Balsamic marinated beets and feta served on top of arugula for a simple salad to add to meals.
Ingredients
6

medium

beets

2

tablespoon

balsamic vinegar

2

tablespoon

olive oil

divided

3-4

oz

arugula

2

oz

feta cheese

for topping salad

salt

pepper to taste (maybe ¼ teaspoon each)
Instructions
Wash the beets and trip the ends to about ½ an inch (I held onto this little part later to remove the skin.)

Place them in a casserole dish and add about 1-inch of water. Cover (lid or foil) and bake on 400 degrees for 45 minutes.

When tender enough to stick a knife through, remove from oven and remove skins. Chop and place in a bowl with balsamic vinegar, salt, and pepper.

Let the beets marinate for 15-30 minutes, then add 1 tablespoon olive oil. (According to the pros, if you add the olive oil earlier, the beets won't be able to absorb the vinegar. So just wait.)

Sprinkle 1 tablespoon olive oil over arugula and toss well. Top with beets and feta cheese and serve.
Nutrition
Calories:
221
kcal
Carbohydrates:
27
g
Protein:
7
g
Fat:
11
g
Saturated Fat:
3
g
Polyunsaturated Fat:
1
g
Monounsaturated Fat:
6
g
Cholesterol:
13
mg
Sodium:
368
mg
Potassium:
925
mg
Fiber:
7
g
Sugar:
19
g
Vitamin A:
649
IU
Vitamin B1:
0.1
mg
Vitamin B2:
0.2
mg
Vitamin B3:
1
mg
Vitamin B5:
1
mg
Vitamin B6:
0.2
mg
Vitamin B12:
0.2
µg
Vitamin C:
16
mg
Vitamin D:
0.1
µg
Vitamin E:
1
mg
Vitamin K:
28
µg
Calcium:
147
mg
Copper:
0.2
mg
Folate:
303
µg
Iron:
3
mg
Manganese:
1
mg
Magnesium:
72
mg
Phosphorus:
162
mg
Selenium:
4
µg
Zinc:
1
mg
Choline:
21
mg