Recipe: $1.20
Per Serving: $0.35
Yield: 4 Servings
When I was in my first college English class, our teacher made us write and re-write our first paper until we had a good hook and lead. In my family, I'm known for my blabbing (which I still declare an unfair assessment - everyone blabs), but I'll admit that I did not prioritize the quality of my storytelling. It was all facts: "and then this happened, and then this happened, and the end." As a food blogger, I can try to make my writing/storytelling better with proper hooks and conclusions (I was paid to write for several years, after all...), or I can start my posts like most of the other food bloggers, using some ridiculous opening statement like, "I used to hate mashed potatoes." For now, the latter.
Really though, I didn't like mashed potatoes for a long time. I've started changing things up a bit with: more butter, more garlic, other types of potatoes, and carrots. I really love sweet potato-cauliflower mash, so I thought I'd try a similar approach to potatoes! Also, I bought 3 pounds of carrots for 100 yen [83 cents] and needed to get through them quickly!
Another thing I've learned is that the small screen on a DSLR does NOT tell you what the final pictures will look like. DSLR is a strange language. It's best to stick with the automatic setting (it's like a phrasebook - you can't go wrong!), but if you want to learn, you'll have to switch to manual and make plenty of orange-hued mistakes. (Is this a foreign-language-learning metaphor? It's poorly done.) These pictures are not fantastic. They're not even remotely good. And I'm posting them anyway.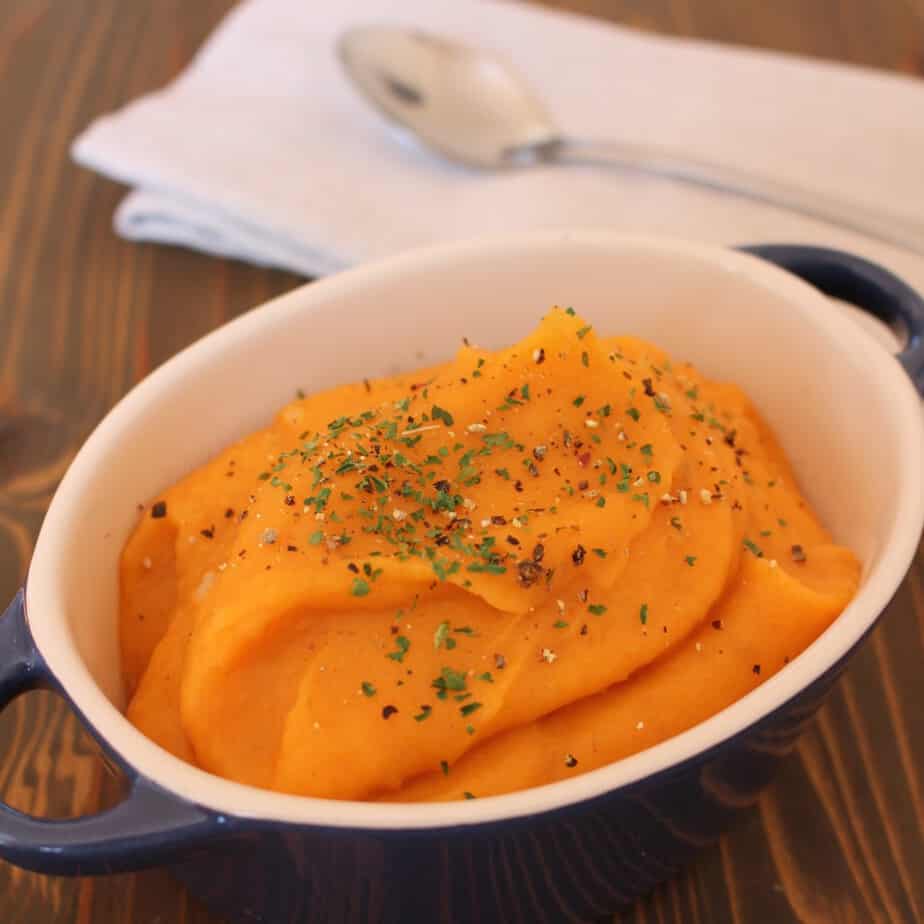 Carrot puree on the way! But, I don't love the overly sweet flavor of carrots, so why not temper them with another cheap, yet filling vegetable? Potatoes? Why not?! I love the outcome of this dish because it's filling, colorful, and just a little sweet. Carrots are carb-heavy vegetables, but they're lighter than potatoes, so it actually makes a filling, but not overwhelming side dish.
I see Thanksgiving in your future, you garlic carrot-potato puree.
Garlic Carrot-Potato Puree
Add carrots to your potato puree for added nutrition and color! It's creamy, slightly sweet and so delicious.
Ingredients
1

pound

carrots

1

pound

potatoes

4

cloves

garlic

1

teaspoon

salt

freshly ground pepper

optional: parsley

parmesan cheese, bacon
Instructions
Cut potatoes and carrots into chunks and place in a large pot. Cover with water and bring to a boil.

Simmer for 20 minutes, or until fork-tender, and drain. (You can save the water for soups and stocks!)

Blend well and add seasonings.
Nutrition
Calories:
138
kcal
Carbohydrates:
32
g
Protein:
4
g
Fat:
0.4
g
Saturated Fat:
0.1
g
Polyunsaturated Fat:
0.2
g
Monounsaturated Fat:
0.02
g
Sodium:
667
mg
Potassium:
852
mg
Fiber:
6
g
Sugar:
6
g
Vitamin A:
18947
IU
Vitamin B1:
0.2
mg
Vitamin B2:
0.1
mg
Vitamin B3:
2
mg
Vitamin B5:
1
mg
Vitamin B6:
1
mg
Vitamin C:
30
mg
Vitamin E:
1
mg
Vitamin K:
17
µg
Calcium:
57
mg
Copper:
0.2
mg
Folate:
40
µg
Iron:
1
mg
Manganese:
0.4
mg
Magnesium:
40
mg
Phosphorus:
109
mg
Selenium:
1
µg
Zinc:
1
mg
Choline:
24
mg