Recipe: $5.50
Per Serving: $1.38
Still getting lots of squash and tomatoes in the CSA box.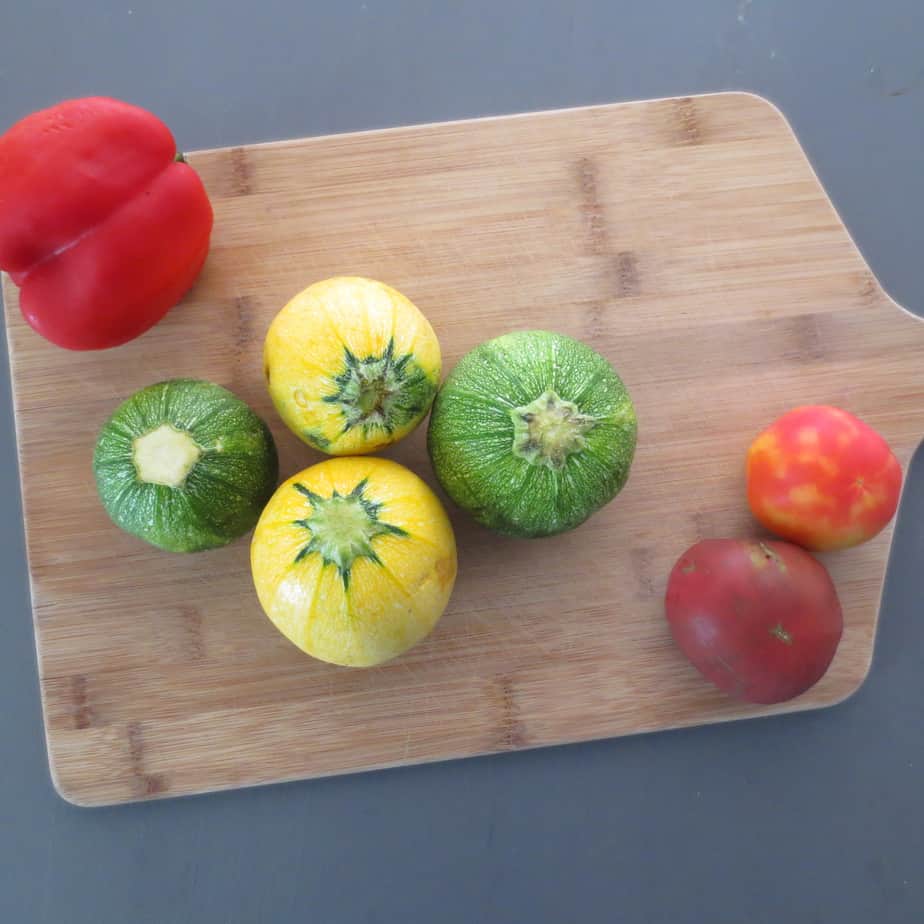 Good thing they go well together. The eggplant on the other hand...lots and lots of meatballs to be had.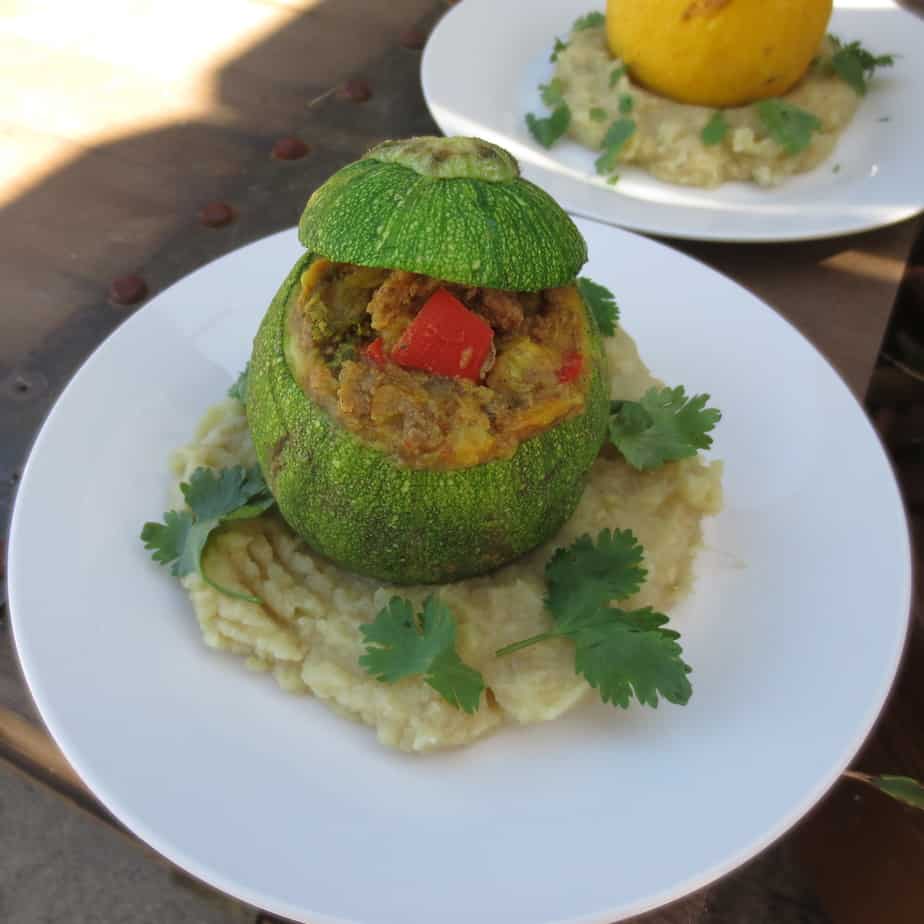 I had a lot of thoughts and different attempts when making this, but I am SO super happy with the final results. Spicy beef pairs really well with sweet potatoes. I'm not a huge sweet potato fan. I've slowly come around to the yellow sweet potatoes, which are more buttery and less sweet. And don't even get me started on the orange super-soft and weird sweet potatoes. NO THANK YOU. Especially not with cinnamon and marshmallows. That stuff was never for me.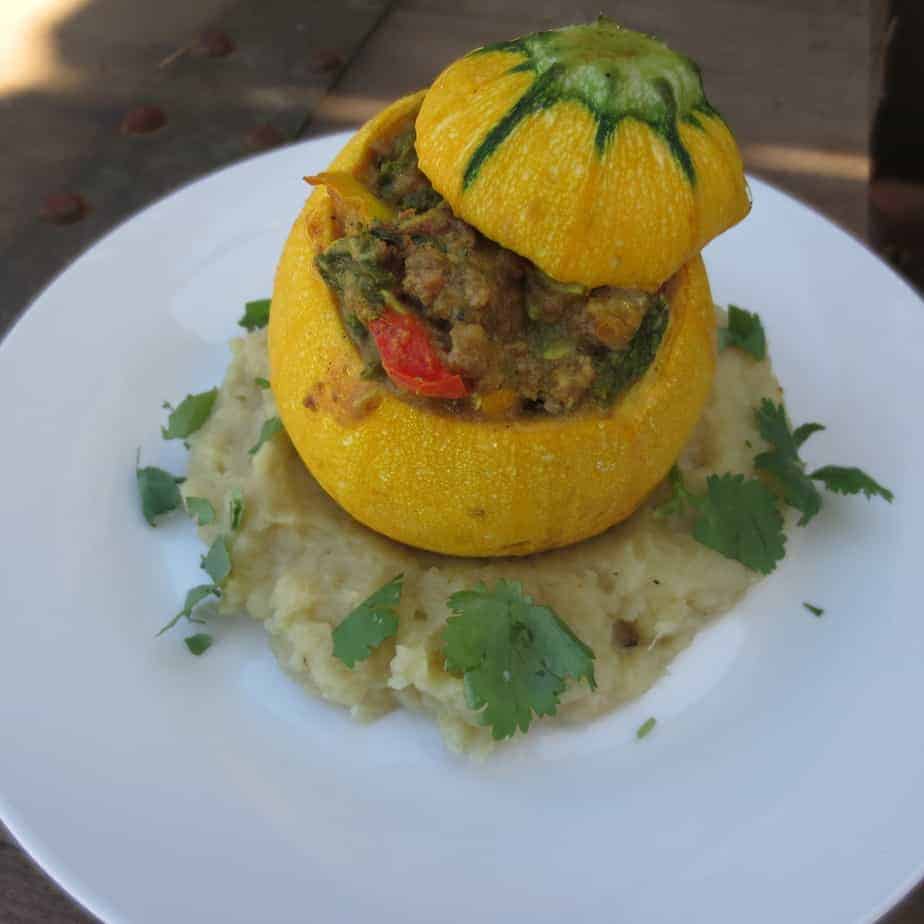 This stuff? Yep, I'll take it.
By cutting the sweet potatoes with garlic cauliflower mash, I get the perfect amount of sweet, but with an extra serving of vegetables. Just saying, it's a good idea.
This dish was really cheap for me - the only thing I had to buy was an onion and the ground beef, since everything else arrived in my CSA box. The numbers might be a bit off for your local options, but if you prepare this seasonally (and have grass-fed beef on sale near you), then it should stay relatively cheap! Also, you really don't need 1/2 a pound of ground beef - you could get by with much less.
Print

Stuffed Squash With Sweet Potato Cauliflower Mash (Paleo)
---
Author:

Total Time:

40 mins

Yield:

4

1

x
4

-

6

small-medium squash (8-ball, pattypan, etc. or

2

-

3

zucchini to make "boats")

1/2

lb ground beef (optional)

1/2

onion

1/2

bell pepper

1

tomato
recommended: 1/4 teaspoon each: turmeric, cayenne, salt, pepper
For the Sweet Potato-Cauliflower Mash

2 cups

cauliflower florets (about

1/2

medium head)

1

sweet potato, roughly chopped

6

cloves garlic
recommended: 1 Tablespoon butter, 1/2 teaspoon paprika
---
Instructions
Turn oven to 400º.
Poke holes in the sweet potato. Bake for about 20 minutes, or until soft. (OR, cook it in the microwave for 6-8 minutes, turning every 2 minutes.) At the same time, roast garlic until soft and fragrant while you prepare other ingredients. (About 15 minutes.) Boil the cauliflower florets for about 8 minutes, or until tender. Drain (reserve some of the broth) and set aside to cool.
Blend cauliflower, garlic, and a little reserved broth until smooth and creamy. Scoop out the sweet potato and add to blender. Blend until smooth.
For the Squash
Cut the top off your squash. Scoop out the insides and place empty squash in the oven for 10 minutes until soft but not fully cooked.
Meanwhile, sauté onions, bell peppers, tomatoes, and diced squash innards with added seasonings for about 5-8 minutes or until soft. Remove from pan. If making ground beef, brown in pan with leftover vegetable liquid, then mix with cooked vegetables. (If not using beef, you can add this liquid to the cauliflower-sweet potato mixture.)
Stuff squash with vegetable mixture and bake for about 15 minutes, or until squash is full cooked! Serve over sweet potato-cauliflower mash and garnish with cilantro if desired.
Prep Time:

15 mins

Cook Time:

25 mins

Category:

Entree