Recipe: $7.48 | Per Serving: $1.87 | Yield: 4
Use up your summer zucchini stash in this delicious and easy breakfast skillet. Homemade chorizo pairs with black beans and zucchini to make an easy breakfast skillet that's great for weekend brunching or to heat up for weekday breakfasts.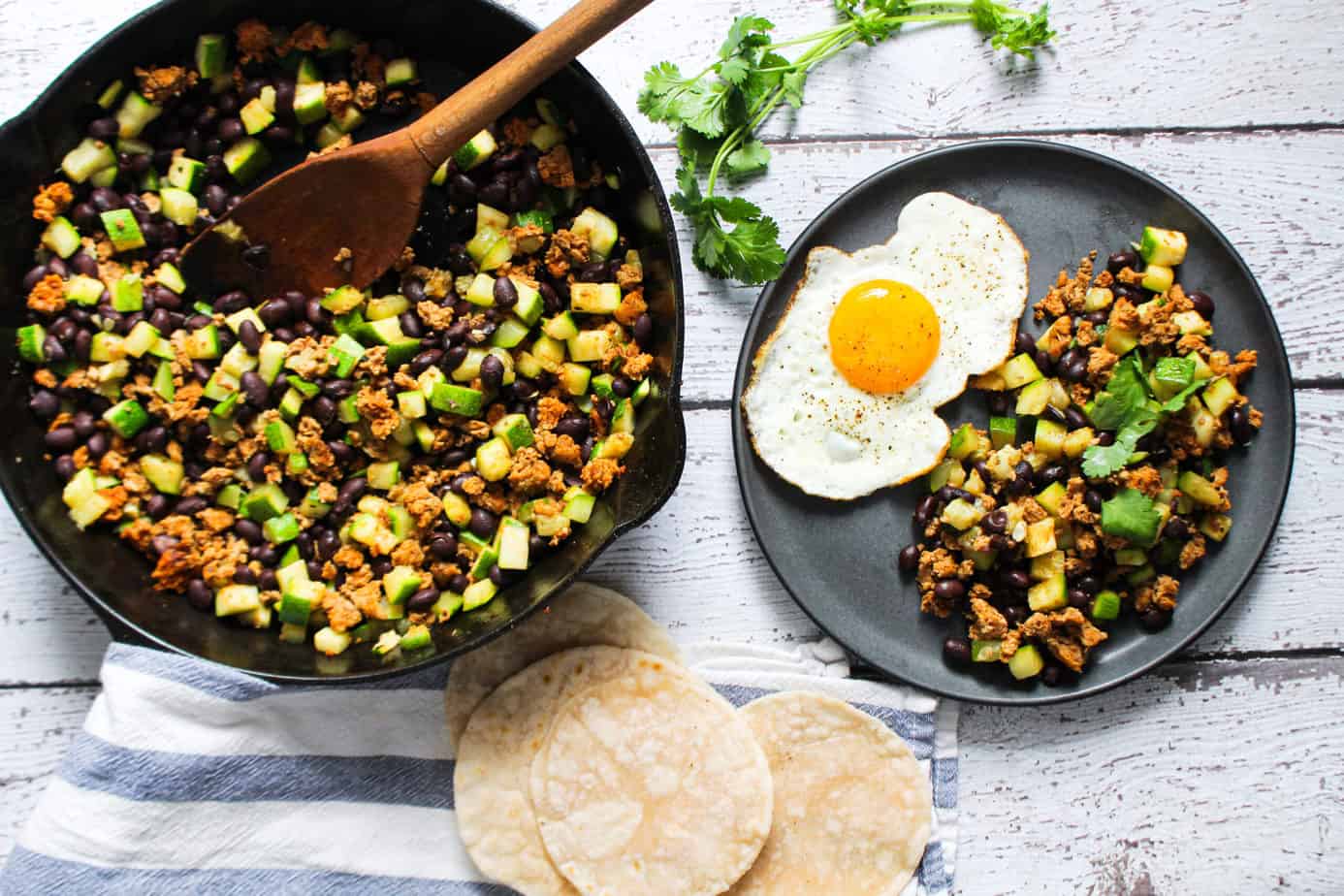 I would also like to welcome you to Zucchini Week 2021 here on Frugal Nutrition! We are at the absolute peak of zucchini season right now and I'd like to hype you up for the following zucchini recipes this week!
Zucchini Recipes:
Zucchini, Chorizo, and Black Bean Breakfast Skillet
Low Sugar Zucchini Bread
Savory Summer Zucchini Galette (Paleo)
My friends and Instagram followers know that we eat sizeable breakfasts here in the FN household.
I used to have NO appetite for breakfast. In a previous life, I'd have a small mug of grocery store granola and yogurt in the car on my way to work and call that enough. So I totally get it if a large breakfast is not your style.
But, folks, for me and most adults...that is definitely NOT enough. We have adopted some eating habits here in the US that are not quite in line with health and nutrition recommendations. Things like consuming a day's worth of sugar with only a toddler-sized portion of calories for breakfast and calling that a meal. I'm so glad I learned to eat a meal-sized breakfast and firmly believe in being well fed.
I'm lucky in that Zac took over breakfast duties at some point a few years ago. My schedule has always been more demanding than his (ie he is much better at saying no than I am), and he is much more of a morning person than I am, so we have something with vegetables and eggs for breakfast every weekday. But occasionally, I will make something like this skillet breakfast ahead to make the warm-up process easier and we'll get a fresh egg day-of.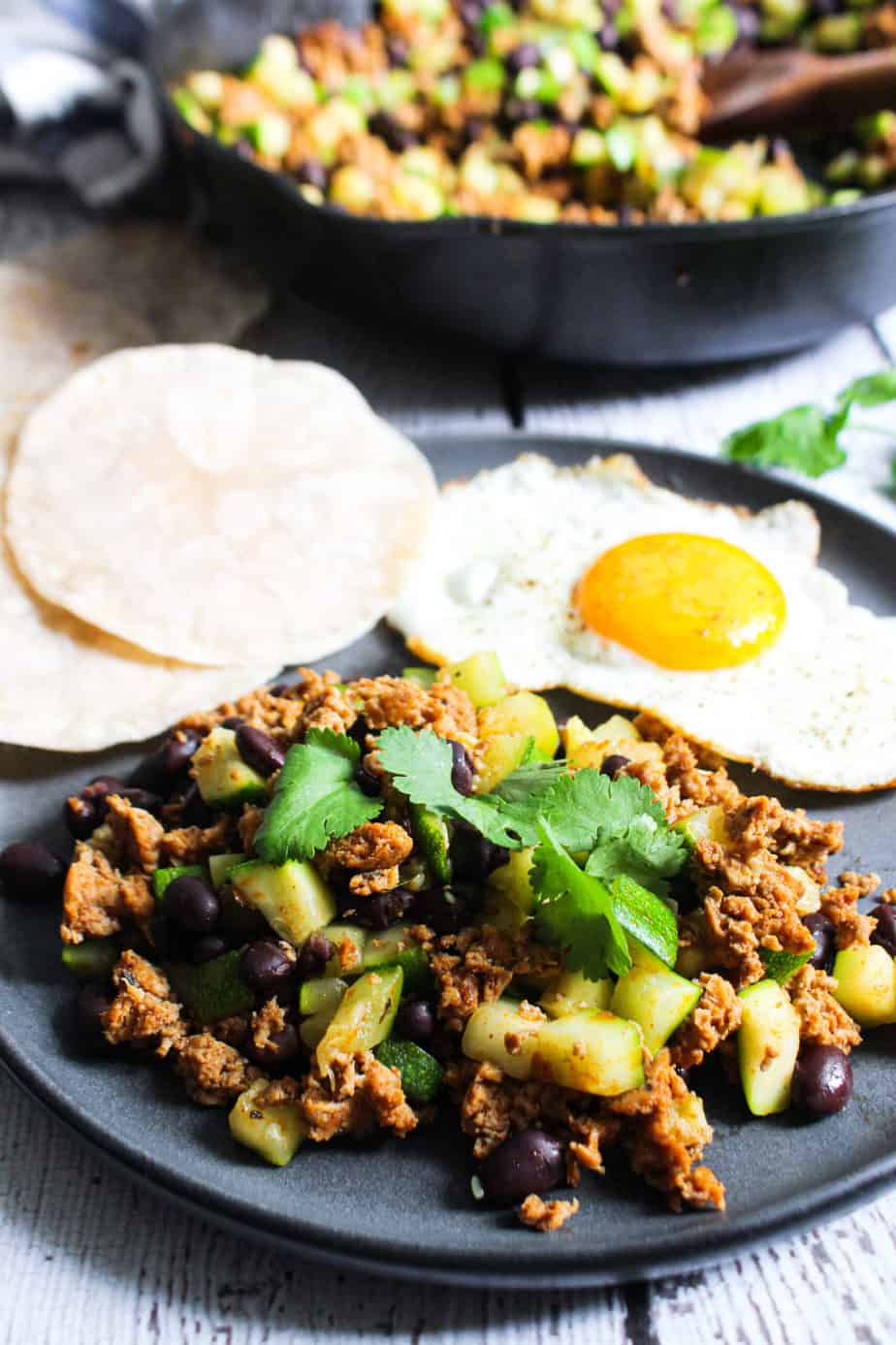 This easy breakfast recipe is also a great make-ahead option for those of us who don't have time to make a hot breakfast from scratch every day. If you're not into large breakfasts right now, you can simply warm up smaller amounts at a time and spread this dish throughout the week or freeze the leftovers.
PIN THIS RECIPE FOR LATER! ⬇️
Paleo: Skip the beans to make it Paleo.
Vegetarian: Replace the pork with tofu or crumbled tempeh, or just double the eggs and season everything with the chorizo seasoning.
Low FODMAP: Just skip the garlic in the chorizo seasoning and consider halving the amount of beans in the recipe.
Zucchini, Chorizo, and Black Bean Breakfast Skillet
Make this easy breakfast skillet while you're overflowing with zucchini! This homemade chorizo is the perfect flavor vehicle for black beans and zucchini.
Ingredients
8

ounces

ground pork

½ pound

2

Tablespoons

chorizo seasoning

1

medium-large zucchini

¼

teaspoon

salt

or to taste

oil/butter if needed to cook zucchini

1

can

black beans

about 1.5 cups cooked

4

eggs

and butter/oil as needed to cook them + salt/pepper to taste

For serving: salsa

avocado, tortillas, cilantro, hot sauce, etc.
Instructions
Place the ground pork in a large bowl and add the chorizo seasoning. Mix with your hands until mostly uniform. Set aside.

Alternatively, you can avoid touching the meat and just season the pork in the pan.

Cut the zucchini into cube-like pieces, as pictured above. Set aside.

Heat a skillet over medium-high heat. When a splash of water dances on the surface, add the chorizo. Cook chorizo until fully browned and cooked through, breaking it up into smaller pieces. Remove chorizo to a bowl.

Keep about 1 Tablespoon of fat from thee pork in the skillet, or if it is lean pork, add some oil to the empty pan. Add the zucchini to the skillet with a pinch of salt. Sauté for about 5 minutes, until the zucchini turns a bright green, stirring well.

Add the can of beans and return the chorizo to the pan. Reduce heat to low-medium and cook another 3-5 minutes until the zucchini is done to your preference and the flavors have had a chance to get to know each other.

Meanwhile, in another skillet or pot, cook the 4 eggs to your desired preference. I like a sunny-side up egg or a poached egg best, but scrambled eggs work very well with this dish.
Nutrition
Calories:
322
kcal
Carbohydrates:
22
g
Protein:
22
g
Fat:
17
g
Saturated Fat:
6
g
Polyunsaturated Fat:
2
g
Monounsaturated Fat:
7
g
Trans Fat:
0.02
g
Cholesterol:
205
mg
Sodium:
246
mg
Potassium:
666
mg
Fiber:
9
g
Sugar:
2
g
Vitamin A:
469
IU
Vitamin B1:
1
mg
Vitamin B2:
0.5
mg
Vitamin B3:
3
mg
Vitamin B5:
1
mg
Vitamin B6:
0.5
mg
Vitamin B12:
1
µg
Vitamin C:
9
mg
Vitamin D:
1
µg
Vitamin E:
2
mg
Vitamin K:
48
µg
Calcium:
175
mg
Copper:
0.3
mg
Folate:
146
µg
Iron:
5
mg
Manganese:
1
mg
Magnesium:
89
mg
Phosphorus:
303
mg
Selenium:
29
µg
Zinc:
3
mg
Choline:
136
mg