Recipe: $4.76 | Per Serving: $1.19 | Yield: 4
It's March and it's Daylight Savings Time, and I don't care what the weather says, I'm ready for Warm Weather Things, like avocados, and quinoa salads, and these deliciously flavorful Thai Curry Chicken Salad Lettuce Wraps - mayo-free!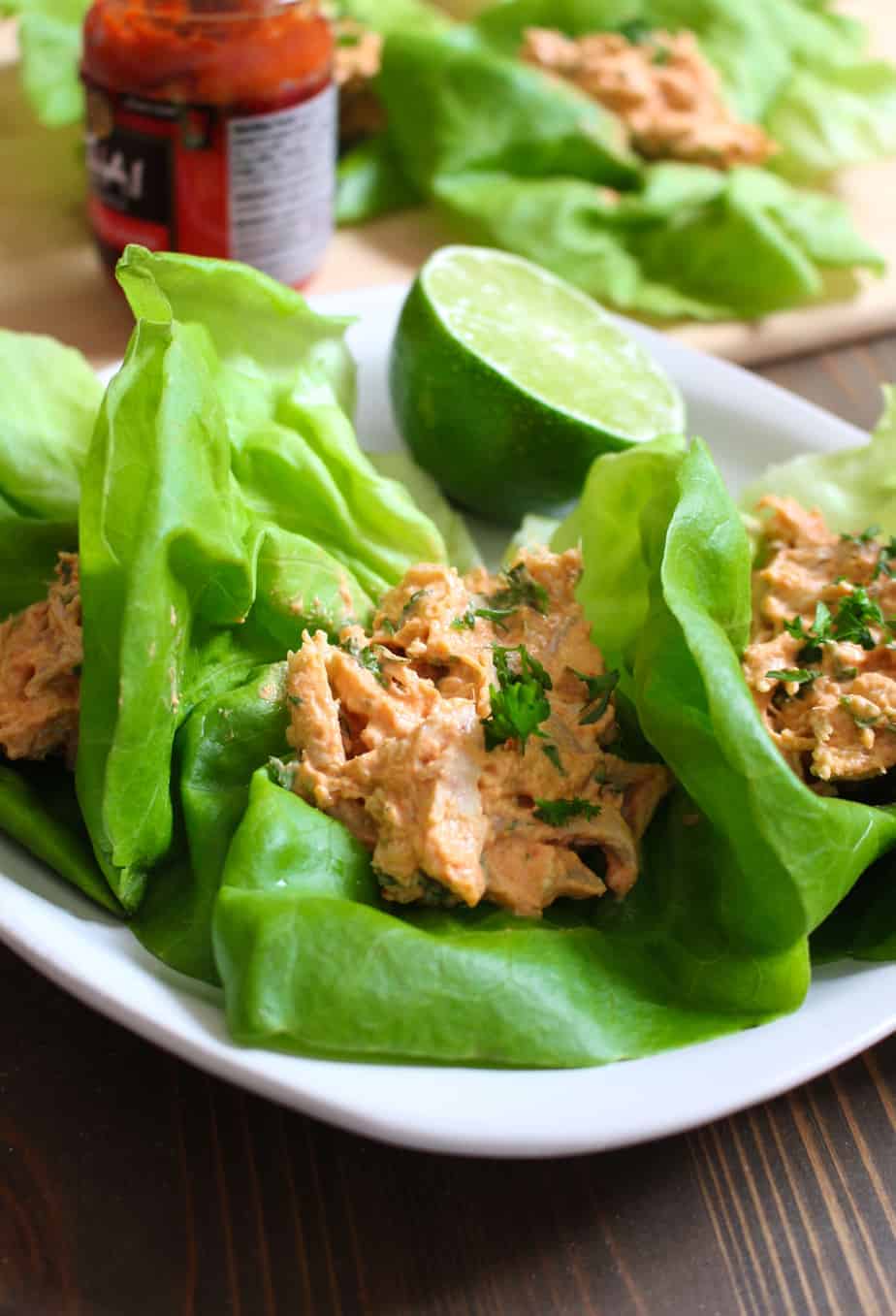 This dish is a little spicy and really flavorful and creamy and easy. Shredded chicken + Thai Red Curry Paste + Yogurt + Lime Juice + Lettuce Cups. You could certainly serve them with a side of brown rice, or wrap the whole thing up in rice paper or tortillas, and you'd get a little more staying power in the same delicious format. However, summer is coming, and lighter fare is the name of the game.
I use Greek yogurt here because I don't like buying a bunch of different things, so Greek yogurt stands in place of both sour cream and mayonnaise in my house most of the time. You could use mayo if you'd prefer, but I'd probably start with half the amount since mayonnaise is so super rich. (Also it's kind of like a little tiny bit gross if you even have one teaspoon too much mayo and so I generally just avoid it.) AND I made a double batch of this sauce this time around and froze half of it to see if it would hold up for future use. I have preeeetty high hopes.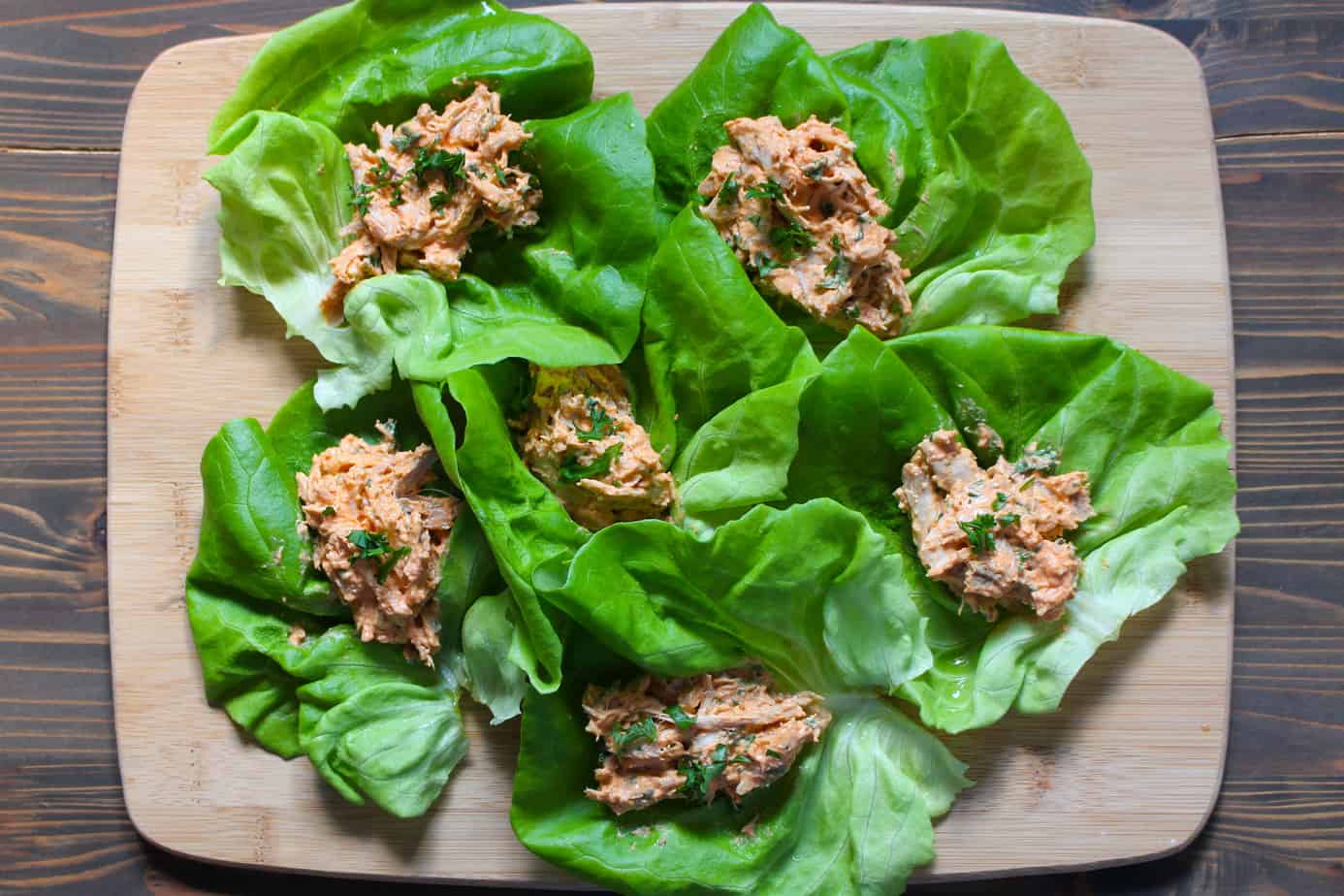 This recipe made 4 servings of food that didn't require any additional cooking time (because hello we don't have a microwave), which was super great since last week I had a final project due in one class and a midterm in another class so stress levels were high and patience levels were low.
My grad program uses a 14-week trimester system, but occasionally there are some courses that are only 7 weeks or 10 weeks or 2 weeks. This time around I'm taking 5 courses (too many for grad school), which all overlapped for a 2-week period. It. Was. Crazy. However, we are now in WEEK 11 of my second trimester, and I'm down to just two full-trimester courses. That's it! It's incredible because by Sunday afternoon, I only had two assignments left for the whole week! Very exciting. You'd think I'd be more productive with that remaining time, but instead I spent a lot (lot lot lot) of time on Facebook on Sunday, and also watched Parks & Rec on my computer in bed at 8pm one night.
Is it weird that when I have *free-ish* time, I don't necessarily want to leave my house/my couch/Netflix? Should I have more desire to be in The Public? Can you go braless in sweats out there?
Anyway - cheers to just a few more weeks in this trimester, and a 2-week break in my future! Thai Lettuce Wraps all around!
Vegetarian: You could try partially smashed chickpeas in place of the chicken.
Paleo: I'd swap out the Greek yogurt for homemade mayonnaise.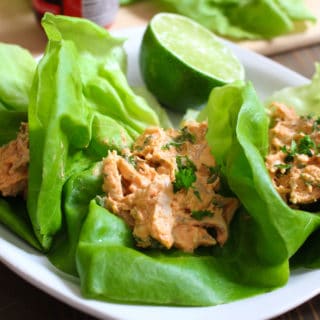 Thai Curry Chicken Salad Lettuce Wraps
A quick and easy spicy chicken salad flavored with Thai red curry paste served up in lettuce cups for a great low carb lunch.
Ingredients
½

cup

full-fat plain Greek yogurt

1

Tablespoon

red curry paste

1

Tablespoon

lime or lemon juice

¼

teaspoon

cayenne

if you like it spicy!

2

cups

shredded chicken

¼

cup

chopped cilantro

lettuce cups

butter lettuce is what I use, but you can use romaine leaves as well, see notes

tortillas, rice, red onion, crackers, sandwich buns

optional
Instructions
Wash the lettuce wraps/cups. Set aside to drain.

Combine the yogurt, Thai curry paste, and lemon or lime juice in a large bowl. Taste and add cayenne if you want it spicier. Add the shredded chicken and cilantro and stir to combine.

Dry the lettuce cups and fill each with a scoop of the mixture, maybe about 3ish Tablespoons per lettuce wrap (if using butter lettuce cups). Sprinkle with a little more cilantro and serve! This should make about 9-12 lettuce cups, depending on the size, and should feed 2-4 people, depending on hunger levels and if you serve them with anything else.
Notes
If you want to use romaine leaves, you can slice a few millimeters off the back part of the stem to make it more pliable.
Nutrition
Calories:
138
kcal
Carbohydrates:
2
g
Protein:
20
g
Fat:
5
g
Saturated Fat:
1
g
Polyunsaturated Fat:
1
g
Monounsaturated Fat:
2
g
Trans Fat:
0.003
g
Cholesterol:
54
mg
Sodium:
62
mg
Potassium:
208
mg
Fiber:
0.2
g
Sugar:
1
g
Vitamin A:
742
IU
Vitamin B1:
0.05
mg
Vitamin B2:
0.2
mg
Vitamin B3:
6
mg
Vitamin B5:
1
mg
Vitamin B6:
0.3
mg
Vitamin B12:
0.4
µg
Vitamin C:
2
mg
Vitamin E:
0.1
mg
Vitamin K:
3
µg
Calcium:
43
mg
Copper:
0.05
mg
Folate:
6
µg
Iron:
1
mg
Manganese:
0.02
mg
Magnesium:
18
mg
Phosphorus:
170
mg
Selenium:
20
µg
Zinc:
1
mg
Choline:
4
mg