Recipe: $13.16 | Per Serving: $1.65 | Yield: 8
Sometimes you like to cook with 5,000 different vegetables and build flavors and put something fancy on your table. Sometimes. Other times you want 6 ingredients that can hang out together in the oven and are basically guaranteed to come out delicious. This is one of those simple 6-ingredients times: beef, salsa, tortillas, spinach, cheese, and black beans.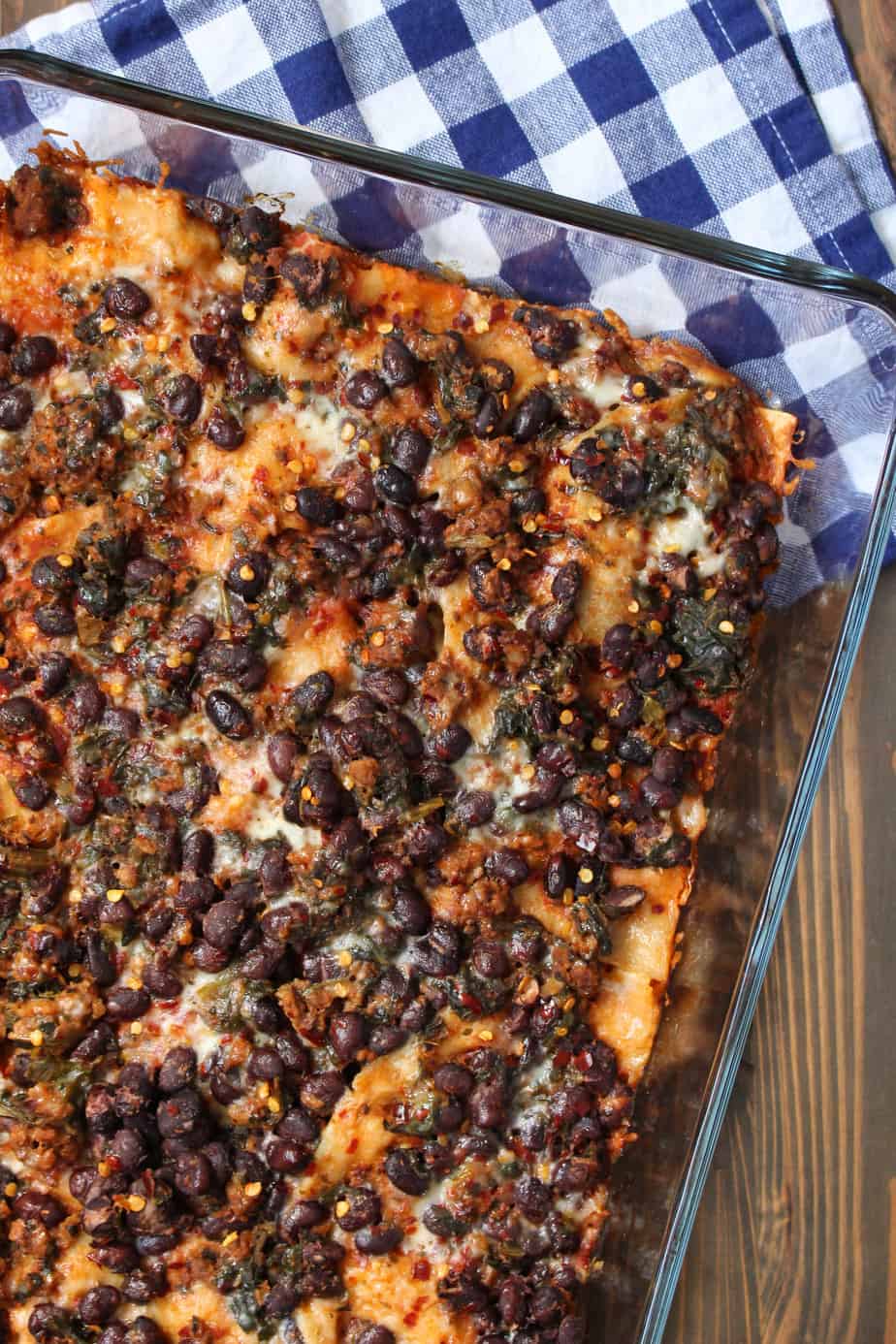 I had a lot of struggles in trying to name this recipe. I'd always called it Mexican Casserole. But my friend called it Mexican Lasagna, and then I started thinking that with all the layers, it was certainly more like a lasagna type of casserole, so that was more fitting. And most times I make this it's because we have leftover taco ingredients we need to put to good use, so Taco is more fitting than Mexican. Because most Mexicans would be like NO, that is not the flavor profile of this food. Taco Lasagna Casserole! It only took me 2 weeks and 10 years to come up with the name.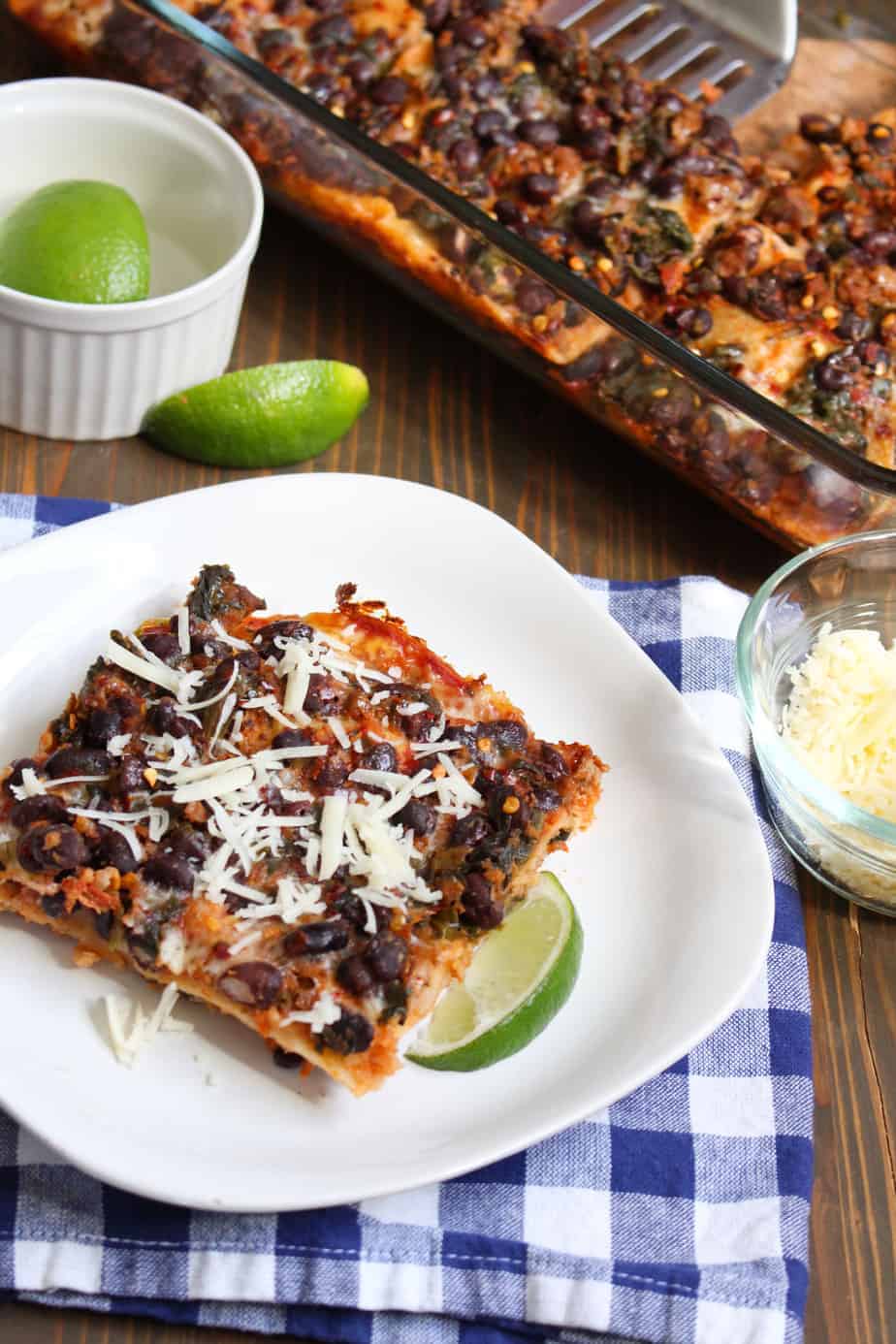 I just jumped over to our pal Google real quick, and "Taco Lasagna" yields 515,000 results, while "Mexican Lasagna" yields 3,330,000 results. Both searches include recipes using NOODLES as one of the first or second results. BRB for two weeks while I contemplate putting "tortilla" in the title somewhere to avoid confusion. Tortilla Taco Lasagna. Guh.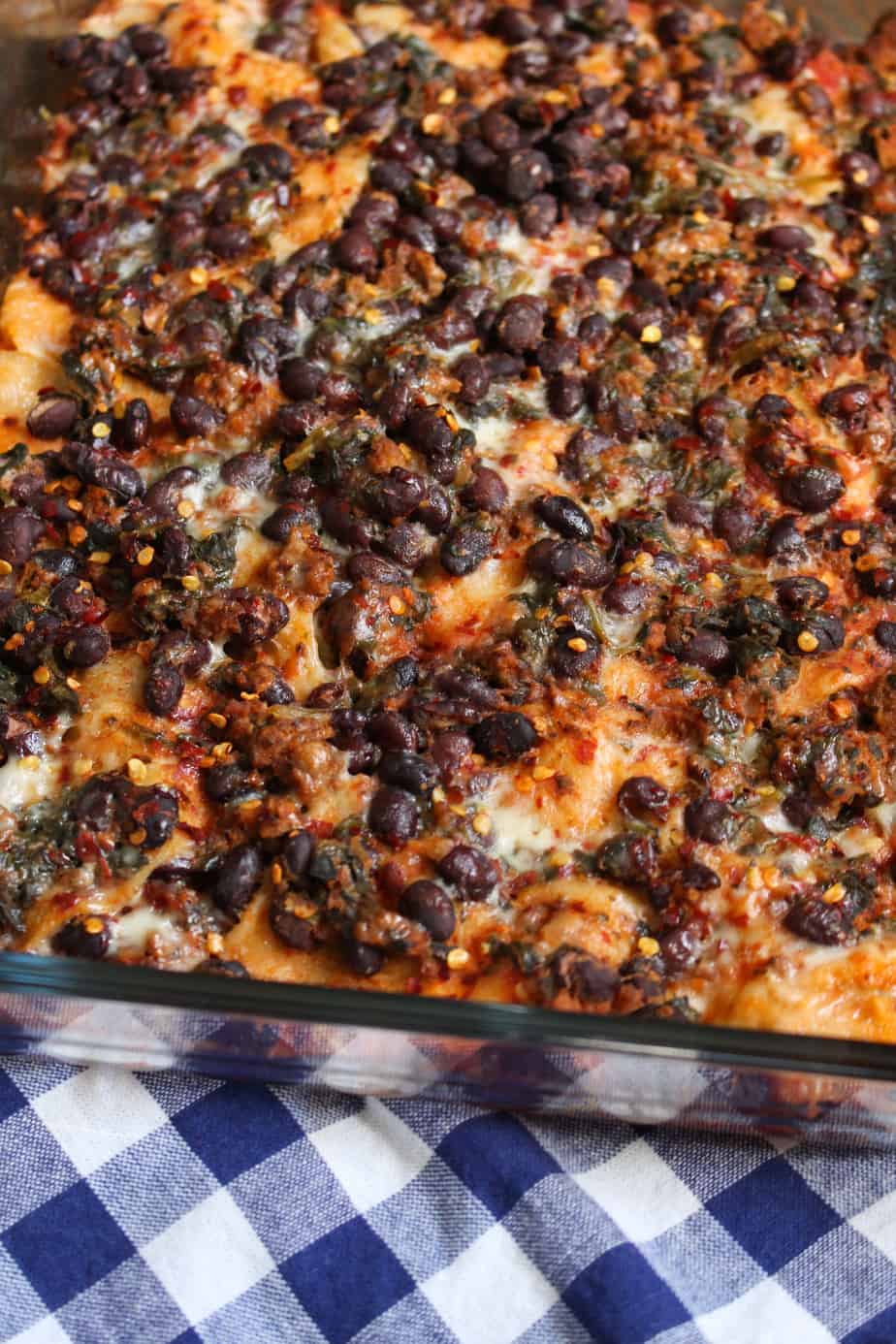 I am responsible for the menu for our 1, 2, 3, and 4-year old kiddos at school, so each month I am tasked with finding 40 breakfast and lunch recipes that 30 different kids won't throw on the floor. The first time I tried tacos with beef and black beans, the beans were a big problem. This just in: beans are not very popular with small children.
I was determined to have some sort of taco-food on our menu because it's so easy to hide vegetables in tacos, and because they love cheese. Finally, after about 4 different attempts, we introduced the Taco Quesadilla with beef, salsa, cheese, spinach, and some diced tomatoes. A success! This recipe is basically that, just in casserole form, because after making 30 quesadillas, a casserole sounds really nice.
So the point here is that I was shocked how good this tasted with just a few simple ingredients. We're not building layers of flavor with slow-cooked shredded beef, no sautéed or roasted vegetables, no fancy sauces or cremas or even avocado! Brown ground beef. Add salsa and frozen spinach. Load with cheese. Eat with tortillas. We don't have time at school for any complicated extra steps, and I thought, guess what, I don't usually have time on most nights for that either - Taco Casserole, please!
And this dish can be yours for less than $15! Hit up TJ's for the best deal on most of these items. I recommend soaking black beans from scratch, but you can always snag two cans of beans for $0.89 each at TJ's as well. Step-by-step layering pictures coming at ya now. :)
Start with just a touch of salsa:
Then add the tortillas, breaking as needed to fit properly: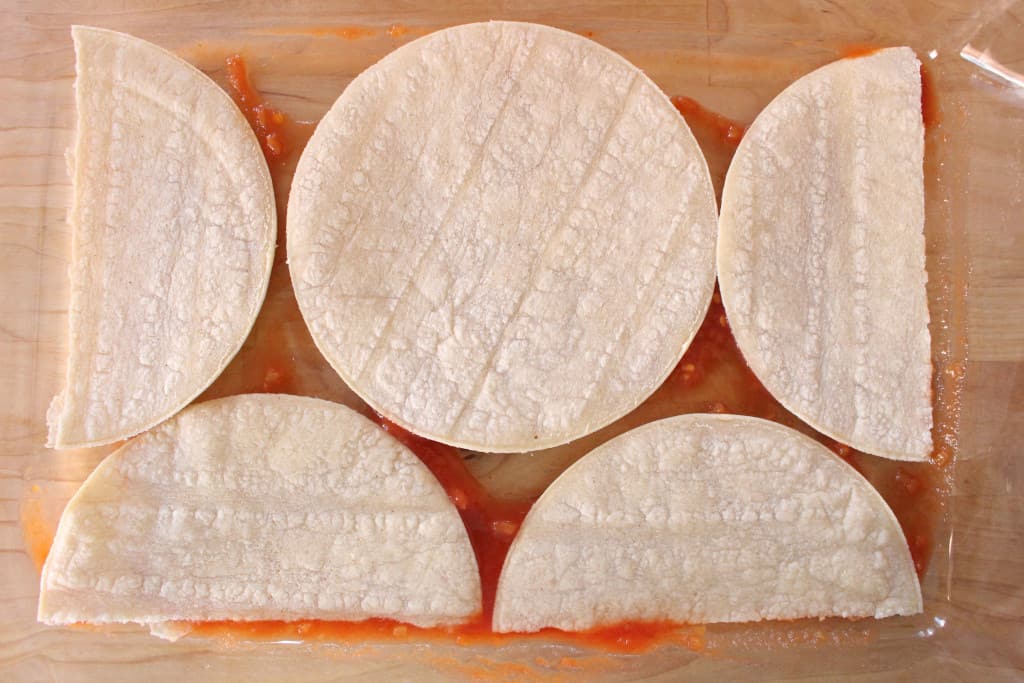 And about ¼th of the meat-bean-spinach mixture:
And about ¼th of the cheese: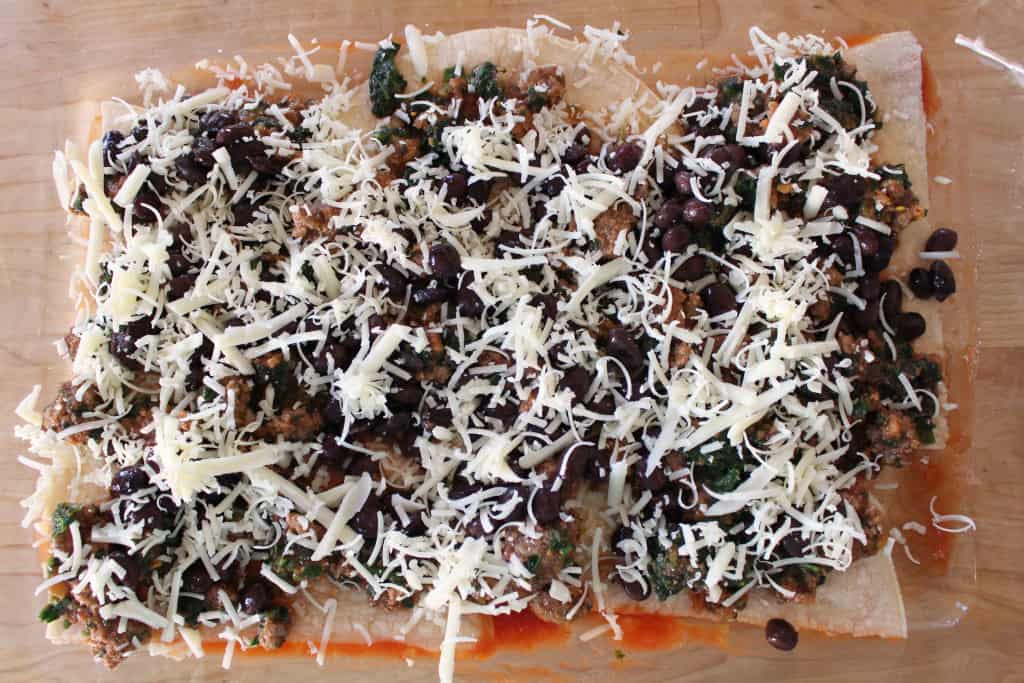 Repeat until you've used up all your ingredients (which should be 4 layers). I like to save a little extra cheese for the top, and then bake uncovered for 20 minutes, and that's it!
Vegetarian: Skip the beef and increase the beans.
Paleo: Not really, but if you're okay with gluten-free corn tortillas, you can just skip the beans and cheese.
Note about the photos: When I took pictures, I actually had made half a portion of this, so I only did two layers of each ingredient, which resulted in 4 servings of much shorter lasagna stacks. I recommend making the full 8 servings because it's so delicious (and easy) and actually freezes well!
Easy 6-Ingredient Taco Lasagna Casserole
This taco lasagna casserole makes an easy weeknight dinner that everyone will love.
Ingredients
1

pound

ground beef

grass-fed preferred

4

cups

frozen chopped spinach

3

cups

cooked black beans

3

cups

salsa

12

corn tortillas

organic if you want

2 ½

cups

shredded cheese

salt

pepper, red pepper flakes to taste

optional: lime wedges
Instructions
Preheat oven to 350F.

Brown the ground beef in a large pan. Season with salt, pepper, and red pepper flakes to taste.

Add frozen spinach and diced tomatoes to pan and cook just until the spinach is incorporated, about 1-2 minutes.

Combine the beef and vegetable mixture with the black beans and 1 cup of the salsa (reserve ¼-1/2 cup salsa), season to taste with more salt, pepper, and red pepper flakes if desired.

Coat the bottom of a 9 x 13-inch casserole dish with a little salsa, then start layering: corn tortillas, a little salsa, beef/bean/vegetable mixture, cheese. You should get 4 layers.

Top the final layer with cheese. Bake, uncovered, for 20 minutes on 350F.
Notes
I've also replaced half of the salsa with 1.5 cups of canned diced tomatoes. It works in a pinch, or if you want to reduce the sodium.
I recommend a basic salsa here - I use Trader Joe's red Salsa Autentica for $1.79.
Cheese recommendations: cheddar, queso fresco, monterey jack, pepperjack, or some combination of those! (My fave is sharp white cheddar combined with queso fresco.)
Nutrition
Calories:
470
kcal
Carbohydrates:
43
g
Protein:
30
g
Fat:
21
g
Saturated Fat:
9
g
Polyunsaturated Fat:
1
g
Monounsaturated Fat:
8
g
Trans Fat:
1
g
Cholesterol:
68
mg
Sodium:
973
mg
Potassium:
1003
mg
Fiber:
12
g
Sugar:
5
g
Vitamin A:
9856
IU
Vitamin B1:
0.3
mg
Vitamin B2:
0.5
mg
Vitamin B3:
5
mg
Vitamin B5:
1
mg
Vitamin B6:
1
mg
Vitamin B12:
2
µg
Vitamin C:
6
mg
Vitamin D:
0.2
µg
Vitamin E:
4
mg
Vitamin K:
296
µg
Calcium:
364
mg
Copper:
0.4
mg
Folate:
221
µg
Iron:
5
mg
Manganese:
1
mg
Magnesium:
163
mg
Phosphorus:
496
mg
Selenium:
23
µg
Zinc:
5
mg
Choline:
72
mg