Recipe: $6.37 | Per Serving: $1.59 | Yield: 4
This recipe for Sausage & Kale Spaghetti Squash Bowls is so super simple! Roast spaghetti squash. Brown ground beef with Italian Sausage Seasoning. Sauté kale. Combine. Top with Parmesan. And that's basically your recipe right there.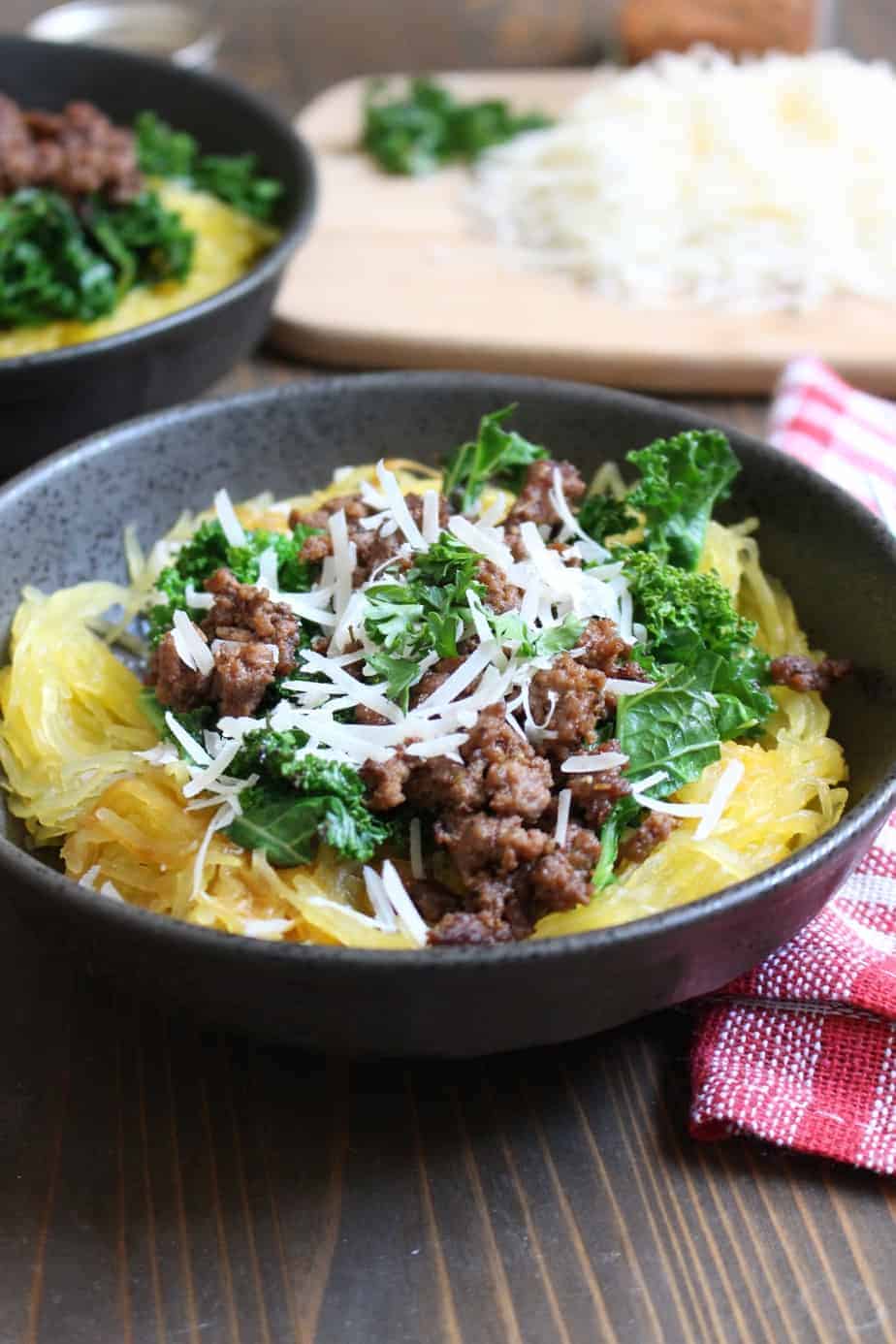 So this week we had a snowy/icy stay-home-day in Baltimore. In the middle of March. It was certainly strange to go from 70 and sunny a couple of weeks ago to snow and icy and 20-degree temperatures. The weather is wild. We did get a snow day off, which was much appreciated. However, I think I'd take San Diego's weather without snow days over Baltimore's weather with occasional snow days. Especially since my running group was cancelled Tuesday night and the city was covered in ice on Wednesday morning, so doing my marathon thing is much more challenging / uncomfortable / cold / miserable when following east coast weather patterns.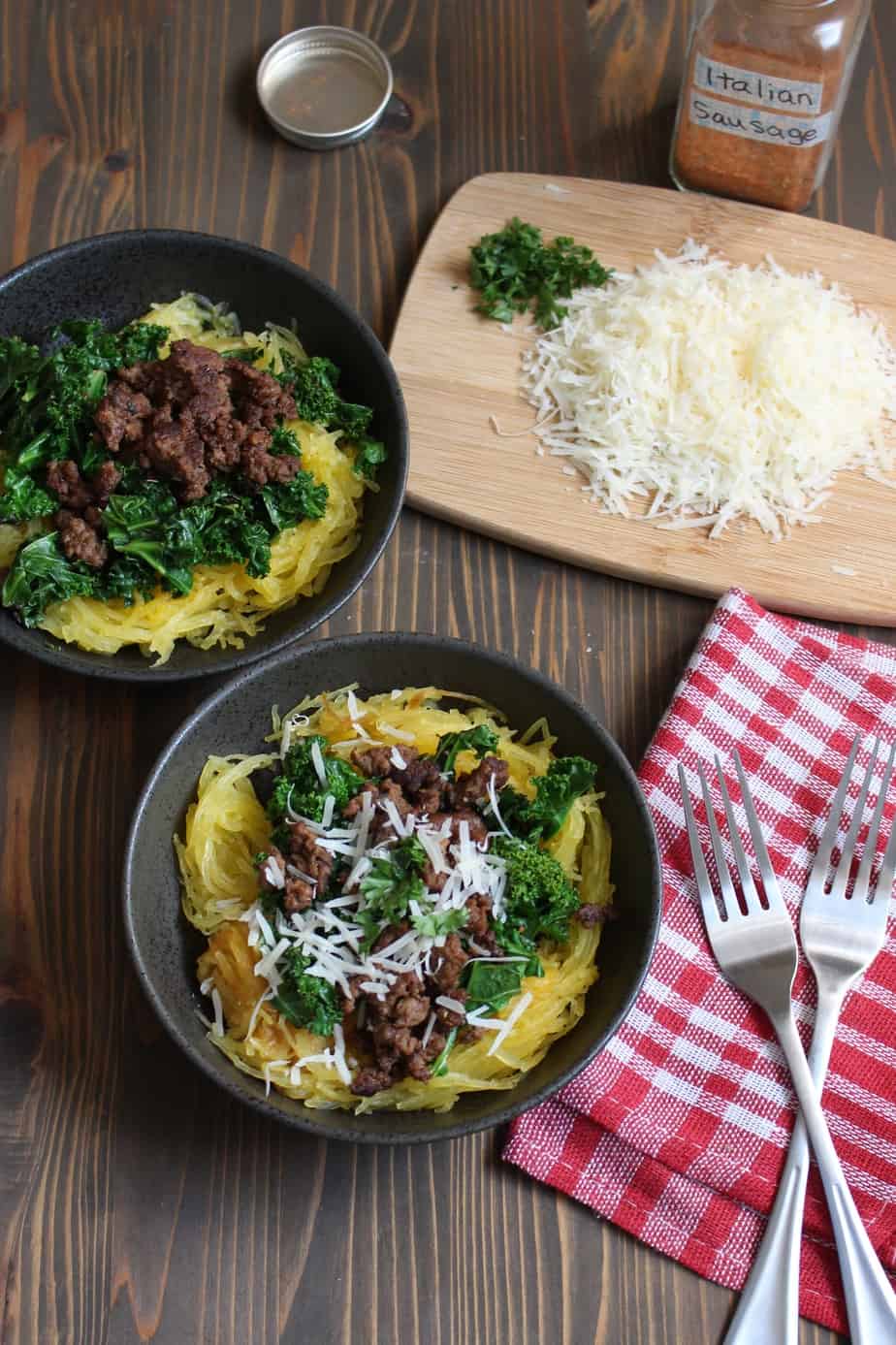 Anyway, back to the food! I don't always love love squash in generally because it's very sweet and kind of squishy, and I'm not a huge fan of just eating something because it's healthier; however, when paired properly, I do really love spaghetti squash. Squash just needs a little salty-spicy love and it's good to go.
Things it pairs well with:
salty salt
hot hot spice
tomatoes
sausage
bitter greens
spicy chili
As evidenced by this creamy sausage spaghetti squash, and this spaghetti squash margherita, and vegetarian chili with spaghetti squash. And now, today's Sausage & Kale Spaghetti Squash Bowls are even simpler and easier with a short list of ingredients and pretty minimal hands-on time. Sure, it takes 35-45 minutes to roast the squash, but that's the only time-consuming step, and you can definitely do that ahead of time.
I recommend using homemade Italian Sausage Seasoning and half a pound of ground beef (or pork) for this because it's so delicious, but you could use whatever sausage you prefer. I don't usually buy sausage because I think cured meats should be eaten only in moderation, but this shortcut gets you the same delicious fennely/salty/herby combination.
Paleo: Yes! Skip the Parmesan cheese.
Vegetarian: Hmm, if you skip the meat and replace it with crumbled tempeh with the sausage seasoning it would probably still work.
Print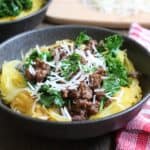 Sausage & Kale Spaghetti Squash Bowls
---
Author:

Total Time:

46 mins

Yield:

4

1

x
1

spaghetti squash (about

3

pounds)

1/2

pound grass-fed ground beef

1/2 Tablespoon

Italian sausage seasoning

4 cups

washed, drained, and roughly chopped kale
salt and pepper to taste
optional olive oil
optional: Parmesan and parsley for topping
---
Instructions
Cut the spaghetti squash in half, but cut it in half short-ways rather than long-ways. Drizzle with a little olive oil, salt, and pepper (if desired), and place cut-side down on a large baking sheet. Bake on 375ºF for about 30-40 minutes, or until tender. Turn over and let cool, then gently scrape out the inner strands.
Meanwhile, warm a skillet over medium-high heat. Brown the beef on all sides and add the sausage seasoning. If there's no salt in your sausage seasoning, I recommend adding about 1/2 teaspoon.
Stir in the kale and sauté just until wilted.
When spaghetti squash is ready, combine strands with the beef and kale and top with (optional) Parmesan and parsley. Enjoy!
Prep Time:

1 min

Cook Time:

45 mins