It shames me to admit this, but I never ate chili until I moved to Peru. My dad ate canned chili a lot, and it always smelled like B-O, so I was not interested. My mom doesn't like spicy foods (or B-O), so that was that.
As an adult, I tried it a few times and still wasn't impressed, probably because I don't like bacon, and I'm not a huge fan of regular sausage or ground beef. One day in uber frugalness down in Peru I figured it was time to give chili a shot myself. I'd been experimenting with beans from dry for a while so chili was the next logical step in the frugal kitchen.
This is the child that came from that decision.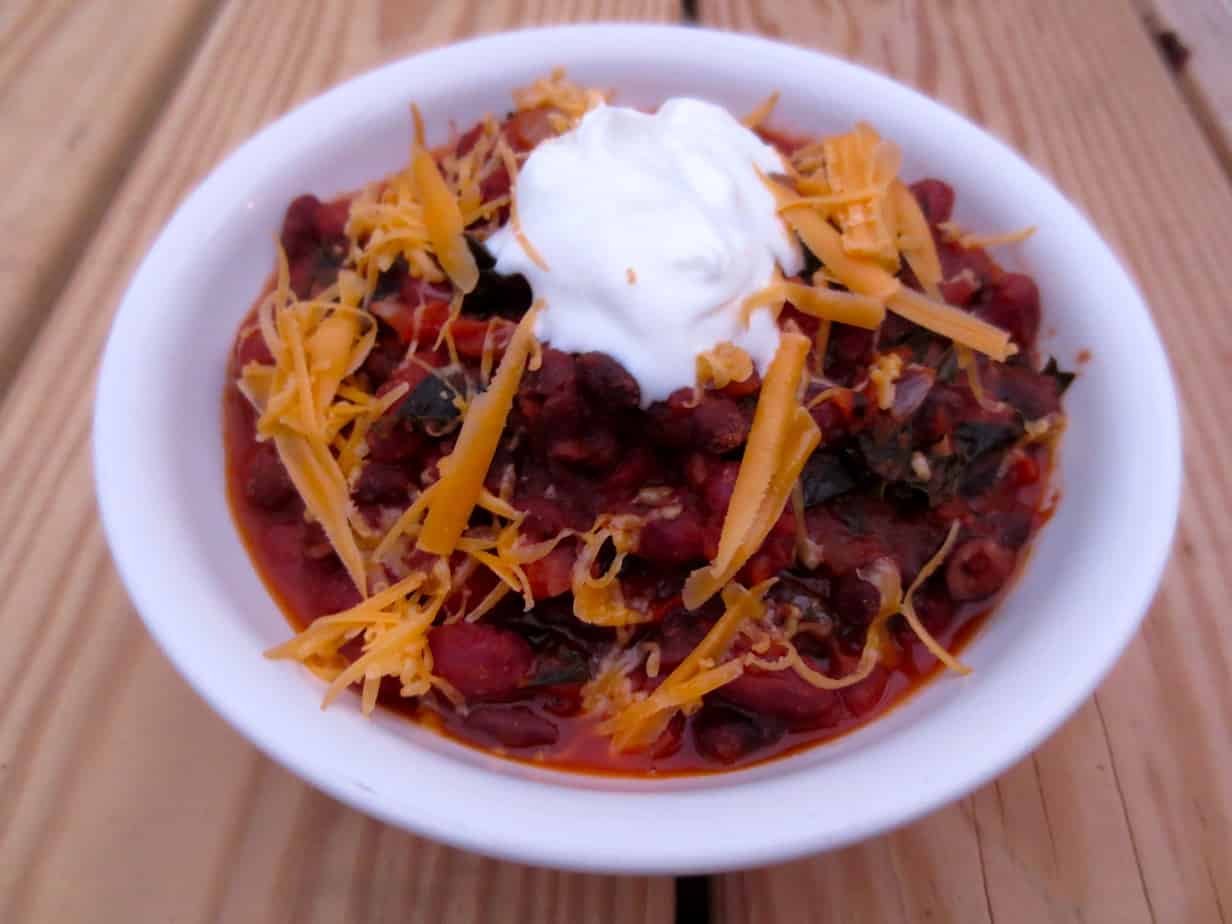 And I am thankful for that.
I know I'm strange, but my favorite part of this dish is the kale. It soaks up all the salty spicy flavors and somehow stands out. I use one bunch, or about 4 ish cups chopped? This much: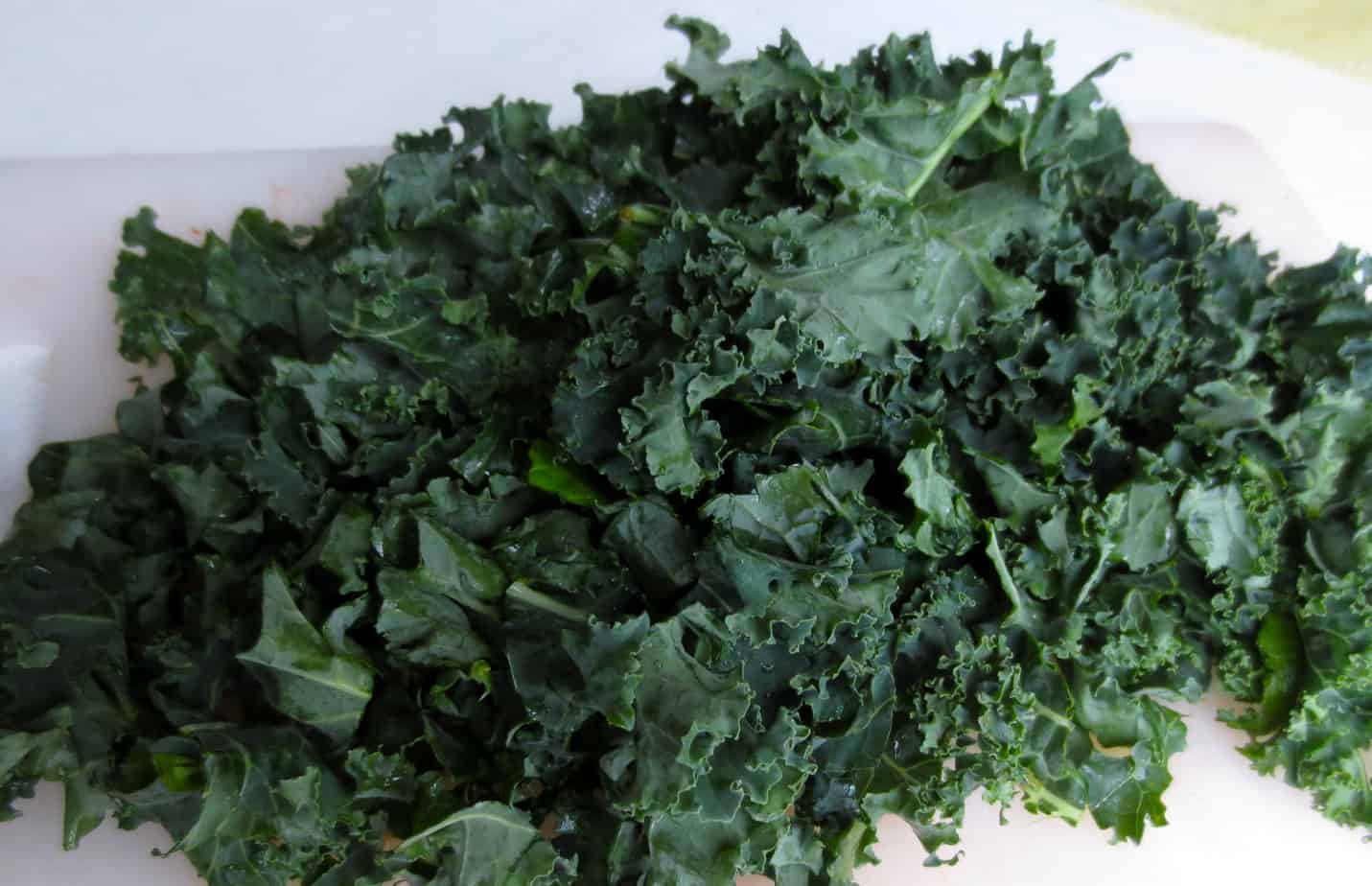 I also love mixing in full-fat plain greek yogurt when I serve, and I don't miss the meat at all. I made this for my dad though and he wanted me to top his with bacon. Or sausage. Ugh.
It's SO easy. You can even skip chopping all the tomatoes and just use tomato puree or paste. You'll see a few tomato options in the ingredients list, but here are the four different ways I've made this chili. They all taste about the same, but price and convenience will vary.
4 tomatoes and 3 cups tomato puree (sauce)
8-10 tomatoes and 1 extra cup of water
3 tbsp tomato paste and 2 extra cups of water
3 cups of jarred tomatoes.
You don't see any actual canned tomatoes on that list because I am a believer in cutting back on chemicals, no matter how slight they may be, and tomato acid + cans is a recipe for lots of BPA in your body. So, please, please use tomato products packaged in Tetra Paks or glass jars. Thanks!
Chili is supposed to be a heavy comfort food, but there isn't one ingredient in here that I feel bad about eating. Beans, vegetables, tomato-y things, and spices. And it's awesome. Chili is so easy! This one doesn't even smell like B.O.!
When it was time to reheat for dinner, I decided to just bake the squash and chili and cheese together in the oven, and that was amazing. So much better than reheating on the stove or microwave, with perfectly melted cheese, and it didn't dry out at all. If you're worried about that, you can always cover it when you heat it. (250 degree oven for about 10 minutes)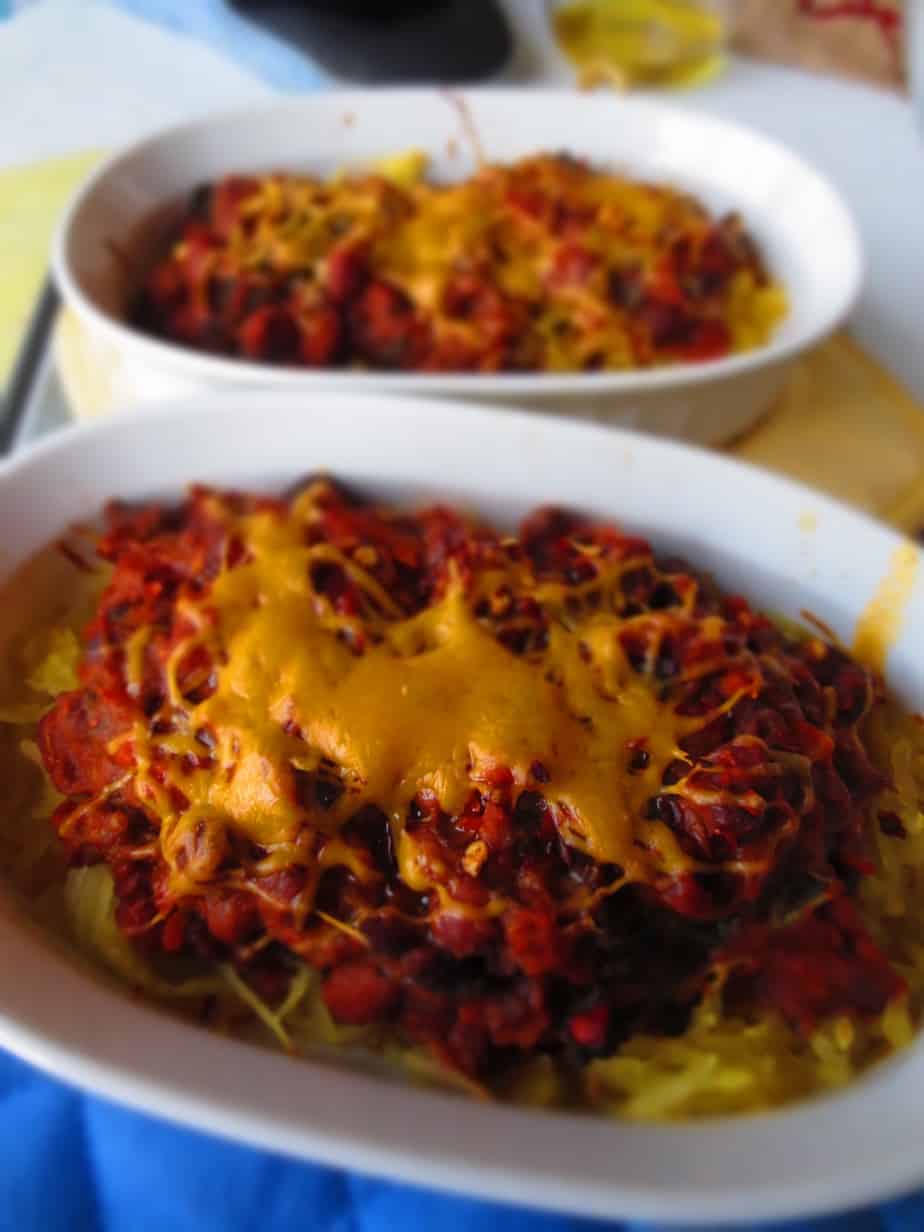 Print

Easy Vegetarian Chili (& Spaghetti Squash)
---
Author:

Total Time:

50 mins

Yield:

8

1

x
3 cups

of dried beans (you must soak these overnight) Or about

5 cups

cooked (4ish cans)

4 cups

vegetable broth (unsalted is best)
water (lots)

1 tbsp

olive oil

1

medium onion

2

large carrots, shredded or chopped

4

cloves of garlic

1

bunch of kale (or spinach), roughly chopped

4

tomatoes and 3 cups tomato puree (OR alternative tomato option from above)

1/2 tsp

of the following spices: cumin, salt, pepper, chili powder

1/4 tsp

of the following spices: cayenne, red pepper flakes (optional)
(1 roasted Spaghetti Squash – optional)
---
Instructions
The night before you want to make chili, soak the 3 cups of beans (I do half black, half red kidney) in lots of water. (6-7 cups) After 8-12 hours of soaking, drain and refrigerate until ready to prepare.
Place beans, 4 cups of water, and 3 cups of vegetable broth (optional) in large pot. Bring to a boil and reduce to a low simmer. Cook for about 1 hour. This may take longer if you are using salted broth – possibly 2-3 hours and additional water.
While the beans are cooking, go play on Facebook (hah) or prepare vegetables. Chop onion, mince garlic, shred or dice carrots, dice the 4 tomatoes, and clean and roughly chop the kale.
Once the beans are cooked, drain them and set aside.
Rinse pot and return it to stove, with 1 tablespoon olive oil. Sauté for about 5 minutes over medium heat, then add the garlic for about 3 more minutes. Next, add the tomatoes and sauté for about 5 minutes, or until the tomatoes are soft and mushy.
Next, add the carrots, chopped kale, 3 cups tomato puree, 1 cup vegetable broth (or water), and all of the spices. Mix together well, cover, and simmer on low to medium heat for about an hour, stirring and tasting occasionally. Adjust taste to your preference or add additional seasonings. I've made this on a Sunday afternoon and let it cook for 4 hours before over low heat, so whatever is convenient for your day!
After one hour, remove lid, stir, and cook uncovered for 10 minutes, stirring occasionally. This will help the chili firm up and remove the soupy consistency. You can even smash some of the beans along the side to thicken the consistency if you prefer. Vegetarian Chili
Serve over roasted spaghetti squash with toppings of choice: a dollop of greek yogurt, shredded cheddar or feta cheese, cilantro, or avocado. Vegetarian Chili and Spaghetti Squash
One last note. Sometimes I like to chop up a nice spicy chili pepper like aji, or whatever else I've got, to add a different depth of flavor. If you do this, sauté it with the onions, and go easy on the dry spices like chili, cayenne, and red pepper flakes.
Prep Time:

10 mins

Cook Time:

40 mins

Category:

Chili, Stew, Entree