Recipe: $8.50 | Per Serving: $1.42 | Yield: 6 | Jump to Recipe
This was a little bit of an accident. I had to cook some beef. I wanted it to be freezable and super easy. I loaded it with rosemary, and used Triscuits (3 ingredients) instead of bread crumbs (which I never have), and mixed in a bunch of leftover vegetables. SO GOOD. Super delicious end results. Rosemary Meatloaf Muffins! They're awesome.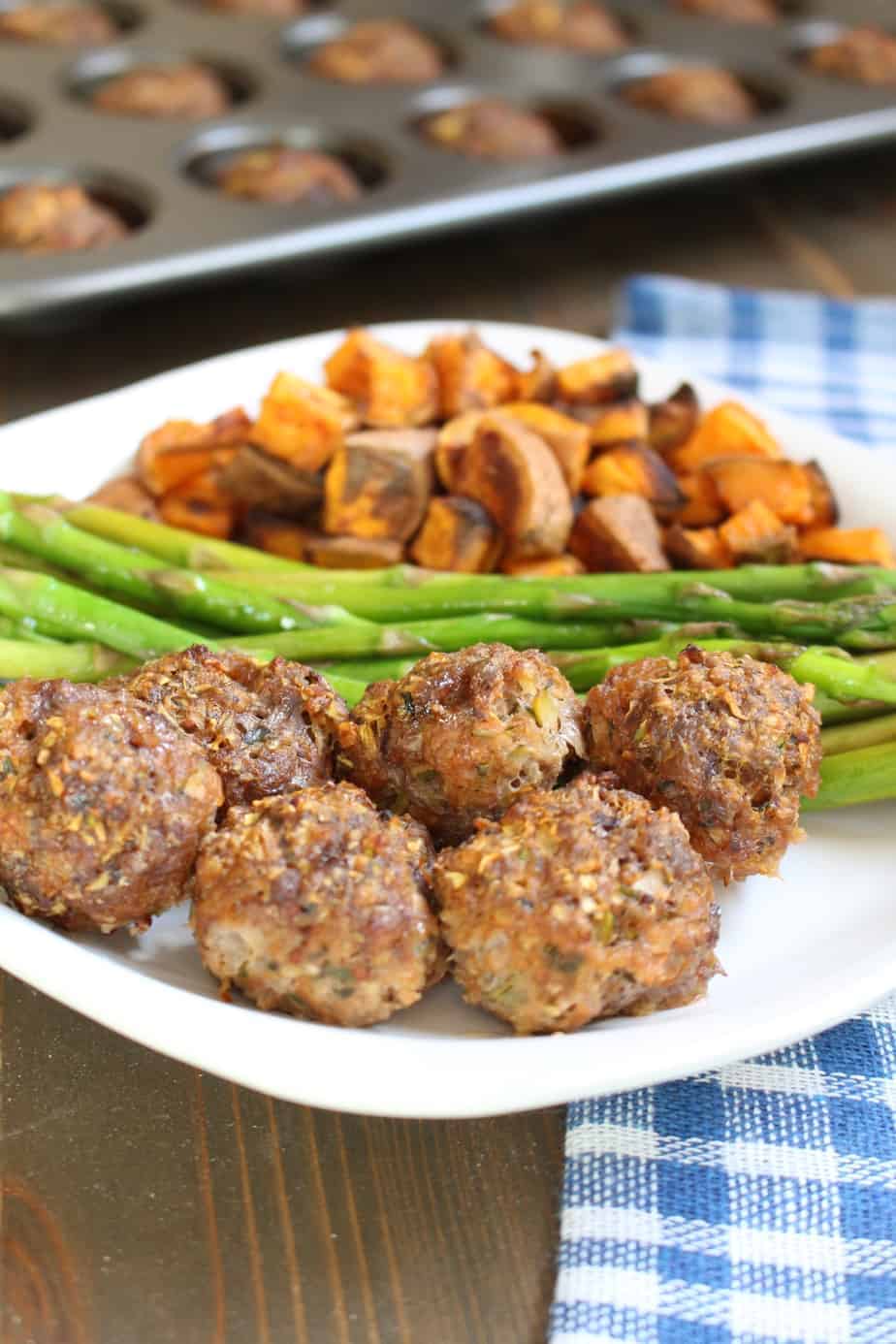 So you can obviously make mini meatloaf muffins, like I did, or regular-sized muffins, like most people do, or you can go ahead and make traditional meatloaf in a bread loaf or in a meatloaf tin with one of those inserts with holes that allows the oil to drain out. We made meatloaf muffins a lot as a kid, and they were usually packed with cheese and ketchup and Worcestershire sauce; I recently discussed the recipe with my mom, and since we don't keep ketchup in my house, and I don't really have the time/energy/ambition to make Worcestershire sauce right now (here's a recipe though!), the idea was immediately shelved for "maybe one day / maybe never."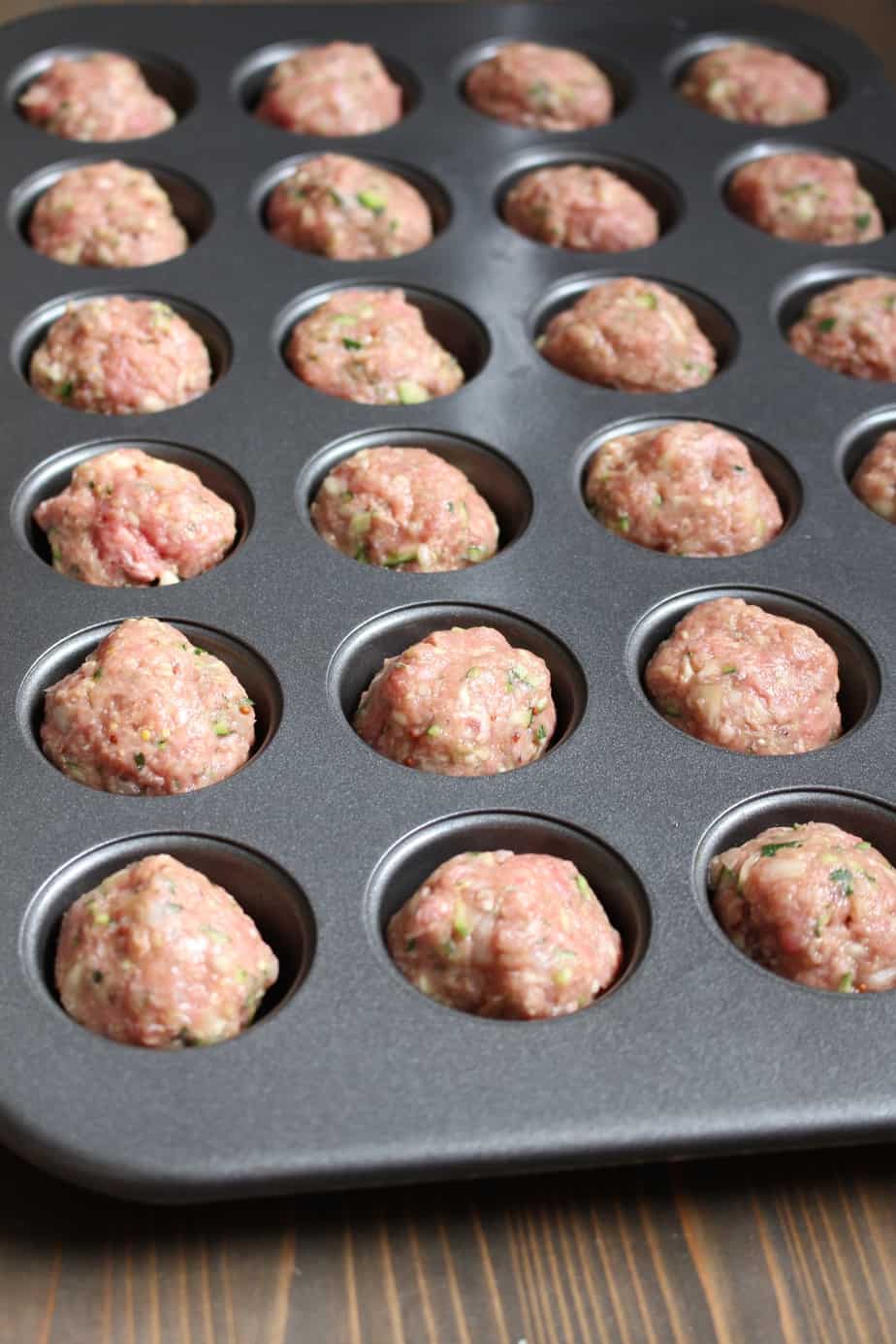 I guess since these meatloaf muffins were on my mind, it made sense for me to meatloaf it up with my leftover ground beef. And guess what? Before this, I had never made meatloaf as an adult. Not even once. It's one of those things that has such a weird reputation that you're afraid it's going to be terrible, so why bother? Well, in this situation, I really had nothing to lose because I was all out of energy/ideas and the meat had already been defrosted, so there was no re-freezing available. What's the seasoning that never lets me down? ROSEMARY. What's my favorite secret ingredient? TOMATO PASTE. End result = incredible.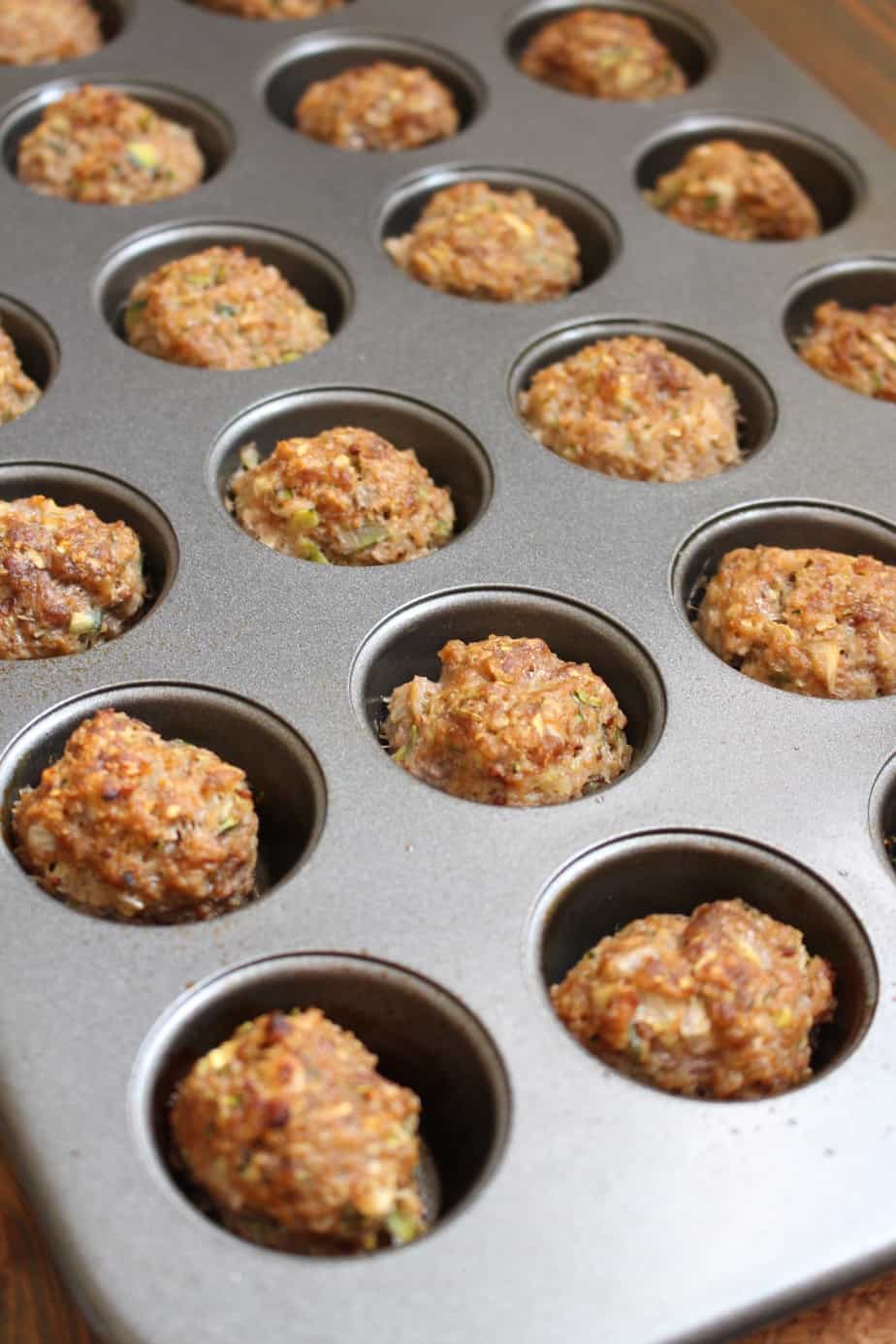 I like to think the veggies had a lot to do with the great texture, but I'm sure it also has something to do with the milk and the little bit of cracker / bread crumbs. Putting milk in meatballs was weird. Maybe it's all the time I've spent with Jewish friends that made me hesitate (the meat + dairy combo is no go if you're kosher), but I did it anyway. Someone on some website did it, and so I did it too. I'm not mad about it, not at all.
With this recipe, you're working with rosemary, a few cups of vegetables, a pound of (grass-fed) beef, and a few random umami boosts in the form of tomato paste and mustard for flavor. And for texture: milk and triscuits/bread crumbs. Adding vegetables does a few things: increases the nutrient content, decreases the cost, bulks up the number of meatballs you get out of this recipe, and helps to keep them moist (sorry).
I've made these three or four times now, and I've also subbed in Triscuits for those flavorless 365 Woven Wheats from Whole Foods, which taste exactly like cardboard, but work perfectly fine in this recipe, and they're definitely a little cheaper than Triscuits. I usually serve it paired with acorn squash or sweet potatoes and roasted vegetables, like brussels sprouts, asparagus, or broccoli. Simple and delicious.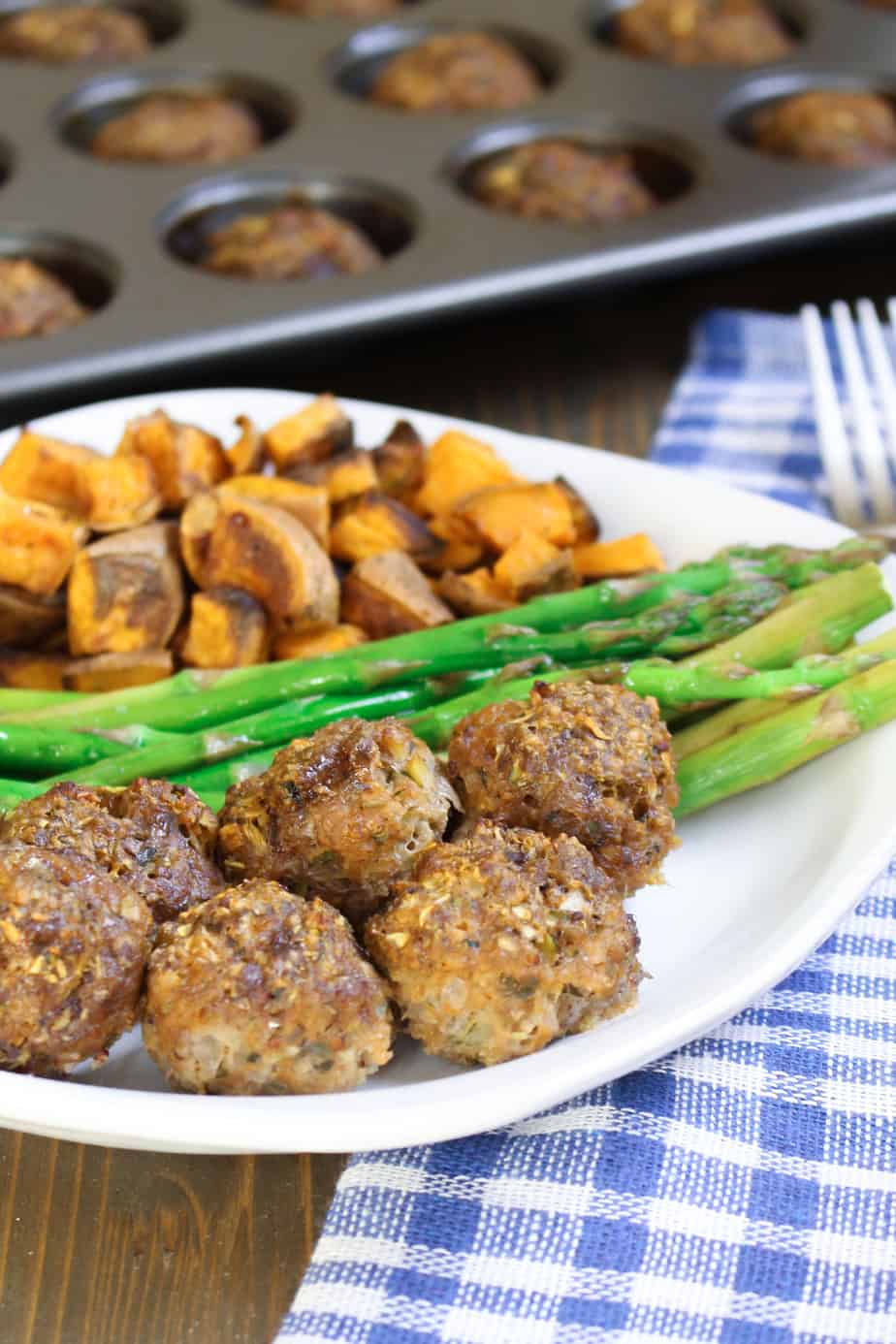 Vegetarian: No, sorry about that.
Paleo: I make these Paleo by skipping the milk and using almond meal in place of the crumbs! You could also use mashed eggplant or mashed cauliflower like in Beef & Eggplant Meatballs. In both cases, increase the salt a bit (¾ teaspoon) to compensate.

Rosemary Meatloaf Muffins
These easy meatloaf muffins make a hearty and delicious weeknight meal. Perfect for meal prep and to quickly assemble for a healthy dinner meal.
Ingredients
1

pound

ground beef

3-4

cups

veggies

onions, mushrooms, zucchini, riced or shredded

2-4

cloves

garlic

minced

1

Tablespoon

dijon mustard

or whole grain mustard

1

Tablespoon

tomato paste

½

cup

milk

optional

½

cup

triscuits crumbs

about 8-10 Triscuits, smashed or blended into crumbs (or use almond meal!)

½

teaspoon

dried rosemary

½

teaspoon

salt

optional: black pepper

red pepper flakes
Instructions
Preheat oven to 425ºF.

Combine all ingredients in the order listed and mix until uniform, but don't overdo it. (Optional: to do a taste test, warm a pan over medium-high heat and fry just a teaspoon-sized amount of the mixture. Once cooked through, taste and adjust seasonings as desired.)

Divide into mini muffin tins and bake for 20 minutes on 425ºF.
Notes
I used a mini muffin tin because I ruined my regular muffin tin a few months ago...for a regular muffin tin, increase the cooking time to 25 minutes, and check temperature with a meat thermometer (145ºF at a minimum) to be safe.
Makes 36-40 mini muffins. Serving size is 6 mini muffins.
Nutrition
Calories:
289
kcal
Carbohydrates:
18
g
Protein:
17
g
Fat:
17
g
Saturated Fat:
6
g
Polyunsaturated Fat:
1
g
Monounsaturated Fat:
7
g
Trans Fat:
1
g
Cholesterol:
56
mg
Sodium:
379
mg
Potassium:
480
mg
Fiber:
4
g
Sugar:
1
g
Vitamin A:
4697
IU
Vitamin B1:
0.2
mg
Vitamin B2:
0.2
mg
Vitamin B3:
5
mg
Vitamin B5:
1
mg
Vitamin B6:
0.4
mg
Vitamin B12:
2
µg
Vitamin C:
10
mg
Vitamin D:
0.3
µg
Vitamin E:
1
mg
Vitamin K:
3
µg
Calcium:
68
mg
Copper:
0.2
mg
Folate:
34
µg
Iron:
3
mg
Manganese:
0.4
mg
Magnesium:
45
mg
Phosphorus:
217
mg
Selenium:
14
µg
Zinc:
4
mg
Choline:
49
mg