I love Fourth of July themed foods as much as the next person, but you can only eat so many red, white, and blue breakfast parfaits and desserts. These Fourth of July blue corn tostadas are a clever way to get your savory fix while staying on theme!
Recipe: $4.84 | Per Serving: $0.81 | Yield: 6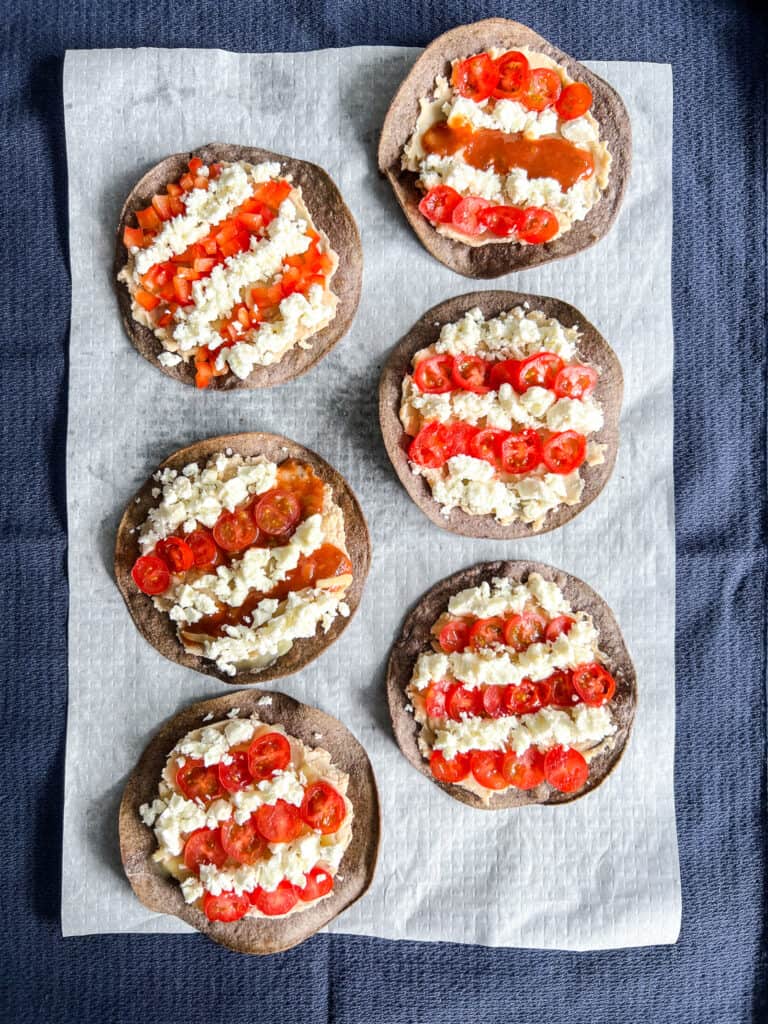 These fun, red, white, and blue corn tostadas are simple, salty, and delicious. We're combining mashed white beans - a twist on refried beans - with salty cheese and spicy salsa for a fun and delicious Fourth of July lunch or snack!
While store bought tortillas are easier (and I'm using them here), homemade tortillas always taste better. If you're up for a bigger cooking project, you can make your own homemade blue corn tortillas that will taste amazing!
It is certainly ok to have mixed feelings about the origins and current state of the U.S.A. - whether you're a citizen, resident, or visitor. This recipe provides a savory, and nutritious option for those who are celebrating this US holiday with food.
Make this Savory Fourth of July Recipe!!
I'm so excited to provide a savory option for your Fourth of July themed food spread! These are easy, healthy, and delicious vegetarian tostadas to fit a wide variety of dietary preferences.
When I worked at a preschool, I ran the weekly cooking project. It was really fun; however, if you search for Fourth of July foods, or red, white, and blue foods, you'll mostly find sweet options.
I was really interested in making a savory option, and in a spark of creative genius, I thought of blue corn tortillas! The tortillas are not a deep navy blue, but they definitely work as a great base for these red, white, and blue tostadas!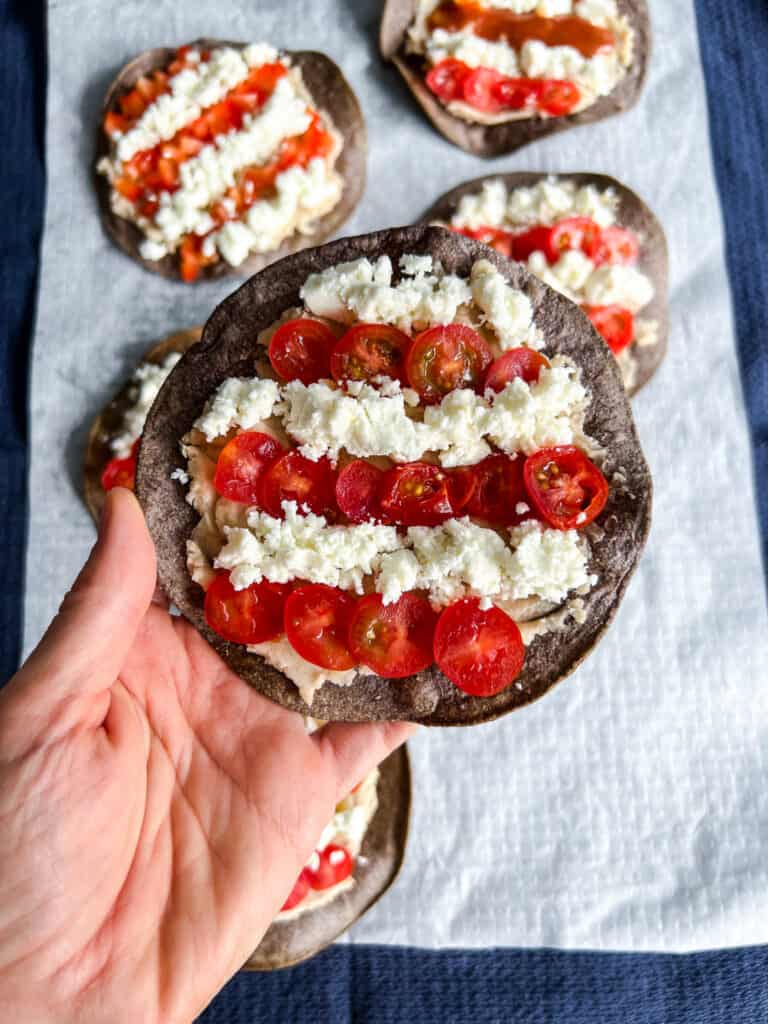 What are Red, White, and Blue Corn Tostadas?
Tostada typically refers to a dish that uses a crispy corn tortilla as the base. I like to think of it as taco meets nachos.
There are tons of variations, but most frequently you'll see tostadas with a layer refried beans, which help to hold the other toppings in place.
The remaining toppings are often much the same as traditional taco toppings. When I worked at a Mexican-American restaurant in San Diego, we topped them with refried beans, protein of choice, lettuce, and pico de gallo.
Ingredients in this recipe:
Blue corn tortillas
White beans + spices
Butter - which is totally optional, but highly recommended
Grape tomatoes and / or red salsa (Trader Joe's has a good one, but I also like this one!)
Salty crumbly cheese of choice - queso fresca, cotija, or in a pinch, feta cheese will work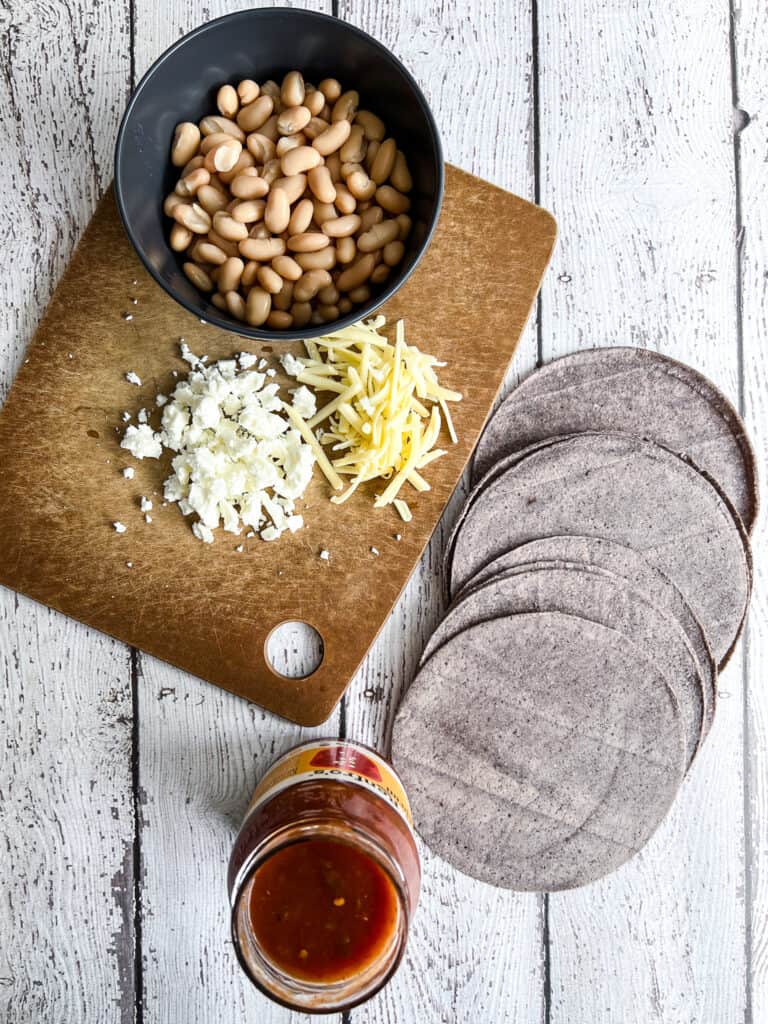 This Fourth of July recipe is actually inspired by the heritage of Mexican cuisine. If you'd like to see Mexican recipes that are more traditional, here are some fabulous Mexican bloggers: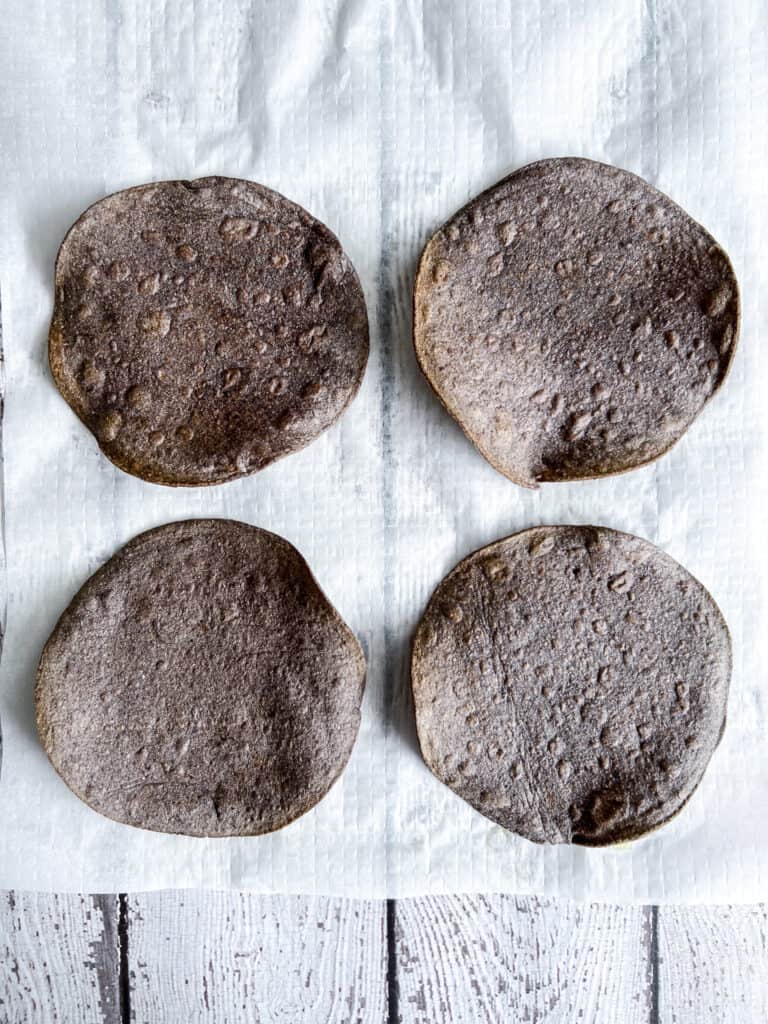 How to Make Red, White, and Blue Corn Tostadas:
We've got a few specific things to make healthy tostadas work for your Fourth of July theme:
We're baking these babies! Who has time or resources for deep frying foods at home? in order to get tostadas truly crispy, they need to be either deep fried (not just pan-fried), or baked. We're baking these blue corn tortillas!
We're using a blue corn tortilla - certainly this looks a little more purple / brown once it's cooked, but it still works!
Instead of black or pinto beans, we're making mashed white beans to stay on theme.
And finally, instead of layering ingredients from the bottom up, we're arranging them to represent the American flag. That's the key!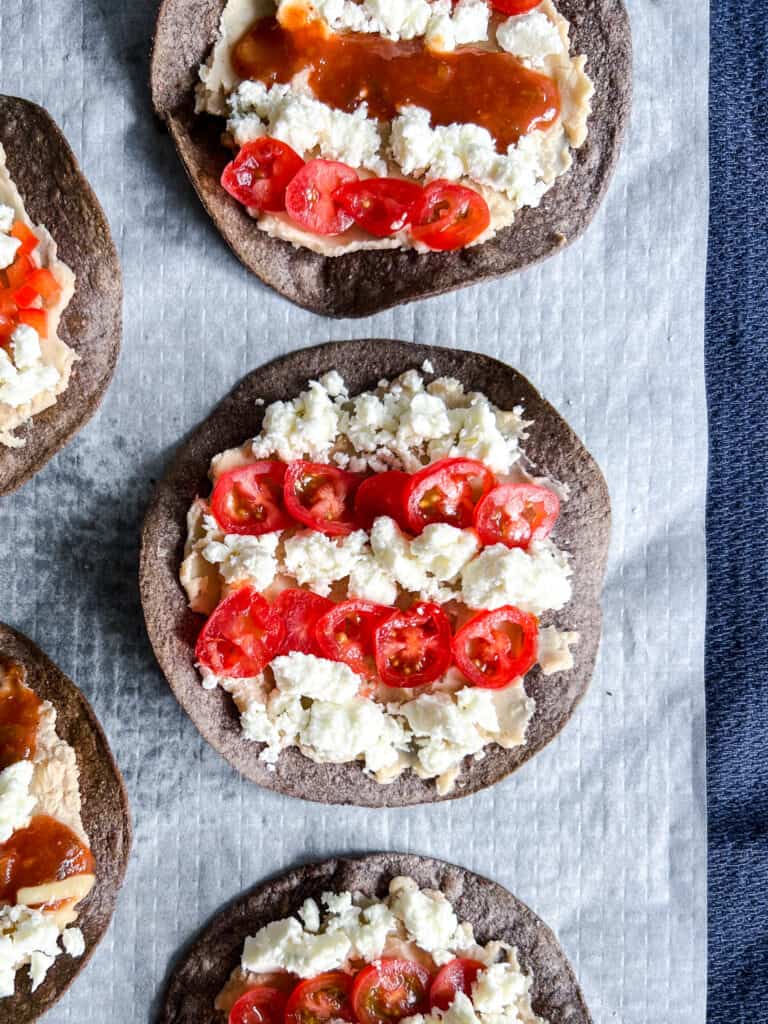 Tips & Questions About This Recipe
How do you eat a tostada?
Most of the time, you can pick up the tostada and eat it just like a mini pizza.
What are blue corn tortillas made of?
Blue corn tortillas are made from naturally blue corn, which goes by many other names including Hopi maize and Tarahumara maize azul. Although we typically only see white and yellow corn in the US, throughout South America, there are a number of naturally occurring colorful varieties of corn, including blue, purple, and black.
What makes blue corn tortillas blue?
Corn varieties that are blue or purple in color contain high levels of anthocyanins. Anthocyanins are a class of anti-inflammatory phytochemicals that are known for giving foods their deep blue or purple color.
Is blue corn healthier than yellow corn?
Technically, blue corn may be slightly 'healthier' simply because it is richer in anti-inflammatory anthocyanins. But only slightly. (And know that each stage of processing loses some of these anthocyanins.) It is also higher in protein and lower in starch.
Does blue corn taste different?
Yes, but only slightly. It has a richer corn flavor, and many people find that it actually tastes a bit sweeter than yellow corn.
Dietary Substitutions and Modifications:

Paleo: no, corn, beans, and dairy are not Paleo
Vegetarian: yes, these are vegetarian tostadas! Skip the butter and cheese or use dairy-free versions for vegan / dairy-free.
Low FODMAP: these are not technically low FODMAP, but may be well tolerated in the early days of reintroduction.
More Recipes Using Tortillas
If you've got a bunch of tortillas left over from this recipe, here are some other great ways to serve them!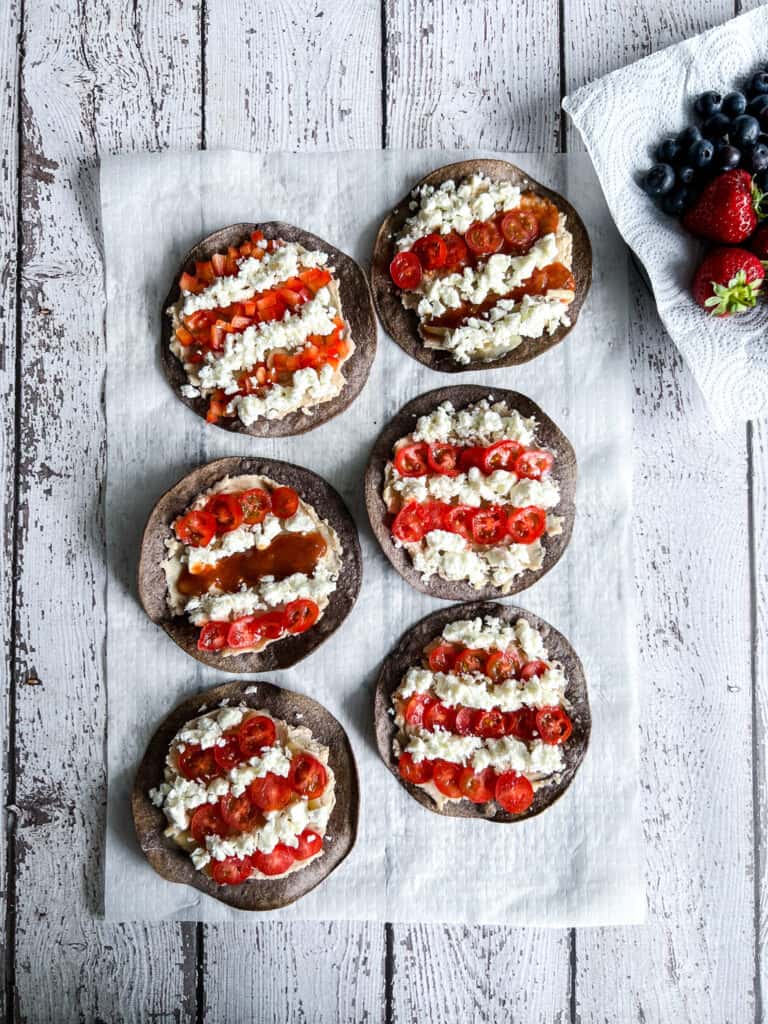 I hope you enjoy this recipe - and if you make it, please be sure to leave a ⭐️ review and comment below!
For videos of different recipes from my blog, please check out my YouTube channel!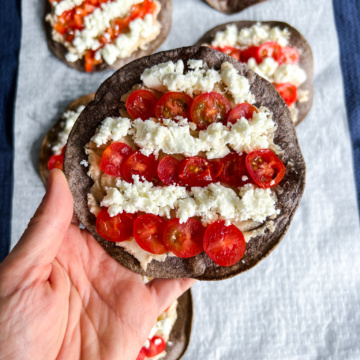 Red, White, & Blue Corn Tostadas for Fourth of July
These salty, savory, blue corn tostadas for Fourth of July are simple to put together and perfect for red, white, and blue celebrations!
Ingredients
1

can

white beans

unsalted, drained and rinsed

¼

cup

water

1

Tablespoon

butter

¼

teaspoon

salt

¼

teaspoon

garlic powder

¼

teaspoon

ground cumin

½

cup

cotija cheese,

3.5 oz / 100g loosely packed (can use queso fresco or feta cheese; use more cheese as desired)

¼

cup

red salsa

12

grape tomatoes
Instructions
For the tortillas: preheat oven to 400ºF/205ºC. Rub or brush a little oil on both sides of the tortillas, then place on a parchment-lined baking sheet. Bake for about 4 minutes on each side (8 minutes total) until the tortillas are crispy but not too brown.

For the white beans: add the white beans, water, butter, salt, garlic powder, and ground cumin to a small sauce pan. Cook over medium-low heat until warmed through and soft enough to be easily mashed. You may need to add a little more water if you prefer a softer / looser consistency. 
For the red, white, & blue corn tostadas:
Spread a layer of white beans over the base of each crispy tortilla.

Using a small spoon, spoon a small bit of salsa in strips across the tortilla to resemble the red stripes on the USA flag.

From there, sprinkle the crumbled cheese between the strips of salsa.

Finally, arrange the sliced grape tomatoes atop the salsa. 
Notes
Alternatives: skip the cheese and butter to make this dairy-free. Melt white cheese of choice atop the white beans. Choose salsa OR tomatoes, or feel free to use minced red bell peppers or pico de gallo. 
Nutrition
Calories:
118
kcal
Carbohydrates:
13
g
Protein:
6
g
Fat:
5
g
Saturated Fat:
3
g
Polyunsaturated Fat:
0.2
g
Monounsaturated Fat:
1
g
Trans Fat:
0.1
g
Cholesterol:
16
mg
Sodium:
330
mg
Potassium:
354
mg
Fiber:
3
g
Sugar:
1
g
Vitamin A:
447
IU
Vitamin B1:
0.1
mg
Vitamin B2:
0.1
mg
Vitamin B3:
1
mg
Vitamin B5:
0.3
mg
Vitamin B6:
0.1
mg
Vitamin B12:
0.2
µg
Vitamin C:
5
mg
Vitamin D:
0.05
µg
Vitamin E:
1
mg
Vitamin K:
5
µg
Calcium:
107
mg
Copper:
0.2
mg
Folate:
43
µg
Iron:
2
mg
Manganese:
0.3
mg
Magnesium:
35
mg
Phosphorus:
102
mg
Selenium:
3
µg
Zinc:
1
mg
Choline:
21
mg