Recipe: $6.00
Per Serving: $1.50
You guys. Let's talk about Oaxacan cheese for a second. First, it is pronounced waah-hauah-can. It is a state in southern Mexico. Their cheese is basically handmade string cheese that tastes like heaven. It actually tastes like cheese, instead of like plastic. (Don't get me wrong, I love me some string cheese. But there's kind of a plasticky element to many brands.) It is unbelievably ooey gooey salty goodness. Yes, I said that. I speak about food the way most people speak about babies. Let's move past it.
Also, that picture. It's a little yellowy and I'm sorry. I'm no picture pro.
So Zac and I went to Oaxaca one time. It was awesome. That's a wedding procession we watched from a bar balcony. It went on for HOURS as they circled the city. Then on the right my sister and I with purple hands - we stamped our hands on a white sheet to bring awareness to violence against females in Mexico. And that last one is Zac and I being super awkward at the ruins. They were cool.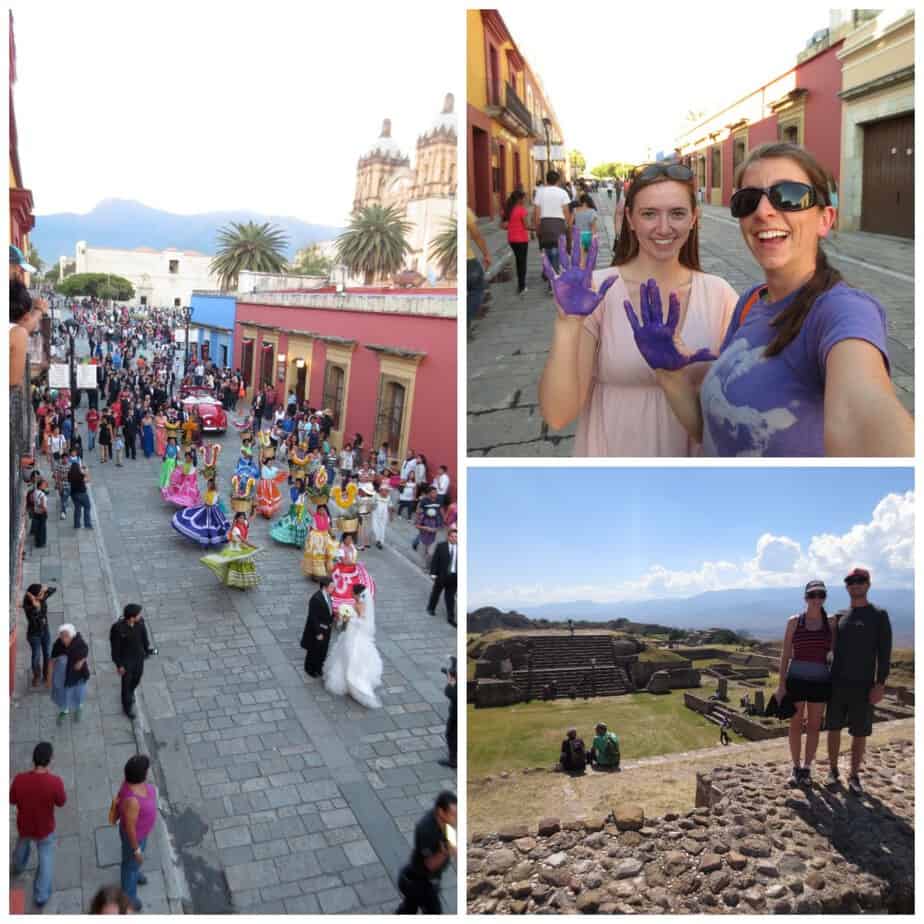 That was in November. That was the first time I had Oaxacan cheese.  So then in May I went to Baja with my family (as if I'm ever going to stop talking about that), and my sister was the Master Quesadilla Maker. There might not be anything better in the world than playing cards with your family at the beach with a pile of Oaxacan quesadillas to share. They never lasted long.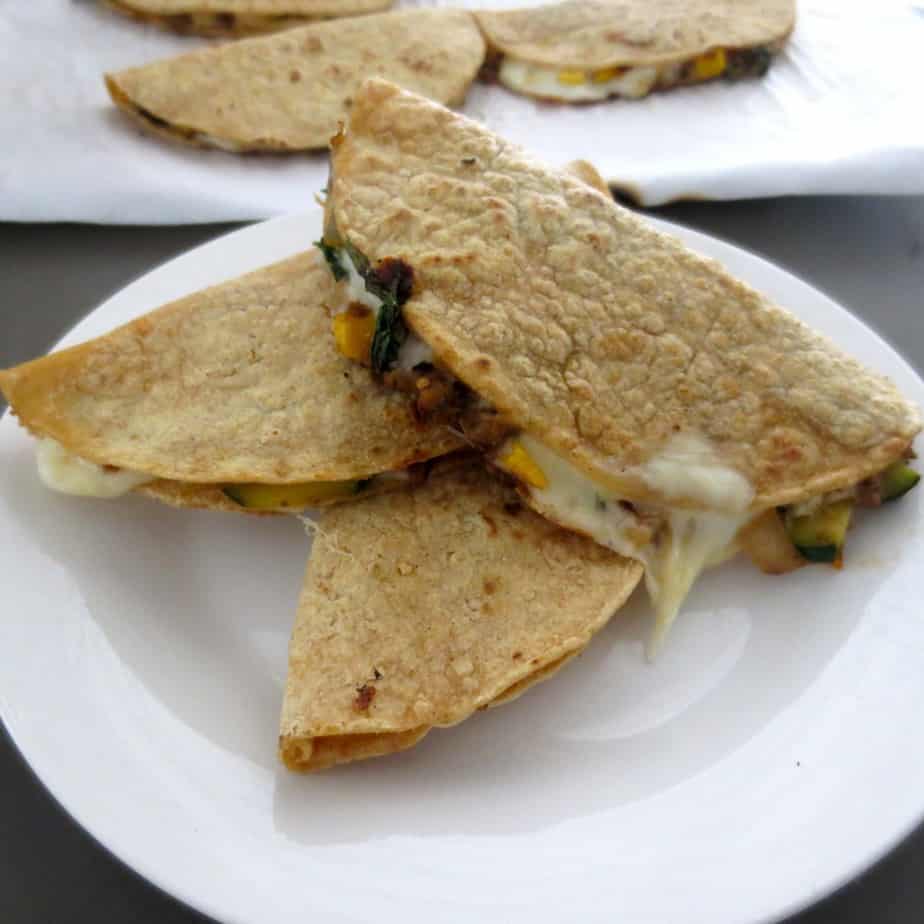 I was inspired to buy like 4.5 pounds (POUNDS) of Oaxacan cheese. And then I was inspired to make this recipe when I saw a Lean Cuisine commercial for quesadillas. Or was it Chili's? I don't know, but bear with me for a second.
You see, Zac is always going on about how good the food in commercials for chain restaurants and packaged food looks. And it is my goal in life to make him believe that homemade real food options are SO MUCH BETTER. So fresh quesadillas are made. Loaded with vegetables and real cheese, and then some are frozen for a super simple snack or meal another day. Take that, processed food!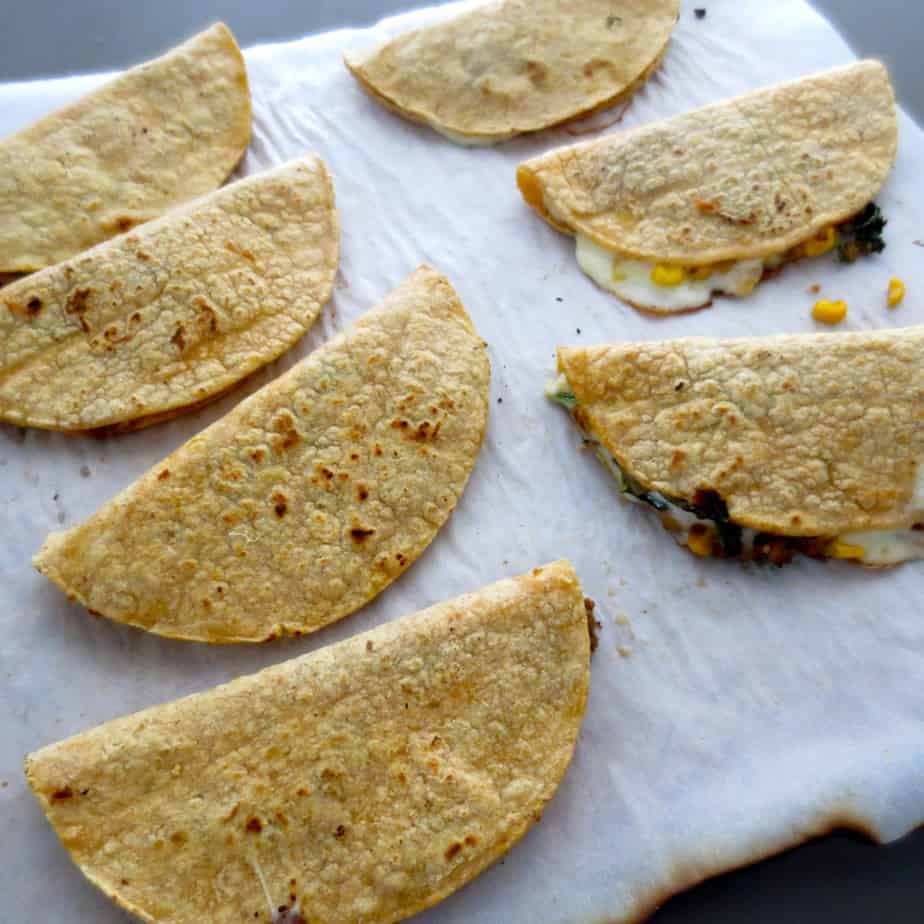 It is taco-dilla making time.
Taco Quesadillas (With Oaxacan Cheese!)
A tasty homemade quesadilla with beef, cheese and habanero peppers.
Ingredients
1

teaspoon

coconut oil

¼

onion

chopped

2

cloves

garlic

minced

½

habanero pepper

minced (or to taste – this amount is SPICY)

8

oz

ground beef

grass-fed if your wallet can swing it, half a pound

½

cup

vegetable broth or water

¼

teaspoon

salt

¼

teaspoon

cumin

1

dash

cayenne

1

cup

organic frozen corn

¼

cup

salsa verde

or salsa of choice, but this is optional

1

zucchini

organic

1

cup

greens

kale, spinach, etc.

12

organic corn tortillas

or homemade corn or flour

¼

pound

Oaxacan cheese

shredded (or just use 6-10oz any cheese of choice – monterey jack, queso fresco, cheddar, mozzarella, etc.)
Instructions
Sauté the onion in the coconut oil until slightly softened, then add the garlic and habanero and cook about 30 seconds, or until fragrant. Add ground beef brown just a little bit, then add vegetable broth and seasonings. Cook, stirring occasionally, until ground beef is completely cooked.

Add salsa verde, corn, and diced (or shredded) zucchini to pan and stir well. Cook until softened, then add greens and stir, cooking just until wilted.

Meanwhile, heat a separate skillet over low to medium heat and warm your tortillas. I placed about three on (overlapping) at a time, and warmed them just enough to make them pliable.

Once all your tortillas are warm, begin assembling quesadillas! Place cheese on half the tortilla, then add about 2-3 Tablespoons taco meat-veggie mixture, and top with more cheese. Fold over and place on skillet. Cook over medium heat for about 30 seconds, then flip, and cook until cheese is melted. Set aside and repeat with remaining tortillas. (You should be able to fit 3-4 in the pan at a time.) This should make 12 quesadilla tacos, with 2-3 per serving! Top with full-fat greek yogurt if it is too spicy and EAT!

To Freeze: Place quesadillas in single layer on parchment-lined baking sheet. Place in freezer for 1 hour, then remove and wrap in foil to store in airtight containers or plastic bags. Reheat in the oven or toaster oven on 350º for about 10 minutes.
Nutrition
Calories:
605
kcal
Carbohydrates:
58
g
Protein:
26
g
Fat:
30
g
Saturated Fat:
13
g
Polyunsaturated Fat:
3
g
Monounsaturated Fat:
9
g
Trans Fat:
1
g
Cholesterol:
69
mg
Sodium:
1261
mg
Potassium:
593
mg
Fiber:
5
g
Sugar:
8
g
Vitamin A:
1362
IU
Vitamin B1:
1
mg
Vitamin B2:
1
mg
Vitamin B3:
7
mg
Vitamin B5:
1
mg
Vitamin B6:
0.4
mg
Vitamin B12:
2
µg
Vitamin C:
16
mg
Vitamin D:
0.2
µg
Vitamin E:
1
mg
Vitamin K:
47
µg
Calcium:
364
mg
Copper:
0.2
mg
Folate:
131
µg
Iron:
5
mg
Manganese:
1
mg
Magnesium:
64
mg
Phosphorus:
462
mg
Selenium:
37
µg
Zinc:
4
mg
Choline:
62
mg