Recipe: $7.02  | Per Serving: $0.59 | Yield: 12ish
I've had a slow cooker on and off for about 5 years, and though I use it most frequently to make chicken broth, one of my most favorite things to make in my beloved slow cooker is shredded pork. It is high time I share this super easy recipe! You should know that your slow cooker can provide tender, flavorful, shredded pork with only about 5 minutes of hands-on time. The secret is in the spices!
This dish is 100% inspired by the Kahlua Pig in Nom Nom Paleo's first cookbook and now on her blog. I love Michelle Tam, but I'm not taking a family vacation every year to get fancy Alaea sea salt straight from the island. However, when I made slow cooker pork with just regular sea salt and garlic, it was definitely missing something. SO, I turned to one of my favorite spices: smoked paprika. Talk about a game changer!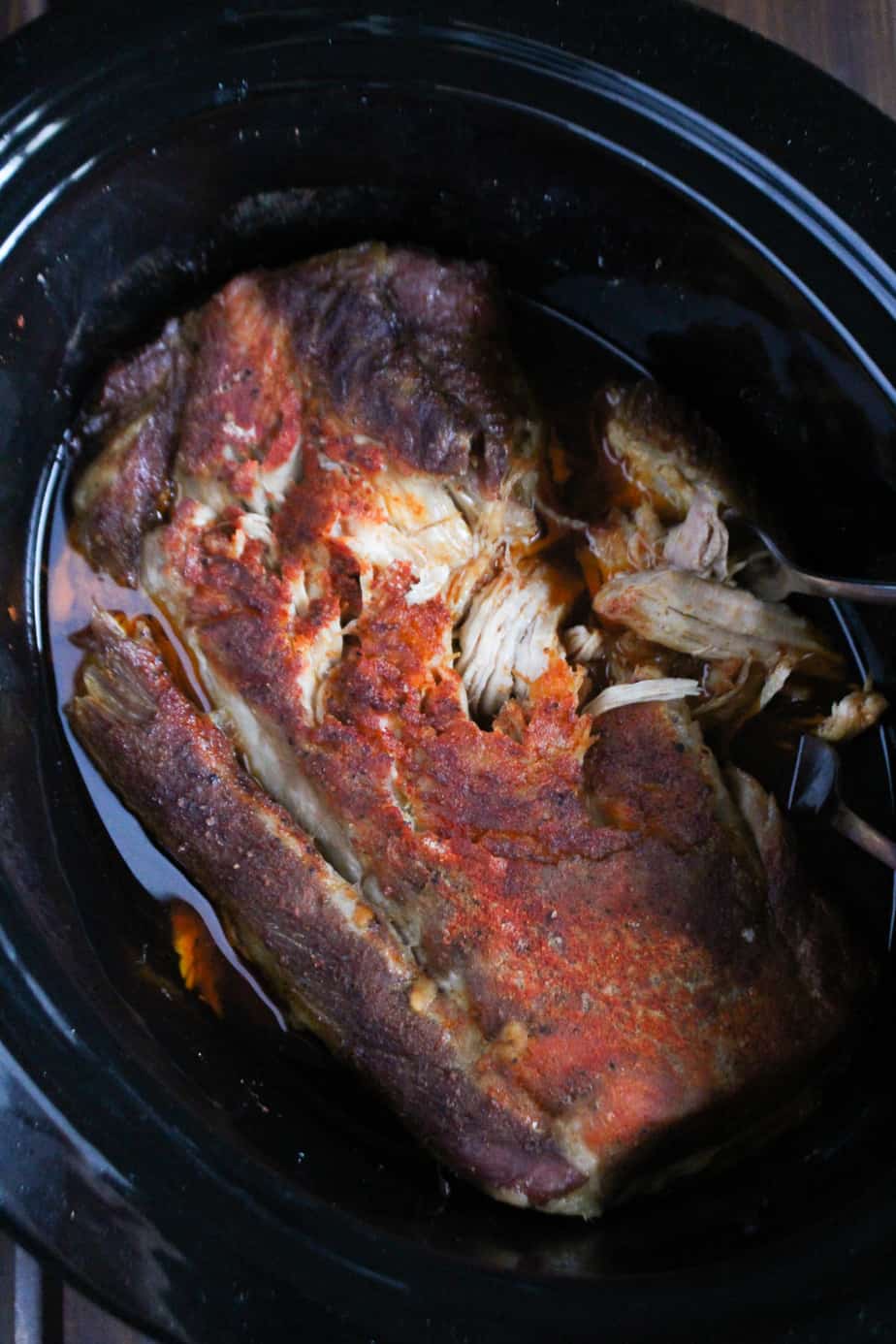 The first time I made this version was for a sort-of birthday party I threw together for Zac, and I have never received so many compliments on one dish. You guys, the smoked paprika! You can get fancy by stuffing the pork with garlic cloves or lining the slow cooker with bacon, as in Michelle's recipe, but none of those contributed to the flavor as much as the smoked paprika. I imagine the fancy Hawaiian sea salt plays that role in the original recipe, but if you, like me, are working with regular grocery store spices, smoked paprika is the way to go.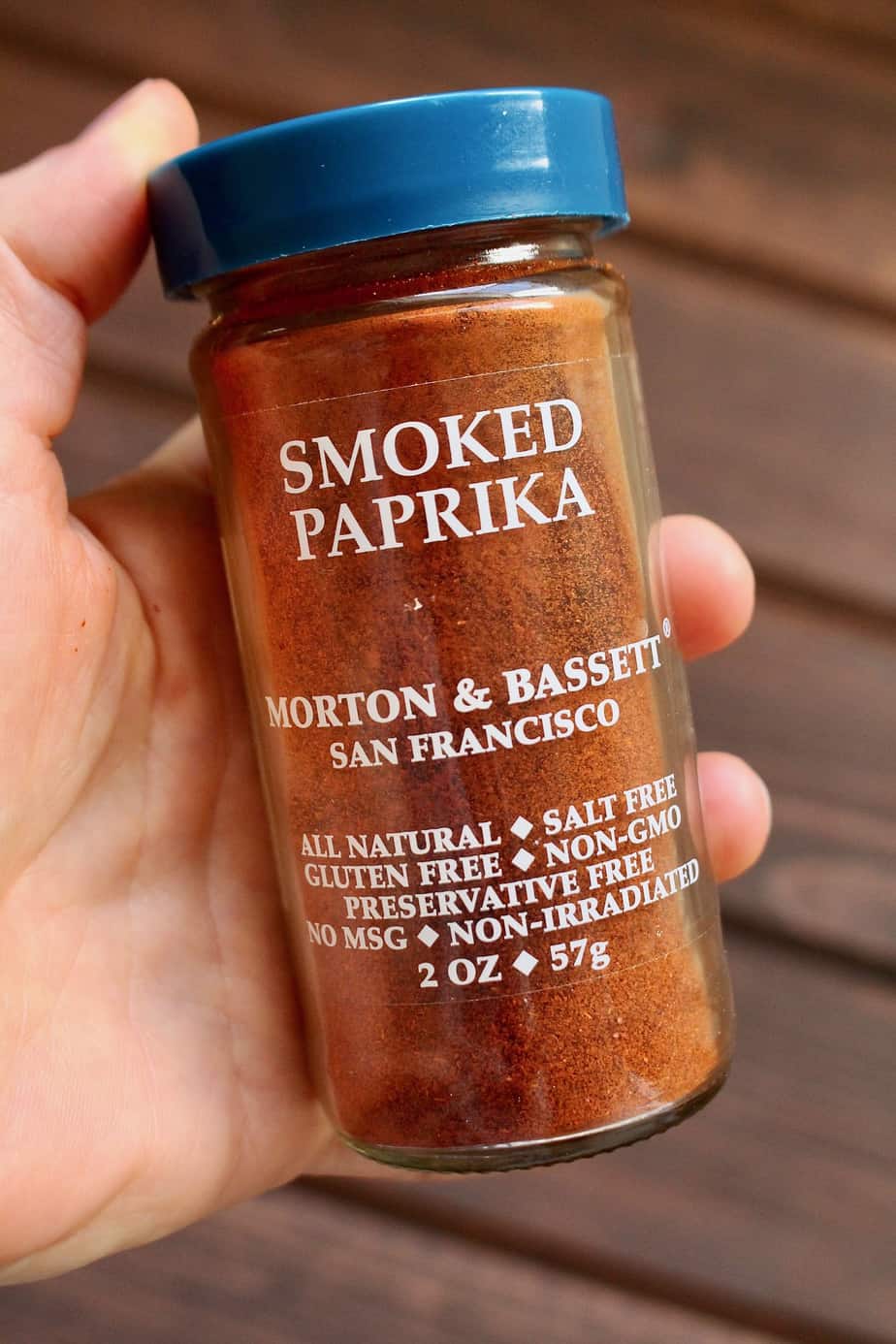 I often buy this Morton & Bassett brand of spices because it is readily available at Safeway, often on sale (buy 2 get 1 free), and this brand has consistently higher quality than the other brands available at my store. I also really love Frontier Co-op, which has some of the best spices I've found, and you can get smoked paprika for just $4.79 at Thrive Market! You can totally add some garlic powder or even whole or minced garlic cloves, but this simple trifecta of smoked paprika, sea salt, and freshly ground black pepper is all you really need.
This slow cooker shredded pork is one of my favorite things to feed a crowd because it is consistently amazing. I usually use Moink pork butt / shoulder, but I've also used Niman Ranch and other "all natural" grocery store pork butts and pork loins to great success. I like Moink (affiliate link) the best, but it's a monthly delivery, and sometimes I don't have a lot of warning before a potluck or dinner party, so I just opt for the highest quality pork I can find at the grocery store, which usually comes to about $1.99/pound. I think a humanely raised grass-fed pork shoulder is probably closer to $3.49/pound, but the pricing above is calculated on $1.99/pound. I recommend opting for the highest quality meat you can realistically afford.
Once you've made your pork - the possibilities are endless! Wrap it into lettuce wraps, pair it with your favorite tortillas (cassava, whole wheat, organic corn) for tacos or quesadillas, use it for nachos, add it to pizza or burrito bowls, or, my favorite: make yourself a fancy salad with roasted sweet potatoes and habanero cilantro dressing. You can also use this basic recipe as a template and then add additional spices or sauces as desired. Sometimes I'll mix some of the pork with BBQ sauce or season it like tacos with cumin, chili powder, and oregano when I crisp it up on the stove.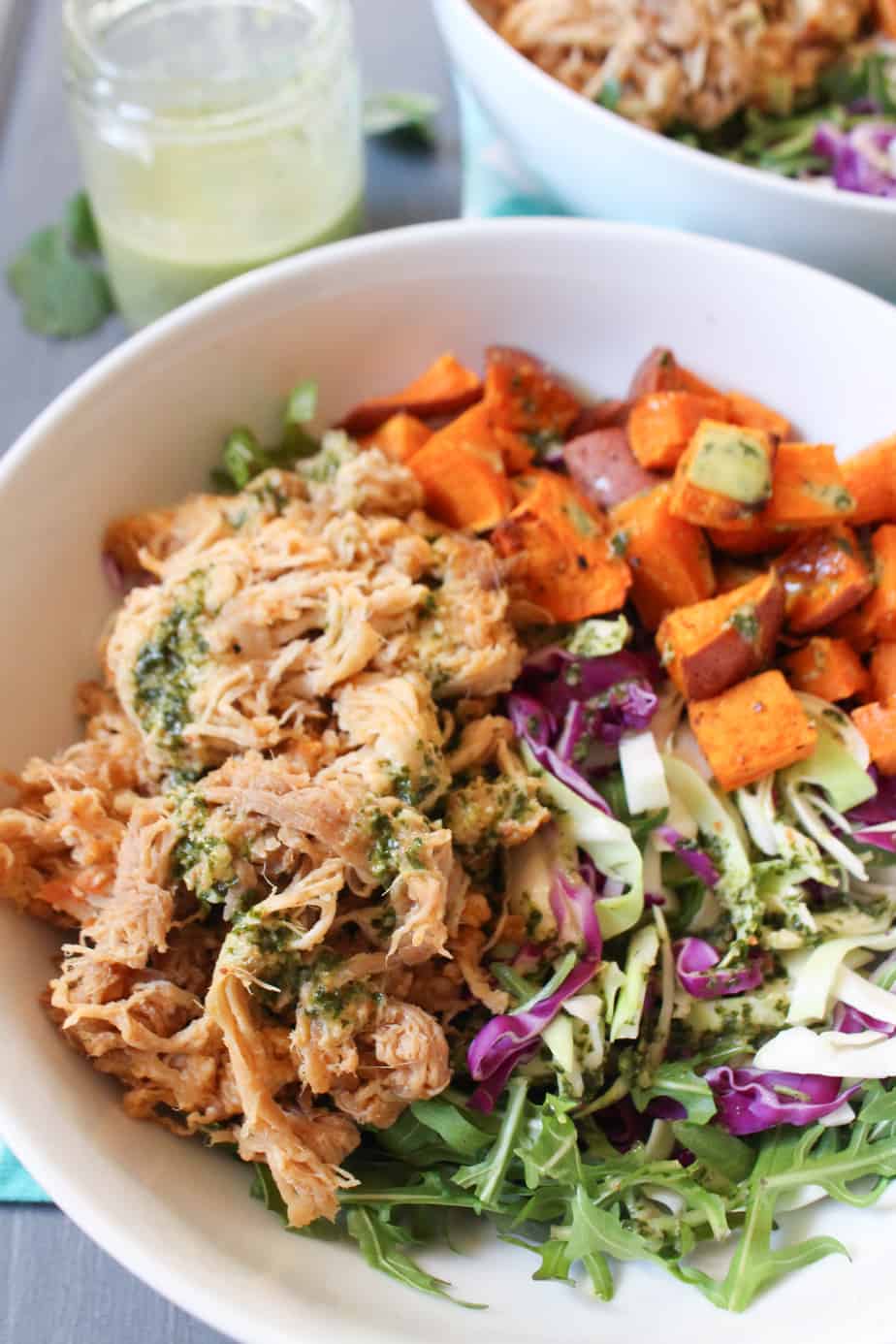 Paleo: Yes! Get the best quality meat you can find!
Vegetarian: Nope - but I hope this encourages you to add smoked paprika to more dishes!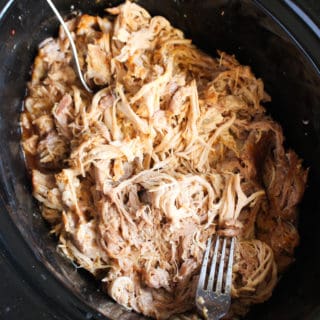 Slow Cooker Shredded Pork
Slow cooker shredded pork is a game changer! The simplest and most delicious thing you'll ever make in your slow cooker!
Ingredients
3-4

pounds

pork shoulder

can also use loin if that's what ya've got

1

Tablespoon

sea salt

1

Tablespoon

smoked paprika

1

Tablespoon

ground black pepper
Optional
1

Tablespoon

garlic powder

1 Tablespoon crushed garlic, or 5-6 whole garlic cloves
Instructions
Combine the spices and rub all over the pork. (If using whole garlic cloves, you can make shallow slices in the pork and shove them in, or just toss the garlic loosely in the slow cooker.)

Add seasoned pork to slow cooker and cook on low for 8-12 hours.

Check to make sure it is fall-apart tender, then shred.

Store in juices until ready to serve!
Notes
4 pounds makes approximately 12+ servings. I assume approximately 4-5 oz (around ¼ pound) meat per serving.
Optional: I highly recommend getting a little crisp on the pork when you heat it up! You can broil or toast it, but I often just crisp it up in my cast iron skillet before serving.
Nutrition
Calories:
107
kcal
Carbohydrates:
1
g
Protein:
14
g
Fat:
5
g
Saturated Fat:
2
g
Polyunsaturated Fat:
1
g
Monounsaturated Fat:
2
g
Cholesterol:
46
mg
Sodium:
635
mg
Potassium:
264
mg
Fiber:
0.4
g
Sugar:
0.1
g
Vitamin A:
294
IU
Vitamin B1:
1
mg
Vitamin B2:
0.2
mg
Vitamin B3:
3
mg
Vitamin B5:
1
mg
Vitamin B6:
0.3
mg
Vitamin B12:
1
µg
Vitamin C:
1
mg
Vitamin E:
0.2
mg
Vitamin K:
1
µg
Calcium:
14
mg
Copper:
0.1
mg
Folate:
4
µg
Iron:
1
mg
Manganese:
0.1
mg
Magnesium:
17
mg
Phosphorus:
145
mg
Selenium:
21
µg
Zinc:
2
mg
Choline:
1
mg
Nutrition Label is for 4 oz pork. (Please note that all nutrition labels are estimates and are not 100% accurate.)