Looking for easy ways to eat more vegetables? As a practicing clinical nutritionist, I know it can sometimes feel like a struggle to include the recommended amount of vegetables in your diet - especially if you're a parent cooking for picky eaters - but luckily I've honed in on a handful of tips to help you eat the rainbow every day!
Click the links in the Table of Contents below to jump to difference sections of this post.
How to Eat More Vegetables: 7 Easy Tips
"Eat the rainbow!" We hear this all the time - but how?
One of the things we functional nutritionists often harp on with clients is the importance of not only eating lots of vegetables but also eating a variety of colors throughout the day.
It can feel difficult to get just one serving of vegetables per day, much less the recommended 5-11 servings.
Hopefully these tips, which I use with my nutrition clients every week, will help you find ways to fit more vegetables into your everyday life!
1) Snack Right
You guys know I love my snack boxes! Adding a snack box to my day is probably the best thing I've done for my overall food intake (thanks, Japan!). This Real Food Bento Box Round-Up is still one of the most popular posts on this blog, and there's nothing like opening up your lunch and being greeted by an array of colors and textures.
There are tons of vegetables that can be enjoyed raw; some of my favorite vegetables for snacking include:
Carrots (baby or sliced - $1 a pound)
Snap peas ($5 for 20 oz, but they're lightweight and last like 10 days)
Daikon radishes & red radishes
Jicama (high in prebiotic fiber!)
Cucumber slices
Organic bell peppers - mini or sliced (although these are for Zac, my stomach doesn't do raw bell peppers well)
Grape tomatoes (amazing with Basil Cream Cheese Dip!)
Raw broccoli
Steamed broccoli
Celery
I love to pair veggie snacks with other flavorful and exciting foods, like muffins, plantain chips, chocolate, and dips!
What Dip Should I Use for My Veggies?
Dips make everything more fun! Here are some of my favorite dips and spreads for vegetable snacking. And, bonus: some of these have vegetables in them!
Store-bought or Homemade Hummus
Magic Green Sauce
Store-bought

Jalapeño-Almond Dip (Trader Joe's)

Yogurt-Feta-Sundried Tomato Dip (one of my faves!)
Sardine dip or Tonnato
The dip pictured below is a homemade dip I made using leftover almond pulp from making almond milk. I seasoned it with everything bagel seasoning!
2) Bulk-up Meals with Riced Vegetables
Whether you're a picky toddler or a busy adult, riced vegetables are a lifesaver! I always keep frozen riced cauliflower on hand to add to soups, sauces, and stir-fries, but I also make riced veggies from carrots, sweet potatoes, beets, and even various leftover food scraps.
It's easy to save cauliflower cores and broccoli stems and rice them in a food processor or blender, but I've recently been doing it with things like kale and Swiss chard stems also! Zero waste + more fiber and nutrients!
I recently bought two heads of broccoli with long stems. I roasted the florets, and then peeled and riced the stems - it came to 24 oz of riced broccoli that would have otherwise been trashed, and when I riced kale stems I got 2 cups of rice veggies!
(For the broccoli stems, the farther down the stem you get, the woodier it becomes, so you might have to cut off the very bottom ½ inch or peel the stem to remove some of the tough bits.)
Veggie Inspo: Tips for Using Riced Vegetables
I know that when you already love the meals you love it's hard to imagine adding in another element - especially when you're not used to eating so many veggies in a day! Here are a few tips...
I highly recommend cauliflower fried rice
Add riced veggies to marina sauce
Meatballs with sneaky veggies
Muffins
Frittatas
Scrambled eggs
Pasta
Actual rice dishes
...and just about anything else you can think of, but hopefully this list will get you started!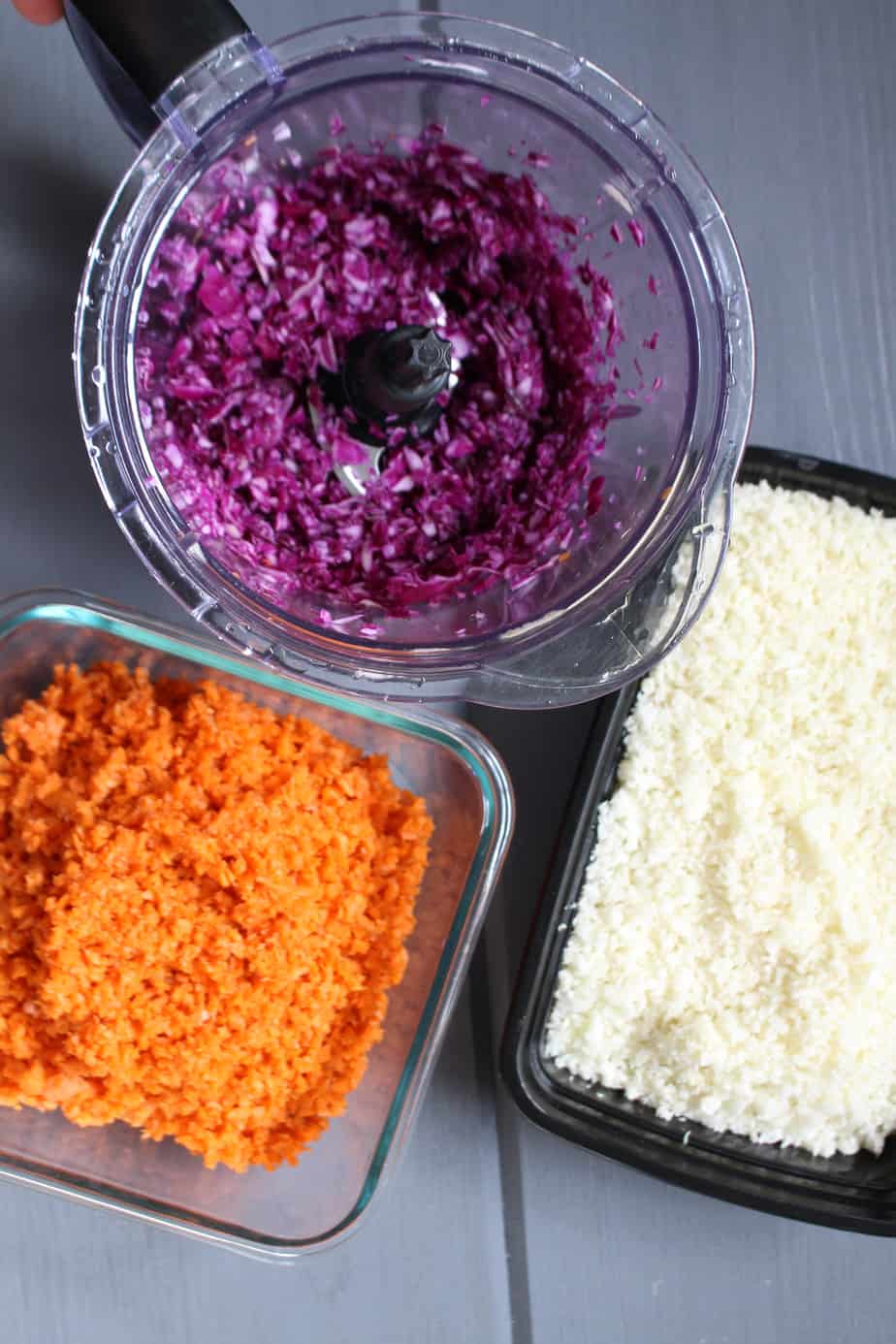 3) Stock Up On Frozen Vegetables
We know that most nutrients are well preserved in frozen vegetables, so there's really no reason to not keep your freezer stocked with frozen vegetables.
I use them all the time in my recipes, and I've been using various frozen riced vegetables to bulk up meals for years. My favorite method is to cook 1 cup of brown rice or quinoa, then stir in about 16 oz of riced vegetables, such as cauliflower or broccoli.
That way your side dish is already packed with veggies, but you still get to enjoy your favorite carbs. I also combine riced vegetables with ground meat, like in this Taco-Stuffed Sweet Potato, for a super easy combo!
Frozen Vegetables on a Budget
Grocery costs are always on the rise, so here at Frugal Nutrition, I think it is important to show which frozen foods I find to be affordable in my area. Below is a breakdown of my favorite frozen veggies and the bang you'll get for your buck!
Frozen Spinach

$1.99 for 16 oz organic frozen spinach at Trader Joe's

Frozen Broccoli

$2.99 for 16 oz organic frozen broccoli at Whole Foods

Frozen Cauliflower

$1.99 for 12 oz organic frozen cauliflower rice at Trader Joe's

Frozen Butternut Squash

Frozen (Organic) Bell Peppers

Riced Vegetables - broccoli, carrots, cauliflower, sweet potato, beets

Most riced vegetables are $1.99-$3.99 for 10-16 oz.
I also save stems from broccoli, kale, and chard, and "rice" them in my food processor to add to meals.
I do choose organic when possible, especially for frozen vegetables. In addition to reducing your pesticide exposure, organic frozen vegetables are sometimes better quality. However, non-organic frozen vegetables are still a great option!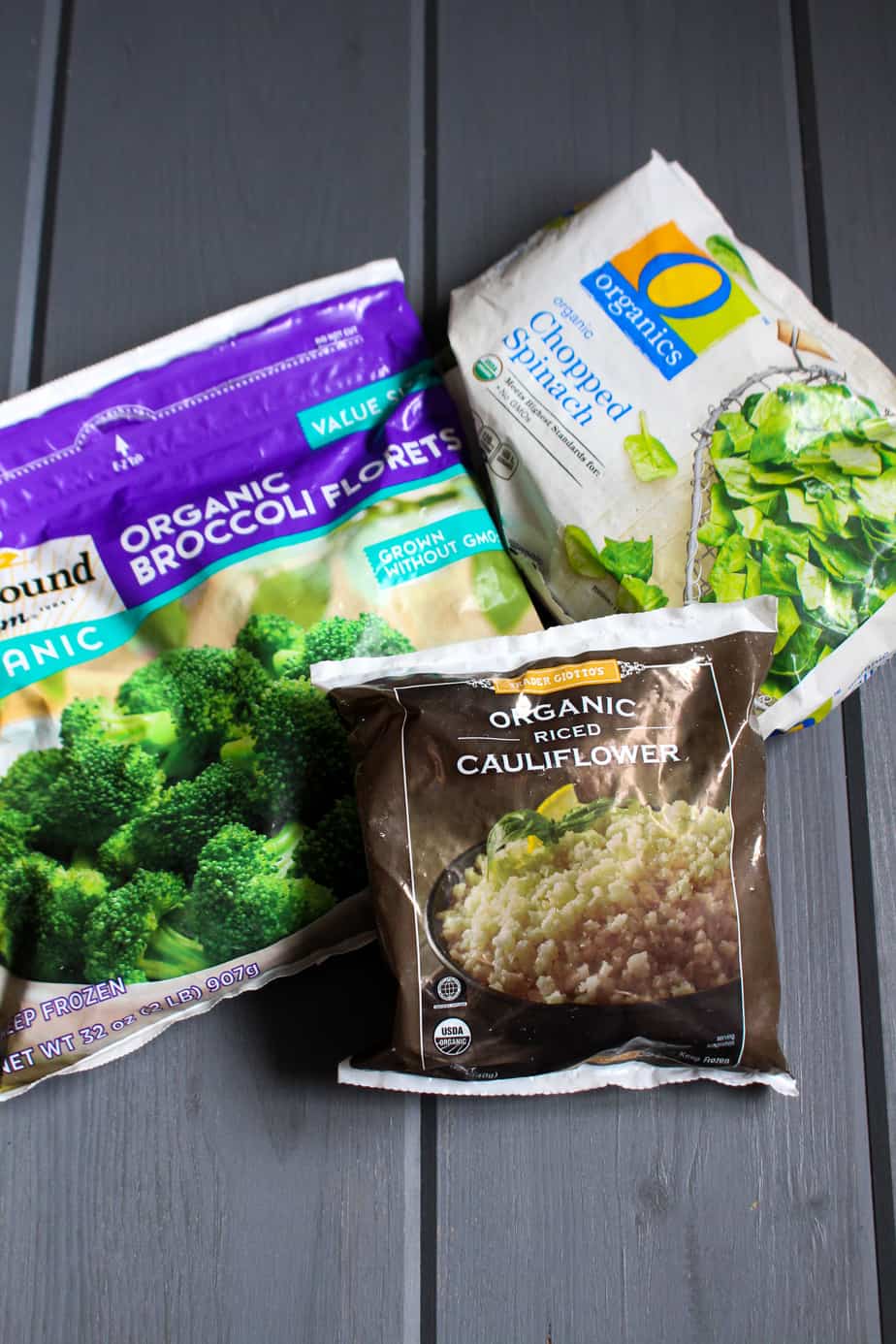 4) Buy More Herbs!
Commit to buying one fresh herb per week. I recommend something familiar like cilantro or basil.
Guys, herbs are vegetables. We forget that they technically fall under the category of vegetables. They're honestly better than vegetables. They are PACKED with nutrients, but people don't like to keep fresh herbs around all the time.
The number one complaint I get about herbs goes like this: "I buy fresh herbs for a recipe and then use ⅓ or ½ of the bunch and then the rest sits in my fridge and rots. I waste a lot of money."
Fun Fact: you can add a lot more herbs to your dishes than you think. If that chicken chili calls for ½ a bunch of cilantro - use the whole bunch. If you're using basil in pasta, you can add it all!
How to use Leftover Herbs
Make magic green sauce (highly recommend this!!)
Make this pesto, or this orange parsley one, or literally any pesto you want!
Chop them up and put them in tuna salad or hummus
Add them to salads and soups and sauces
Turn them into beverages! Cucumber-mint water? Basil lemonade? Yes and yes!
There are so many options - we just have to open our minds to them!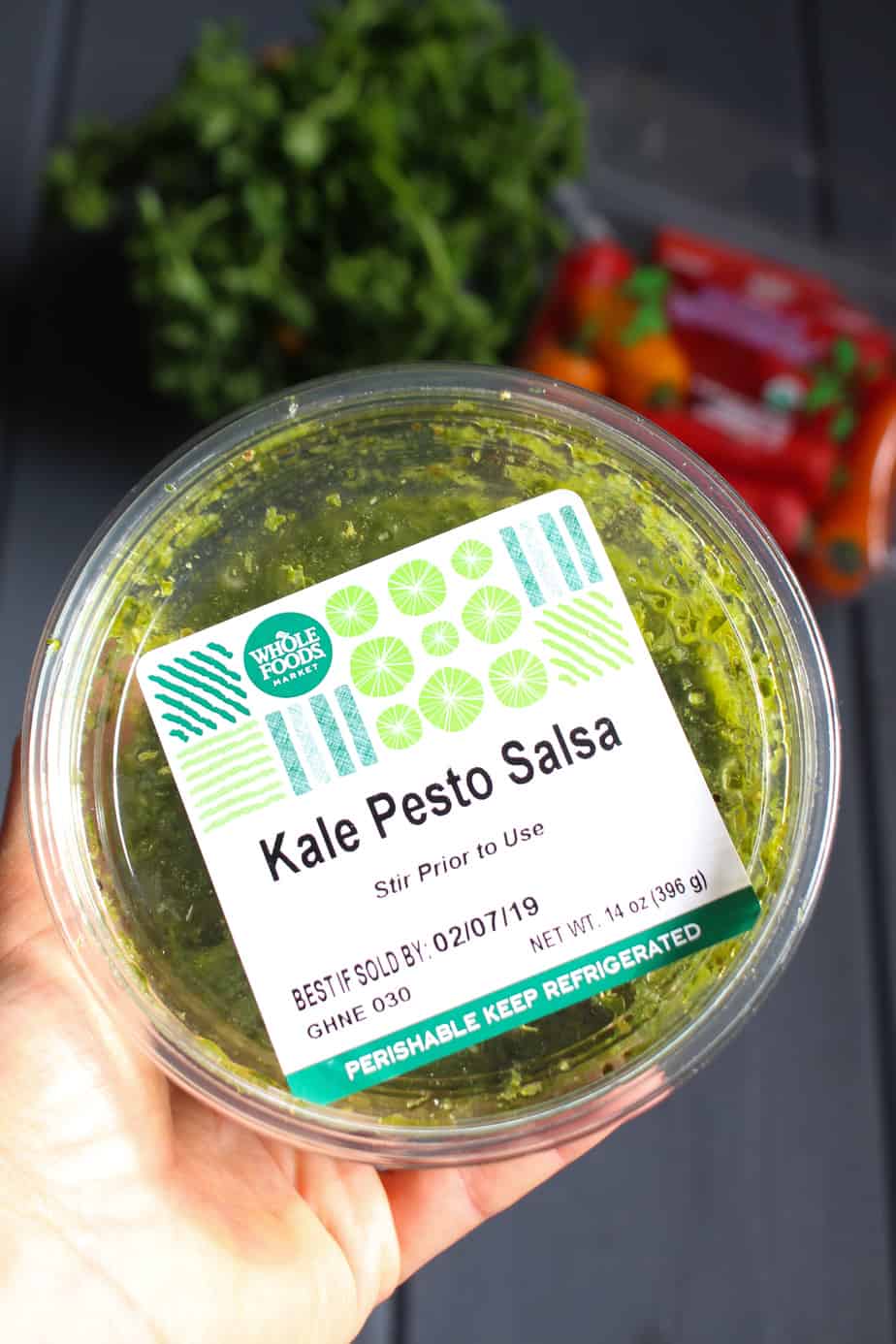 5) Stock Up On Pantry Veggies
There are a few vegetables that can be made pantry stable without sacrificing too much nutrition or flavor, and therefore they make great additions to your grocery list!
Sun-Dried Tomatoes - I prefer them in a bag, not packed in oil, but the olive-oil-packed ones are also good! You can add this to pasta, salad, sandwiches, rice bowls, and sauces.
Tetra-Pak (or Jarred/Canned) Tomatoes - add this to stew or eggs, cook with rice or quinoa, or make Shakshuka!
Green Chilies - add to Mexican-inspired dishes, eggs, quinoa, rice, and beans.
Dried Shiitake Mushrooms - soak 'em and add to Asian-inspired stir-fries and curries.
Roasted Red Peppers (Organic preferred) - perfect for sandwiches, pasta, romesco, and skillet dishes.
6) Do Some Mini Vegetable Meal Prepping
Sometimes I meal plan, sometimes I meal prep, and sometimes I fly by the seat of my pants. But doing a little tiny bit of prep is super useful later in the week. Here are my main tips for prepping your veggies:
Wash & Dry Your Greens:
This is especially helpful if you buy greens from the farmer's market. Toss them into a very clean sink and cover with water. You can quickly de-stem your greens, agitating them as you go, and then drop them right into a bowl or salad spinner. Spin the water away and store in the fridge for the week!
Wash & Dry Your Herbs:
Same method for herbs! Give them a quick agitated bath, and then you can either de-stem and dry them, or shake them off and simply place them in a glass, mug, or jar with water (like flowers) and store them in the fridge. Change the water every 2-3 days and they'll last much longer!
Bake Some Sweet Potatoes:
(Or regular potatoes!) When I'm hanging around on Sundays, researching, working, or just watching TV, I will scrub a few sweet potatoes, stab them about 6 times each, and then put them in the oven for 45-90 minutes (depending on size). Then I'll have a starchy veg ready to go for the week! I prefer Japanese Sweet Potatoes, but you can really do this with most tubers and winter squashes.
Roast up Hearty Veggies:
Did you buy carrots or parsnips or beets or turnips or Brussels sprouts or some other hearty vegetable? Wash, chop, and roast them ahead of time to have options for the week. You can toss them with oil and seasonings and just cook them on 425ºF until they're tender.
Use the Slow Cooker:
You can slice onions and garlic and cook them in your slow cooker for about 2 hours, then stir in other vegetables - a few pounds of root vegetables (2-4 hours), or a bunch of washed and chopped kale (30-60 minutes) to have a flavorful side ready all week. There are tons of different methods to this - so find what works for you and your busy schedule! If you're leaving the house and not sure when you'll be back, I recommend adding a few cups of water or broth to ensure nothing burns.
7) Chart or Track Your Veggies
If you're someone who likes a to-do list, I recommend holding yourself accountable with a tracker. You can download something free like this taste the rainbow tracker (which targets kids but works for adults too!), or you can buy a cute vegetable tracker on Etsy.
Another option is to use a calendar whiteboard or just print a blank calendar. You can draw a star for each serving of vegetables you had that day, use tally marks, stickers, or simply write in the number.
I recommend committing to 3 weeks straight of 3-5 servings per day. They say it takes 21 days to form a new habit and it will start to get easier with time! Here's an example below - stick it on your fridge and write in the number of veggies or the different colors you get in a day!
Honorable Mention: Vegetable-Based Products
It's great to eat real, fresh, local, or even frozen vegetables throughout the day, but sometimes we need a little assistance. These are a few ways in which you can spend a little extra money to get more veggies!
Wild Zora Meat & Veggie Bars - these are meat bars that are actually made with added veggies! It's not a ton of vegetables, but it's a good way to increase your intake when you're on the go. I usually order the BBQ flavor from Thrive Market

(affiliate link)

, but you can also get a multipack from their website.
Meal Delivery (not kits, actual meals!) - I like services like Territory Foods (this link offers you $25 off your first order and $25 off your second order), but there are other services across the country that delivery fully prepared meals that are packed with vegetables, and properly balanced with fat, fiber, and protein!
Veggies for the Picky Eaters!
If you're looking for more ways to squeeze vegetables into your regular meals for picky eaters, here are a few more specific tips!
Add minced / riced vegetables to scrambled eggs or frittata.

Toss handfuls of washed greens into your meals - scrambled eggs, stir-fries, pasta, soups, stews.

Add greens to your smoothies - this PB&J smoothie is a favorite among the little ones I know.

(Fresh spinach is the best starter green - it blends well and has a mild flavor.

)

Add frozen cauliflower to your smoothies - I recommend this for smoothies you're drinking right away. It gives it a GREAT icy texture without the flavor!

Mix cauliflower puree with your mashed potatoes, meatballs, and creamy sauces.

Mix pureed butternut squash into sauces, soups, and chili.

Put out crudité (raw veggies for dipping)! Whether you're snacking while you're making dinner, or you're putting out snacks for football or parties, always, always put out a tray with raw veggies! When you make them readily available, you (and your friends and family) are more likely to eat them. Guacamole, hummus, jalapeño cream cheese dip, spinach artichoke dip...these are all great with chips and crackers, but they're also great with red radishes, baby carrots, raw broccoli, and snap peas. Don't be afraid to mingle in some raw veggies with the chip-and-cracker show. If you have leftovers, make yourself some bento boxes, or just roast 'em all together!
Vegetable-Heavy Meal Plan
And if you need to put this into perspective to get inspired, here's a real day in the life menu of eating the rainbow!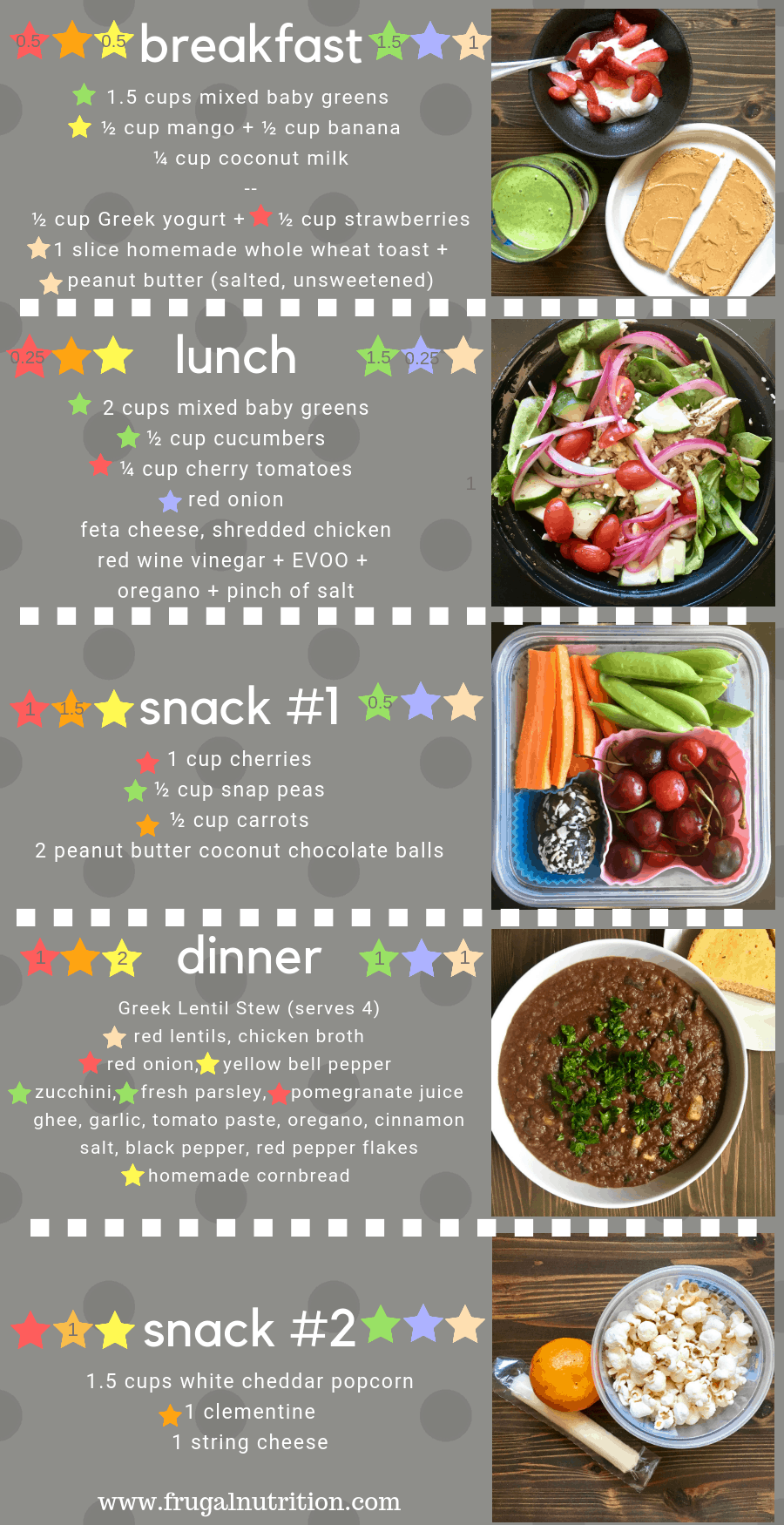 Best of luck to you on this journey of adding more veggies to your diet!
Make sure you comment below if you tried any of these tips or if you have any of your own to add.
Want More Recipes?
Here are a few classics that are heavy on veg, but I have a challenge for you! If you make any of these recipes, add one more vegetable in there somewhere. Let me know how it goes!
And be sure to subscribe to my Youtube channel where I post videos of recipes, and follow along with me in real-time on my Instagram!