Recipe: $2.00 | Per Serving: $0.50
Make these Sesame steamed green beans in less than 10 minutes!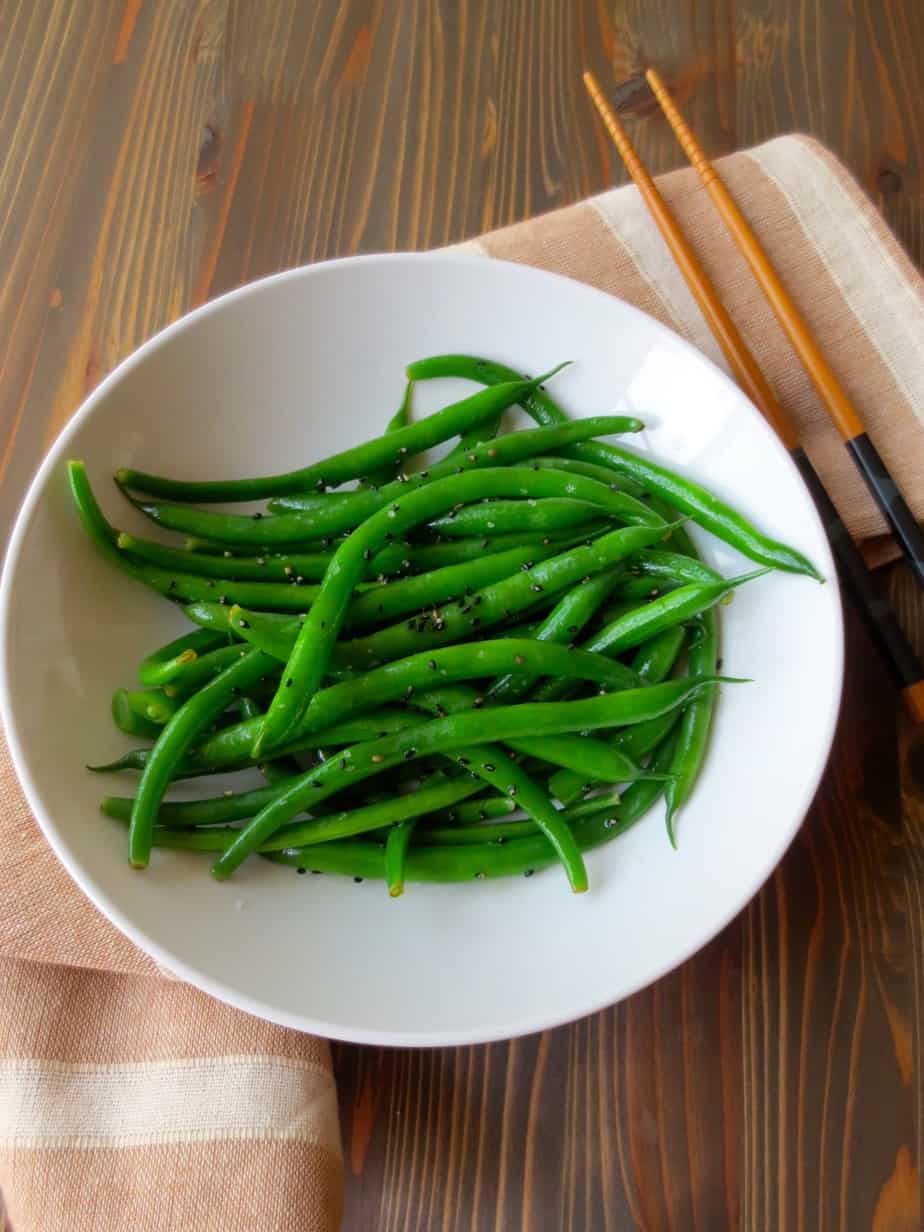 When I was growing up, after passing through the canned vegetables phase, we ate a lot of steamed vegetables. Maybe because my brother cried when canned green beans hit the table, or perhaps because my other brother refused to eat any "vegetables" other than canned corn. (Which isn't actually a vegetable.)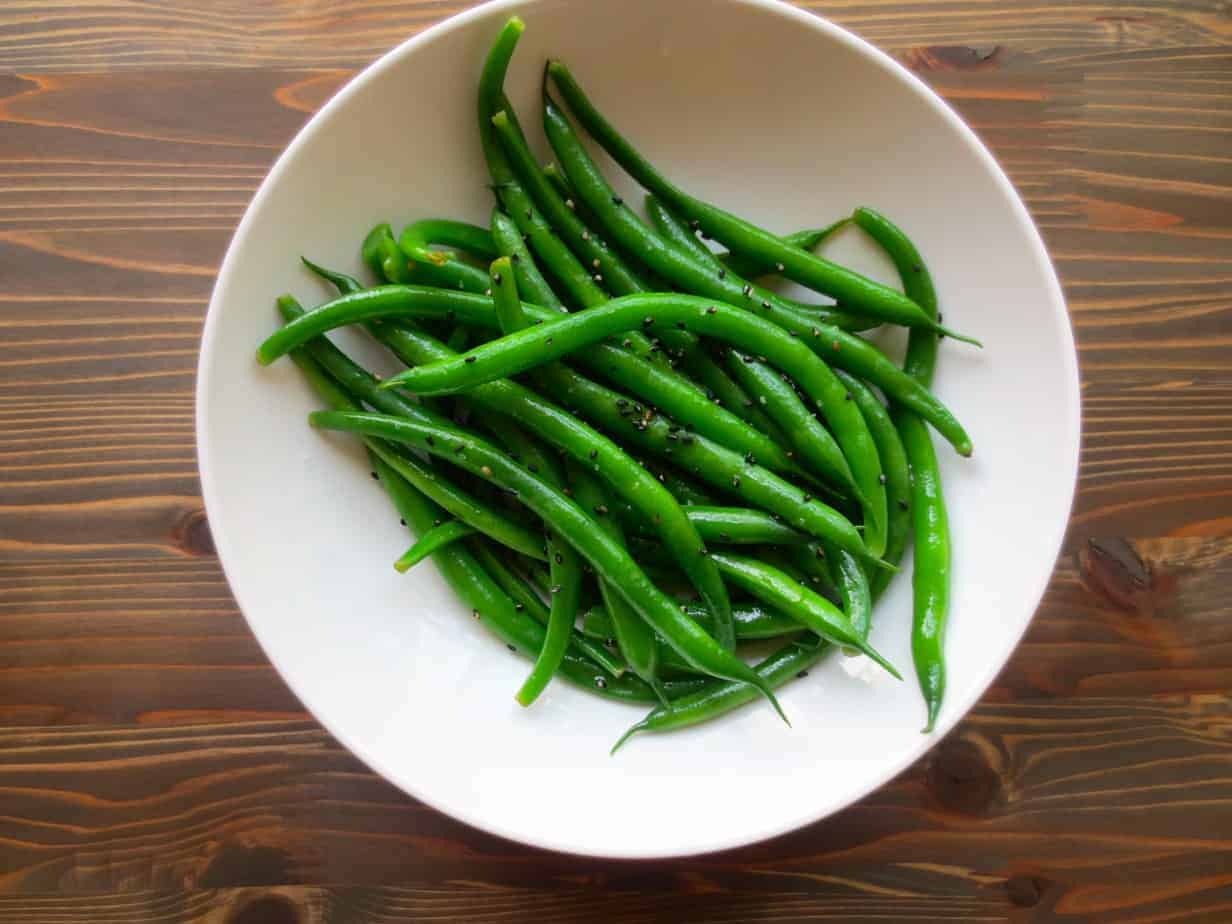 So began a lifetime of steamed veggies. We had a 3-story bamboo steamer for carrots and broccoli and green beans...and probably several other things, but I was super picky and didn't deviate from those three. Always drizzled with garlic olive oil. Always awesome. Now in Japan, I don't have a bamboo steamer (go figure), or garlic olive oil at the ready, but I have returned to making super delicious steamed veggies with a regular ol' metal steamer I bought for about 82 cents. Thanks 100 yen store!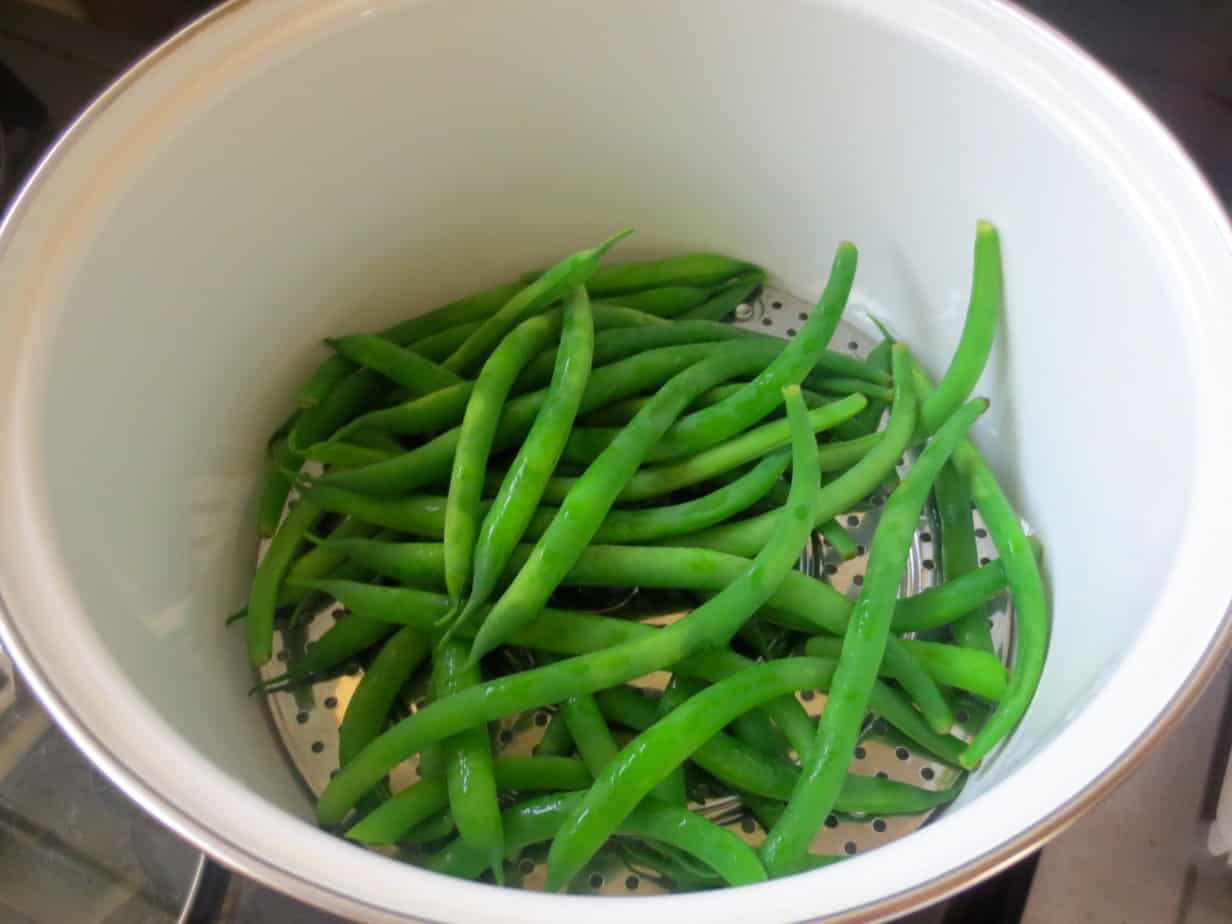 This recipe couldn't be easier, and we've made it with broccoli (both fresh and frozen), fresh green beans (my favorite), and frozen mixed veggies (cauliflower, carrots, etc.). So it is really easy! AND it makes for a great little vegetable side for a bento box! We're getting so creative in the bento department and I love it. Green beans as a snack? Who knew!?
So please go ahead and shake things up in the vegetable department. And since green beans are coming into season in many parts of the U.S., you and your favorite person can probably maul through a pound of green beans and a batch of Miso Meatballs and call it a [delicious] day.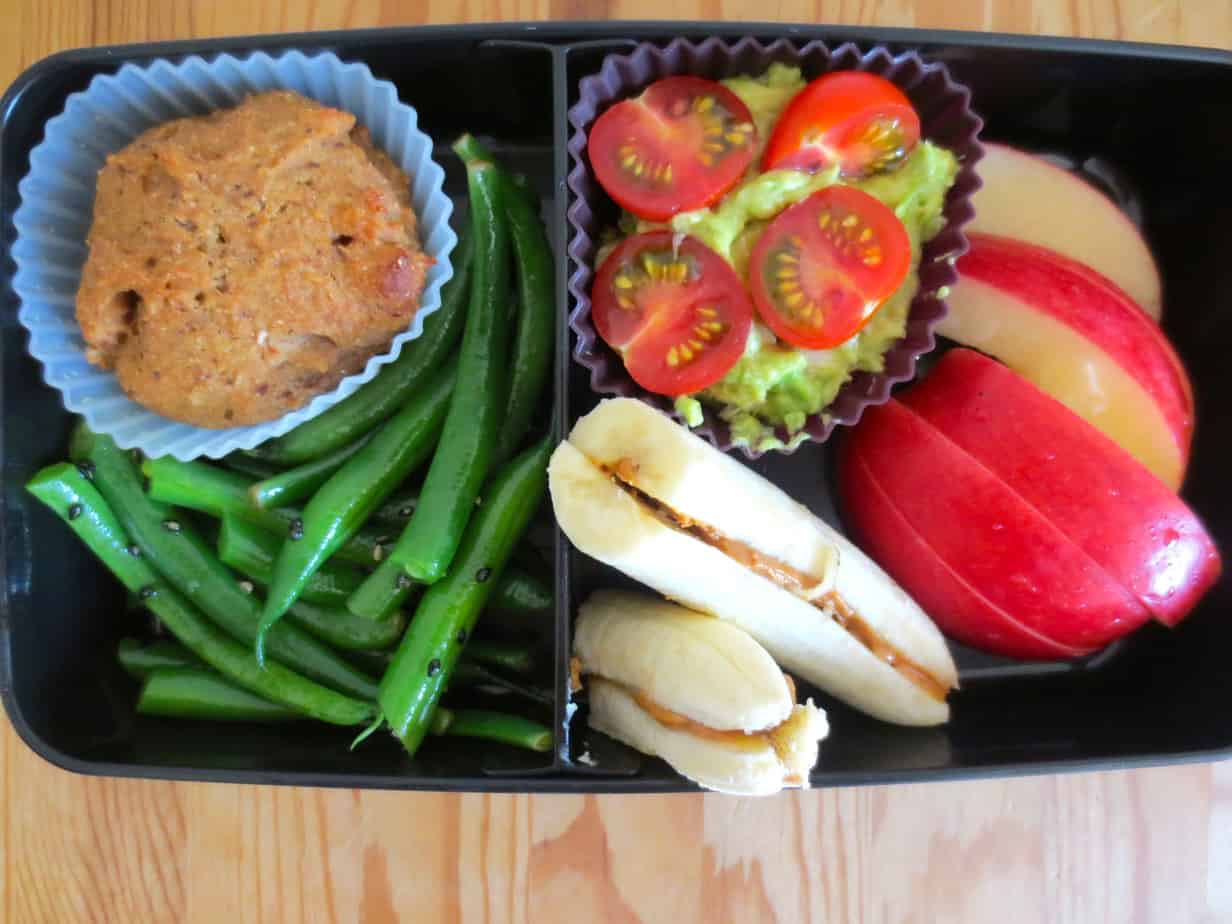 *Priced in Japan*
Sesame Steamed Green Beans (or other veggies!)
Upgrade your simple green beans with a quick and delicious sesame vinaigrette. It only takes about 5 minutes to make these crunchy steamed green beans!
Ingredients
½

pound

green beans

try it with broccoli, carrots, or a mix!

½

teaspoon

vinegar

rice wine, white, or apple cider

2

teaspoons

sesame oil

¼

teaspoon

salt

or more to taste

sesame seeds

for garnish
Instructions
Bring about 1-inch of water to a boil in a large pot. Insert steamer and fill with green beans. Then cover and cook about 2 minutes, or until bright in color, but not too soft. (For bamboo steamer, place bamboo steamer on the top of a slightly smaller pot. Cover and steam for 2-3 minutes.)

After about 2 minutes, drain and rinse immediately to stop cooking. Place in large bowl and toss with the dressing ingredients – vinegar, sesame oil, and salt – then place on serving dish or bowl. Garnish with sesame seeds and serve!
Nutrition
Calories:
35
kcal
Carbohydrates:
4
g
Protein:
1
g
Fat:
2
g
Saturated Fat:
0.3
g
Polyunsaturated Fat:
1
g
Monounsaturated Fat:
1
g
Sodium:
149
mg
Potassium:
120
mg
Fiber:
2
g
Sugar:
2
g
Vitamin A:
391
IU
Vitamin B1:
0.05
mg
Vitamin B2:
0.1
mg
Vitamin B3:
0.4
mg
Vitamin B5:
0.1
mg
Vitamin B6:
0.1
mg
Vitamin C:
7
mg
Vitamin E:
0.3
mg
Vitamin K:
25
µg
Calcium:
21
mg
Copper:
0.04
mg
Folate:
19
µg
Iron:
1
mg
Manganese:
0.1
mg
Magnesium:
14
mg
Phosphorus:
22
mg
Selenium:
0.3
µg
Zinc:
0.1
mg
Choline:
9
mg