Recipe: $1.20
Per Ball: $0.10
There is a yippie yappy dog living in one of the neighboring apartments. I actually heard someone shout: "Shut Up!!" at it yesterday. Where did they learn that phrase? Or are there Gaijin in hiding somewhere around here? I hate that dog. Small dogs should be banned to a sound-proof place where they can pose for adorable pictures (because, let's be real, they're super cute), and people can pay to visit them and give them affection. Now that I've said that, I'll probably end up with a little yapper one day. Actually, two of my favorite dogs are little ones. Damnit, my predjudism is flawed.
Anyway, to the food: Chocolate Peanut Butter Coconut Bites.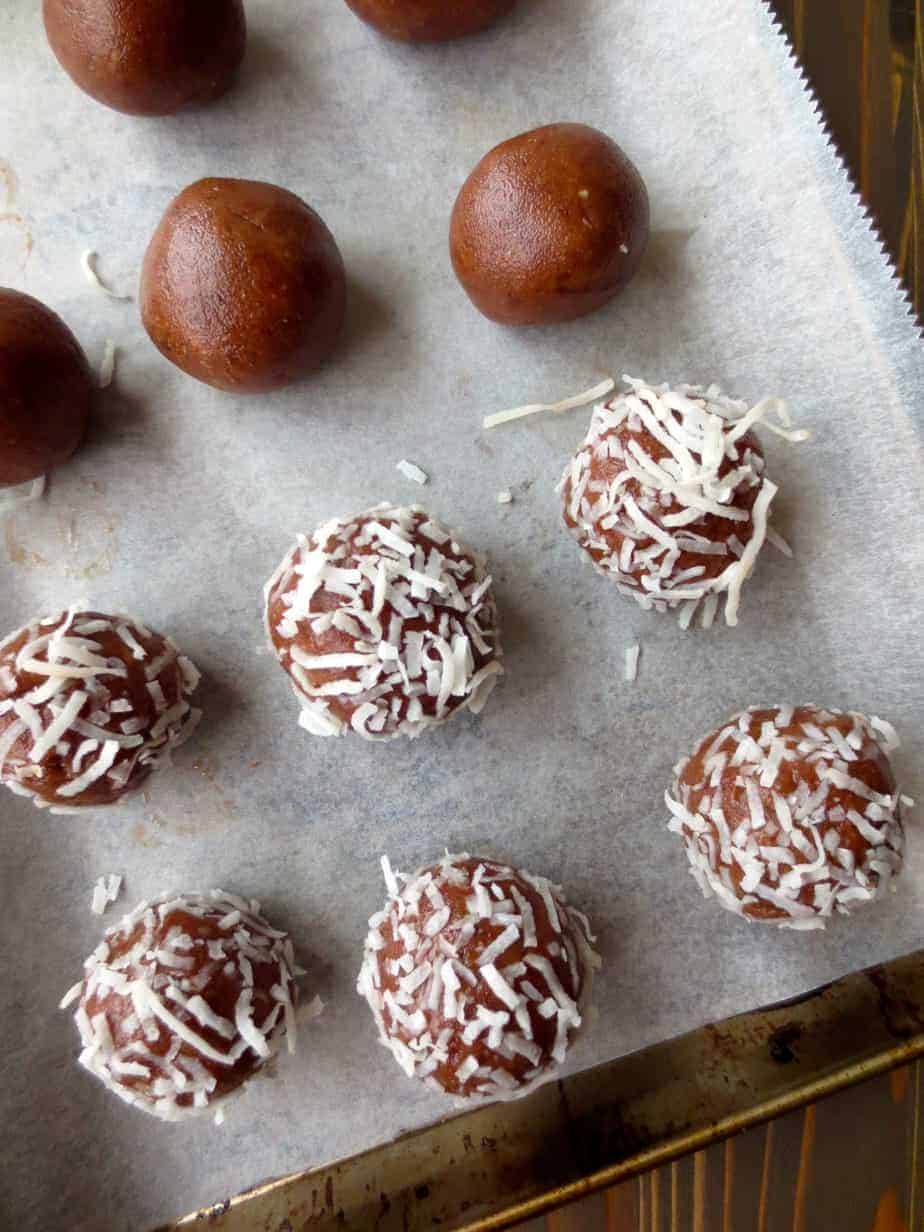 Our friend brought us a massive supply of Trader Joe's Dark Chocolate Peanut Butter Cups, which we've been trying to ration, because they're so super delicious. BUT, we've already eaten half of them. In just 2 weeks. It is pathetic. In an effort to replicate the same flavor, I really wanted to make chocolate peanut butter to spoon onto bananas and pancakes and into our mouths. I've started making homemade peanut butter lately, so hey, why not add chocolate flavors?
The moment I added maple syrup and cocoa powder to perfectly smooth peanut butter, something horrible happened. It lost all creaminess and seized up. What? It looked remarkably like the inside of a peanut butter cup...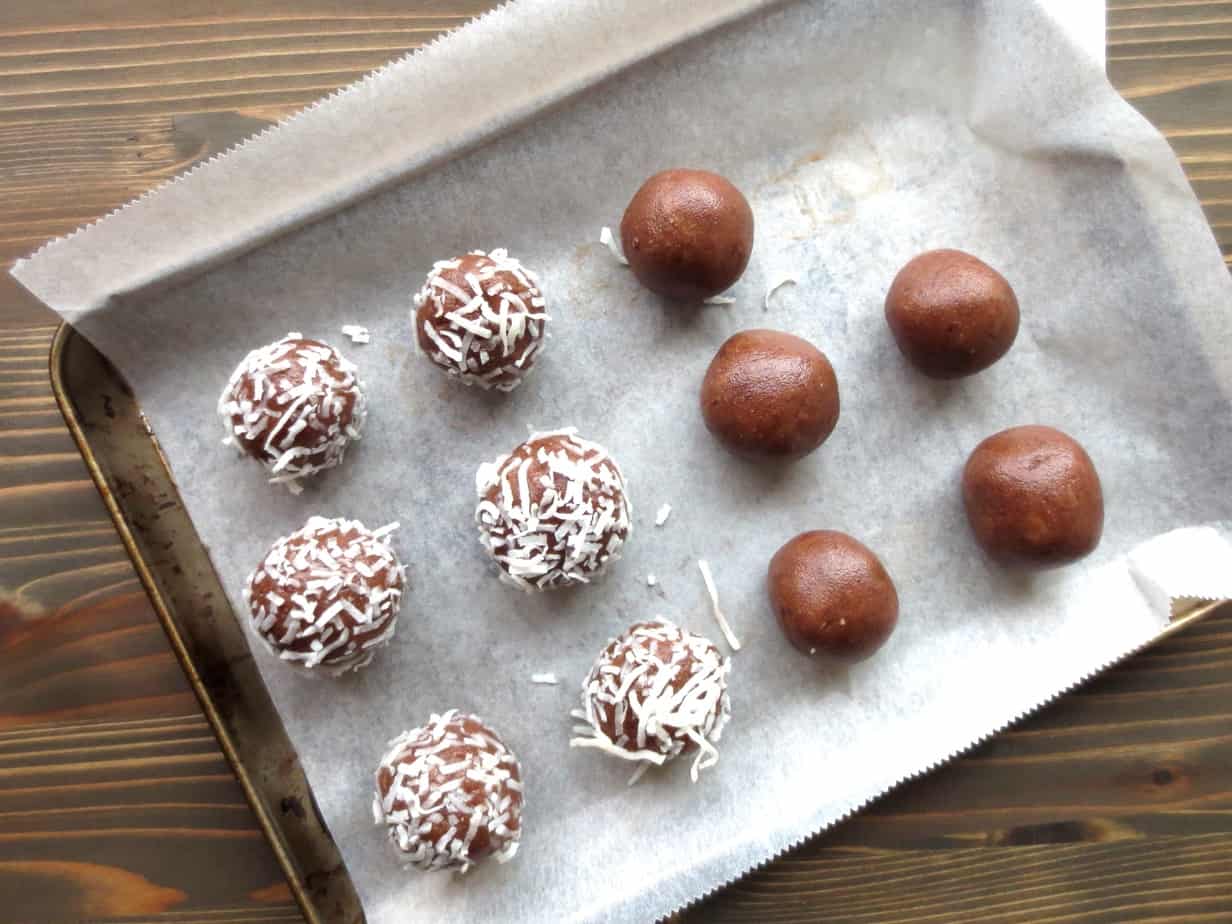 So I added some coconut oil and vanilla and rolled it out into these delicious PB-choco-coco balls. And clearly I had to eat one before taking a pictures. WOOPS. They're a fantastic (healthier & cheaper) substitute for peanut butter cups! I definitely recommend using dark chocolate cocoa powder if you've got it. If you're not into coconut, you could probably skip that flavor, but it adds a smooth and rich creaminess. I bet you'd be able to substitute it with butter! To make these Paleo, swap the peanuts for almonds.
Currently, they're my FAVORITE bento box treat. This is exactly what I want to shove into my face at 9pm after all my lessons are completed.

Chocolate Peanut Butter Coconut Bites
These easy snack bites are made with chocolate, peanut butter and coconut. They're great for a healthy snack or a lunch box addition.
Ingredients
1 ¼

cups

peanuts

you can sub with any other nuts you like!

4

teaspoons

maple syrup

2

teaspoons

cocoa powder

dark if you've got it

½

teaspoon

vanilla

1

teaspoon

coconut oil

optional

shredded coconut

for topping
Instructions
Start by processing the peanuts into creamy peanut butter. In my Ninja food processor, I process them for 2 minutes, stop and stir, and process for 1 minute more. (You can also use about ½ cup peanut butter instead.)

Pour peanut butter into a large bowl and add remaining ingredients (except the shredded coconut). Feel free to add other mix-ins, like crushed pecans! [Alternatively, you can mix the cocoa powder and the maple syrup together un a small bowl until it looks 'wet' and then add it to the processor to blend.]

Roll out about a Tablespoon of mixture at a time into a smooth ball and place on parchment-lined sheet pan. You can roll the balls in shredded coconut, chocolate bits, crushed nuts, or whatever you like! This recipe makes between 10-14 balls!

Place sheet pan in freezer for about 1 hour to solidify! Store balls in fridge or freezer and enjoy!
Nutrition
Calories:
97
kcal
Carbohydrates:
4
g
Protein:
4
g
Fat:
8
g
Saturated Fat:
1
g
Polyunsaturated Fat:
3
g
Monounsaturated Fat:
3
g
Sodium:
4
mg
Potassium:
121
mg
Fiber:
2
g
Sugar:
1
g
Vitamin B1:
0.1
mg
Vitamin B2:
0.1
mg
Vitamin B3:
2
mg
Vitamin B5:
0.3
mg
Vitamin B6:
0.1
mg
Vitamin K:
0.01
µg
Calcium:
19
mg
Copper:
0.1
mg
Folate:
37
µg
Iron:
1
mg
Manganese:
0.5
mg
Magnesium:
30
mg
Phosphorus:
60
mg
Selenium:
1
µg
Zinc:
0.4
mg
Choline:
0.02
mg