Recipe: $9.67 | Per Serving: $2.42 | Yield: 4
This weeknight dinner is an absolute hit! Toss together a few simple ingredients - namely white beans, chicken, cauliflower rice, roasted red peppers, and pesto - and you'll have dinner on the table in just 25 minutes! Pesto and roasted red peppers are one of my favorite combinations, and I know you'll love this easy chicken pesto skillet dinner!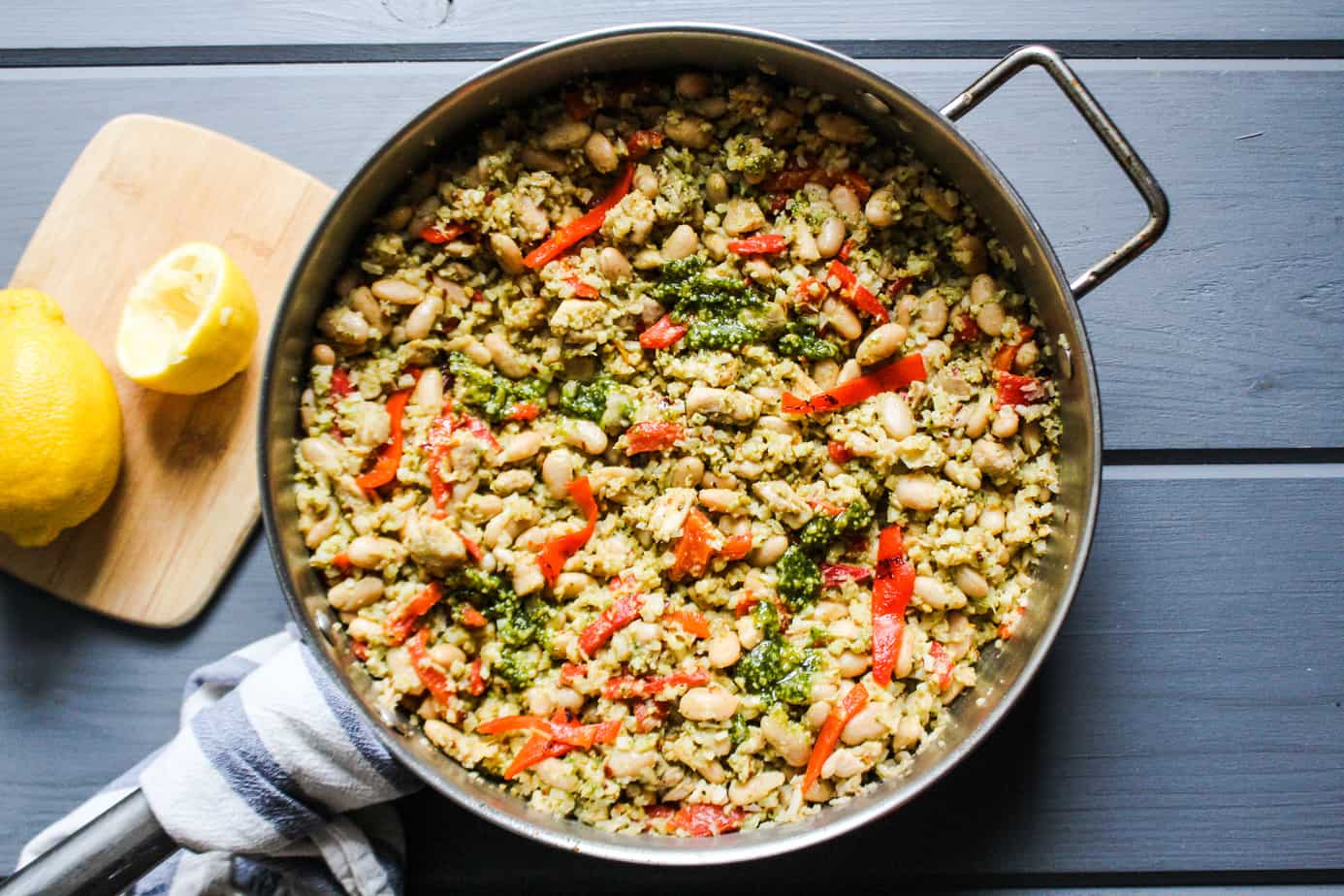 First, HAPPY NEW YEAR! We are officially in 2022 and I hope we read back on this post next year in 2023 after spending lots of time with friends and family over the holidays. (Unlike 2020 holidays and 2021 holidays for most of us.) Here in my house we are gearing up for our big move to Estonia in just a few weeks. (😬 🤪)
There are boxes everywhere, and piles of take / store / sell / giveaway all over the house. We are feeling nervous and crazy and excited - the waiting and prepping is the hardest part. Can I tell you what helps? Easy weeknight dinners that taste amazing - like this chicken pesto white bean skillet. (Did you like that transition? 😉)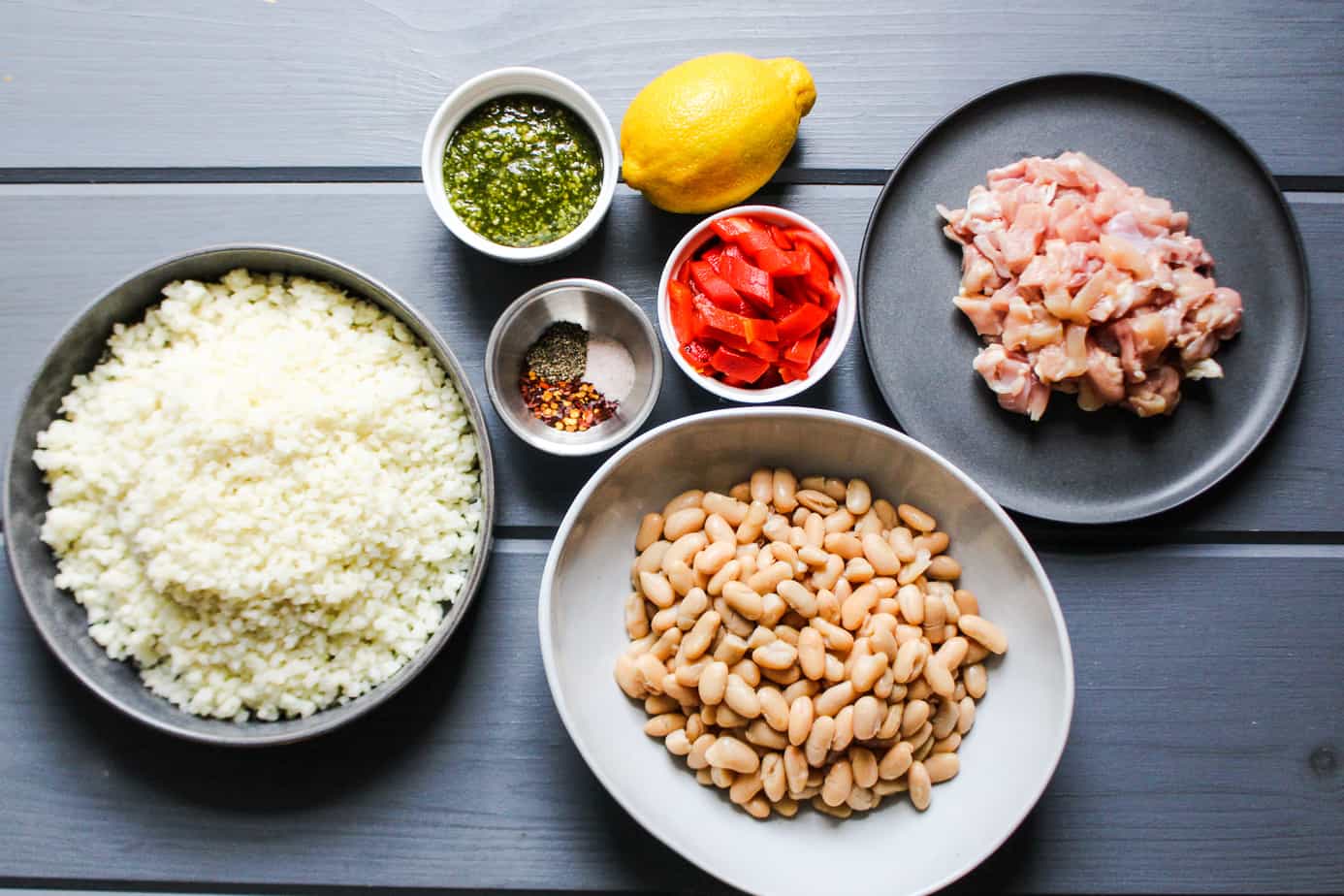 For this recipe, we're flipping ratios a bit to make it a little friendlier on the wallet. Food prices continue to rise (I even did an interview on this topic last October), so I like to include both beans and meat in many meals to get adequate protein while stretching the dollar. Here we have just 8 ounces of chicken thighs, paired with 2 cans of white beans (cannellini or navy). This recipe comes to 27 grams of protein per serving! Great job everyone!
This recipe is:
easy (very little chopping required)
fast (25 minutes fast!)
simple (just 5 main ingredients, everything else is from your pantry)
delicious (did I mention the pesto + roasted red pepper combo?)
About the Roasted Red Peppers
This recipe is using roasted red peppers, which can be purchased pre-made or can be made at home. It is actually easy to make roasted red peppers at home, and that link will take you to a quick guide on how to do that. However, making every single thing from scratch isn't always in the cards (sometimes it is, but not always), so feel free to use store bought roasted red peppers.
The problem with the store bought ones is that they are usually preserved in water and citric acid, which changes the flavor. I tested this with both, and because of the pesto and lemon juice, I found that either will work.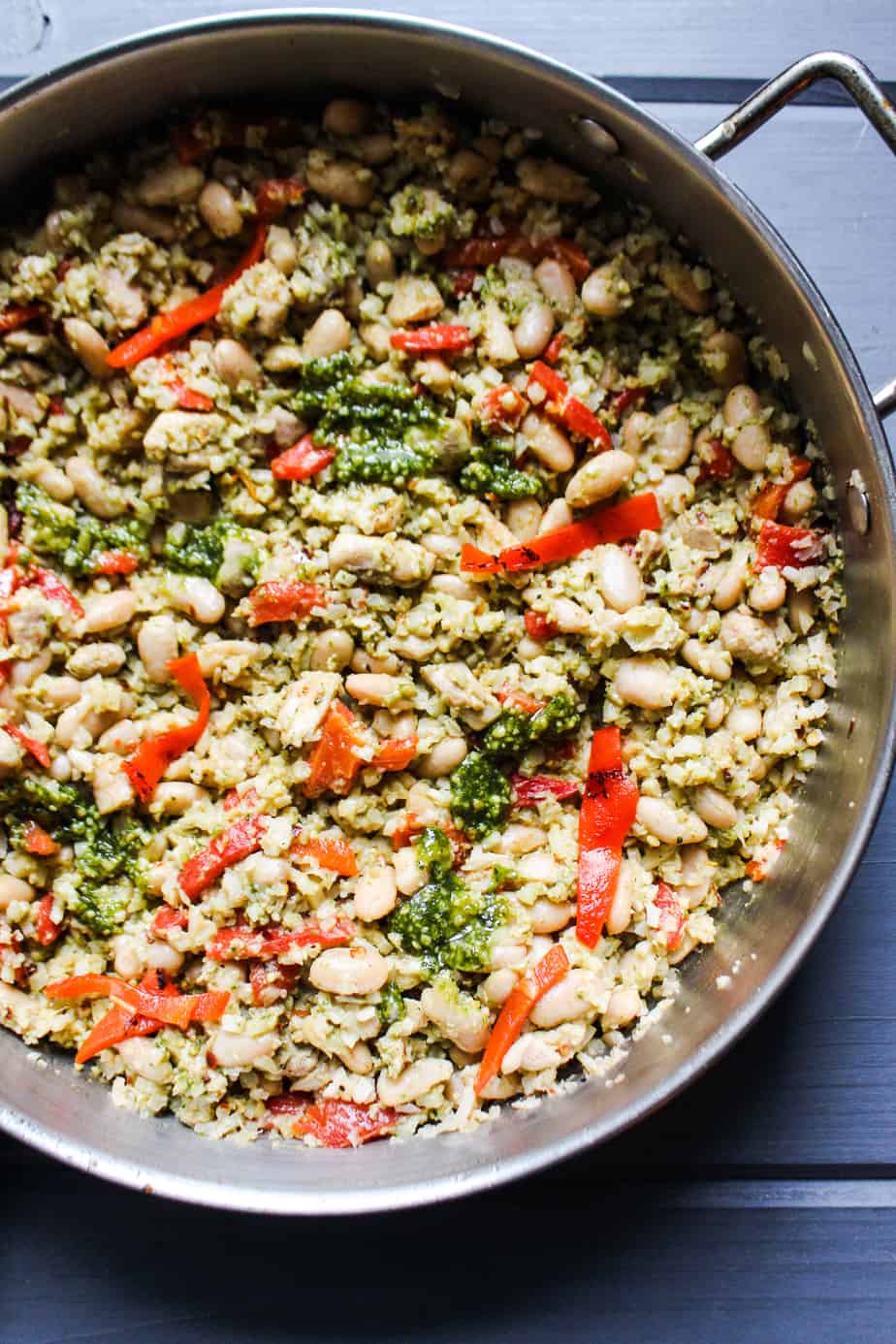 Vegetarian: Nope, but if you skip the chicken, then yes.
Paleo: Nope! but if you skip the beans, then yes.
Low FODMAP: Not quite, but if you double the chicken and halve the beans you may tolerate this well. Try Seggiano's pesto (affiliate link) for dairy-free, garlic-free pesto or make it homemade.
Chicken Pesto Skillet with White Beans
This is a delicious one skillet recipe that packs in the protein and fiber and healthy fats, along with tons of flavor. It doesn't get better than this easy weeknight recipe!
Ingredients
8

ounces

boneless

skinless chicken thighs (about 2)

1

Tablespoon

olive oil

½

teaspoon

salt

½

teaspoon

pepper

1

teaspoon

red pepper flakes

½

teaspoon

lemon zest

1

Tablespoon

mild or neutral vinegar

such as apple cider vinegar, optional, if needed to de-glaze the pan

1

pound

frozen riced cauliflower

fresh would probably work too, but I haven't tried it

6

ounces

roasted red peppers

½

cup

pesto

store-bought or homemade - dairy free used in this recipe

3

cups

cooked white cannellini beans

or other white beans, 2 cans, drained

1

Tablespoon

lemon juice
Instructions
Heat a large skillet over medium heat. Slice chicken thighs into small bite-sized cubes. When pan is hot, add olive oil and swirl it around, then immediately add the cubes of chicken thighs. Season with the salt, pepper, red pepper flakes, and lemon zest. Cook, stirring occasionally, until chicken is browned on all sides and full cooked through. Remove from the pan and set aside.

If there are lots of brown bits stuck to the bottom of your pan, de-glaze by adding the vinegar (could also use wine or water), and stirring up all those tasty bits!! (This is called the 'fond.') Dump in the riced cauliflower and stir well to combine with the fond. Let cook for about 3-5 minutes, stirring as needed.

Meanwhile, slice the roasted red peppers, then add them to the pain with the cauliflower. Cook another 2-3 minutes to ensure everything is fully cooked, then stir in the pesto and drained white beans. Stir well to combine. Cook together over low-medium heat for about 3 minutes until warmed through.

Add the chicken back to the pan and stir to combine.

Stir in the lemon juice, then taste and adjust seasoning as needed, by adding more salt or pesto. Serve and enjoy!
Notes
This comes together in about 15-20 minutes, all in one pan, so make sure you have all your ingredients ready to go before getting started.
As always, remember the nutrition label is just an estimate.
Nutrition
Calories:
442
kcal
Carbohydrates:
39
g
Protein:
25
g
Fat:
22
g
Saturated Fat:
5
g
Polyunsaturated Fat:
1
g
Monounsaturated Fat:
5
g
Cholesterol:
36
mg
Sodium:
1249
mg
Potassium:
1231
mg
Fiber:
10
g
Sugar:
4
g
Vitamin A:
996
IU
Vitamin B1:
0.3
mg
Vitamin B2:
0.2
mg
Vitamin B3:
3
mg
Vitamin B5:
1
mg
Vitamin B6:
1
mg
Vitamin B12:
2
µg
Vitamin C:
76
mg
Vitamin E:
2
mg
Vitamin K:
25
µg
Calcium:
199
mg
Copper:
0.5
mg
Folate:
163
µg
Iron:
6
mg
Manganese:
1
mg
Magnesium:
104
mg
Phosphorus:
291
mg
Selenium:
11
µg
Zinc:
5
mg
Choline:
51
mg